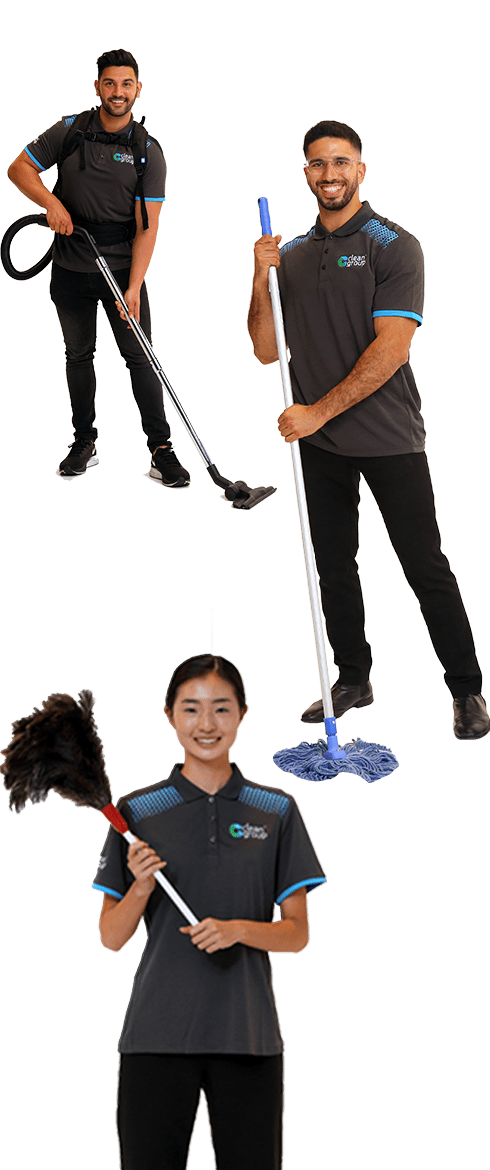 Washroom Cleaning & Maintenance Sydney
Are your washrooms constantly dirty and smelling bad even after regular cleaning? Do your toilets get clogged again and again? Do you often find yourself wondering if it's at all possible to keep your washroom hygienic? Then, maybe it's time to change your washroom cleaners in Sydney.
We at Clean Group Sydney have the best bathroom cleaners in Sydney who can take complete care of your toilets, bathrooms and washrooms in commercial facilities like offices, schools, malls, gyms, care centres, strata, and others all across the city.
Washroom cleaning and maintenance services we provide include the routine cleaning of washrooms, tiles, floor, urinals, toilet seat, washbasins, showers, sink, etc. and complete washroom disinfection on a regular basis.
The Clean Group Sydney washroom cleaning professional will not only make your restrooms look cleaner but also remove disease-causing germs, creating a healthy and fresh environment for your people.
Our cleaning services are highly efficient, eco-friendly and backed by a 100% satisfaction guarantee.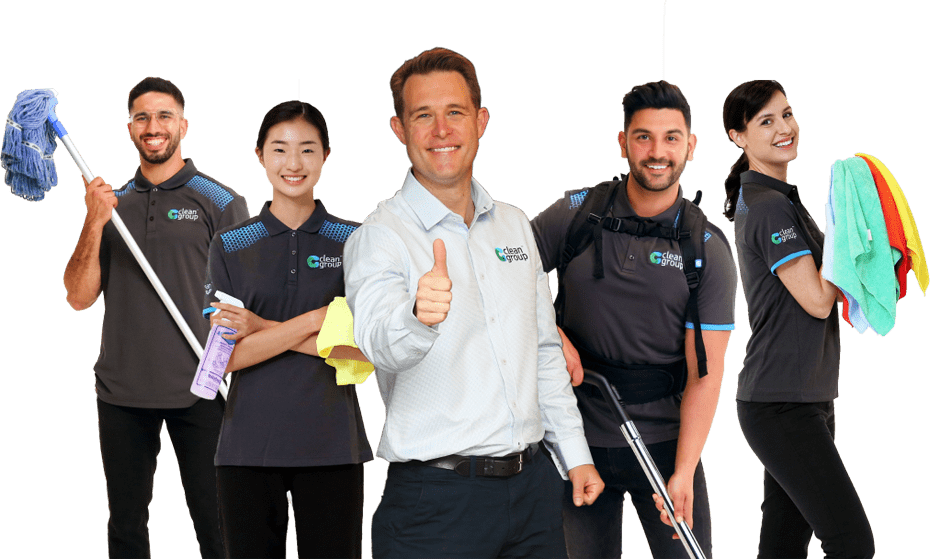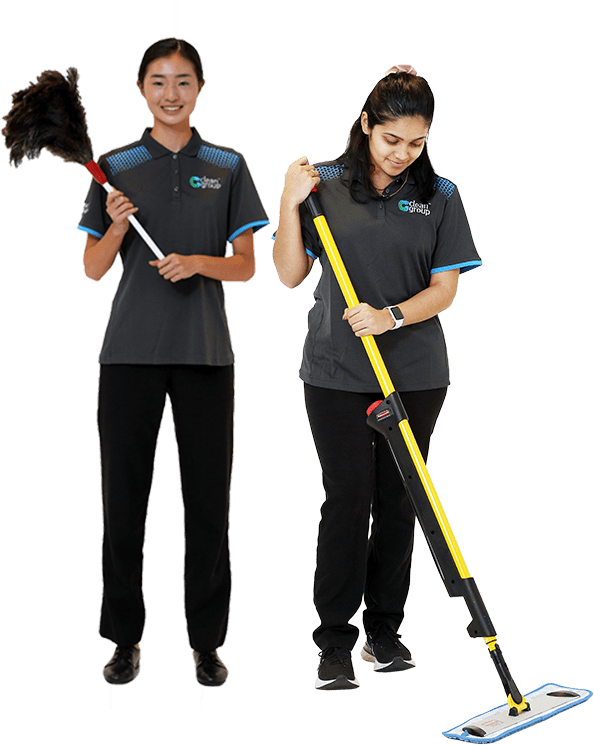 Complete Germ-free Washroom Maintenance Services Sydney
You cannot just get away by cleaning your washrooms once or twice a week. Depending on how many people are using it, a washroom may even need to be cleaned multiple times a day. Our routine washroom cleaning service will not only meet your washroom maintenance requirements but also it's the most affordable washroom maintenance Sydney service you'll find in the market.
The primary aim of our washroom cleaning service is to make your washrooms clean, fresh and germ-free. We do this by ensuring consistent cleaning and disinfection using the best, safest & highly efficient cleaning solutions and tools. Our cleaning team will thoroughly analyse your washroom cleaning needs based on the conditions and will select and use the right equipment to achieve the target results.
The bathroom cleaning solutions we use are not just very effective in cleaning but also they are eco-friendly. To remove common germs and bacteria from the place, we'll use advanced disinfection methods, including electrostatic disinfection. Our high-quality and effective cleaning solutions and methods will ensure your tiles and toilets are germ-free without harming their quality or appearance.
The bathroom cleaning solutions we use are not just very effective in cleaning but also they are eco-friendly. To remove common germs and bacteria from the place, we'll use advanced disinfection methods, including electrostatic disinfection. Our high-quality and effective cleaning solutions and methods will ensure your tiles and toilets are germ-free without harming their quality or appearance.
All our cleaners are experienced and highly trained professionals. We only hire cleaners with a minimum of two years experience and routinely provide training in the use of cutting-edge tools and state-of-the-art cleaning techniques. All cleaners are police-verified and fully insured. Besides routine cleaning of toilets, we also provide complete washroom maintenance services, which include wiping sink & fittings, picking up litter, emptying bins, and mopping the floors. All tasks are performed multiple times a day.
To book a washroom cleaning appointment, call us today.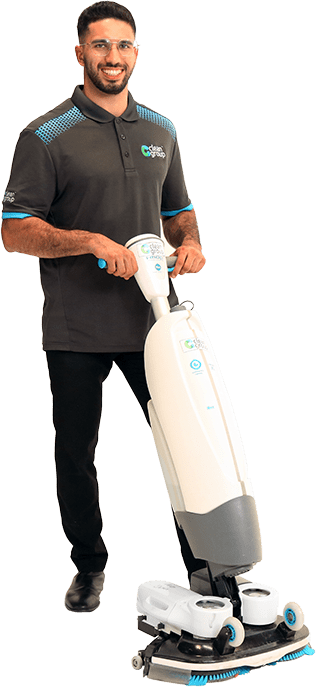 Why washroom maintenance is important
While most businesses spend huge money on the care and maintenance of their lobbies and other office spaces, they forget the fact that a dirty or unhygienic washroom can ruin their reputation like anything else. Keeping your commercial property toilets clean is equally, if not more, important. But, it's easier said than done.
Your washrooms can become the most unhygienic place in your entire facility, if not cleaned and maintained properly. Did you know over a hundred varieties of germs and bacteria can be found on a toilet seat alone? And with your employees, customers and visitors spending about 3% of their time on the toilet seats, there cannot be an easier way for infections to spread. All this can be avoided if your washrooms are regularly cleaned and properly maintained by a professional team.
Also, without regular cleaning and maintenance, your bathroom tiles will start losing their shine, sinks will build up calcium and rings will start forming in the toilet. And, that's not even the worst. You cannot even start to imagine the variety and number of germs that can be found in a dirty bathroom.
If not for that, keep your washrooms clean for the sake of your business reputation. Nothing will make a bad impression on a potential customer than a dirty bathroom. No one wants to associate themselves with a company that can't even keep their bathrooms clean.
Now, it's practically impossible to remove all the germs from a washroom, however, with the right cleaning strategies and methods, we can help reduce them to a great extent. Our expert cleaners can make your bathrooms cleaner, healthier and safer with up to 99.99% bacteria removal using high-end disinfection techniques like ELECTROSTATIC VIRUS SHIELD.
Get a Free Onsite Quote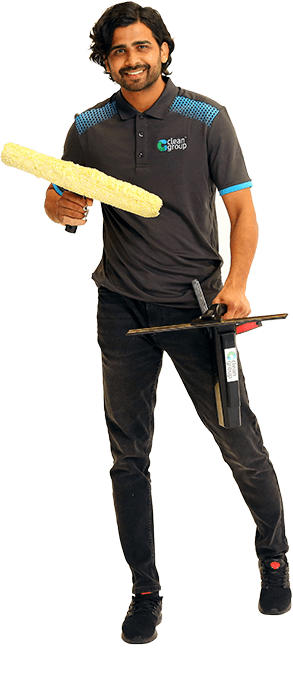 How we can help
As a full-service washroom cleaning & maintenance company Sydney, we can take very good care of your washrooms, bathrooms, toilets and restrooms, no matter the size or type of your property. Whether you have a single large washroom or multiple small washrooms in your facility, we can help keep them clean, fresh and hygienic.
We provide washroom maintenance Sydney services for retail stores, offices, restaurants, gyms, schools, hospitals, care centres, malls, theatres, and all other commercial buildings.
No matter where you are located in Sydney, we can arrive on time and will take care of all your toilet cleaning needs. We will not just clean but totally disinfect your washrooms, removing germs and criteria to ensure your safety. We bring our own cleaning supplies and equipment at no extra cost.
With Clean Group Sydney professional washroom cleaners, you get more time to focus on your business while all your cleaning needs are met by an expert team.
Need support? We have a qualified team of friendly support executives who are here to help you with all your issues, queries and complaints. Contact our 24x7 support team to book a cleaner or report an issue.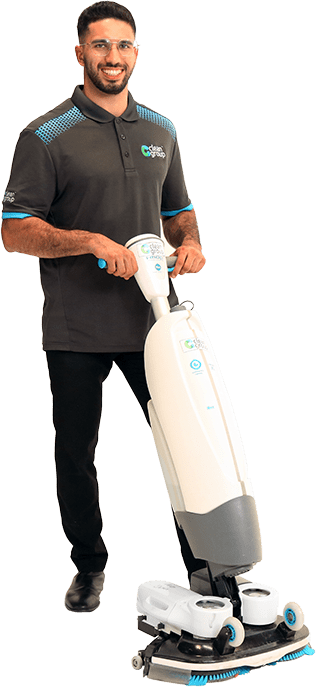 Washroom maintenance services we provide
From routine cleaning of washrooms and toilets to one-time deep washroom cleaning, occasional repairs, and full maintenance, we provide complete washroom maintenance and cleaning services to all types of Sydney businesses and commercial facilities.
Routine Washroom Cleaning

Our team will take care of routine cleaning of your washrooms & toilets, including mopping & scrubbing floors, wiping, door handles, water taps, sink and basins, washing toilets & urinals, cleaning tiles, emptying bins, and restocking supplies.

One-time Washroom Cleaning

If your washrooms haven't been cleaned in ages, our deep washroom cleaning service can take care of it. From sweeping/vacuuming the floors to complete mopping and washing, wiping, cleaning and disinfecting, it's all covered.

Toilet Cleaning

Cleaning of toilet seats, toilet cover, water tank, pipe, water tap, urinals, etc. is included in this service. No matter the size or type of your property, we can clean both private and public toilets with a complete satisfaction guarantee.

Washroom Maintenance

Besides the cleaning part, we'll also take care of washroom maintenance, including restocking of supplies, toilet paper, soap, etc., replacing bin liners, taking out the garbage and replacing light bulbs, among other things.

Office Washroom Cleaning

The washroom is one of the busiest places in an office, with a lot of traffic. We can help keep your office washrooms clean and germ-free through routine washroom cleaning Sydney. Guaranteed safe & high-quality service.

Public Washroom Cleaning

You can also hire our cleaners for the cleaning of washrooms in public places such as libraries, museums, parks, churches, and others. Also, we clean common washrooms shared by multiple people in a building.

Complete Washroom Disinfection

Bathroom cleaning is incomplete without disinfection. To remove germs from toilet seats, sinks & other places, we'll fully disinfect your washrooms using our cutting-edge disinfection technique for complete virus removal.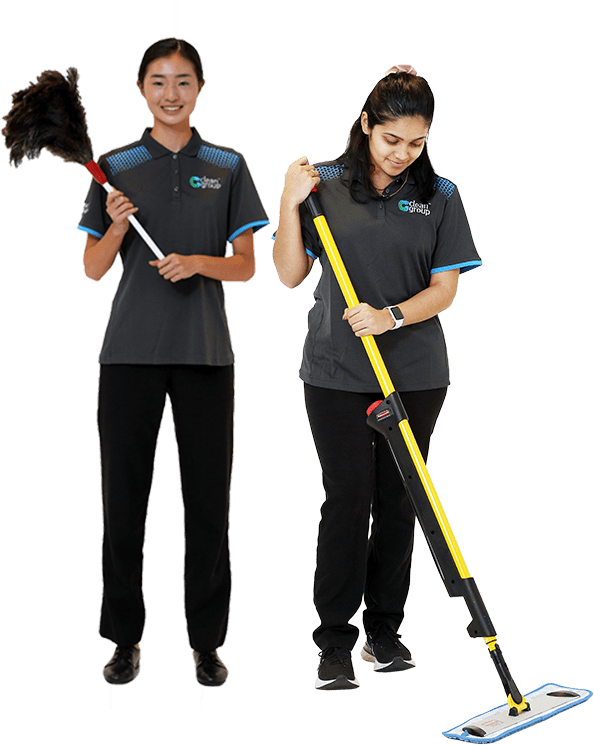 Why Clean Group Sydney
Just because you cannot see germs in your washroom doesn't mean they are not there. A bad-smelling washroom is more than the proof you need to know that the place badly needs cleaning. Our complete washroom cleaning & maintenance solutions will make sure that you never again have to use a dirty bathroom. We have the right team of cleaners who use the best quality material to provide the highest standards of cleanliness and hygiene to our customers in Sydney.
The best team We've got the best washroom cleaning services that money can buy. Our cleaners are professionals with relevant experience, extensive training and a good understanding of business premises. We have been rated the #1 most reliable cleaning agency in Sydney.
The best products Our cleaning products are not just effective but they are also safe for you, your people and the environment. We only use the best and eco-friendly products that are certified safe for humans and highly effective in removing common germs and viruses from hard surfaces.
The best service If you are unhappy with your current cleaners, we highly recommend you try our cleaning service. We take pride in being one of the most reliable and results-driven cleaning companies in Sydney. Everything we do at Clean Group Sydney is to make our customers happy
The best results If you are looking for the best, reliable cleaning results, look no further. We are an expert washroom cleaning provider in Sydney with 20+ years of experience. We are so confident in our ability to deliver results that we offer a 100% satisfaction guarantee to all our customers.
The best priceQuality should not be compromised for the price, or they say. Still, if you are looking for affordable washroom maintenance services in Sydney, we come quite close. Our tailormade cleaning solutions will perfectly fit both your requirements and budget.
The best supportIn the service industry, support is highly valuable. To effectively and timely take care of all our customers' support needs, we have a 24x7 support team who you can reach via email, phone and/or chat support on the Clean Group Sydney website for quick resolution of your concerns.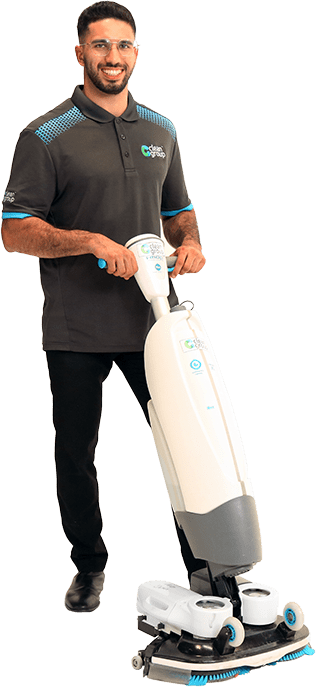 Washroom Cleaning is our specialty
From cleaning and mopping the bathroom floors to disinfecting toilets and restocking supplies, we can take care of all your washroom cleaning needs, including custom cleaning requirements. We provide complete washroom maintenance, which means our technicians can also restore the beauty of your old floors, repair minor damage and help keep your bathrooms fresh and sparkling always.
We have successfully completed hundreds of washroom cleaning projects for businesses throughout the greater Sydney region and care for each property as if it's our own.
✓ No long-term contracts
✓ No-obligation quote
✓ 100% satisfaction guarantee
To experience the beauty of professionally cleaned washrooms & toilets, call us today for a quote.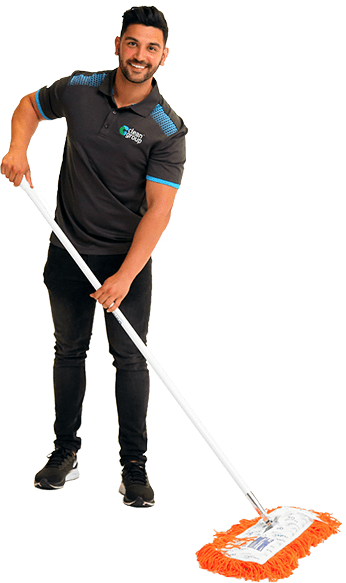 Why Clean Group Sydney Washroom Maintenance Service is the Best
Unlike traditional bathroom cleaning services that only cover basic cleaning and washing of bathrooms, we go much beyond and provide deep scrubbing and complete washroom maintenance Sydney solutions. Our washroom cleaning service Sydney is all-inclusive and will give you a clean, fresh and germ-free washroom. We will make sure that you never again have to worry about using a dirty or foul-smelling bathroom.
We have the best bathroom & toilet cleaners in Sydney, who have undergone rigorous training and have experience in cleaning all types of modern and contemporary bathrooms with the best-guaranteed results. All our cleaners are professionals with a background in cleaning. They hold requisite qualifications, including police verification, insurance and company identity cards.
With over 20 years of experience in the cleaning industry, we are simply the best choice for whatever type of cleaning service you need. We can offer customised cleaning solutions to meet your particular requirements. We have experience in the cleaning of washrooms, toilets, and bathrooms in both private and public premises. Let us know your requirements, and we'll prepare the best cleaning plan for you.
We only use non-toxic & green cleaning products that are certified-safe for humans, children and pets. All our cleaning supplies, equipment and tools are routinely maintained and taken good care of to ensure a long life and consistently excellent performance.
Ready to make a washroom cleaning appointment? Call our sales team now.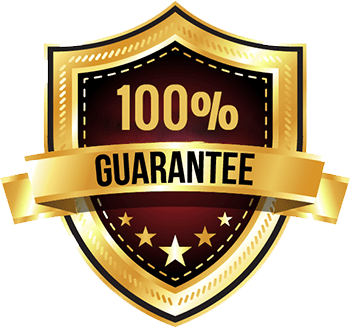 Keep your bathrooms sparkling clean with Clean Group Sydney!
Cleaning a bathroom is not everyone's cup of tea. Most people despise it. But, we love it. We love making your washrooms clean, fresh and germ-free so that you have fewer employees taking sick leaves and a healthier overall workplace. We can help turn that often-neglected, but most-used part of your office into a safe and healthy space for your workers to have peace of mind.
No smelling toilets. No dirty bathrooms. Only a clean, fresh & germ-free environment.
With the COVID-19 infection spreading through people at a rapid pace, it is now more important than ever to keep your washrooms clean and properly disinfected. Why? Infections spread faster in close spaces like washrooms & toilets that are shared by multiple people. Keep your premises safe, hygienic and healthier by availing the world-class washroom maintenance services from Clean Group Sydney.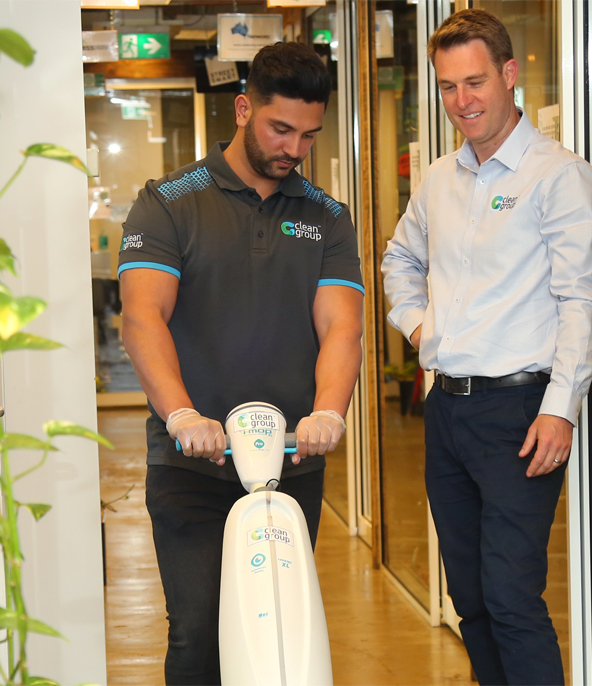 Frequently Asked Questions
---
Clean Group offers a wide selection of cleaning services you can choose from. Starting with routine cleaning, carpet cleaning, internal-external window cleaning, office cleaning, gym cleaning, childcare cleaning, medical centre cleaning, school cleaning and the list goes on. Just check our website to know more.
The cost will depend on how much time, how much material and what type of equipment needed for a cleaner to perform the cleaning that is required for your business. Our friendly sales managers can do a free onsite visit to determine the best price and cleaning program for your premises. Call us now on
Clean Group cleaners are all professional, reliable and well trained. We only employ full-time cleaners. This ensures that the cleaners are committed to high cleaning standards.
Absolutely! We are fully insured. Certificate of our insurances will be mailed to you with our quotation so you can have peace of mind.