Professional Childcare Centre Cleaning | Daycare Centre Cleaning in Sydney & NSW
Are you worried about the safety of the kids in your child care? Is your current cleaner not doing a good job? Maybe it's time to hire expert office cleaners services
As much as you care about your childcare centre and your children's health and safety, we, at Clean Group, care about them to a greater extent! We have introduced an exceptional childcare cleaning service near me and provide a better solution, a safer and healthier centre for you and your kids.
Accept it: parents would never leave their children with a childcare provider who cannot even keep their premises clean. Childcare centre cleaning is more difficult than it sounds. But, don't worry. We are here to help. We provide comprehensive child care cleaning services to keep your children safe and your place looking beautiful and fresh.
Childcare centre cleaning is our speciality and also something we care deeply about. From providing a quick clean to handling daily/weekly cleaning of your care centre, there is no job too small or big for us.
Our childcare services are all-inclusive, which means we take care of everything from floor cleaning to carpet steam cleaning, window cleaning, toy and equipment cleaning, outdoor glass cleaning, and touchpoint disinfection. Also, we provide an extensive range of other commercial cleanings, including school cleaning, office cleaning, NDIS cleaning and others.
Contact us today to book a childcare facility cleaning at 1300141946.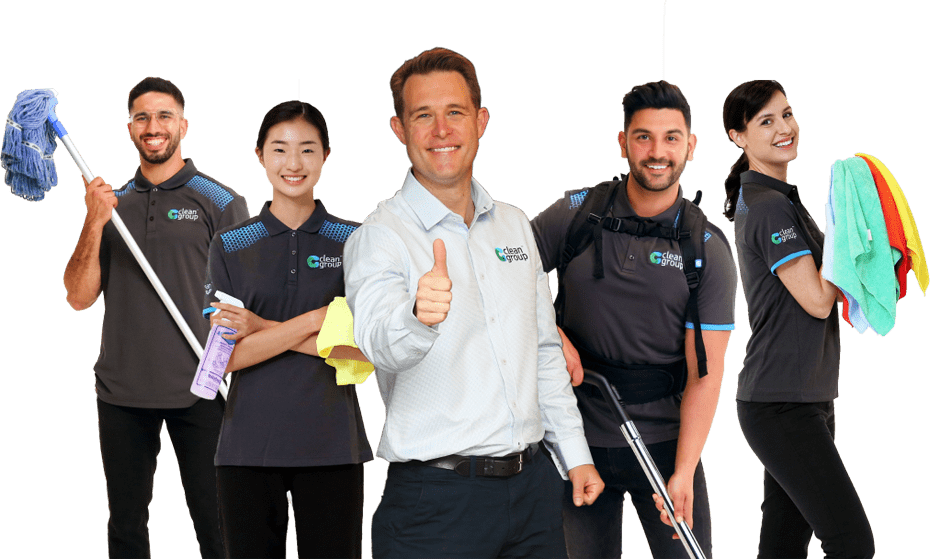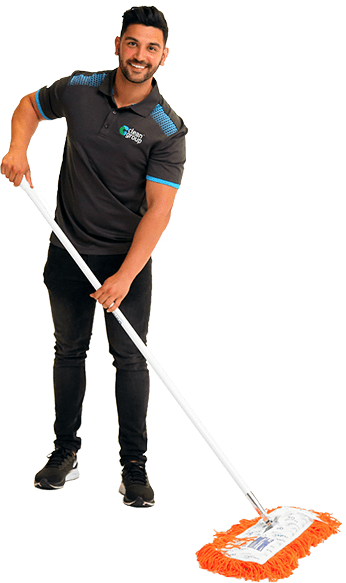 Importance of Daycare Centre Cleaning -
Routine cleaning of your childcare facility by professional childcare cleaners is important not only for the satisfaction of parents but also for the safety of your children and staff. Without proper and regular cleaning, childcare facilities can start accumulating germs, which can spread fast through children's toys, food and other highly susceptible objects, making your staff and kids sick.
Children are messy, as you may very well know. So, it's the responsibility of childcare centres to take proper measures to keep providing a safe and hygienic environment for their little customers. Regular professional cleaning, disinfection of sensitive areas & objects, preventative maintenance schedule, and following hygiene practices are some of the proven ways to prevent the infection from spread in your daycare centre.
In some regions, proper cleaning of childcare premises is a prerequisite to get approval from respective authorities. So, if you are concerned about the cleaning of your centre, be sure to call us.
Childcare cleaning and maintenance will not only protect your staff and kids from getting sick but it also demonstrates your professionalism and shows parents that you really care about their children.
Use the contact form to request a free childcare cleaning quote today.
Childcare Centre Cleaning Services
We are a full-service childcare cleaning company. That means we have extensive experience in professional daycare cleaning and can provide all kinds of childcare cleaning, care and maintenance services. Our all-inclusive cleaning job will include the complete cleaning of your center from top to bottom, including disinfection and decontamination.
We can provide customized cleaning service for your preferred schedule and also offer emergency cleaning for the same time same day. Forget your cleaning worries, Clean Group expert cleaners are here to help you. Contact us for any and all of these cleaning services:
Windows- Our cleaners will wash and polish all the windows with our special eco-friendly chemicals and correct procedures.
Blinds/Curtains- We will do a thorough washing, steaming and cleaning of blinds and curtains to ensure dust-free window covers.
Rooms- We will make sure all the rooms are cobweb free, unspotted, unsoiled and scrubbed properly.
Hand Basins- Hand basins, placed outside or inside the building will be dirt-free and unsoiled. We will make sure the basins are sparkling again.
Nappy Change Areas- Because this is an important part of a child care centre, our skilled technicians will thoroughly polish, disinfect the nappy changing area, making sure it is aseptic as well.
Toilets- Toilets breathes in germs and bacteria if not properly washed and sanitized. We have eco-friendly chemicals that can fight the worst germs, making the toilets hygienic, sterile and decontaminated.
Blinds- Our technicians will carefully free blinds off any specks of dust without damaging them.
Play Area- If your medical centre has a play area for the children, we have the proper materials to clean the area thoroughly.
Nappy Change Areas- Because this is an important part of a child care centre, our skilled technicians will thoroughly polish, disinfect the nappy changing area, making sure it is aseptic as well.
Steam carpet cleaning service- If there are carpets on the play areas, we will steam, wash and vacuum them to extend the carpet life. We will also wash the entire area with eco-friendly chemicals that will leave no residues behind. The entire area will be germ-free, fresh and healthy.
Cabinets- Cabinets get dirty faster because of the constant opening and shutting of the doors. Most of the cabinets contain files and works of children, as well as important documents and many cabinets have toys, too. Our childcare cleaning services will ensure polished cabinets for your childcare centre.
Toys- Every child care centre has loads of toys, enough for every child to play comfortably. Clean Group will guarantee safe commercial cleaning procedures for all the toys.
Car park - We can also clean outdoor areas, including car park maintenance & cleaning, corridor cleaning, wheelie bin cleaning and garbage removal
Call 1300073089 to request a free quote now!
Why Choose Us?
As one of the top professional childcare cleaning companies in Sydney, Clean Group is trusted by hundreds of child care centres, daycare facilities and schools for kids safe cleaning of their premises with complete satisfaction.
Not only childcare centers, but many other day centres, preschools and small business centres trust our cleaning company to bring a positive change with our vast experience in cleaning.
Child-friendly - All our cleaning services, techniques, processes and products are 100% child-friendly. We care about your safety and cleaning as much as you care about your children, and so we'll leave no stone unturned to provide outstanding cleaning services.
Disinfection - Disinfection using child safe and TGA-approved cleaning products is done to remove germs from toys, toy boxes, play areas, door handles, switches, toileting areas, and other sensitive areas.
Expert & safe cleaners - Clean Group has technicians who have been specifically handpicked by our company based on their merits, experience, reliability, trustworthiness as well as how they can handle specialised cleaning products. We take pride in our cleaners because they are extremely hard working and skilful. All our technicians are licensed, fully insured and have gone through police checks.
Advanced Technology - We use high-tech equipment & technology in conducting office cleaning services. Besides using the right equipment, we use correct procedures in conducting the machines and environment-friendly chemicals that dry within two hours of application.
Comprehensive clean - Our childcare cleaning service is all-inclusive, covering window cleaning, steam cleaning, disinfection for bacteria trap, toys cleaning, etc. and is provided in line with the highest cleaning standards.
Tailor-made - With Clean Group, you get a customized cleaning program designed for your particular cleaning needs and to meet your cleaning goals. Our childcare cleaning services are safe and results-driven.
Contact us for a free quote!
Childcare Hygiene Tips - How to protect your children from diseases
Childcare centres can do a number of things, in addition to appropriate cleaning, to keep their children and staff safe and minimize the spread of infections on their premises. As we take care of your cleaning needs, be sure to follow these simple but important tips.
Teach your children about the benefits of hand washing and the proper way to do it.
Regularly clean your premises as well as children's toys, utensils, play area, equipment, etc.
To maintain a clean environment in your childcare center, do regular cleaning and follow the safety guidelines.
To remove hard grime from floors and tiles, use a homemade cleaning solution that is safe for kids.
Keep the different surfaces clean and hygienic, as germs and other contaminants can be found on any surface or object.
Hire expert cleaning services for guaranteed satisfaction and a seamless cleaning experience in your budget.
So, what are you waiting for? Contact us today for a free quote on childcare cleaning.
Keep Your Childcare Center Safe & Spotless With Expert Childcare Cleaning Sydney
Keeping a daycare center clean and hygienic is not easy. Children are messy and they will play with and eat anything they can get their hands on. This includes germ-ridden toys, utensils and other objects. As a childcare provider, it is your responsibility to maintain proper hygiene in your centre and keep the environment fresh and safe.
Wondering how to improve your standards and become a trusted name in the childcare industry of Sydney? We can help.
Clean Group has the best team of trained, experienced and insured childcare cleaners who will take care of your day-to-day cleaning requirements as well as can provide specialised cleaning services such as carpet cleaning, stain removal, polishing, etc. We aim to make your centre rise above the competition and help you offer the best level of services to your customers in a safe and germ-free environment. Our expert cleaning will keep your facility clean and sparkling and protect your kids from the bacteria and viruses.
Booking a childcare cleaning service with Clean Group is both easy and affordable. Just phone us today to get started.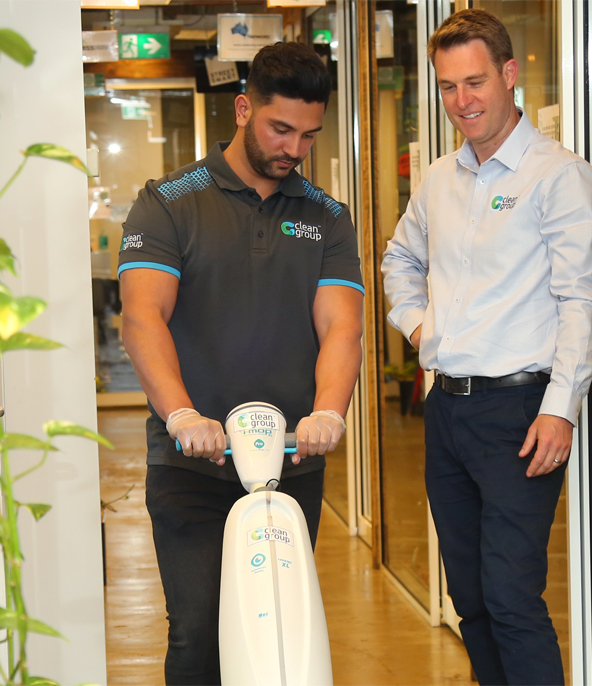 Frequently Asked Questions
---
There are two major toys in a daycare set-up - cloth toys and plastic toys. These toys are very likely to be mouthed by small children. Commercial cleaners suggest machine washing of cloth toys. It also makes sense that a particular cloth toy should be assigned only to one child. Twice a day disinfection is recommended for plastic toys. You can also use a mild detergent and warm water for cleaning plastic toys at the end of the day.
Like any other learning facility, commercial cleaners take care of all the areas inside the centre. Commercial cleaning companies in Sydney include the maintenance of sleep rooms and playrooms. Daycare centres have stricter requirements as they cater to younger children as compared to other learning premises. Commercial cleaners should know the right cleaning chemicals and techniques to ensure that the place is safe for their young customers.
There is really no definite answer to this question. Commercial cleaners in Sydney follow different pricing metrics. Other cleaning businesses determined their prices depending on the size and area of the premises. Most of the cleaning businesses base the cost on the time that they need to spend on cleaning.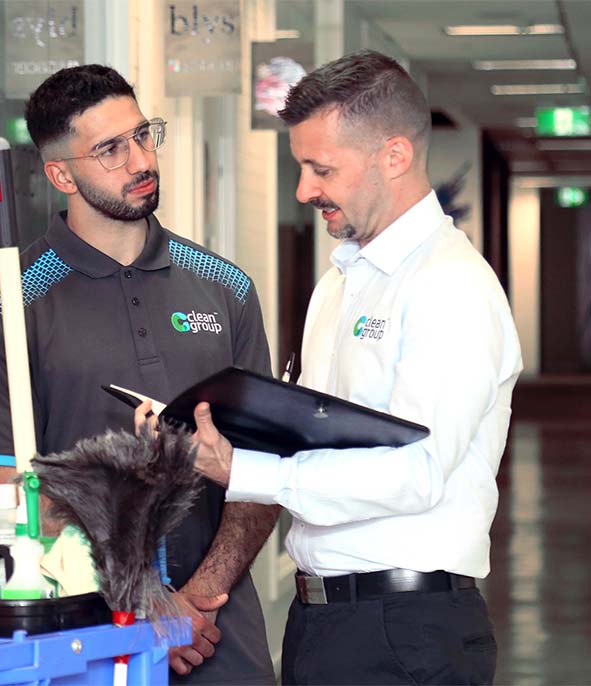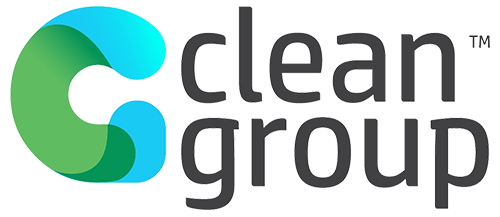 | | |
| --- | --- |
| Team Size: | 70+ |
| Services: | Childcare Cleaning, Daycare Cleaning |
| Contact: | 02 91607469 |
| Email: | [email protected] |