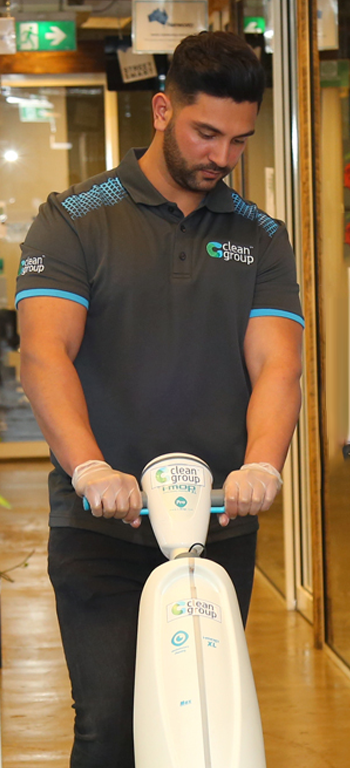 Frequently Asked Questions
---
Clean Group is a leading cleaning company in Australia that is experienced with cleaning offices, childcare centers, churches, gyms, universities, stratas, medical offices, and other commercial businesses.
Clean group caters to NSW, VIC, and QLD.
Clean Group has been in business for more than 10 years. With that, we had gained an insurmountable amount of experience when it comes to trade. We also hire fully trained and experienced cleaner that will represent our company name to the market. Our staff only promise nothing but excellent results.
We do not oblige our customers to stay while we do what we need to do. We understand that people are busy too and that they have their own duties to fulfill. Clean Group cleans after hours while the entire office sleeps. This will ensure that we are not disrupting any work that is being done in the office during the daytime. In some cases, customers also prefer cleaning during working hours – we are also totally fine with that.
With Clean Group, you tell us what time can we start cleaning the premise.
Clean Group normally calls for a 24-48 hour period when it comes to urgent bookings. This is necessary for us to arrange the cleaning team.
Our friendly customer service is there to assist you from 9 AM to 6 PM. Just call or send an email at least 24 hours before your desired schedule.
Absolutely, just give us a heads up at least 24 hours
Maintenance Agreement is being practiced in Clean Group. The only difference is, our Maintenance Agreement is non-binding. We only need a 30-day notice in case you choose to terminate your contract with us. Clean Group will not, in any way, force you to sign anything that will keep you from canceling the agreement.
The moment that you hire us, our staff will ask for you to provide the billing information that we need and to sign a Maintenance Agreement.
You do not have to do anything at all, we will cover it for you.
If you are a restaurant, we are not trained to clean the kitchen equipment. Other than that, we can do anything that floats your boat.
We use a wide variety of gentle and safe cleaning products. Material Data Sheet is also available upon request. The cleaning equipment that we use are all up to date and well maintained.
Clean Group covers the cleaning chemicals and bin liners. We also supply toilet paper, hand towel, and other toilet consumables. Quotation for the supplies will be sent to you upon request.
Clean Group based the number of cleaners who work on the premise of the size of the place.
Clean Group appreciates the gesture but we do not want the cleaner to get used to it. We assure you that our cleaners are well compensated.
Absolutely. We perform police checks to make sure that we are only employing the right people.
The rate varies from one premise to another. Clean Group determines rate by sending the Sales Manager over for a quick quote.
Paying us is very easy. Invoices are being sent every 20th of the month. Our dear customer has the flexibility to either pay through electronic fund transfer, credit card, or by sending a cheque in the mail.
Clean Group is an outstanding cleaning company. We have all our insurances in place to add more credibility and security to our loyal customers.
Nothing. You do not need to do anything before the cleaning team arrives. We have our own cleaning equipment and materials. We can start right away as soon as we hit your office.
No, you are not required to be in the office. All our professional cleaners are trustworthy and you can leave the key to your office with them.
Clean Group team arrives at whatever time did you specify for us.
No worries! Clean Group is insured!
If you feel like we missed a certain spot, call us right away and we will fix it for you.
Absolutely not. Clean Group covers this for you. This is the last thing that you need to worry about.
No. Clean Group incorporates the cost of these supplies and equipment when we do our quote. Plus, it is easier for us to buy our supplies because we know what we need.
We do not work on Holidays. We charge a call-out fee if our services are needed during the holiday season.
You can pay with electronic fund transfer, credit card payment over the phone, or send a cheque payment in the mail.
Our carpet cleaning is only offered in NSW.
Green cleaning means cleaning with less to zero chemicals. Most of the time the chemicals are being substituted with concentrated fruit enzymes that works the same with less chemical content.
Clean Group only uses the most gentle and safest cleaning agent there is.
Clean Group is concern about our environment. We exhaust all possible cleaning substitutes if this will help our environment.
You can free yourself from cleaning the moment you said yes and hire us to be your professional cleaner.
Clean Group is into Social Media. You can visit us on Facebook, Twitter, and LinkedIn. We also have our own website if you feel like dropping a comment or suggestion on how we can improve our cleaning methods even further.
Clean Group is into Social Media. You can visit us on Facebook, Twitter, and LinkedIn. We also have our own website if you feel like dropping a comment or suggestion on how we can improve our cleaning methods even further.
Yes. Clean Group can adjust to a specific cleaning requirement. You just need to send an email or call us for this and our Customer Service staff will make sure that the message will reach your cleaner.
Right now, Clean Group has a limited offer of having the price of the regular clean for the first cleaning. We want our first-hand customers to experience the difference in how Clean Group does the cleaning compared to our competitors. So imagine, your office will experience the top of the line deep cleaning for the price of regular cleaning. Amazing deal!
We can do as much as daily like Monday to Sunday if that is what you need. We require at least a fortnightly visit for routine cleaning.
Nowhere in Australia will you find a quote that is as competitive as ours. Clean Group offers the most competitive bid there is.