Training is one of the most valuable company investments. Businesses hire and train people to run their business effectively. This is true in the cleaning industry. Owners will generally get people to whom they trust to carry out the services that their business caters.
This article will tell you more about managing and training employees in the office cleaning field. Join us as we unravel our tips and best practices in building a strong team.
Guide for Highly Effective Office Cleaning Training
This short article is about practical tips and ideas on leadership, team development, and employee performance management in your workplace.
Training employees is an essential skill required of both leaders, managers, and other employees. The manager is not always the person in charge of facilitating the training. Sometimes, especially for the new office cleaner, you will have another employee training them on a specific task.
In cases that the manager or another employee does not know the steps to proper training, then you may end up with a result which is below what you expect in terms of performance. In our leadership and team development training programs, we do an exercise to teach people the seven steps for training.
Explain the importance of the task and how it relates to the overall job.
Explain the procedure and the process.
Demonstrate how to do it.
Observe the person in training
Give immediate and specific feedback.
Display confidence in the ability of the person to succeed.
Get an agreement on follow-up action.
These seven steps are mostly straightforward. They are not complicated. Anybody can apply these. If you follow these steps, you are sure to have an employee that is going to be adequately trained. This will contribute to a better office cleaning organization and team success. This process also applies to delegation because every delegation requires some form of coaching as well. Our workplace cleaning guide has more information on everything you need to know about office cleaning.
Training and Development of Competitive Office Cleaners
The purpose of this chapter is to increase the effectiveness of training employees. We will read through topics that will cover orienting cleaners, the training process, implementing training and development programs, and evaluating the training efforts.
Employee Orientation
Careful selection of employees does not guarantee that they will perform excellently. Even high potential employees cannot do their jobs if they do not know what to do or how to do it. Making sure that your employees know what to do and how to do it is the purpose of orientation and training.
The Human Resources Department usually designs these programs. Employee orientation is often called onboarding today, involves more than what most people realized. Employee orientation still provides new employees or cleaners with the information they need to function.
You need to accomplish these three things when conducting an orientation:
Make sure that the new employees feel welcome, at home, and part of the team.
Make sure that the new employees have the essential information to function effectively, such as email access, he knows the policies and benefits, and what the employer expects in terms of work behaviour.
You need to help the new employee understands the organization in a broader sense. This includes the past, present, and the culture that is already established in the company. You can share the strategies and vision that you are looking forward to.
The length of the orientation program depends on what you need to cover. Traditional orientation programs take several hours.
The Human Resource Specialist usually performs the first part of the orientation by explaining essential matters like working hours, benefits and vacation. That person then introduces the new employee to his new Supervisor.
The Supervisor continues the orientation by explaining the organization of the cleaning department and introducing the newbie to his new teammates. It is the Supervisor's duty to have the newbie get familiarization on his new workplace.
Training
Training comes after the orientation. Training is the process of teaching the new employee the necessary skills they need to perform their job assignments and then later, developing additional skills.
The training programs should align with the company's strategic goals.
Also, training is part of the more significant issue in performance management. This is an integrated, goal-oriented approach to assigning, training, assessing, and rewarding employee's performance.
The manager sets a goal to their team. Training is one of the ways in which the organization that helps the employee to meet these goals. In any case, training is the hallmark of proper management.
Our training process includes five steps. Each step should be completed thoroughly as each builds on the other — the whole time and effort spent on the previous step, the better the next steps.
Need Analysis – this is the part where the management identifies and acknowledge the skills the job requires and compare these with the prospect trainees' knowledge and skill set.
In this section, you will observe that there are two factors when you start to determine the needs of the program. You need to consider if you are training a new hire a cleaner or is it an existing cleaner who needs a refresher. Here, you use the Task Analysis.
The main task in analyzing new employees training needs is to determine what the job entails and to break it down into subtasks.
Analyzing current cleaners training needs is more complicated since you have the added tasks of deciding whether training is the solution because, at times, it may not be. This is what we called the Performance Analysis.
In performance analysis, you are verifying that there is a performance deficiency and you are trying to determine whether should correct such lack of performance through training or some other means. There are several ways of identifying these training needs. These includes:
Performance appraisals or performance review
Job-related performance data
Observations
Tests
Instructional Design – this is where the management formulates measurable knowledge in performance training objectives. After this, they review the contents. This can include workbooks, exercises, and activities.
Designing the training program entails deciding on what will be the actual content of the training and what training methods are to be used. For all the most trivial training programs, the employer will want to see and approve the budget for the said program. There are many ways on how an employer can implement a training program. Below are the widely used methods:
On-the-job training
Job instruction training
Face to face training
Validation
This is where you check the effectiveness of the training. This is conducted in a small group of the newbie.
To determine the validity of the training, the company must test training on a sample employee to see if those who received the training have better performance on the job than those who have not received the same training program.
This sampling process should be conducted on multiple groups to make sure that the training is valid.
Implementation
This is where you implement the program by training the targeted employee using methods such as on the job training.
This is the most natural part. This can be done correctly if all the previous steps are done well. We will just simply train the employees that need to learn this new skill or behaviour.
It is essential to schedule the training at a time when the employee is fresh. The training is broken down into small segments to lower the chance of fatigue.
Evaluation
In the evaluation step, you assess the program's success and failures.
Most of the company overlooked this step. In many instances, an organization will spend a lot of time and resources on the first four steps and completely forgets arguably the most critical part of the training.
Cleaning Method of Training Employees How To Clean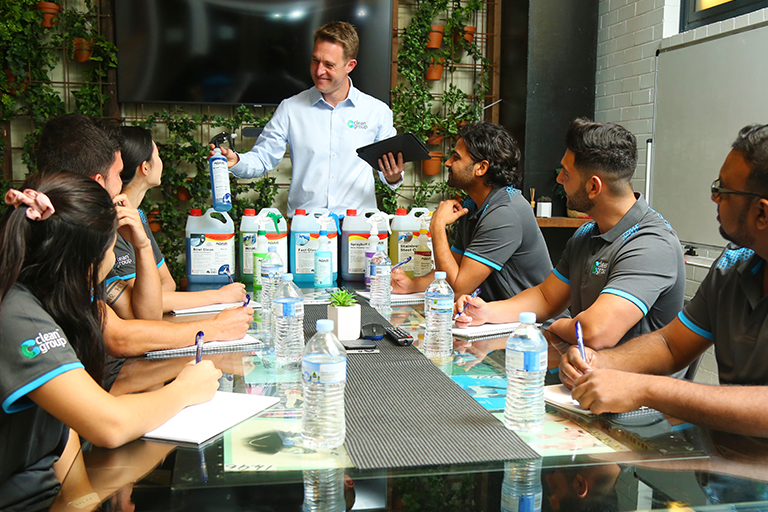 In this section of the article, we boiled our system down to 13 rules. We will also talk about the first two most important rules, and we will talk about the other rules as we move along.
Make Every Move Count.
You may know what it is like to work without a system. You are moving back and forth all over the premises. You are repeating steps you know you do not need to. You are making more and more work for yourself. In short, you are working more than you need to, but you are accomplishing less than you could.
When you learn every move count, you will learn to work in a sequence that makes good common sense without backtracking. Once, around the room and you are done except for the floor. Keep this rule in mind. To make every move count, you have got to observe rule number 2.
Use the Right Tools.
You need to have professional cleaning tools that work. The single most crucial tool turns out to be a work apron. This apron helps us make just one trip around the room when working. With this apron, the cleaner can carry everything around with him.
You also need to identify the items that you need in cleaning the areas that you intend to clean.
Work from Top to Bottom.
There are no exceptions to that rule. If you do not work from top to bottom, you will continually do work for yourself because dust and debris and even cleaning solution will drift back down on the surface that you already clean. Besides, it is time-consuming and exasperating. That is also the reason why we attend to the floor last. You can knock debris on the floor while you are cleaning it and you can pick it up when you do the floor.
If It Is Not Dirty, Do Not Clean It.
Pay attention. This will save the cleaner time and effort. The same goes for vertical and horizontal surfaces. Vertical surfaces do not get as dirty as horizontal surfaces. Upper shelves get less dust than the lower shelves, and the same goes with upper and lower moulding.
Do Not Rinse or Wipe a Surface Before It Is Clean.
You need to learn to see through the dirt. If you cannot do that, feel through the dirt. The surface feels different when it is clean.
Do Not Keep Working After It Is Clean.
In other words, when you reach the actual surface, stop cleaning. Besides wasting time scrubbing that is already clean, you can damage the surface of the countertop, and it wears out your cleaning cloth much quicker than you want.
If What You Are Doing Is Not Going to Work, Shift to a Heavy-Duty Cleaner or Tool.
Pick the tools that are strong enough for the job at hand. If you are using your cleaning cloth and you are not making much progress, jump up to a different cleaning cloth. Do not waste time by continuing to try something that is not working well. Cut your losses. That will save you from wasting time.
Keep Your Tools in Impeccable Shape.
This will prepare you for an unusual office cleaning situation wherein the use of a specific tool will get the job done for you.
Repetition Makes for Smoother Moves.
If you already have a proven technique in office cleaning training, you can use that, again and again, to speed up the process in an effective way.
Pay Attention.
Everything falls into place if you do. If you are cleaning, just clean.
Keep Track of Your Time.
Feel a little faster every time. It is incredible how that happens. This will make you feel gratified.
Use Both Hands.
If you stop and think about it, one half of your workforce is idle if you use just one hand. You cannot always use two hands, of course, but often, you need to use both of them to speed up the process and clean in less effort.
Always Work as a Team.
office cleaning is much more fun if you work in harmony.
Now, this article cannot give you complete knowledge of how you will train your cleaners to become successful in the field that you had chosen.
We covered the practice that we use, and we find it useful, which help us reach the spot of where we are at right now. Please feel free to share your techniques and tips and let us brainstorm on how we will help each other in running this cleaning business. Drop your comment below and let us keep the conversation going.
Our Office Cleaning Service Locations: Clean Group Clean Group Sydney, Clean Group Melbourne, Clean Group Brisbane, & Clean Group Canberra
About the Author