If you take care of them properly, tile floors can last a lifetime. Luckily, tiles are relatively low maintenance compared to some other types of flooring. Warm water, a chamois mop or rag, and a bit of soap are all you need to keep the floor shining and clean.
How Often to Clean Tile Floors
If you want to get rid of the gritty mess that can dull the finish of a tile floor, you should consider vacuuming, sweeping, or "dry commercial cleaning" it twice a week. Mop or wet clean the tile floor in the bathroom once a week and the kitchen every two weeks.
It is recommended to spot clean the grout once every two to three months or more if your home tends to pick up more dirt; this is especially true in areas that are high traffic zones.
What You Need to Clean Floor Tiles
Materials
Warm water
Dish soap or all-purpose cleaner
Tools / Equipment
Dry cloth
Bucket
Chamois mop or rag
Vacuum or broom and dustpan
How to Clean Porcelain or Ceramic Tile Floors
It is often hard to see grime build-up under your feet, even though most porcelain, ceramic, and tile flooring are easy to clean. You can clean ceramic or porcelain tiles with basically any sort of cleaner, whether it's simple white vinegar, all-purpose cleaner, or another commercial cleaning product.
Step One – Vacuum or Sweep the Tiles
Make sure you focus on areas where the dirt piles up, such as corners or around skirtings. If you are looking for a way to pick up hair and dirt quickly, you can incorporate a microfiber duster into your clean-up.
Step Two – Combine Warm Water and a Cleaning Solution
Add your cleaning detergent to the water and mix thoroughly. Please follow the instructions on the label or the manufacturer's directions on the packaging. Even though tiles don't fade or scratch, it's better to follow the guidelines on the product so that it doesn't leave too much residue on your flooring.
Step Three – Gently and Evenly Run the Mop Over the Floor
When cleaning the area, ensure there is not an inch of floor that gets missed by following a pattern as you move through the room. That guarantees that this particular part of your home will be left in spick and span condition.
Step Four – Change the Water Regularly
The water will naturally become cloudier as you rinse the rag or mop. Refill it regularly to avoid a hazy film of grime being left on the tiles by dumping the dirty water down the drain.
If you start noticing a grime film-forming, we recommend creating a mixture of hot water and white vinegar. Dampen your cloth with the solution and begin wiping the affected area.
Step Five – Clean the Grout
Mix up a bleach solution (make sure not to get bleach on your hands) or use a specially made grout cleaner and spray it on the required area. Give it a few minutes to sit so that the solution can extract the dirt and then rinse it off.
Step Six – Dry the Floor with a Clean Cloth
Dry your tiles with a clean cloth immediately after mopping, especially if it is prone to forming hard watermarks.
How to Clean Natural Stone and Marble Tile Floors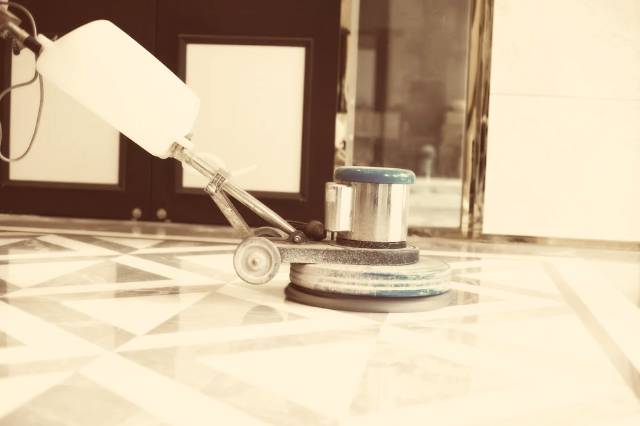 There are a few caveats to note when cleaning granite, slate, and marble tile floors, even though they are cleaned nearly the same way.
Natural stone tile floors tend to scratch much more quickly than porcelain and ceramic, so make sure to use a soft-bristled broom when sweeping.
Avoiding discoloration on granite requires that you use a mild detergent that is PH-neutral.
Marble and slate tiles can't handle any acidity, such as a powerful grout cleaner or vinegar solution.
How to Clean Linoleum or Vinyl Tile Floors
The tile upkeep of linoleum and vinyl floors is necessary even though they are inexpensive alternatives to the pricier ceramic or stone tile counterparts. Linoleum and vinyl aren't made to withstand moisture and extreme heat, so be careful when using a steam mop as an easy solution.
Vinyl: Mop with a mixture of vinegar and water or a manufacturer-recommended cleaning solution after sweeping. This kind of flooring can scratch easily, so make sure not to use an abrasive cleaner.
Linoleum: Clean with a mixture of water and borax or solutions meant for linoleum flooring after sweeping. If you want to maintain the floor's shine, it is recommended to apply a coat of wax every three to six months.
Tile Floor Cleaning Tips
Instead of using a sponge mop, try to get hold of a chamois mop or rag, as the sponge will drive the dirt deeper into the grout. Make sure not to use peroxide or vinegar on the grout as the acidity tends to weaken it up.
If you have stone floors, ensure that you avoid damaging acidic cleaner as it eats away at the material.
Removing Stains from Grout
Stains quickly occur on grout, especially if it is light in colour. Combine water and baking soda to make a paste if you can't get rid of the stain with regular cleaning. After applying the solution to the stain, let it sit overnight or for a few hours, then use a nylon brush (an old toothbrush works well, too) to scrub out the marks.
You may have heard of using a steam cleaner to get rid of grout stains, but we don't recommend this; if the grouting is steamed regularly, it could lead to long-term damage.
Avoiding damage to your grout is essential if you want beautiful tiling that will last a lifetime. If you want to protect your grout from further harm, you can apply a silicone-based sealer to protect the area.
Conclusion
Having clean tiles in the home keeps your place looking fresh and allows you to have a sanitary home for your family. Follow the guidelines set out in the article and clean your tile flooring correctly the first time around.
About the Author