It's that time of year again when the leaves start to change color, and we're all thinking about what winter weather will be like.
One thing you might not think about is your windows. If they're dirty, it can make your place look dark and dingy inside.
Commercial cleaning isn't just a job for commercial window washers: homeowners can do their own with simple supplies and a little elbow grease!
Please keep reading for tips for exterior windows cleaning them yourself, so you don't have to hire professionals this season.
How Important Is It to Clean the Exterior Windows of a Commercial Building?
The exterior windows and doors can be the first impression that potential clients have of your business.
If not maintained, these surfaces can attract dirt and grime very quickly, and if not cleaned regularly, this will make them appear dull and dirty, leading to a decline in business.
Therefore, exterior windows must be cleaned at least three times a year or more frequently, depending on the location and exposure of the building.
Property managers should decide for this service to be carried out, or they can leave it up to the desk staff; if this is the case, make sure that the desk staff is well trained in cleaning methods and safety precautions.
What Are the Benefits of Having Them Professionally Cleaned?
In addition to keeping your business looking professional, exterior cleaning of a building will also protect them from dirt, grime and moisture. Contact us for the best exterior cleaning services at a low cost.
Over time, these elements can corrode and damage panes of glass, leaving them in poor condition, which could cost a lot of money to replace.
If they are cleaned regularly, this problem is prevented, and any damage is less likely to be significant.
It will also help ensure that the appearance of your business improves, making it look more welcoming and leaving a lasting impression on visitors.
Commercial windows cleaning is a process that involves three different steps, which are preparation, washing and drying.
Each step must be carried out carefully to clean the window surfaces successfully.
That's where windows cleaners come in: they know the best methods and use professional equipment to do this task quickly and effectively.
Do I Need to Hire a Professional Window Cleaner?
If you are not confident in carrying out these steps yourself or do not have the time to invest in this task, then hiring professional window commercial cleaners should be considered.
In addition to saving you from hard work and hassle, it will also ensure that your windows are cleaned properly every time; if done incorrectly, there is a risk of damage which may lead to expensive repairs.
This means that you should only consider hiring a professional if you cannot complete this job yourself or if your windows require more than just an ordinary clean.
How to Clean the Exterior of Commercial Windows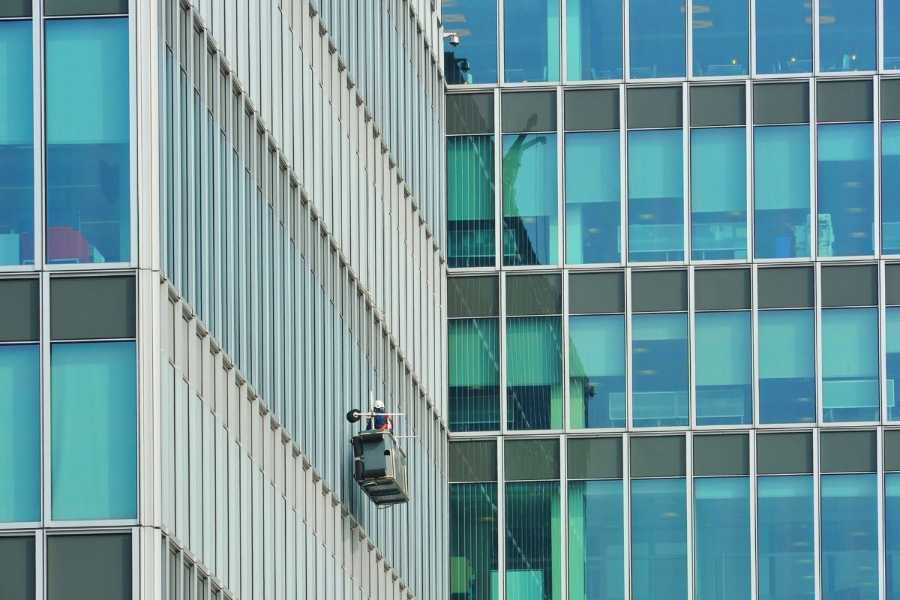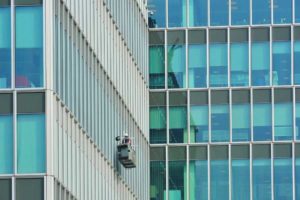 Step One
The first step in maintaining your exterior windows is to remove any dirt and grime that may be on the glass with a soft cloth moistened with warm water, or you can use an all-purpose cleaner.
Please note that some cleaners and detergents can damage the glass, so read the manufacturer's instructions first.
Do not use abrasive materials or scrubbing brushes, as this will scratch the surface and cause permanent damage to your windows.
If you wish to remove paint splashes from external painted sills, seek professional advice as it is safer than using chemicals.
If you do not have a cloth, paper towels or tissues can be used instead.
Step Two
Once the glass has been wiped clean, inspect it for signs of dirt and other marks that cannot be removed with a soft cloth.
You may need to use a window cleaning solution diluted 50/50 with water if this is the case or a window cleaning chemical.
There are different types of cleaning available on the market for this purpose, some designed specifically for commercial windows and others that can be used more generally.
If you plan to spend a lot of time working near these chemicals, they must be non-hazardous and approved by safety authorities.
Never use vinegar or bleach to clean exterior windows, as these are corrosive and will damage the structure over time.
High Rise Windows Cleaning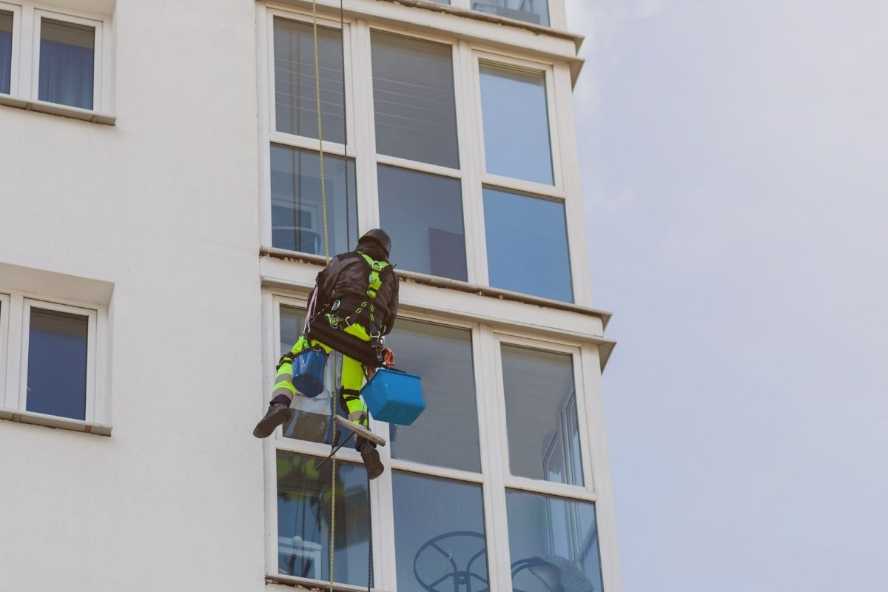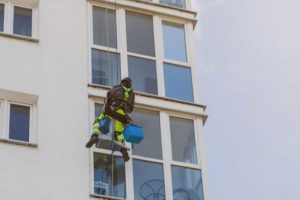 For high rise windows, it's best to call a professional window cleaning company that has the proper types of equipment and experience to get the job done for high rise windows.
Exterior window cleaning of high-rise buildings requires special techniques, equipment and safety precautions.
The use of water fed poles is common practice for high rise commercial window cleaning as it ensures the safety of the employees and the property being cleaned.
However, these poles need to have a solid base at their starting point or be tied off properly not to become unstable and cause damage to the building itself.
Special equipment should also be used for this job, which entails a squeegee with a telescopic handle and a bucket.
Although there are other techniques that you can use to clean exterior windows, such as the rope access method or water blasting, these methods require extensive training and experience to perform properly.
Furthermore, if undertaken incorrectly, they pose a significant risk to both employees and windows, leading to injury and damage.
Commercial window cleaning should not be done alone; it requires extensive technical knowledge and experience to get the job right every time.
If you do not feel confident enough to carry out this task yourself or don't have the time, seek professional advice on exterior window cleaning.
How Much Does It Cost for Professional Exterior Window Cleaning?
The price may vary depending on the size and height of the windows, the type of window cleaning fluid used, how dirty the windows are, and whether any scaffolding is needed.
Can It Be Done by Ladder?
Yes, this is not an issue. However, it will depend on the height of the windows, how many there are in one building and if they have balconies. More than three stories would need scaffolding in most cases.
What Else Should You Know?
Cleaning the exterior windows of a high-rise building is a job that involves considerable risk. Unless you have the right experience and expertise in this kind of cleaning and have the right resources for the job, including high-quality safety belts, DO NOT do it yourself.
Hire a professional exterior window cleaner for your commercial cleaning at affordable prices from Clean Group.
We are a highly experienced and passionate team of strata cleaners who can take care of your building cleaning needs, including interior and exterior window cleaning, in a completely safe and efficient way.
We promise high-quality cleaning results along with a very responsive & friendly team and on-time job completion.
Last Thoughts
Cleaning your commercial building's exterior windows can be a daunting task.
It is very important to have the outside of the building looking its best, so you may want to consider hiring professionals who specialize in high-rise window cleaning for this project.
If you are interested in learning more about how we do it, contact our team today! We hope you liked this article and if you did, feel free to share it with your friends and family.
Do You Need to Hire a Commercial Window Cleaning Company?
We can help! Clean Group is the best choice for your business. Our exterior window cleaning services are affordable, and we'll work with you to make sure our service meets your needs. Plus, we have over 10 years of experience in the industry, so you know that when it comes to commercial cleaning, we do it right.
Let us take care of all your office cleaning needs so that you can focus on running your business instead of worrying about how dirty everything has gotten behind closed doors.
You won't find another company as experienced or reliable as ours, so let us clean up for good!
About the Author