Upholstery Cleaning Services Sydney | Upholstery Cleaners Sydney
Cleaning your office is one of the most important things to do when you run a business or work at an office, but people often forget about many of the things those processes include.
Window cleaning, carpet cleaning, and office deep cleaning are the most common cleaning services people hire, but many forget about professional Sydney commercial cleaners services and how much they can help you.
Upholstery cleaning helps you keep your office furniture stay crystal clean and free of dust, dirt, and other debris. However, this is not something you can easily do by yourself. This applies to all cleaning services, but some of them are more doable by people than others.
You can't do that with upholstery cleaning. It's best if you ask an upholstery cleaner to take care of the cleaning process for you since they have all the cleaning equipment and solutions to make your furniture's delicate fabrics look better than ever. Apart from that, it prevents any problem from worsening in the future.
We recommend you only hire upholstery cleaning experts for the job since hiring a company that doesn't understand the problem that much could worsen everything in the long run. People living in Sydney NSW can always count on Clean Group! We are a professional commercial cleaning company, and we offer a variety of services regarding commercial and residential cleaning.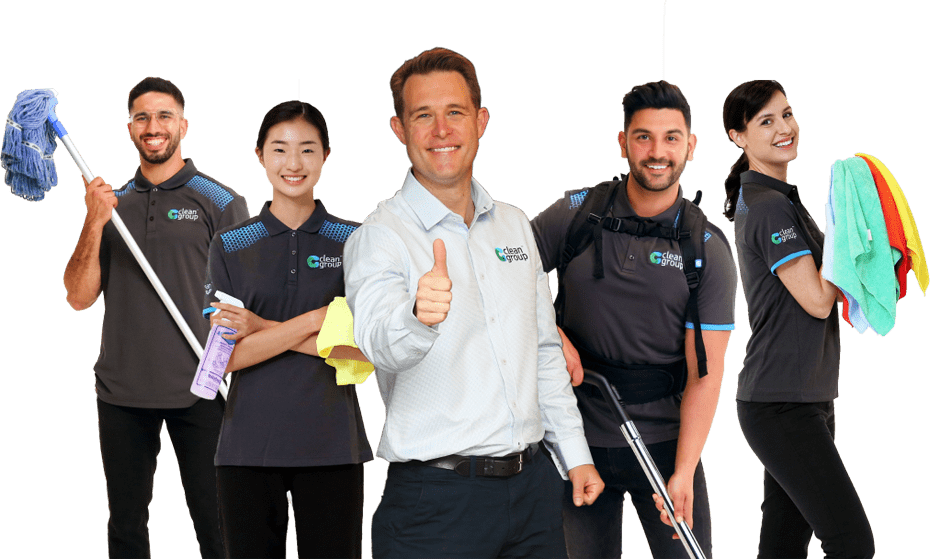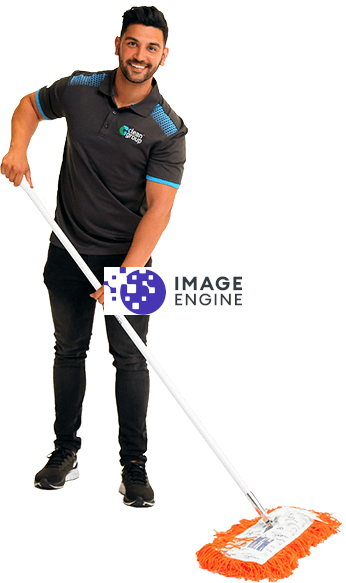 What Can I Ask Clean Group to Clean?
Not everyone knows how many things the term upholstery includes since it doesn't limit itself to office products or furniture. When you call Clean Group, you can ask it to clean any product made of upholstery fabrics or with any type of upholstery fabric on its design.
Those products go from dining chairs to leather furniture or a piece of delicate fabric. Therefore, you can ask cleaning experts to remove stains from car seats, ergonomic chairs, sofas, and even curtains or blinds made of it. However, everything depends on the company you hire.
We also offer commercial window cleaning, commercial floor cleaning, commercial carpet cleaning, janitorial cleaning, commercial building cleaning, corporate cleaning, blind cleaning, upholstery cleaning, Commercial Pressure Cleaning, aged care cleaning, hotel cleaning, shopping centre cleaning, university cleaning, bank cleaning, stadium cleaning, auditorium cleaning, showroom cleaning, retail cleaning, window cleaning, factory cleaning, touchpoint cleaning, hospital cleaning, pub cleaning services to our clients.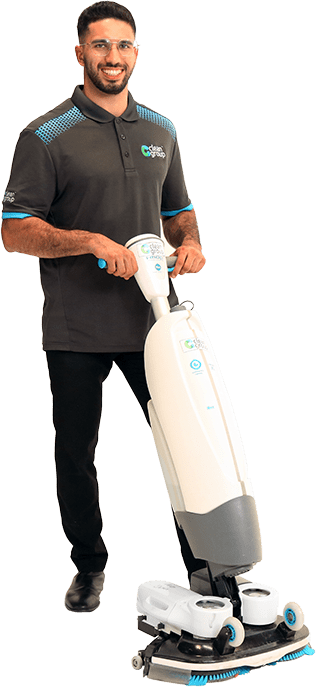 Is Office Upholstery Cleaning Worth It?
The short answer is yes; hiring a professional upholstery cleaning service is worth it for anyone running a business or working at an office. Most people avoid hiring an upholstery cleaning service because they don't want to spend that much money on it.

However, ignoring this problem and not paying for upholstery cleaning can make you lose a lot of money in the long run. Firstly, upholstery catches dust, dirt, and pet hair like not many things do, and since you have to constantly sit on your sofas and upholstery chairs, you are exposed to those things.

Staying that close to those external agents is not that good for your body, and it can trigger severe allergies and other lung issues. While these problems don't affect everyone in the same way, people who constantly suffer from asthma attacks or breathing problems can't work in an environment like that.

Even if you are not at the lower end of the deal, working while suffering from allergies is a nuisance and reduces your productivity. Many people don't notice it straight away, but working under those circumstances slowly decreases your work performance, and thus, your revenues.

Apart from that, the dirt and grease upholstery furniture gets over time makes your office lose the appeal it had when you started working at it. Working at a place you don't visually like makes you lose motivation over time. You can avoid all those problems by paying for a professional upholstery cleaning service every once in a while.

Indeed, some cleaning processes are not as affordable as others, but things such as a professional upholstery cleaning service aren't that expensive. We recommend you try it for a time and see if it works for you and your office.

However, if you have questions about how upholstery cleaning works, you can always go to our website and contact us to address your concerns. Our contact number is there, so customers in Sydney NSW can also use it to get a quote for the services they want.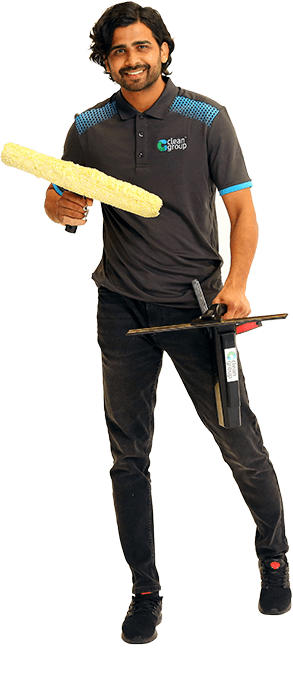 What Does Our Upholstery Cleaning Service Consists of?
One of the biggest misconceptions about upholstery cleaning is that it only consists of stain removal and getting rid of dirt and dust, but that couldn't be further from reality. When someone hires Clean Group, they are paying for a full inspection of their upholstery furniture in search of tears and any other damage the furniture has.
After that, our workers start vacuuming, conditioning, rinsing, and drying the sofa or chair. However, that's only one of the methods they use since we also try hot-water extraction, steam cleaning, leather cleaning, and many other methods to address specific problems.
When speaking about upholstery cleaning in Sydney, the hot-water extraction method is one of the most effective and used, but you can ask for the ones you feel most comfortable with. Upholstery cleaning doesn't limit itself to the office, though. Customers can also ask for car upholstery cleaning services if they ever need them.
Nonetheless, services aimed at car upholstery and other delicate fabrics are mostly done for aesthetic purposes. Upholstery cleaning experts are often specialised in other things such as stain removal, carpet cleaning, and any other cleaning process that helps you make your office look better.
Upholstery cleaning in Sydney also helps you get rid of bad odours in your car or office furniture. Steam cleaning is mostly the must-go option when talking about removing those odours, and it also works for tobacco smoke.
Allergens, grime, dust, and dirt in upholstery furniture often get to air ducts, which worsens the room's indoor quality to a dangerous degree. Therefore, if you invest in upholstery cleaning and leather cleaning, the air quality in your office improves a lot, and that gives you a healthier environment to work in.
Is It Better to DIY the Problem or Hire Professional Upholstery Cleaning Services?
Although you may guess this question's answer by reading this article, people should hire upholstery cleaning companies instead of trying to take care of the problem by themselves. The reason for that is the people working in those companies are experts in the cleaning process and know what to avoid to keep themselves from damaging the fabric of your furniture.
Firstly, people offering upholstery cleaning in Sydney have all the cleaning equipment they need to work, and we are talking about professional cleaning equipment not everyone knows where to get. That includes professional vacuum cleaners, cleaning products, solutions, and other things.
Therefore, they can offer you a more thorough inspection and cleanse of your furniture than the one you would achieve by yourself. As we mentioned, upholstery cleaning or carpet cleaning doesn't only consist of removing stains or dirt, and it goes beyond that. This applies the most when dealing with heavy fabrics.
Furniture with heavy fabrics requires a more detailed service to keep it from getting a lot of dirt or looking worse in the future. Upholstery cleaning experts know that, so they also offer to periodically give you maintenance services for your upholstered furniture and car seats.
We understand cleaning everything by yourself sounds more comfortable and convenient for you, and it could work for some issues, but not for the majority of them. You, for example, could take care of a stain by yourself, but some stains are more difficult to remove than others, and trying to clean them without the right products could make you create a bigger stain.
Additionally, you could even ask upholstery and carpet cleaning experts to give you some tips to clean your furniture and keep it from looking worse in the future. You can't pay for leather cleaning for your upholstered furniture and then forget about it, so you should do it at least once a month or once every two months.

How Expensive Can Upholstery Cleaning Be?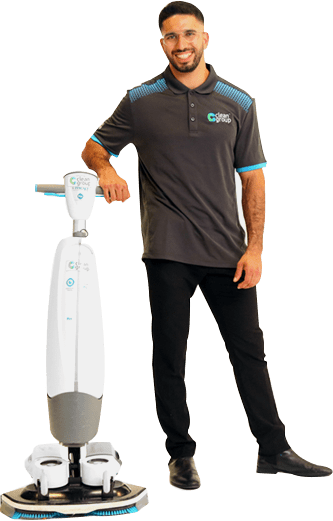 Everything depends on the cleaning company you hire and what its quotes are. The average for steam cleaning and traditional upholstery cleaning is between $150 and $200, but that price can go lower or higher. Independent cleaners, for example, often charge you $10 or $20 for the whole deal.
Some things could affect the price, and of them is if you pay for any additional services. If you want to go for a specific cleaning method or product to get your upholstery cleaned, and that method is more expensive to perform, then the company may charge you more money at the end of the day.
We recommend you only pay for the services you need without going over your budget. However, if you need some additional cleaning services and can afford them, you shouldn't restrain yourself from paying for them.
Conclusion - Hire Commercial Upholstery Cleaning Services Here!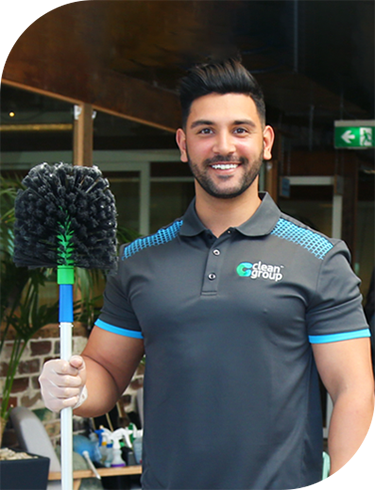 As you could see, Sydney upholstery cleaning services are more important than more people think, but investing in them represents a profitable investment for you and your business in the short and long term.
Make sure to stay in touch with the cleaning company you like best and call it whenever you have a problem with your upholstered furniture. These companies also get to understand your furniture's issues and give you personalised solutions to each one of your problems.
You could also ask upholstery cleaners for other services after they're done with your furniture.
Here at Clean Group, we offer you services from steam cleaning to carpet and office deep cleaning, so don't hesitate to call us whenever you need our help!
We are available in Sydney NSW, but stay tuned to our website in case there's any update you are interested in. Sydney upholstery cleaning services aren't as expensive as other services on the market, which means you don't have to go over your budget to pay for them.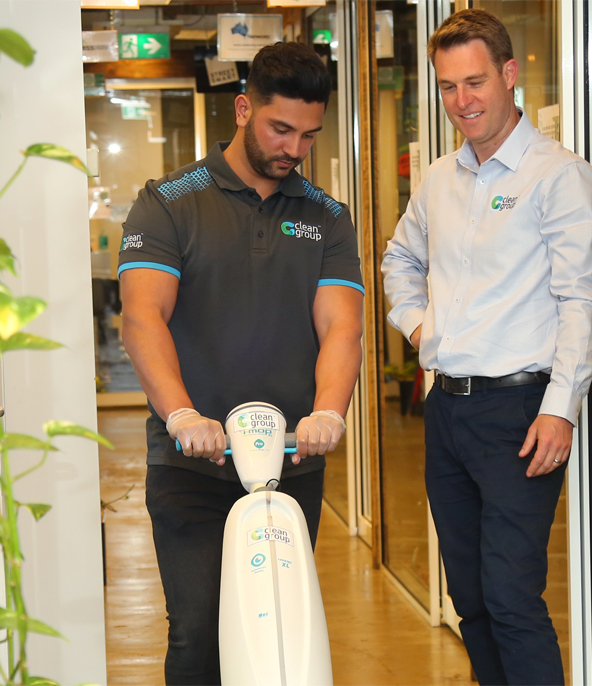 Frequently Asked Questions
---
Clean Group offers a wide selection of cleaning services you can choose from. Starting with routine cleaning, carpet cleaning, internal-external window cleaning, office cleaning, gym cleaning, childcare cleaning, medical centre cleaning, school cleaning, and the list goes on. Just check our website to know more.
The cost will depend on how much time, how much material, and what type of equipment needed for a cleaner to perform the cleaning that is required for your business. Our friendly sales managers can do a free onsite visit to determine the best price and cleaning program for your premises. Call us now on 02 91607469
Clean Group cleaners are all professional, reliable, and well-trained. We only employ full-time cleaners. This ensures that the cleaners are committed to high cleaning standards.
Absolutely! We are fully insured. Certificate of our insurances will be mailed to you with our quotation so you can have peace of mind.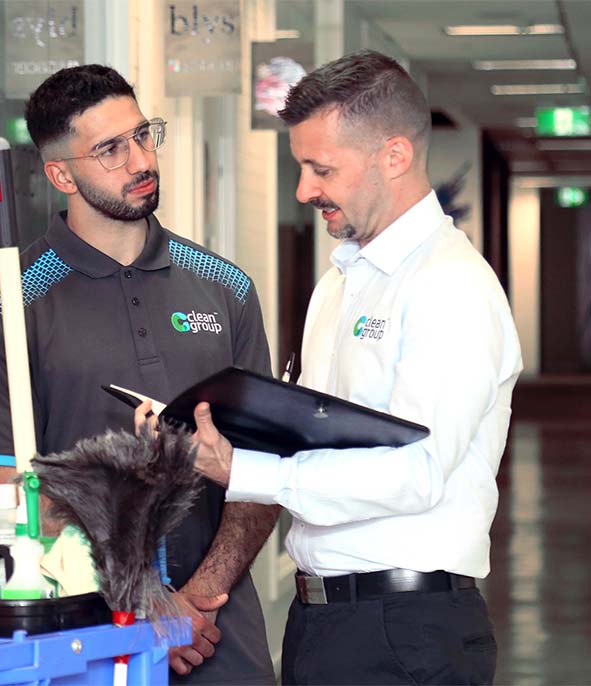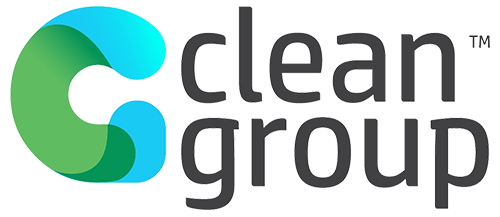 | | |
| --- | --- |
| Team Size: | 70+ |
| Services: | Upholstery Cleaning, Upholstery Cleaners |
| Contact: | 02 91607469 |
| Email: | [email protected] |