Leading Commercial Cleaning & Office Cleaning Services In Sydney NSW.
Our Expert Cleaners Will Do a Perfect Job - Every Time - Guaranteed.

Are your professional cleaners showing up late or sometimes not at all? Are they vacuuming floors properly? Do you notice dust still on sills after they've been? Or smudged windows? Are you looking for reliable cleaning services?
The good news is that it doesn't need to be that way.
When we started Clean Group 20 years ago, we put in place systems and rigorous training to ensure that every one of our clients experiences consistently outstanding levels of cleanliness, sanitisation and customer care. We specialise in office and commercial cleaning services across NSW

COMMERCIAL
CLEANING

OFFICE
CLEANING

VIRUS
DISINFECTION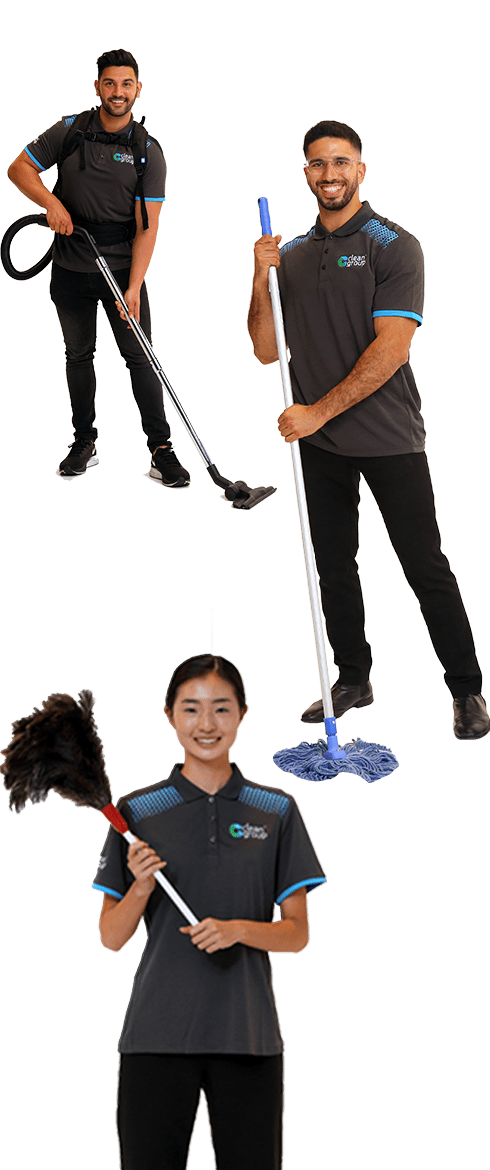 Reliable Cleaning Company in Sydney NSW.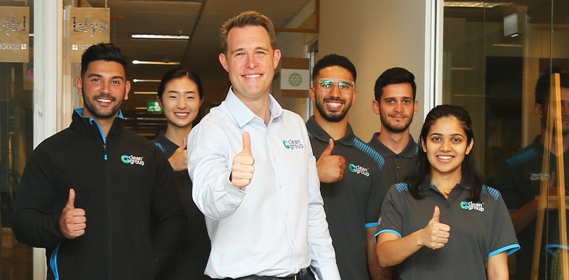 Finding reliable office cleaning in Sydney – a team that shows up regularly does a fantastic job consistently,
and can be trusted – can be difficult. We guarantee your cleaning worries will be no more. All your cleaning challenges will be properly dealt with by a team of office cleaning experts. Whatever your cleaning project, our expert office cleaning staff delivers the best service for a comprehensive range of cleaning jobs, including:
Reasons To Choose Clean Group
As Your Commercial Cleaning Services Provider
Clean Group isn't just another commercial cleaning company.
We've been providing affordable cleaning services to thousands of happy clients for more than 20 years. Over the decades, our quality cleaning services have earned us a reputation other commercial cleaning companies can only dream about achieving. The following guide will step you through the reasons you should choose Clean Group as your commercial cleaning services provider, a breakdown of our professional cleaning services and the fastest and easiest way to hire the best commercial office cleaners in Sydney. Our corporate cleaning services are used by top businesses in Sydney NSW.
Here are the key takeaways
Customised Cleaning Schedule
The key to really meeting all your cleaning needs and ensuring your cleaning worries are truly forgotten is a customised cleaning...schedule tailored to your specific commercial cleaning office requirements. We break down the cleaning tasks one by one and develop a commercial cleaning solution that suits your hours of operation, addresses any cleaning challenges your industry presents, and fits in with your budget.
Expert Commercial Cleaners
All of our professional cleaners in Sydney are highly trained professionals with the right cleaning skills to guarantee a consistently...outstanding result every time As cleaning industry leaders, we provide each commercial cleaner with ongoing training for all types of cleaning jobs as well as the right cleaning products and equipment to ensure truly exceptional service.
High Tech Cleaning Equipment
We invest in the very best commercial cleaning equipment, including the i-Mop Scrubber and advanced electrostatic spraying systems to... ensure no cleaning task or cleaning project is beyond our cleaning teams. When it comes to commercial cleaning in Sydney, no other cleaning service can match our range of commercial cleaning methods and fit-for-purpose tools of the trade.
Superior Customer Service
Every aspect of our professional service is designed to ensure clear communication with our clients and a consistently high level...of customer care Our friendly customer care team at our Sydney office is staffed by commercial cleaning experts ready to discuss your cleaning needs or address any issues you may have with your cleaning service.
Fully Insured
Clean Group has proper insurance for a commercial cleaning office company, and all our cleaning services and...professional commercial clean team are fully insured Our cleaning services are insured for office cleaning, industrial cleaning, retail cleaning, medical cleaning, strata cleaning, builders cleaning, lease cleaning, emergency cleaning, as well as a range of other services and cleaning projects.
100% Satisfaction Guaranteed
We're so confident in our ability to deliver a consistently reliable cleaning service that ALL our cleaning services are backed by an...iron-clad 100% satisfaction guarantee. If for any reason you are not completely satisfied with our cleaning services, simply give us a call and we will come back and clean again for no further cost.
3 Steps To Hiring Affordable Commercial Cleaning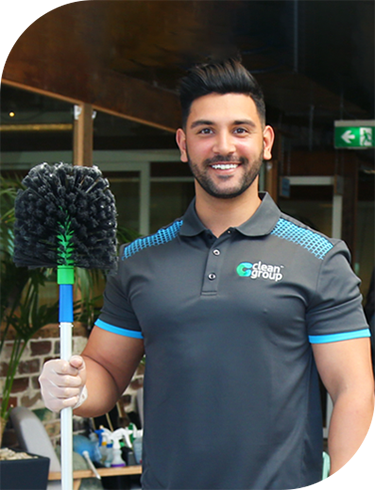 Step 1. Arrange Free Cleaning Assessment For Your Worksite
More often than not cleaners in Sydney are quite happy to provide a quote for commercial cleaning services over the phone. But we have found that performing a free onsite assessment to get an in-depth understanding of your particular cleaning needs before we provide a free quote is the best way to ensure we provide the right cleaning services our clients really need.
Step 2. Establish Unique Cleaning Requirements For Your Commercial Building
Once we've completed the onsite assessment, one of our commercial cleaning experts will put together a customised cleaning service proposal that best matches your cleaning needs and aligns with your hours of operation and your budget.
Step 3. Choose The Right Cleaning Program For Your Workplace
Now that you have your custom proposal and free quote, all you have to do is decide which combination of commercial cleaning services best suits your needs. You may sign off on all or some of the options we recommend. It's up to you.
Looking For Professional Office Cleaning?
A lot of our clients depend on our professional office cleaning services to ensure their corporate premises are kept clean and hygienic at all times for employees and visitors alike.
Get a Free Quote
Sydney's Most Trusted Office Cleaning Company
By consistently meeting the office cleaning needs of clients all over Sydney - from the Sydney CBD to other CBDs in North Sydney, Chatswood, Parramatta and a range of other commercial centres - Clean Group is trusted by organisations big and small for office cleaning services.
We've been office cleaning in Sydney for 20+ years and understand the impact our city's climate and humidity has on your office space.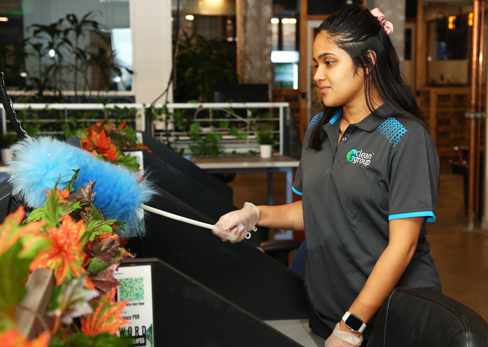 Hire Reliable Office Cleaners
Our experienced office cleaning experts know all there is to know about cleaning offices. They turn up on time every time and each office cleaner is insured and background checked for your peace of mind.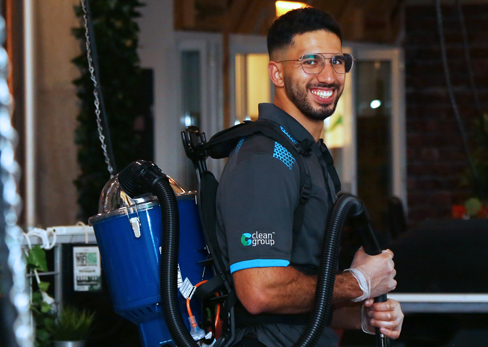 Affordable Cleaning For Your Office Space
By working with you or your office manager to develop a customised office cleaning schedule, we can provide you with skilled office cleaners trained to focus on high-traffic areas and high-touch surfaces so you get a consistently clean office every time at an affordable rate.
What's Included In Our Office Cleaning Services?
Clean Group is a full-service office cleaning company able to meet all your office cleaning needs. We've been office cleaning Sydney-wide for more than 20 years and this experience has enabled us to develop efficient cleaning methods for every type of office cleaning task.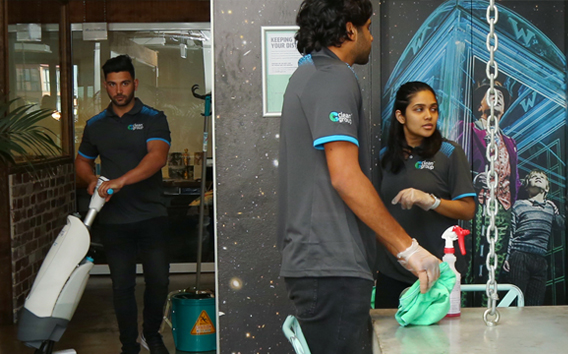 Office Entrance and Foyer
First impressions are important in a corporate setting, so our office cleaners will ensure your office entrance and foyer look immaculate whenever your staff and visitors come in.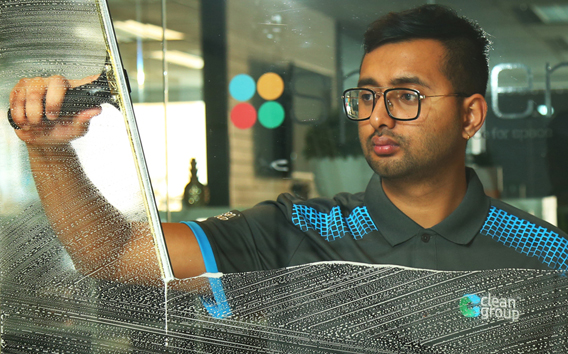 Office Reception
Your office reception is the first point of contact for your visitors, and our office cleaner will ensure your receptionists are able to present a tidy, organised welcome area every time.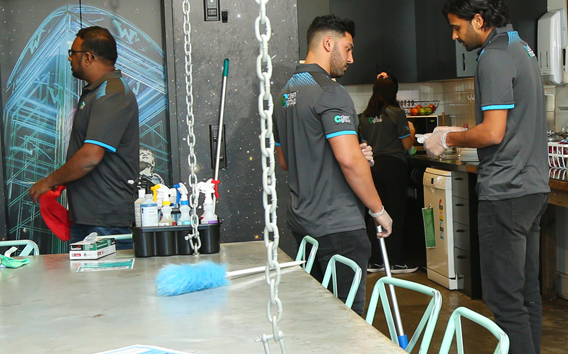 Common Walkways
Common walkways and other high-traffic areas require special attention to keep them looking clean, and our office cleaning staff are trained to ensure these areas are thoroughly cleaned.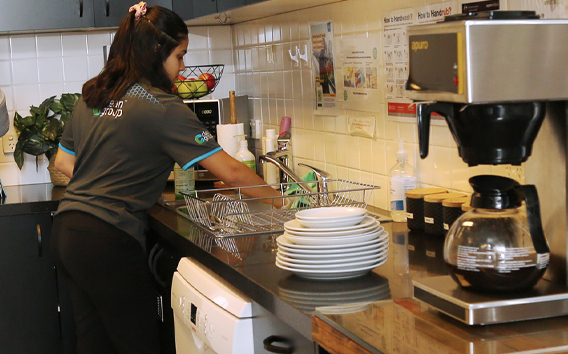 Office Rooms
Everyone wants a clean office. Our office cleaner will focus on high-touch objects and fixtures such as desks, chairs, phones, computer equipment, door handles and bins.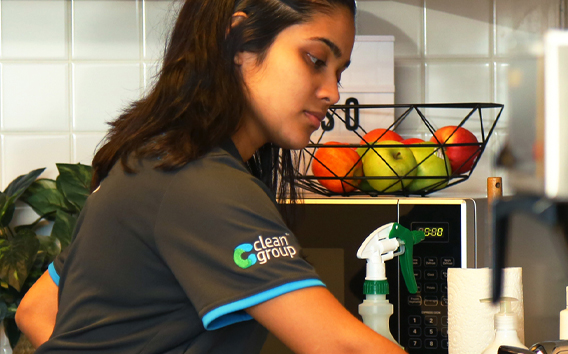 Coworking Office Spaces - Commercial Cleaning Sydney CBD
Coworking office spaces can be subject to heavy use by multiple workers, and our cleaners will ensure these spaces are kept as clean and tidy as individual office rooms.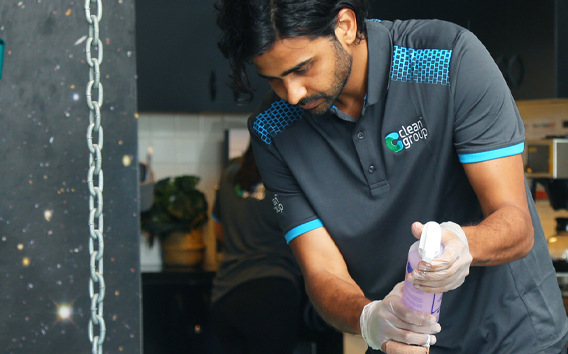 Communal Work Spaces Office Cleaning Sydney CBD
Our cleaners can also maintain large open-plan communal workspaces with a variety of sitting and standing areas.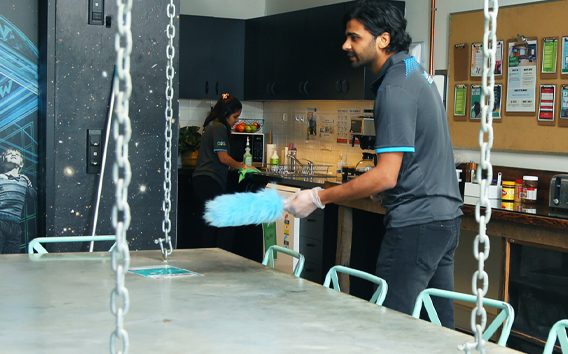 Office Kitchen - Office Cleaning Company
The office kitchen is a hotspot for attracting grime and causing hygiene issues. Our cleaners will clean all tables and chairs, benchtops, sinks and taps, microwaves, kettles and coffee makers, refrigerators and bins and remove any rubbish or waste.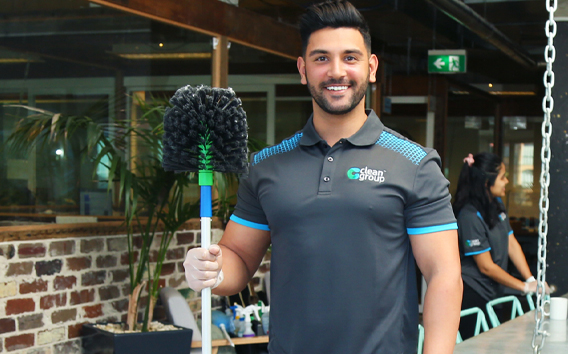 Office Meeting Rooms - Commercial Cleaning Company
Our cleaners will clean chairs and tables, glass partitions, doors, TVs, whiteboards, cabinets, conferencing equipment and any other office meeting room equipment.
What Makes Clean Group's Commercial Cleaners Stand Out?
Cleaning Techniques and Equipment
Clean Group's commercial office cleaning professionals employ a range of cleaning procedures, cleaning chemicals, and specialised cleaning equipment during the cleaning process.
The scope of work our commercial cleaners perform can include internal, general and routine cleaning - including internal walls, partition walls, floors, floor and wall tiles, suspended ceilings, lighting fixtures, furniture, window cleaning, glass and mirror cleaning, kitchen and dining areas, deep cleaning washing facilities and sanitary conveniences, bathroom consumables and feminine hygiene disposal units, phones, computer equipment and other IT equipment - as well as periodic cleaning as required.
All fixtures, fittings, objects and structures involved in running a commercial business - whether it's cleaning a rental property for a real estate property manager, cleaning up a building site, or disinfecting a medical facility - are candidates our cleaners may target.
Professional carpet cleaning involves a combination of regular vacuuming along with periodic hot water extraction using appropriate equipment every 18 months to two years, depending on the type of carpet and extent of use.
Our professional cleaners can also perform external cleaning work, such as picking up litter, disposing of rubbish and other waste, washing outside walls and windows, and removing graffiti.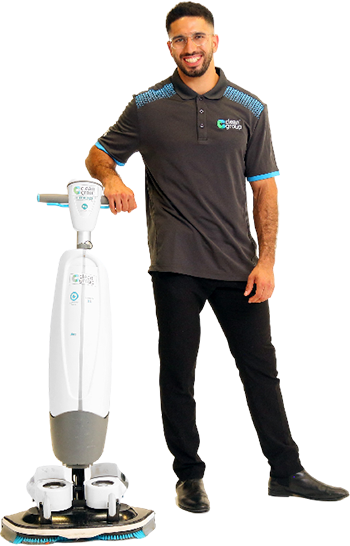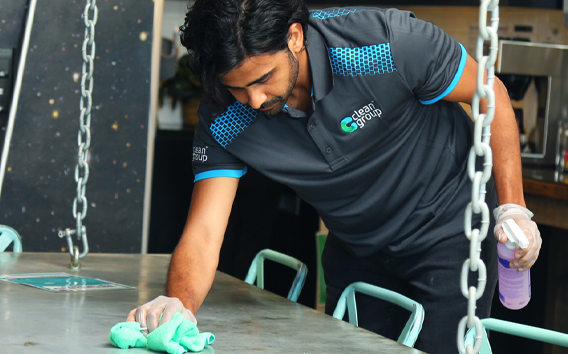 Consumables
This involve the provision and replacement of consumables such as paper towels, toilet rolls, liquid soap, bin liners, cloth hand towels, and feminine hygiene supplies. Clean Group will include any consumables your business requires.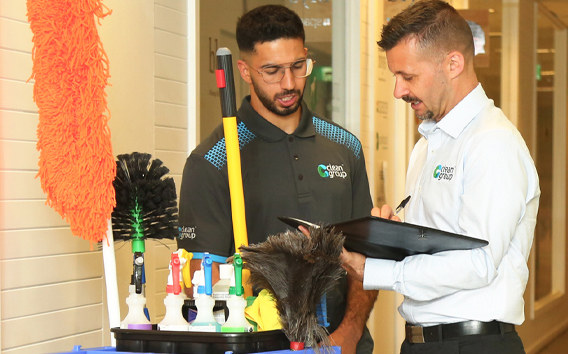 Workers
The Australian commercial cleaning industry is very competitive and we attract reliable, experienced employees and provide them with extensive on-the-job training as tertiary-based training and education for the cleaning industry is not readily available.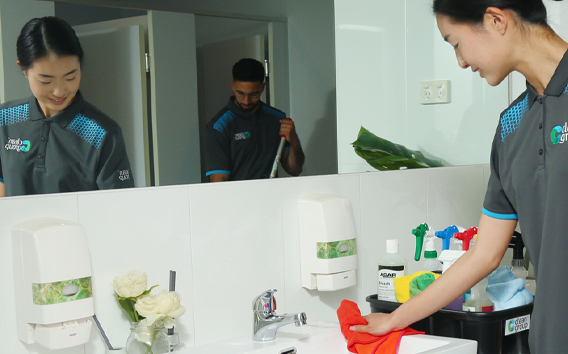 Vetted and Vaccinated
Clean Group conducts thorough background checks on every cleaner before hiring and require all employees to be fully vaccinated against the virus. All our workers who perform cleaning duties at schools, children's care homes or childcare premises also undergo a criminal background check.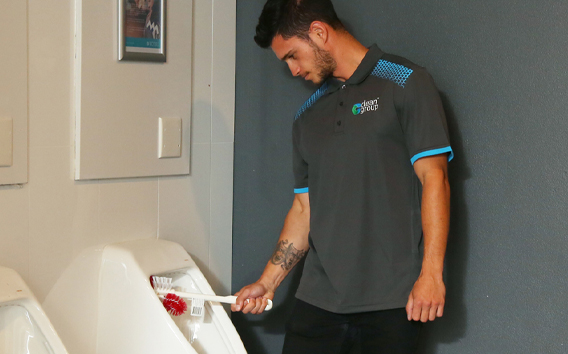 Industry Specified Cleaning Training
Clean Group provides commercial cleaning services Sydney-wide for a wide variety of industry sectors, from office cleaning and retail cleaning to industrial cleaning and medical cleaning. We have commercial cleaning staff trained in every aspect of commercial cleaning services and invest in the right cleaning products and equipment for every type of cleaning job.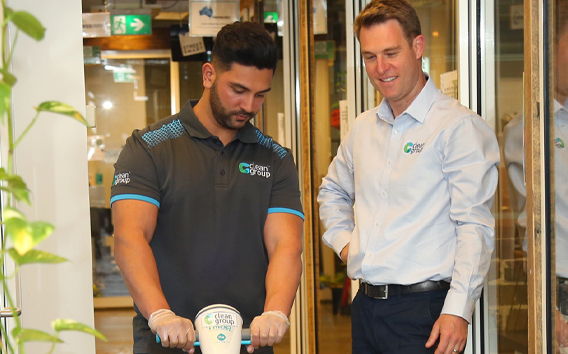 Cleaning Experience
All our cleaners in Sydney are hired based on experience and receive extensive ongoing training to ensure they maintain the cleaning skills required.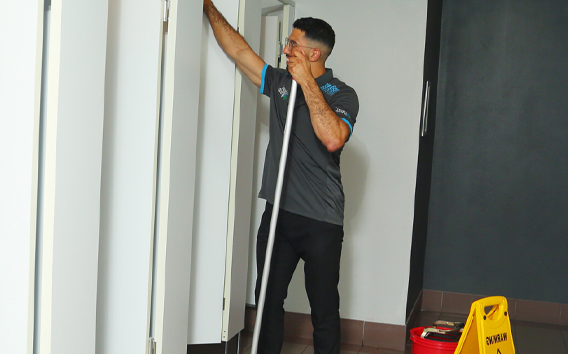 Eye for Detail
We look for professional cleaners with a natural eye for detail and provide training to reinforce the importance of a meticulous approach to all cleaning tasks.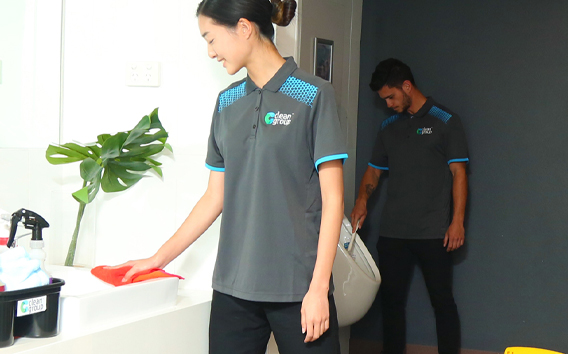 Strive for Excellence in Cleaning Standards
We instil in our cleaning teams an unwavering commitment to providing exceptional service and maintaining the highest standards of professionalism at all times.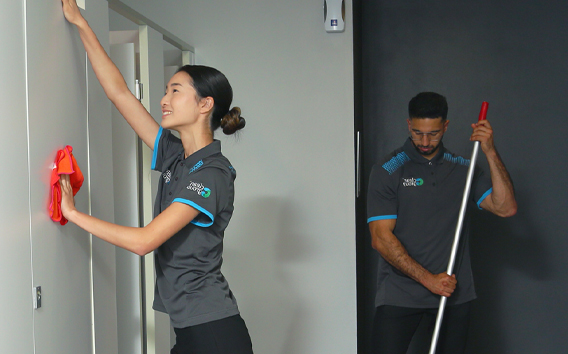 Pro-Active Leadership
We structure our cleaning teams so our most experienced cleaning professionals are able to take leadership and mentoring roles and pass on the skills and knowledge acquired from their years of commercial cleaning experience.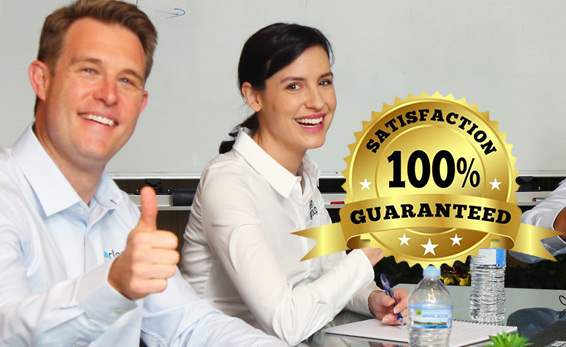 You'll LOVE Our Cleaning Quality – Guaranteed.
All our employees are well-trained to go above and beyond expectations regarding customer service, quality, and reliability. We're so confident that you'll be delighted with the results of our amazing corporate cleaning service that we offer an iron-clad guarantee. Quite simply, if you're not 100% happy with our work, let us know and we'll fix the problem for free.
What Do Our Office Cleaners Do?
Clean Group Commercial Cleaning specialists provide the following cleaning services to clients all over the Greater Sydney area:

Office Regular Cleaning
We perform regular office cleaning services on a daily, weekly, fortnightly or monthly basis, or to any other schedule you require.

Office Deep Cleaning
Our cleaners can perform deep cleaning services to thoroughly sanitise and clean office areas that attract heavy traffic.

Office Disinfection Cleaning
Our office cleaning professionals use advanced electrostatic sprayers which are able to deliver sanitiser particles that wrap around hard-to-reach surfaces for complete disinfection and sanitisation.

Office Clean
If your workplace is exposed to a confirmed case of germs or another biohazard, our experienced office cleaners are trained in infection control and can quickly perform a same-day emergency clean.

Office Floor Cleaning
Our office cleaning Sydney experts use advanced equipment such as the i-Mop Scrubber to effectively clean floors using less water and chemicals.

Office Carpet Cleaning
Our carpet cleaning specialists will help keep your office carpet looking clean and fresh, eliminating any odour-causing elements hidden in carpet fibres.

Office Window Cleaning
Our office cleaning services include all interior and exterior windows, glass doors and glass partitions, as well as bathroom mirrors and glass display cabinets.

Office Toilet Cleaning
Full cleaning and disinfection of your office toilets & bathrooms, including common toilets, restrooms, etc. is covered.

Emergency Office Cleaning
For emergencies like an office meeting or event, same-day office cleaning services are also available on request and based on availability.
So How Do You Decide?
Here are 10 Questions to Ask When Choosing a Commercial Cleaners
You want a commercial cleaning company in Sydney that offers reliability, excellent quality at great prices. And just as importantly, an agency you can trust and highly recommend.
To help you choose the right commercial cleaners in Sydney for your needs, here are some questions to ask:

ECO-FRIENDLY How eco-friendly are their cleaning teams, cleaning solutions and processes?
EXPERIENCE What experience do you have with our type of cleaning or premises?
INSURANCE Do you have it, and what does it cover?
GUARANTEE Does the cleaning company offer any satisfaction guarantee?
TRAINING What level of training does the cleaning company perform with its employees?
SECURITY What measures does the cleaning company take to maintain security at your premises?
METHODS What types of cleaning methods and equipment is the cleaning company using?
POINT OF DIFFERENCE What makes you stand out from other commercial cleaning companies in Sydney? And how can you prove that?
ALLERGENS AND BACTERIA What do you do to sanitise surfaces and keep them free of bacteria that can adversely affect health?
REPUTATION Does the cleaning company have a good reputation? Can they provide testimonials and references?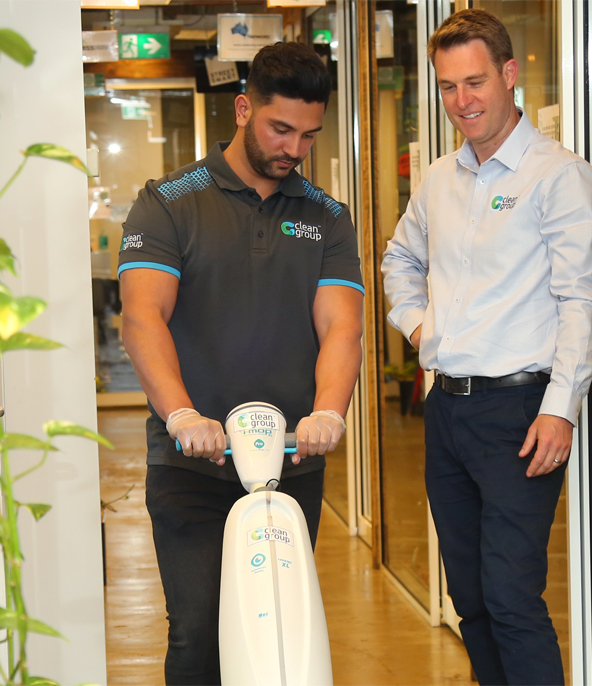 Frequently Asked Questions
---
Clean Group Offers a Variety of commercial cleaning services in Sydney NSW. The services include office cleaning, strata cleaning, gym cleaning, medical cleaning, childcare cleaning and warehouse cleaning. Call Us on 1300141946 for a free onsite quote.
Yes. All our cleaners are vetted to ensure the safety of your premises. Our commercial cleaners are fully insured and fully vaccinated. Call Us on 1300141946 for a free onsite quote.
A clean and well-maintained office will not just ensure the safety of your workers but also help create an ever-lasting impression on your office visitors. Your office space is shared by a lot of people, which makes it a perfect ground for germs to breed and spread. Office Cleaning services can help contain germs in your workplace and help keep your employees healthy and productive.
When searching for a reliable and affordable commercial cleaning service in Sydney, you can use Google or explore through local business directories to find the list of top cleaning service providers in the area. Do your research and ask around before hiring a commercial cleaner. Prepare a list of questions to ask a potential cleaner and request an onsite quotation if possible. Do not compromise quality for cheap prices.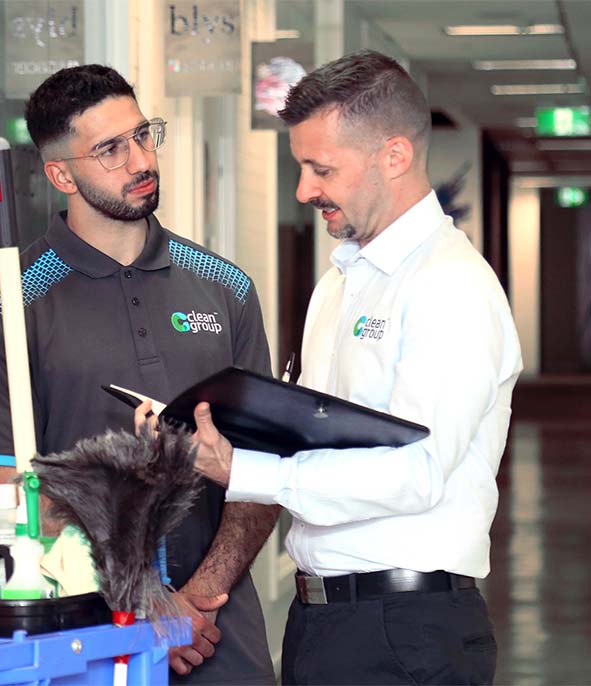 Client Experiences with Clean Group
We are very happy with our cleaning team. Clean Group has always been consistent and reliable. When it comes to office cleaning services, I don't think any other team can even come close to their brilliant quality and dedication. I would love to recommend them.
These guys are fantastic. Our office always smells fresh and clean in the morning, thanks to their unparalleled quality and hygienic cleaning. I often wonder how they can always understand and meet my expectations. I will definitely recommend them for workroom cleaning and book them again..
Our experience with Clean Group has been simply excellent. None of the cleaning companies we have previously worked with could ever offer his level of satisfaction. They have the best cleaners who offer great quality at affordable rates.
Over the years, we have found the Clean Group team to be highly professional and quick about their work. The corporate cleaning Sydney company always meets our quality standards and often surprises us with results better than we expect. We highly recommend their services for every business.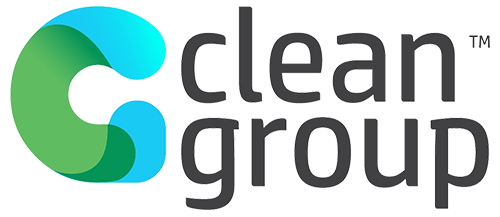 | | |
| --- | --- |
| Team Size: | 75+ |
| Services: | Commercial Cleaning, Office Cleaning,Strata Cleaning |
| Contact: | 02 91607469 |
| Email: | [email protected] |
Our Cleaning services locations
Where we are Featured?