COMMERCIAL
CLEANING SERVICES

OFFICE
CLEANING SERVICES

STRATA
CLEANING SERVICES

CARPET
CLEANING SERVICES

MEDICAL
CLEANING SERVICES

GYM
CLEANING SERVICES

SCHOOL
CLEANING SERVICES

CHILDCARE
CLEANING SERVICES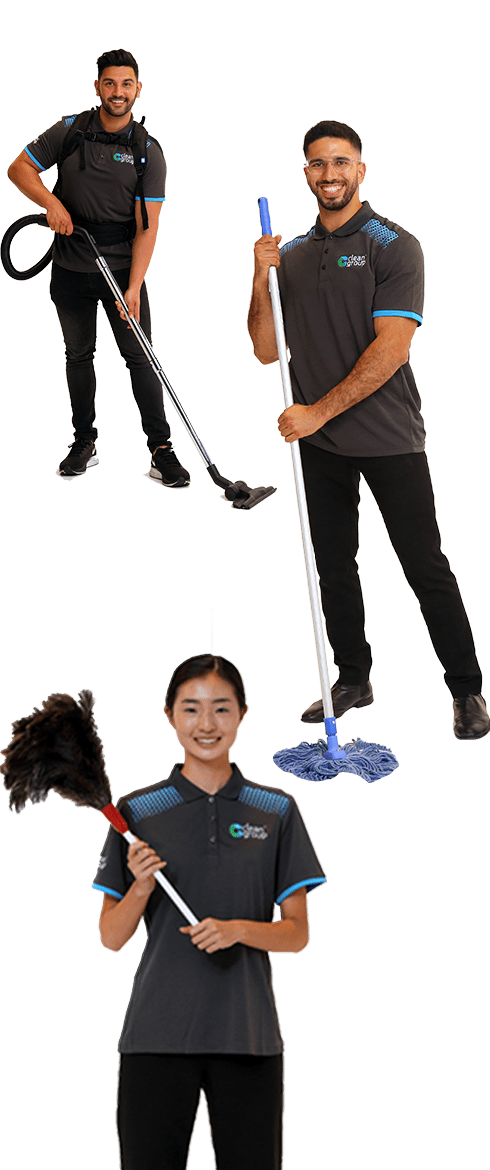 Why Choose to Work with Clean Group for Office Cleaners Services?
The reason of hiring office cleaners service. Did you know that a typical workstation can be 100x filthier than an average kitchen? Although your keyboard looks clean on the outside, underneath its keys is an entirely different story. Think of your keyboard as an unwilling platter for everything that falls while you do your job. Over the years, it will collect hundreds of fallen hair, dead skin cells, and even those potato chips that you might have had as you stare in your monitor one day— making it a perfect environment for harmful microbes to thrive. Sounds too disturbing? Think again.
It's just one of the many things in your work environment that can harbor germs and bacteria over time. What's more dangerous is that it can affect everyone who works in your office, especially their health. And it's only a matter of time until diseases will spread in your workspace and put everyone at risk.
"No one wants that to happen. That's why we're here."
We understand how busy you are with office work. That's why we're more than willing to provide you with the best office cleaning that your budget can afford. We only use eco-friendly office cleaning products to deliver the service that you need. Here at Clean Group, our only goal is to deliver the quality service that will surely leave your office space gleaming and free of harmful bacteria.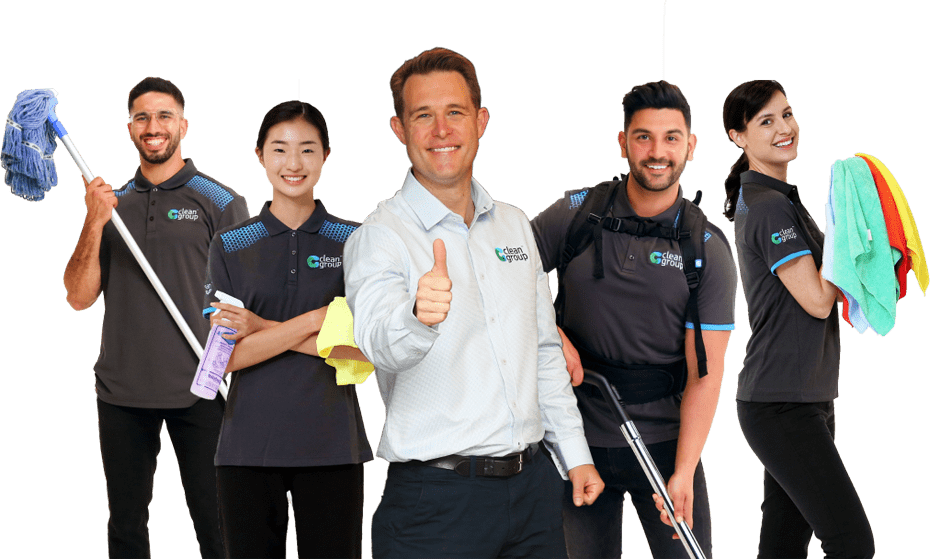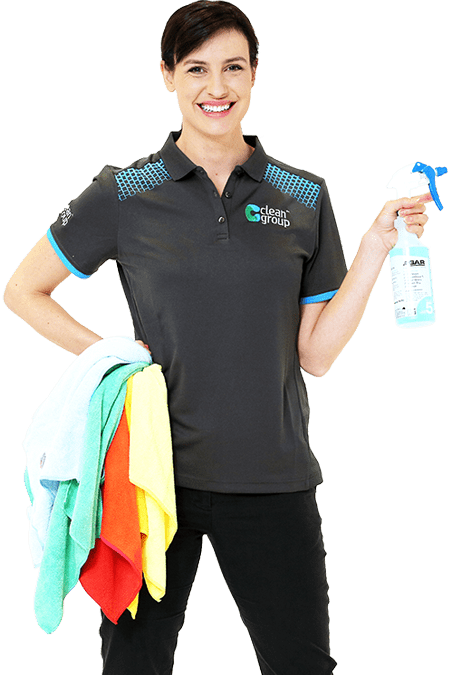 Clean Group' Mission and Goals
Keep every penny that you spend on cleaning services worth it.

Ensure that all your staff and visitors will have a pleasant environment to see.

Reduce the chances of your building's depreciation through thorough maintenance.

Provide a complete quality control inspection and supervision to reduce labor problems for both contractor and client.
You can finally bid farewell to your disorganized and clutter workplace. Save yourself time and money from cleaning all the rubbish in your work environment when you WORK WITH US.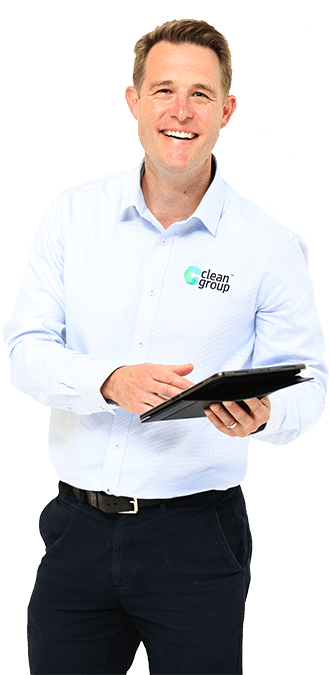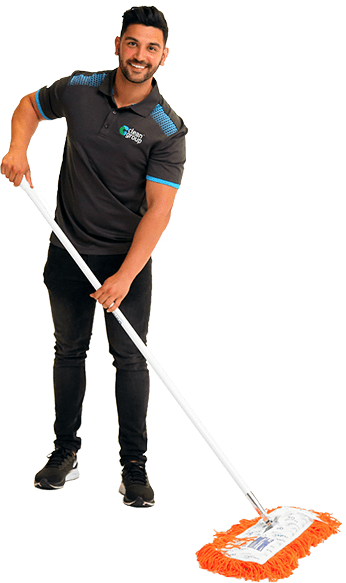 The office cleaning in "Sydney" checklist that we usually include
Carefully emptying the old bins while replacing it with entirely new bin liners.
Vacuuming and mopping the tiled hardwood floors as well as your delicate carpets.
Cleaning glass windows of any ugly stain marks or streaks.
Washing all your kitchen dishes and cutlery the moment that we see it.
Meticulously disinfects and polishes your bathroom mirrors.
Stocking your bathroom with toilet tissues, hand soaps, and hand towels.
Wiping all your cupboards and drawers to ensure that no leftover food debris gets left.
Removing all those unsightly splash marks from your bathroom walls and even your basis
Using natural chemical cleansing agents to disinfect your entire office furniture thoroughly.
Trust us when we say that we will not leave until we've entirely made all your office areas spotlessly clean. There is no amount of stains or grimes that our team of highly skilled Sydney office cleaners can't handle. Working in Your Office Will Never Feel The Same.
3 Best Ways To Help You Choose The Right Office Cleaning Company In Sydney
Keeping your office clean is a never-ending struggle. Even keeping things organized can consume much of your precious time. If most of your time revolves around finding office cleaning services in Sydney that do their jobs on time, hiring a team of highly trained office cleaners is the best solution. Some people may not know it, but keeping your work environment clean and sanitary is the best way to achieve your company's success. Although a few are fortunate enough to have a fantastic team to do the job for them, others don't seem to have the same luck as the rest. Some companies get stuck with office cleaners that often overlook critical security systems in their offices. Even worse, others fail to meet their set of expectations when it comes to cleaning service. But given all these problems, is there a way to find reliable office cleaners these days?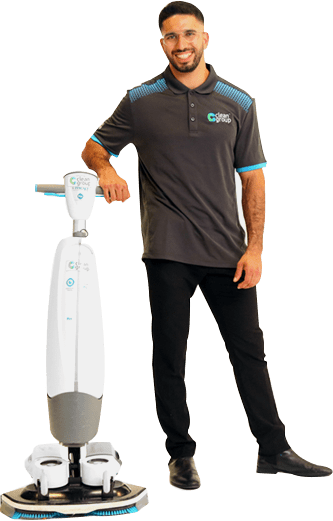 Get the price quotes
All companies usually provide a price quote for their service. So, try to take advantage of it so that you'll know how much it costs to get their service. They would often send one of their local office cleaners to check the area and evaluate the work that needs to get done. Once you get the quote, you can then ask for a list of services that they often provide. Also, visit ourFacebook page for updates and offers.
Check the proof of insurance
You want to work with professional office cleaners that have insurance. Doing so guarantees that you'll not be liable if ever one of their staff gets hurt or injured while cleaning.
Consider their years of experience
You only want to work with the best when it comes to keeping your office clean. That's why you need to work with a company with several years of experience to back them up. Working with professional office cleaners ensures that they've already developed a unique system for keeping everything is clean while addressing any of the cleaning problems involved.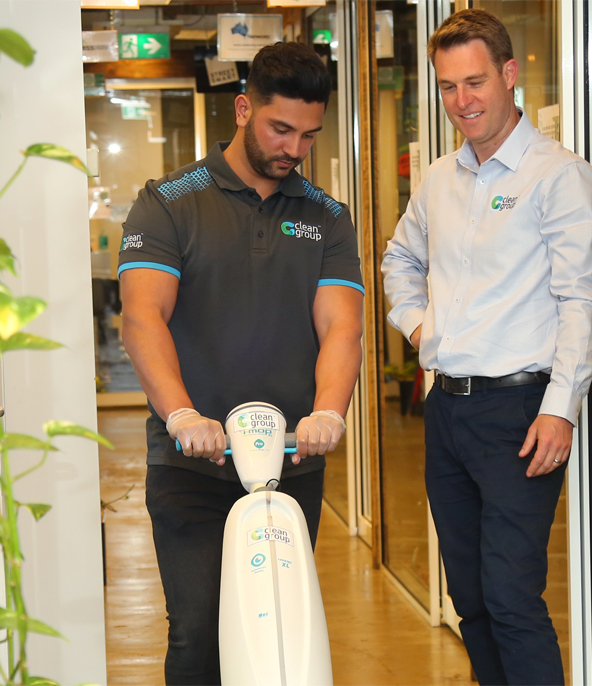 Frequently Asked Questions
---
Clean Group offers a wide selection of cleaning services you can choose from. Starting with routine cleaning, carpet cleaning, internal-external window cleaning, office cleaning, gym cleaning, childcare cleaning, medical centre cleaning, school cleaning and the list goes on. Just check our website to know more.
The cost will depend on how much time, how much material and what type of equipment needed for a cleaner to perform the cleaning that is required for your business. Our friendly sales managers can do a free onsite visit to determine the best price and cleaning program for your premises. Call us now on
Clean Group cleaners are all professional, reliable and well trained. We only employ full-time cleaners. This ensures that the cleaners are committed to high cleaning standards.
Absolutely! We are fully insured. Certificate of our insurances will be mailed to you with our quotation so you can have peace of mind.