As a business owner, we know that your primary concern today is the health and safety of your customers and your employees. We understand that this is your next worry after thinking of ways on how you will protect yourself and your family from this pandemic. There are a lot of reading materials and articles where you can find online that will guide you through this process.We have all the information you need on What is "Covid-19 Cleaning?"
Covid deep cleaning is everywhere today, and you can hear it in the news all over the world. It is affecting many people in their working lives. Let us take a minute and talk about them.
Most of the businesses are now opening and trying to make their way through the new normal. Many had entrusted the safety of their workplace to commercial cleaners in Australia. Most people are now fully aware of how to protect themselves, and you can see almost everyone outside wearing a facemask and practising social distancing.
We believe that establishments and businesses can slow the spread and prevent COVID 19 within their premises. First, awareness is already in place. We have been dealing with this virus for a quarter, and we pretty much know how it behaves.
As an employer, you need to take care of every single employee. While having this in mind, you also need to protect the public. Bear in mind that your customers transact with your employees. It would be best if you are prepared for any potential exposure in the workplace.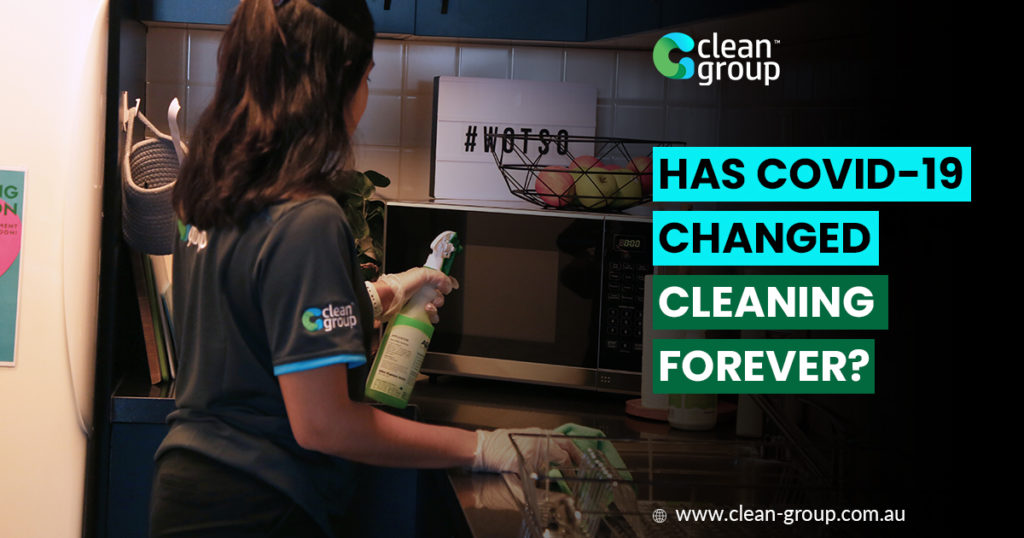 Employee Care
When we talk about protecting and taking care of employees, this involves:
the use of facemask – this applies to both employees and customers. Wearing of facemask should be observed at all times.
daily monitoring of employee's temperature and their overall health condition
Implore good hygiene at all times – encourage hand washing at all times.
Social distancing should also fall under this category.
As an employer, you need to ensure that the workplace is clean and sanitized throughout the day.
One of the best ways to observe social distancing is to limit the number of people that work on-site.
These protocols had led to many discussions in reopening the businesses. This article would like to provide some guidance from our own experiences as a commercial cleaner in Sydney since we dealt with these types of cleaning since the pandemic started.
You can start by hiring a professional cleaner that will disinfect the place all the time. Professional cleaners know the right chemical to use and the proper approach to prevent the spread of this virus. Apart from this, the employer or the business owner should also monitor the following:
The apparent symptoms of the Corona Virus are trouble breathing, fever, cough, and colds. The employee has to know what these symptoms are, and they should know that they need to look out for them.
Monitor your employee's temperature. Your employee can also do this at their own home. For employers, you can do a temperature before they start their shift and as they end their shift.
You can also prepare your employee for potential exposures which require a lot of work, but it pays off in the end. You can develop policies and procedures on what to do if one of your employees has contracted the virus. You can also prepare an outline on how they will approach their colleague who tested to be symptomatic and positive. This also applies to your customers and guests.
Your staff need to know how to coordinate these issues, and not just with the employee who is involved, but also, maintaining an open and transparent indication to all of your other employees to assure them that they are working in a safe place.
Employee Temperature Check
As mentioned, it is not required for employers to conduct a temperature check for their employees and start recording the outcome. If you, as a business owner, decide to do this temperature check, you need to make several considerations, like:
Where will you place the temperature check stations?
How can you block other entrances from those employees who do not want to have their temperature is taken?
Who will conduct the temperature checking and will that person wear PPE?
Can you make sure that these checks will be efficient?
How long will you keep the records and how will you store them?
We noticed that many companies and businesses choose to outsource this job to a third party company for them not to worry about these considerations that we had mentioned above.
Most businesses and establishments do not allow employees or customers to go inside if their temperature is above the standard reading.
Use of Personal Protective Equipment
The proper use of PPE can help us prevent and slow the exposure to the virus, but it should not take the place of other prevention strategies. Always anticipate that these conditions generate the largest area of concern since some employees are not conscious about disposing of these used PPE properly.
Masks – adds an additional layer of protection for individuals that are not receptive to social distancing. Masks can be anything that both cover the nose and mouth, whether it is manufactured commercially or made at home. Policies and procedures around masks should include:
Adherence to existing dress code
Masks should not contain offensive images or language
Cleaning and Disinfecting
Disinfecting and cleaning are two of the most crucial preventive measures to keep your business safe. Since you need to do this one before opening and also while you are running the business, on an ongoing basis, you need to keep your business clean.
This requirement may vary depending on your industry. Bottom line and upfront, we recommend the most effective way is to encourage your employees for regular hand washing and proper personal hygiene. Some of the things that you need to consider for cleaning are:
How Often Do You Need to Disinfect?
As you can see on this table, there is a recommended disinfecting frequency depending on the area. The most touched area has to be disinfected at least four times a day or more. Some equipment can get away with disinfection once a day. We also want to highlight that you should know what kind of disinfectant you want to use.
Social Distancing and the Design of your Work Space
We need to keep at least six feet apart to make social distancing a success. This can be challenging if your workspace does not have enough space. If this is the case, one or more mitigation processes have to be implemented. This may include installing a barrier or having staff work from home.
You need to consider ways on how you can change how your business operates. You can also control the foot traffic in common areas like lunchrooms and cafeteria by giving your employees a designated schedule on when they can take their breaks. You can also put signs of obvious places that will continuously remind your employees to practise social distancing.
Several surveys were conducted where the respondents had identified that this time is the most stressful moment of their careers. There are unplanned challenges that employees are now facing.
We understand that the time is uncertain, and many employees will have their worries about returning to work. Many employees starting to work from home were returning to the usual work environment may become a challenge. As the businesses begin to reopen, employees will eventually have to go back to work.
Employers need to understand the emotional stress that their employee can experience during this process. You can offer them many suggestions that will help them adjust to this new normal.
Let us use perfect common sense while being cautious with our environment and the people that we interact with. Let us make sure that we wash our hands regularly. We hope that this article helps a lot of people out there and develop a precise awareness and still believe that this phase will come to pass.
There are a lot of things that are going on. Please share with us how you are able to make your business a safe place for your employees and customers. Leave a comment down below and share this article with your social media account and let us create a safe circle.
Let us promote all of the things that commercial cleaners can do in this time of the pandemic.
About the Author