A Covid deep clean involves many details, for example, understanding how Coronavirus is spread, knowing the difference between disinfecting and cleaning, and remembering the specific strategies and products to use to achieve different results. If the person doesn't have clear guidelines to follow, they might be at risk of getting the virus.
This guide offers essential information on how to do a Covid deep clean. At the same time, it includes suggestions depending on the surfaces the person wants to clean, and it describes the stages of the Covid deep cleaning process itself.
How Covid Spreads
When an infected person breathes out droplets, the particles often contain parts of the virus. If they land on another person's nose, eyes, or mouth, they can catch Corona as well.
On many occasions, people contaminate the surfaces around them. Additionally, if there's anyone near them (around six feet or less), they're probably getting contaminated.
Cleaning Is Different from Disinfecting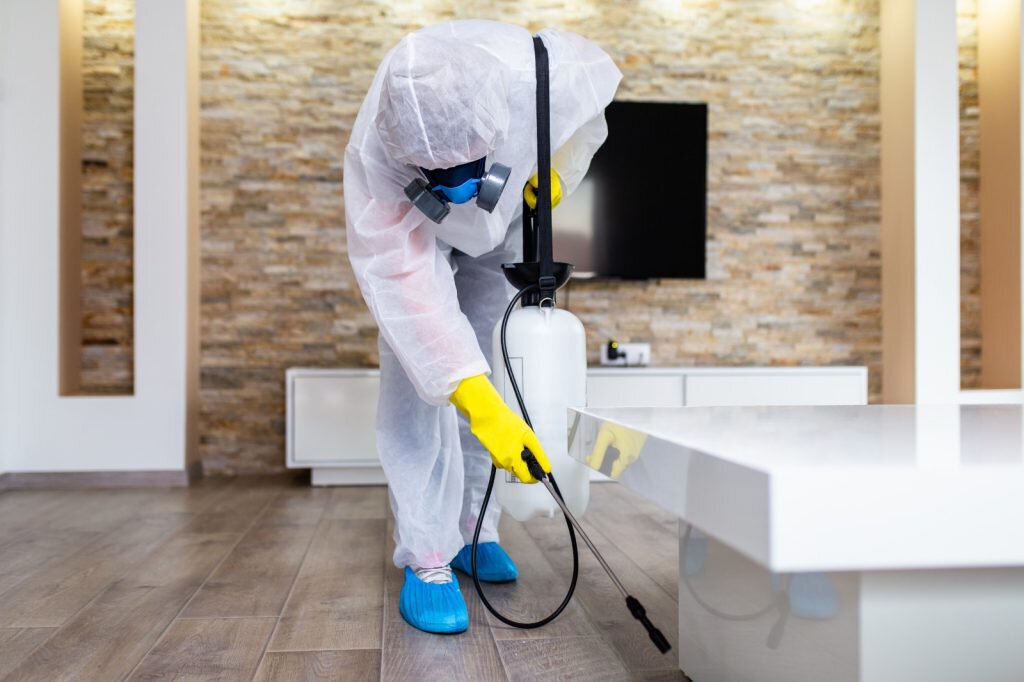 Disinfecting and cleaning surfaces is not the same. While the first option allows people to get rid of viruses and bacteria, the second one is simply removing dirt particles.
When it comes to deep cleaning and disinfecting, there are specific products you need to use.
Some Products Kill Covid-19
Coronavirus can land on surfaces, so an essential part of deep cleaning must include disinfecting them with specialized products. Some specific stores offer lists of disinfectants that can kill Covid-19, but even so, the following are examples of effective products:
Isopropyl alcohol
Hydrogen peroxide
Disinfectant sprays
Disinfecting wipes
When Should Someone Clean, and When Should They Disinfect?
Cleaning with products that contain detergent or soap is an effective strategy if someone wants to reduce the germs on different surfaces. In this case, the person removes contaminants; thus, they diminish the risk of infection from surfaces.
Another factor to keep in mind when maintaining a healthy facility is that if no one with suspected or confirmed Covid is in the space for a day, it's enough to remove any remnants of the virus that might be on the surfaces.
However, to kill the virus on all surfaces, the person needs to disinfect the place. Disinfecting eliminates all risks of infection and gets rid of the virus particles. People might want to clean in these cases:
If the surroundings are a high-traffic area (somewhere that often has a large number of people)
Poorly ventilated places
When the place doesn't provide access to hand sanitiser or handwashing
If the pace often hosts or is occupied by people with risk for severe illness from Coronavirus
When someone knows for sure that a person infected with Covid-19 has been in the facility over the past 24 hours, they should both clean and disinfect the place.
At the same time, the previously mentioned cases are circumstances in which the person can choose to clean instead of disinfect their surroundings. Nonetheless, if they wish to be extra sure, they can do a deep clean and disinfect all surfaces.
Routine Cleaning Guide
On some occasions, people prefer to do routine cleaning to keep their surfaces neat. To do that, following specific guidelines is always the best idea since it allows them to have a strategy, stick to it, and guarantee that they can get the results they want.
People Must Develop a Plan
The first thing to do when someone wants to clean their surroundings is to develop a plan. If they don't determine what they have to clean and identify the high-risk areas, they can't decide whether or not they should disinfect some surfaces.
Although the difference between cleaning and disinfecting was not relevant for many people before, nowadays, it's crucial since it could mean fewer chances of getting infected by Covid.
Thus, developing a cleaning plan is essential, and the first step anyone should go through before buying supplies or hiring a specialized company.
Firstly, the person must evaluate the surfaces they have in their facilities and determine how often they're touched. If there are high-touch surfaces, they should clean them (and disinfect them) at least once a day.
The person does not necessarily have to disinfect the surfaces if they don't wish to, even if they are high-touch ones. In some cases, they might decide that the risk of contagion is low, so cleaning once a day might be enough.
People must also keep in mind that some cleaning products also include disinfectants, but that's not true for all cases. Therefore, they have to check the product's composition.
They Have to Clean High-Touch Surfaces
After identifying high-touch surfaces, people might already know that they have to clean them once a day and disinfect them if necessary.
Overall, people can clean and disinfect surfaces as much as needed. Some examples of these types of surfaces include the following:
Pens and pencils
Counters
Tables
Light switches
Handles
Doorknobs
Keyboards
Desks
Sinks
Faucets
Phones
Toilets
Shopping carts
Although making a plan is essential, there are also other aspects that people must keep in mind if they're doing routine cleaning. On the one hand, they have to guarantee that their staff is trained in using the proper cleaning products – if a person's employees don't understand what they should use to clean and disinfect, they might not be able to ensure that surfaces are virus-free.
On the other hand, the person must ensure that they have the proper cleaning equipment to use the products they bought. In some cases, they might require personal protective equipment such as glasses or goggles, gloves, additional ventilation, and so on.
After cleaning the surfaces, people must wash their hands, and they must do that immediately after removing their gloves. If their hands are dirty, they can wash them with soap and water, and if they're not visibly unclean, they can use hand sanitiser (that contains at least 60% alcohol) and wash them with water and soap as soon as they can.
People with asthma must consider special factors since some products can trigger it. Nonetheless, there are chances to reduce an asthma attack while cleaning if they follow specific guidelines.
When Regular Disinfection Is Needed
If someone buys cleaning products that don't specifically have disinfecting properties, they might need to both clean and disinfect their surroundings.
The person must clean any visibly dirty surfaces with soap and water before disinfecting if they're going to do both things. Then, they have to use disinfectant products that are certified against Covid.
Additionally, they must follow the directions on the label at all times if they want to guarantee they're using the product correctly, and effectively, and if they want to make sure that they're not hurting themselves or anyone in the vicinity. Labels include application guidelines and safety information.
Some common guidelines to follow when using strong disinfectant products are the next suggestions:
People must check the product label and see what type of equipment they need to avoid potential hazards
They must open windows and other ventilation sources
People should never use more than the recommended amount of product mentioned on the label
Unless the label states otherwise, if the person must dilute the product in water, it should be at room temperature
All cleaning and disinfecting products should be out of the reach of pets and children
People should never mix products or chemicals
The person must never drink, eat, breathe, or inject disinfection products into their bodies, and they should never apply them to their skin either
They should never apply cleaning or disinfection products to their pet's skin
Depending on what the person wants to achieve, there are also alternative disinfection methods they could look into. However, routine cleaning is often not enough if they want to make sure that they eliminate viruses and bacteria from all their surfaces.
Routine cleaning is effective to prevent Covid spreading, but deep cleaning is much more than that. Even so, cleaning the surfaces on a daily basis is essential to keep the dirt out of their surroundings, which is why it's so important.
Cleaning Process Depending on the Type of Surface
When people want to clean and disinfect their surfaces, they often don't keep in mind that the type of surface they have impacts the products and strategies they need to use.
Therefore, an essential part of deep cleaning is to always choose the best products for the specific surfaces the person is taking care of. The following categories include general guidelines on the matter:
Soft Surfaces
People should use products containing soap, detergent, or any type of cleaner that's appropriate to use on those surfaces. When in doubt, the person should check the label to be sure.
Another common way to clean soft surfaces is to launder the items. The person must follow the manufacturer's instructions, adjust the water temperature to the appropriate settings, and let all rugs, carpets, and drapes dry completely.
Clothing, Linens, and Towels
Even though clothing items, towels, and linens are still technically soft surfaces, people usually touch them more than drapes, carpets, and rugs. Thus, when cleaning them, the person should consider different suggestions.
The best option is always laundering the items, especially if a sick person touched or wore any of them. However, they should use a mask and gloves when washing them.
Electronics
Putting wipeable covers on electronics makes the cleaning process easier. However, the person needs to check the manufacturer's instructions to know how they should clean their tech.
Depending on the case, manufacturers might suggest that people use products with alcohol because it dries quickly. Even so, they must take a look at the instructions to be sure.
Outdoors
Cleaning or disinfecting outdoor areas is not usually the best idea. Nonetheless, people should regularly clean high-touch surfaces, for example, play structures, grab bars, and railings.
Additionally, people should try to avoid cleaning wooden surfaces or ground covers, such as tables and benches.
Disinfecting to Prevent Covid-19 Spread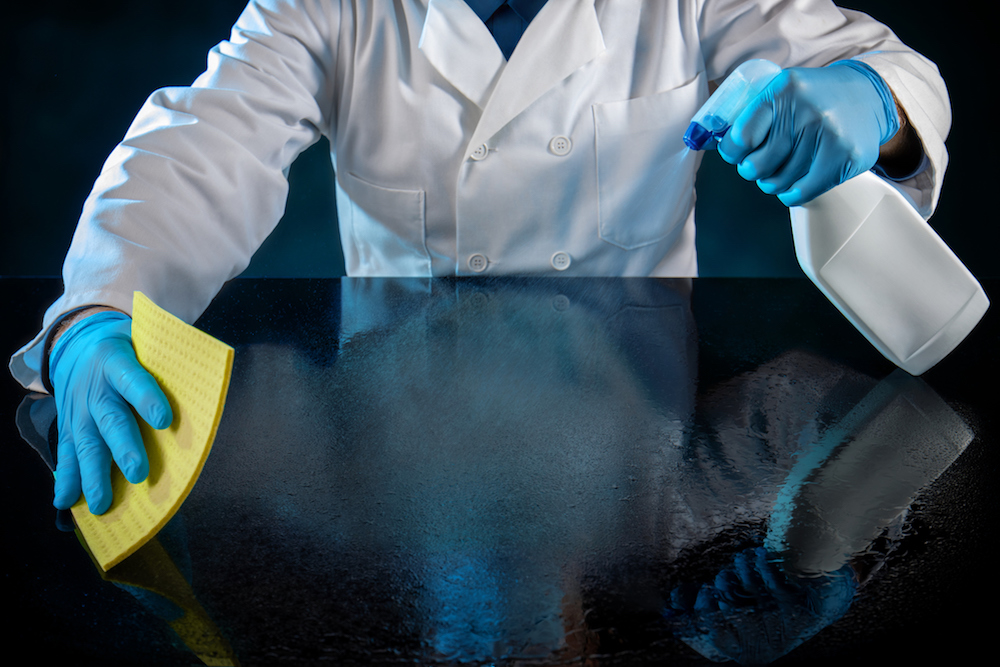 A person doesn't need to clean all their surroundings from top to bottom every day if they want to prevent Covid spread. Instead, they should learn to identify the high-contact surfaces and know what to use to eliminate germs there.
When it comes to cleaning and disinfecting a house to prevent Covid spread, there are specific surfaces the person should take in mind. The most important items are the following:
Bathroom and kitchen counters
Faucets
Knobs and pulls on drawers and cupboards
Toilets (especially the handle and seat)
The handles of the dishwasher, oven, and refrigerator
Game controllers and remote controls
Tablets, cell phones, and other mobile devices
Mice and keyboards
Handles and doorknobs
Staircase railings
Switchplates and light switches
Table surfaces
The Process of Deep Cleaning
Once the person is aware of the surfaces they must clean and what they should do depending on the type of surface they're cleaning, all that's left is to start the deep cleaning process itself.
At that point, they should already know what they should clean and disinfect, so starting as soon as possible is the best idea to kill any germ or virus that's still there.
Declutter
The first step to complete is decluttering the place. In this case, the person must organize all the objects lying around, take the trash out, and make sure they have space to disinfect the surfaces.
Start from Top to Bottom
Even though some people might want to start by disinfecting the floors or the tables, cleaning the ceilings or disinfecting the highest surfaces is always the best idea.
If the person starts from the highest area of their surroundings, any dirt and dust coming off can fall on the floor. Therefore, they can clean the floors last and make sure everything looks neat.
Clean Your Windows and Glass Surfaces
Cleaning the windows and all glass surfaces is essential, and it's what people should do after the previously mentioned step.
To have the best results, people should always use specialized products to clean their windows. Otherwise, they risk staining the glass surfaces.
The Person Must Deep Clean the Floors
Once the person cleans the rest of the surroundings, they have to take care of the floors. Although they are not high-touch surfaces, they still have to be clean.
Cleaning the floors reduces or eliminates all germs that grow in there; thus, it decreases the possibility of getting exposed to potential harm.
After Cleaning, They Should Disinfect Themselves
If a person wants to deep clean for Covid, an essential part of it is to clean themselves afterwards. Otherwise, they would be exposed to germs.
After cleaning, the person must thoroughly wash their hands with soap and water or clean them with a sanitiser before washing them.
Frequently Clean All Surfaces
Deep cleaning is something people can do once a week or every two weeks if necessary. However, they should do routine cleaning every day.
Preventing Covid means regularly disinfecting or cleaning all surfaces, especially if people constantly come in contact with them.
Conclusion
Deep cleaning is a long and time-consuming process, especially if the person wants to prevent Covid spread. There are many things they should keep in mind, and they must follow clear guidelines to guarantee their cleaning is effective.
About the Author