Nowadays, television screens are extremely fragile. Hence, if they're not wiped with care and using cleaning items that are specially made for them, they can easily get scraped or harmed.
Thus, this article is meant to give you a useful handbook on cleaning your TVs with inexpensive products that are meant to make your television look as good as new.
The modern home technology market is full of a wide variety of screens. They usually have the most advanced technology and sensitive touch. Gone is the era of televisions with rounded screens and big plastic bodies.
Having to learn how to manage yourself around this type of device can be stressful. This feeling is entirely okay, as we tend to be used to the old TVs that could be wiped clean in less than 10 seconds. In fact, the screen is the element that's more prone to damage during the commercial cleaning process of electronic devices.
However, for keeping your screen and all your TV pieces clean and shiny, just follow these easy steps that are both inexpensive and extremely effective.
Materials
No matter the type of TV screen you own, the most suitable product for cleaning it has always been distilled water mixed with isopropyl alcohol. However, you are also going to need a lint-free cloth to do the cleaning in the right way.
How to Prepare a Homemade Screen Cleaner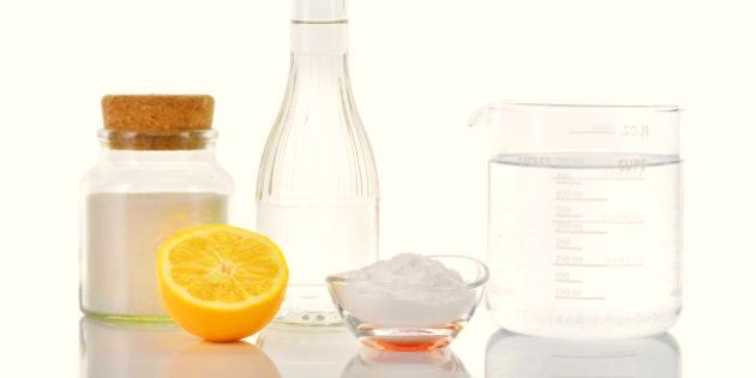 Add filtered water and isopropyl alcohol in equal parts in a little spray bottle or glass jar. Vigorously shake the blend, and you are good to go. Isopropyl alcohol isn't the same as ethyl alcohol.
One of the main differences is that the former is specifically for cleaning technological appliances without breaking them. On the other hand, the latter is only used for cleaning and disinfecting injuries.
Let's Get Handy
Firstly, turn off and unplug your TV. This process must be done while all the devices are off and remember to not spray any liquid straight on the television screen, as it could get damaged.
The best way to do it is to apply a bit of the solution on the cloth to moisten it a little and then gently wipe it over your television screen. Always do this starting at the top and slowly going down in circular motions to avoid creating blotches or leaving fingerprint marks once you're done.
White Vinegar Solution
White vinegar can be a convenient product to clear fingerprints, fat stains, and other disgusting marks from your TV screen, as it is an ecologic product that doesn't create rust.
Like we did before, damp the fabric with a nice splash of white vinegar and water, and you can proceed to wipe the screen of your television in the same way you did before.
In case using isopropyl alcohol or white vinegar isn't an option, you should only wipe the TV screen with a damp cloth and filtered water. It's the best option to use this liquid rather than other dangerous products such as ethyl alcohol.
Errors You Should Avoid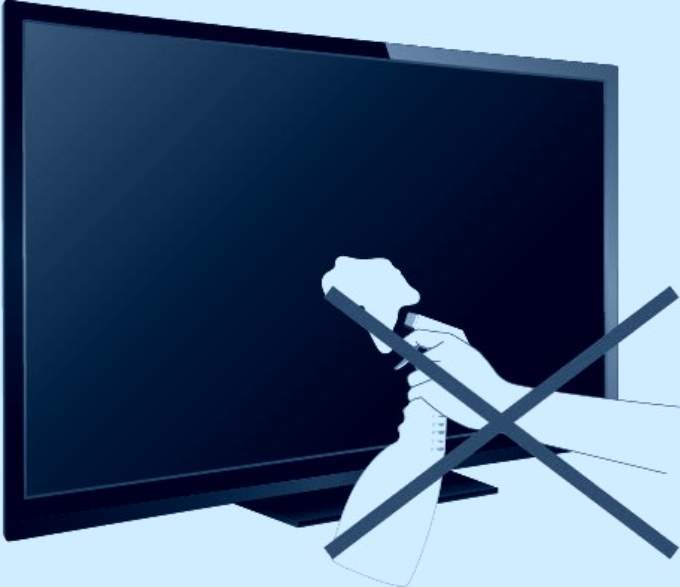 Don't pour the product right on the screen, as the liquid might leak inside the TV and damage its internal elements.
Eliminate any type of chemical products, as they can cause the screen to scratch or damage while cleaning.
Avoid using glass-cleaning products to clean your television screen because it may contain all kinds of abrasive chemicals that could damage the fragile screen of a TV.
Don't use kitchen sheets to wipe the television screen. The texture might be too rough and cause damage. If there's not a microfiber cloth available for use, you should opt for tissue with a soft texture.
Are Computer Screens Compatible with Isopropyl Alcohol?
Yes, they are. We highly encourage you to employ isopropyl alcohol for cleaning all kinds of electronic screens. This includes Mac computers, electronic components, or pieces of any computer brand.
Cleaning the Television Stand, Control Panel, and Plastic Surfaces
The most durable part of a Smart TV is its stand and surfaces. Simply wipe the whole exterior with a dry fabric if you think they're dusty. However, if these surfaces have grease blotches or other types of stains, you can wash them with this homemade all-purpose cleaner:
It consists of one cup of white vinegar, one cup of boiling water, and the juice of one lemon poured into a spray bottle. This cleaner may leave all the TV's surfaces neat and sterile.
Remember to Use the Cloth
Always keep in mind that you're washing an electronic appliance, and its interior pieces can be easily damaged if any fluid gets to them. Thus, the cleaning fluid should always be applied to the cloth. Then, only after dampening it, wipe the stand, the control board, and all the exterior surfaces of your television.
Cleaning the Wires and Cabinet
An awful problem that doesn't seem to end while cleaning the television stand is to find a terrible amount of dust all over the surfaces. You can use the all-purpose cleaner you recently learned about for cleaning your television cabinet and wires.
One great thing about it is that it doesn't include any chemical products, but it sanitizes your surfaces just like a chemical would. In addition, the lemon juice is meant to give that fresh scent that we know and love.
You can clean the remote with a damp cloth that has been wrung out. Soak a q-tip with warm water, then add a drop of dishwashing liquid, and once wrung out, use it for removing the dirt that collected around the buttons.
Bottom Line
You've finally come to the end of this article. Hopefully, you acquired all the necessary knowledge for making your smart TV look as shiny and crystal clear as it was when it first arrived from the store.
Remember to do this at least once or twice a month, or as often as you do your general home cleanup, to ensure better results and avoid having a TV full of germs.
If you want to know more about the beautiful art of cleaning, go check out the rest of our page.
About the Author