If you are looking for the best commercial cleaning services in Sydney, the Clean Group is the place for you. No matter what your cleaning needs, our industry experts can get the job done.
Australia loves professional and expert cleaning services in commercial spaces across the country, and we are the best in the business.
We are a family-owned business with a team of more than 50 qualified cleaners who are dedicated to providing services to many businesses, homeowners, and commercial properties across Australia.
If you are looking for the best commercial cleaner in Sydney, you have come to the right place.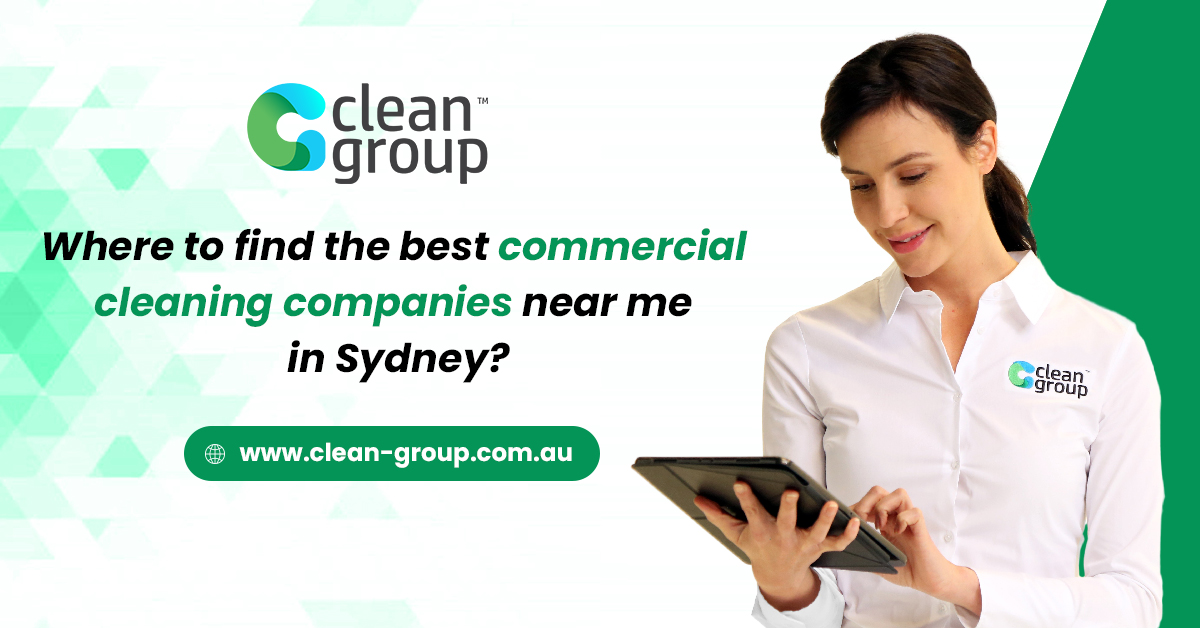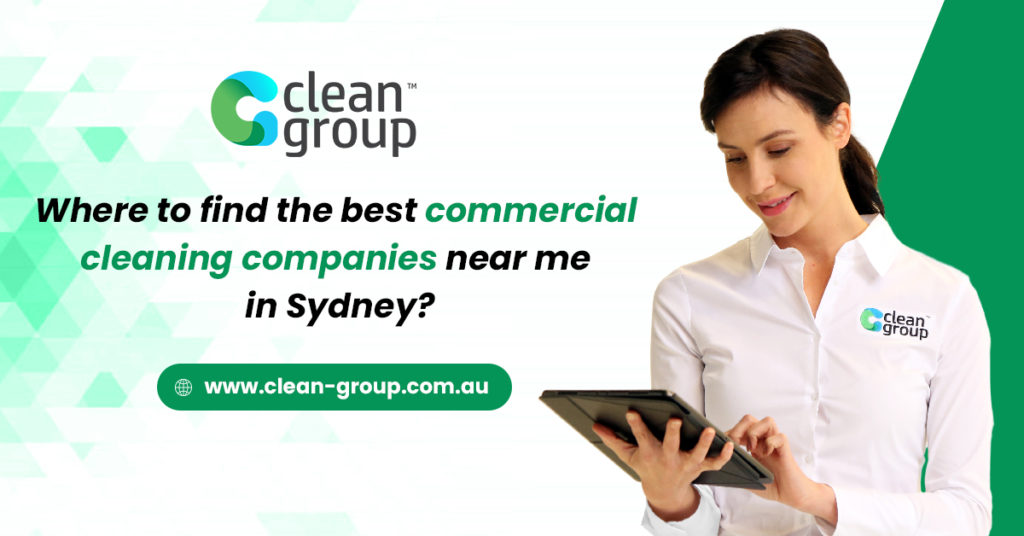 What Is Commercial Cleaning?
Commercial cleaning services are more vital now than ever before in the wake of the COVID-19 pandemic, but their value has always been absolute to businesses with large premises and in the industrial world for clients with more complicated cleaning requirements.
The idea of commercial cleaning is to provide cleaning services on a large and thorough scale, particularly to places of business and public properties.
Services include the provision of professional cleaning products, company-provided highly trained cleaners, and a range of specialist services, including window cleaning, carpet cleaning, and steam cleaning.
Commercial Office Cleaning
Commercial and office cleaning services are often used interchangeably since offices are often the biggest client base for a professional commercial cleaning company.
Office cleaning is essential for a high-functioning, busy workplace, especially after the recent events of the pandemic.
Offices have a variety of cleaning needs that a professional cleaning service can take care of with ease and precision, ensuring minimal risk of bacteria spreading or mess getting out of control.
Quality cleaning in offices is not just about tidy desks- commercial office cleaning services go deep into every nook and cranny to eliminate any threat of contamination and keep office workers safe and happy.
Industrial Cleaning
Warehouses, power plants, factories, and storage buildings are just a few examples of industrial cleaning projects that require professional cleaning services.
Many of these commercial jobs require cleaning specialists who are qualified to handle hazardous materials under strict conditions.
The best commercial cleaning specialists such as the Clean Group in Sydney have team members who are expertly trained for these very situations, making them an invaluable asset to industrial businesses in Australia.
Industrial cleaning is a service that not all commercial cleaning services can provide. At the Clean Group, however, this is a service at which we excel.
If you require professional industrial cleaning services with competitive pricing, get in touch with us today for a free quote.
After Builders Cleaning
Both in commercial and private properties, owners sometimes require professional cleaners to assist with the clear-out and clean-up after construction work.
Building site cleaning services are yet another specialist area that not all commercial cleaners can work in.
The Clean Group cleaners are not only able, but they are highly professional and reliable as well.
This type of cleaning service is extremely popular in Australia, especially in ever-evolving New South Wales. The commercial cleaning industry is a vital part of the construction process in many new builds, both private and public.
School Cleaning
Other common clients who require the great service offered by commercial cleaners are schools and other educational facilities. Since the COVID-19 pandemic, the importance of deep cleaning in schools in Australia has become infinitely more paramount.
Similar to office cleaning services, a commercial cleaner can ensure the risk of spreading bacteria and contamination is kept to a minimum, using techniques such as steam cleaning and advanced disinfection solutions.
General Cleaning Services
Of course, commercial cleaners are not reserved solely for use in the business and industrial cleaning worlds- they are also available for professional home cleaning. General cleaning services we provide include carpet cleaning, backyard clear out, upholstery cleaning, and window buffing.
Because we provide affordable cleaning services and tailored cleaning solutions to anyone who requires them, home cleaning is equally important and viable as cleaning large-scale businesses.
Anyone in Australia who wants the professional services of the best cleaners in the business can contact us at any time to set up a free consultation.
Benefits of Hiring Commercial Cleaning Services
When you hire professional commercial services, you can depend on consistent quality cleaning that leaves no stone unturned- and no germ un-scrubbed.
Our reliable procedures have been tried and tested over years of providing services for optimal performance and clean every time.
By opting for a commercial cleaner, you have access to creative cleaning solutions that can adapt to any business, office, or home cleaning project. We have learned through extensive experience the best ways to get things done, and we never give anything less than 100%.
In the aftermath of the recent global pandemic, keeping your office, school, or commercial property as clean as possible is more important than ever. Our services provide you with maximum protection and prevention of sickness outbreaks in commercial or educational spaces.
It is not worth risking the health and wellbeing of the people who spend time on your property, particularly if it is a place of work or study. Do not leave your office or school open to the risk of a breakout- call the Clean Group to find the best solution.
Why Hire the Clean Group for Your Cleaning Needs?
The Clean Group is here for all your commercial cleaning needs. Our services across the board are amongst the best in Australia in the cleaning industry.
Our clients know never to expect anything less than perfect when we turn up to work. We have built our reputation from the ground up, from a locally owned cleaning company to an industry giant- and we did so through hard work and dedication.
We Are the Highest Quality Professional Commercial Cleaning Services in Sydney
Our cleaning professionals are renowned for their industry-leading expertise. Although we have our base in Sydney, we are recognised and respected throughout New South Wales and Victoria, with offices in Melbourne and Brisbane.
Our Clients Can Rely On a Quality Service at Affordable Rates
Competitive prices are part of our promise to our customers. We are in the business of providing top-grade cleaning services to any business that wants them, and we do not alienate potential clients by charging through the roof.
We set our cleaning services at a reasonable cost based on the level of cleaning we provide and the equipment required to complete the job.
Because we pride ourselves on our consistent excellence, we do not compromise on quality in anything that we do.
No Job is Too Big or Too Small
Whether you run a small locally owned store or a five-story commercial office, our cleaners are ready to help. Our services extend to every size of cleaning job for businesses and individuals across Australia. Whatever job you have in mind, the Clean Group has the answer.
We Provide Tailored Solutions and a Flexible Service
Our cleaning services are not one size fits all! Before any office cleaning or other project begins, we arrange consultations to discuss the optimal cleaning solutions for each business, office, or property and provide free quotes to every company.
We have developed many new and creative ways to provide the best clean our clients have ever had, and our reviews speak for themselves.
Our Complete Range of Professional Cleaning Products are Eco-Friendly and Non-Toxic
Unlike many other cleaning companies, we use only the most thoroughly tested non-toxic cleaning solution and do all we can to run our business in as eco-friendly a way as possible.
The Expert Team at The Clean Group Is Fully Trained on Post-COVID Procedures
Many businesses have recently reopened after the COVID-19 pandemic and want to ensure the safety and peace of mind of their staff. We believe it is our responsibility as a professional cleaning company to educate ourselves to the fullest on post-pandemic regulations and to weave them into our cleaning procedures.
You can count on the Clean Group to provide cleaning services above and beyond what you expect for the COVID-safe office cleaning you and your business need.
Give Us a Call for Quality Commercial Cleaning
Contact us today via phone or email to set up a consultation during business hours. We provide free quotes for any job, large or small, and pride ourselves on maintaining affordable rates and top-quality services.
Remember, keeping your property clean is the same as keeping it safe. Peace of mind and physical wellbeing is more than worth the short time it takes to set up an appointment with one of our experts.
If you are looking for the best commercial cleaning company near you in the greater Sydney area, look no further than the Clean Group- the leading professional cleaning service in Australia. We also operate in Melbourne and Brisbane, so get in touch to find out how we can upgrade your current cleaning solutions!