Leading Medical Centre COVID Disinfection Services In Sydney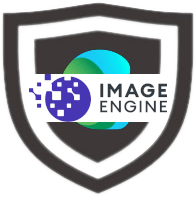 Complete Medical COVID Cleaning Services with Certification
Leave Your Worries to Experts!!
Medical centre COVID cleaning services require a level of expertise and attention to detail that no other sector surpasses. Medical and healthcare facilities, including dental clinics, hospitals, nursing homes, and pharmacies, all need a meticulous approach to hygiene and health and safety.
Clean Group has been servicing clients in the medical and healthcare sector all over Sydney for more than 20 years. Our longstanding commitment to the highest standards of cleanliness and infection control has enabled us to form a formidable team of disinfection and sanitisation experts.
Our team of professional commercial cleaners is working 24/7 providing emergency decontamination and precautionary Covid cleaning services in Sydney for medical centres and other healthcare operators right across the entire Greater Sydney region and beyond.
Get a Free Onsite Quote
Protecting Medical and Healthcare Providers for 20+ Years
Clean Group's combination of highly trained cleaners, advanced cleaning equipment and the highest quality hospital-grade disinfectants and cleaning products puts our Covid cleaning and decontamination service well ahead of the competition.
Every one of our Covid cleaning professionals is trained in infection control principles.
Our disinfection and cleaning process complies with NSW Health department guidelines.
We use TGA-approved hospital-grade disinfectants that are 100% effective vs Covid.
All the cleaning products we use are environmentally friendly and TGA-approved.
Our Electrostatic Virus Shield disinfection technique effectively sanitises every surface.
Clean Group's Covid cleaning services are backed by an iron-clad 100% guarantee.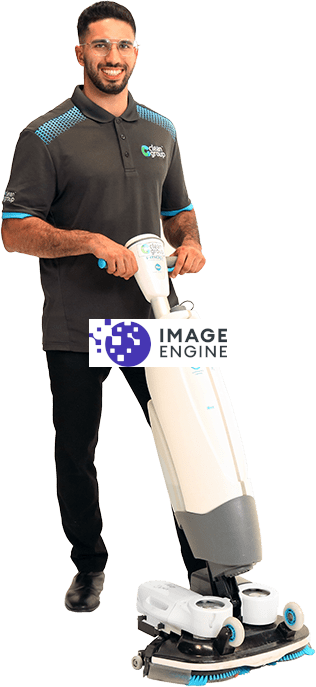 How Extensive are Medical Centre COVID Cleaning Services?
Clean Group's medical and healthcare facility Covid cleaning and disinfection service is done in two stages to ensure complete decontamination and sanitisation:
Stage 1: Professional Cleaning - The first stage involves a thorough professional cleaning of all areas within the facility, including doctors' chambers and nurses' rooms, receptions and waiting rooms, bathrooms, and entrances.
Stage 2: Disinfection and Sanitisation - The second stage of our service involves a comprehensive deep cleaning to sanitise and decontaminate any surface potentially contaminated with coronavirus, particularly high touchpoint surfaces such as phones, computer terminals, door handles, counters, cabinets, chairs and benches, beds, bins, privacy curtains, and play areas.
Clean Group's two-stage Covid disinfection process not only eliminates up to 99.99% of coronavirus and other pathogens, it also provides ongoing protection against the spread of Covid infection in your medical centre, clinic, pharmacy or healthcare facility.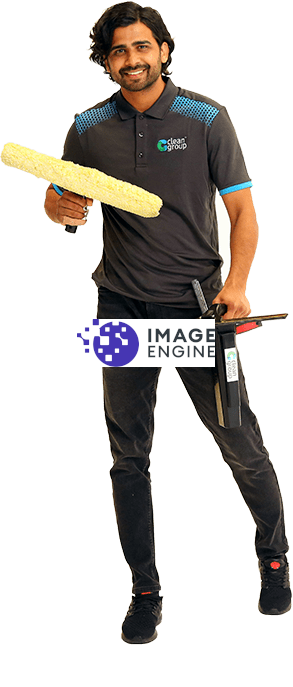 Electrostatic Virus Shield Disinfection - The Covid Killer
Unlike most working environments, many of the areas inside medical centres or other healthcare-related premises must be kept fastidiously clean, and in many instances, effectively sterile.
Over the years, the brains trust at Clean Group has developed methods and processes for quickly and efficiently decontaminating and sanitising just about any commercial or private premises or vehicle.
We consider our proprietary Electrostatic Virus Shield Disinfection technique to be the most effective and affordable way to consistently and reliably clean and sanitise medical or other healthcare-related premises and equipment.
The combination of advanced electrostatic sprayer technology and virus-killing hospital-grade sanitiser enables our Covid cleaning teams to overwhelm even the most well-hidden viral particles, known as virions. The electrically charged sanitiser particles are able to wrap themselves around every potentially contaminated surface.
Precautionary Covid Cleaning Service for Ongoing Protection
Many of our medical and healthcare sector clients keep their centres and premises safe from Covid by scheduling a regular two-stage precautionary Covid cleaning service.
A comprehensive clean is followed by complete decontamination and sanitisation.
Every one of our elite Covid cleaners is trained in proper infection control methods.
All our infection control experts wear proper PPE and use hospital-grade disinfectants.
High traffic and high-touchpoint surfaces are paid extra attention by our Covid cleaners.
Our environmentally-friendly cleaning products are approved by NSW Health and TGA.
Our precautionary Covid cleaning service reduces the chances of an infection spreading.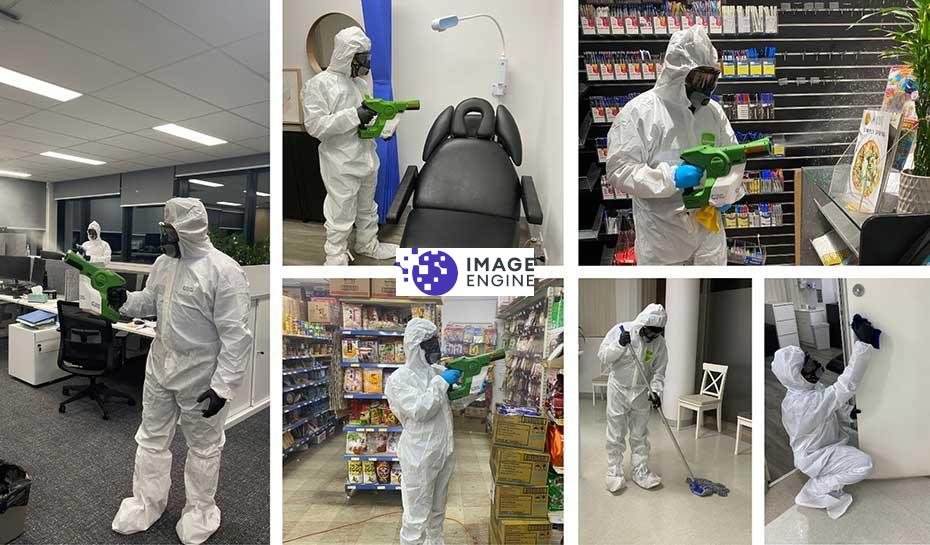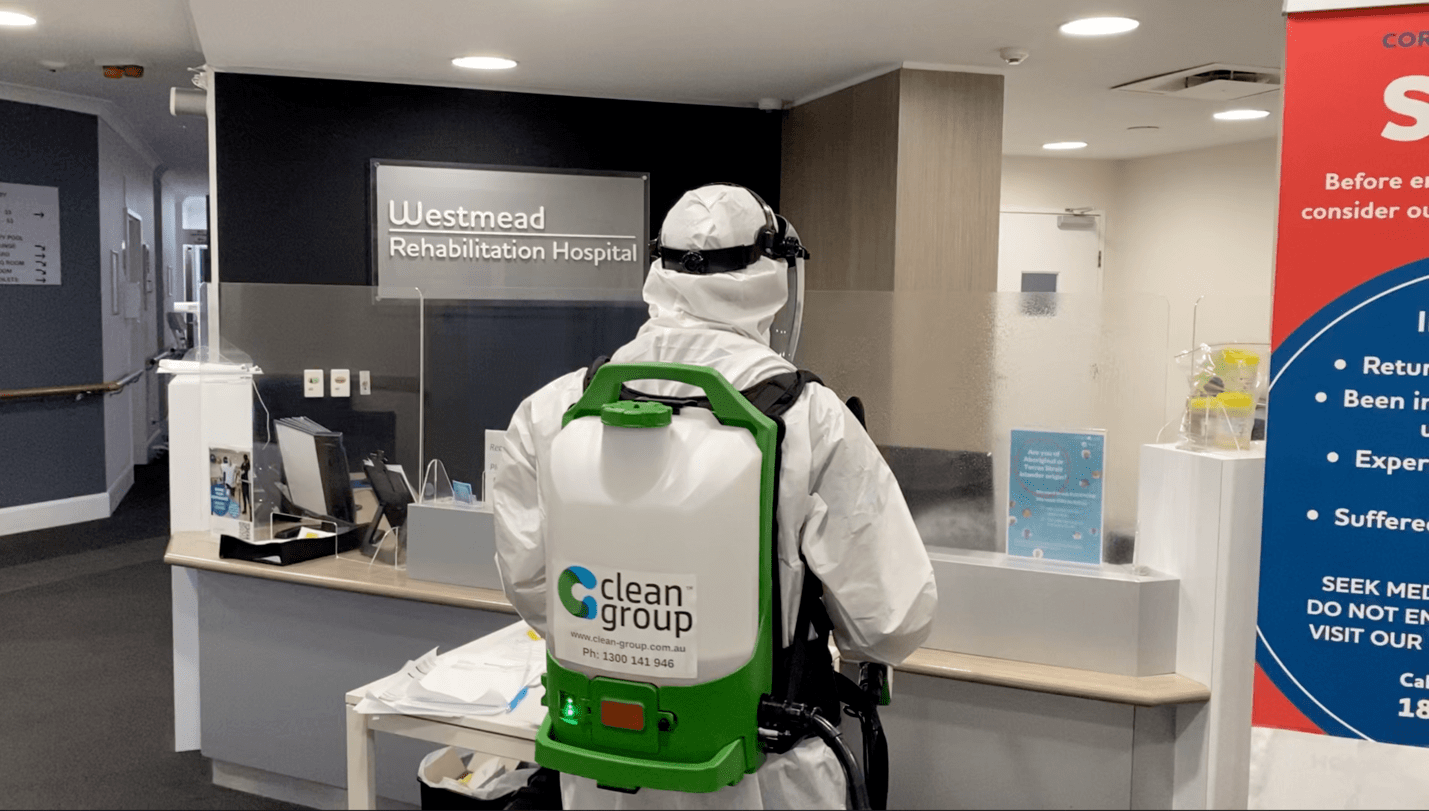 Stay Covid Safe - Book a Free Onsite Assessment Today
Contact our friendly customer service team to discuss your medical or healthcare-related premises' requirements or to book a free onsite assessment.
Clean Group's medical centre Covid cleaning services are available 24/7 to fit in with your hours of operation.
Get a Free Quote