Celebrations generally include candles whether it's a children's birthday party or a dinner party with friends; because accidents happen, candle wax can easily be spilled. To remove candle wax quickly and effectively off clothes and tablecloths, follow the simple commercial cleaning instructions below.
Five Steps to Get Rid of Wax Stains on Clothes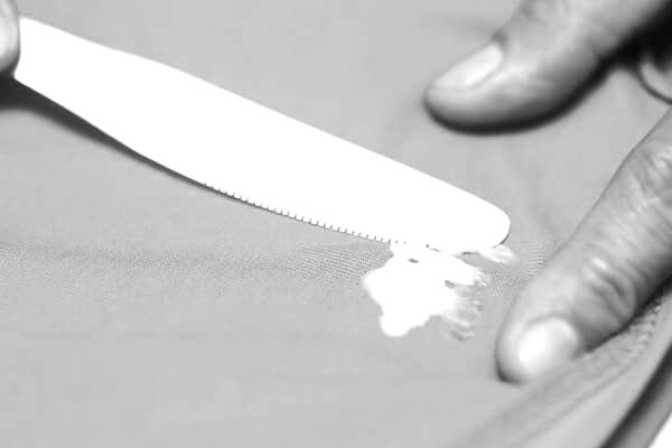 Don't Do Anything
The first step is to do nothing — at least, not until the wax has dried. Attempting to remove a wax stain before it has hardened can certainly worsen the problem, spreading the stain and possibly burning you. Therefore, before you do anything, let the wax harden.
Scrape Off the Stain
The next step is to get rid of as much hardened wax as possible. Take a knife that is sharp enough to cut through the wax but not so sharp that it will harm the clothing item. To avoid any accidents, always use strokes that are away from your body when using the knife. Remove as much of the solidified substance as possible from the wax, leaving only the most embedded wax behind.
Remelt the Wax
The second step is to reheat the wax, which may seem to contradict the first step above. Place a washcloth or towel under the clothing item or tablecloth, then cover the wax stain with two paper towels. Heat the iron to a low to medium setting and iron over the affected region. The hot wax will re-melt and separate from the fabric, seeping into the paper towel instead.
If the paper towel becomes saturated with wax, slide it around to a different position and start over, or replace it with a new sheet. However, if you don't have any paper towels on hand, blotting paper can work just as well, if not better. When using an iron, always be cautious.
Soak for a While
The wax removal procedure should be nearly finished at this point. However, if the wax is coloured, there will almost probably be a stain left on the garment. If this is the case, create a solution of water and an oxygen-based stain remover in a basin and soak the stain in it for a few hours. This should effectively eliminate the fabric's last lingering stains.
As a stain remover, try applying a small amount of liquid detergent straight on the spot. Always test the impact on an unnoticeable spot before applying it to a larger area.
Give It a Good Scrubbing
Finally, wash the clothes or tablecloth as usual, either in the machine with detergent or by hand if that is more suitable. Any traces of the wax spills should be gone at this point!
If the damaged item is made of a particularly delicate material, you may want to get the help of a professional cleaner who knows how to remove wax stains from clothing. If you want to know How to Clean Heavily Corroded Brass, do read our article on the topic.
Alternative Methods
Boiling Water
Wax can be removed by dipping the clothing into a big pot of boiling water. Adding baking soda to boiling water is the key.
Take a big kettle, fill it halfway with water, and bring it to a boil. In a large mixing bowl, dissolve five to six tablespoons of baking soda in the water. With a stick or rod, dip the waxed garments into the boiling water.
The wax should soften and fall into the kettle within a minute or two. Leaving the fabric in boiling water for an extended period might cause damage to the apparel by removing the colour.
You should place a towel over the waxed area of more delicate clothing, such as fleece and iron on the towel. The wax will be absorbed into the towel from the garment. This will prevent the clothing from being destroyed by the boiling water.
Vegetable Oil or Carpet Cleaner
If the stains are minor, you can remove them with vegetable oil. A dollop of vegetable oil can be applied to the wax, you should then scrape away the wax and wash it. This can also be done with a carpet cleaner.
Place in Freezer
You should only need to keep the clothing in the freezer for about an hour for this process to work.
If there's wax remaining, put the area of clothing with wax over a large bowl and secure it with elastic bands. Then, pour boiling water over the wax and wash it.
How Do You Remove Paraffin Candle Wax from Clothes?
Wait until the wax has cooled and dried before gently scraping off the excess, re-melting the wax with gentle heat under the iron, and dabbing the afflicted area with a paper towel.
How Can You Get Hard Wax Out of Your Clothes?
Hard wax is dry wax that can be removed from your clothes by carefully scraping or peeling solid clumps from the fabric. Re-melting the wax and wiping the area with a paper towel should remove any wax that has been set within microscopic gaps on textured materials.
How Do You Remove Wax from Clothing Without an Iron?
If you don't have an iron, try a blow-dryer on a low setting or hang the clothing near a heater to remove wax marks. To avoid damage or fire concerns, do not leave the garment unsupervised during this process.
How Do You Get Colour Candle Stains out of Your Clothes?
Coloured candle wax can be removed with the methods listed above, but it may leave coloured stains on your clothes. Remove this as soon as possible by washing the item with a proper detergent or treating it with a white vinegar solution or oxygen bleach.
Cautions
Below is a list of cautions you should consider:
Before attempting any stain removal method, always read the care label. Do not use items or methods that the care label says aren't allowed.
When using a commercial product or a combination of cleaning materials, be careful.
To determine colourfastness, always try each cleaning product on an unnoticeable spot first.
Be careful to store and dispose of products/cans/containers according to the manufacturer's instructions. Keep out of children's reach.
If you're using caustic or professional cleaning products, be sure you have enough ventilation.
We hope that you're able to get the wax removed from your clothes in no time!
About the Author