Everyone loves UGG boots due to how stylish and comfortable they are. It's not uncommon to see many people using them in winter or in places with cold weather. The only downside to using these boots is cleaning them is not as easy as it would be with regular sneakers. 
Many people don't know what to do when they get stains on their UGG boots or when dirt falls on them. Not commercial cleaning them properly could lead you to damage them or even lose them altogether. You don't want that, so we are here to help. 
Read on to know how to wash your UGG boots!
When Using a Washing Machine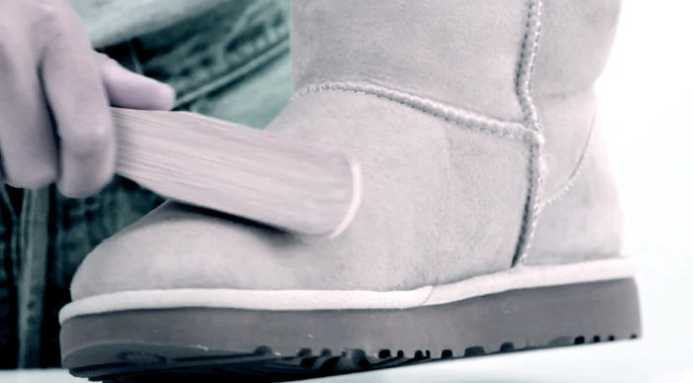 The most common method to wash your UGG boots is by using a washing machine to do it. However, you need to be extra careful while doing it, so follow all the steps listed below to avoid making any mistakes.
Put Your UGG Boots in a Mesh Washing Bag
While some people wash their clothes in the washing machine without using a washing bag, doing this with UGG boots can make you lose those boots. Make sure to put your UGG boots in a washing bag before doing anything to them. It's better if it's a mesh bag.
Pour Washing Detergent into the Washing Machine's Dispenser
As it happens when you wash your clothes, you need to pour some washing detergent into the machine's dispenser to start the whole process. We recommend you go for color and odor-free detergent to avoid staining the boots or using chemicals that may damage them.
Using any other product aside from clear detergent could worsen the problem instead of washing your boots. Powder detergent is excellent for the job too.
Set the Cycle
Not all washing cycles work when washing UGG boots. The "delicates" cycle and "cold wash" water settings are the best ones to avoid damaging your boots, so you should stick with them.
Let Them Dry Overnight
We don't recommend you use a drier to dry out your boots. Let them dry completely overnight and use them as if nothing happened.
Washing your UGG boots is not something you can do daily, so make sure you only use this method when you have to take something off your boots or if they have a stain.
Taking Off Water Stains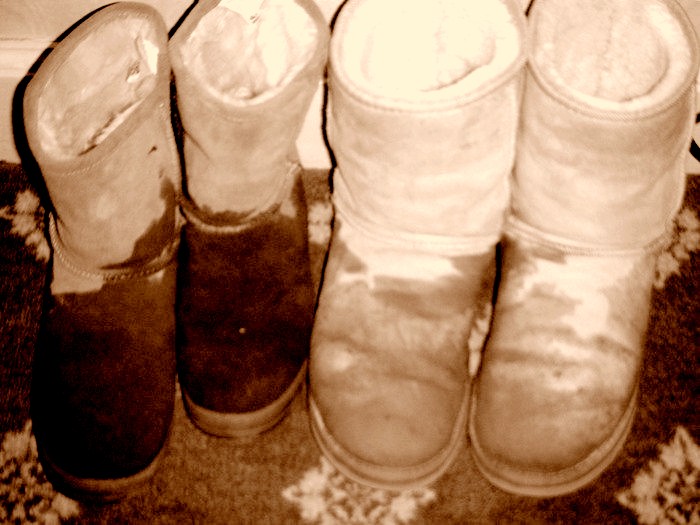 Some methods work better for different situations. Water stains are an example of that since, naturally, a washing machine is not going to solve that problem. The best way to take off water stains is with plain white chalk.
This method may seem odd, but rubbing the stains with plain white chalk can soak up all the water. Rub the chalk and then let it sit there all night. The stain shouldn't be there in the morning, so the only thing left to do is use a toothbrush to take any remaining chalk off the boots.
Use UGG Cleaning Products
The only downside to using UGG cleaning products is it's an expensive method. However, since they are made to protect and clean your boots, they may be the overall most effective option on the list.
UGG protectors are often used when you know you are going to walk through a place that could damage your boots or make them dirty. Nonetheless, when talking about cleaning them or removing stains, UGG cleaners and conditioners are the ones for you. UGG renew sprays are also a decent option if your boots are not looking that good.
Using these products is not difficult, either, but you need to use them correctly. When it comes to UGG protectors, you need to spray them all over your boots. Make sure they are completely wet but not soaked.
Things are different when it comes to cleaners and conditioners. Pour some drops of UGG cleaner/conditioner on a toothbrush, and then brush the parts of your boots you want to clean. Make sure to not pour too much cleaner/conditioner on the toothbrush since you don't need that much to get the job done.
Removing Bad Odors
Sometimes, the problem with UGG boots is they smell instead of having a stain or dirt on them. Addressing this issue is different than it is with others since you don't have a specific part to clean, which can make the process way more complex.
It's essential to know that the fluffy part of the boots and the inside of them are often the parts of it that tend to smell. Sprinkling baking soda and cornstarch inside your boots and on its fluffy part can help you get rid of bad odors.
Regardless of that, you need to make sure your boots are completely dry when you do this. Let the baking soda and cornstarch sit overnight, and then shake them out of your boots.
Using fabric softener sheets inside your boots while you are not wearing them is also helpful if you don't want to go for baking soda. 
Deodorizing balls are effective, too, but they may not work at all times. Charcoal deodorizing bags are better, but you need to follow the activation steps on the instructions that come with them.
Some people like putting their boots in the freezer since cold temperature kills bacteria.
Wrapping Up
Wearing UGG boots is not only comfortable but also fits with many appealing outfits. Nonetheless, keeping these boots clean and from smelling is a difficult task to accomplish. If you want to keep wearing UGG boots, we recommend you follow all the steps mentioned on this list.
Apart from that, we don't recommend you wear your UGG boots every day. These boots are more fragile than regular sneakers or any other shoes you have in your closet, so it's best if you save them for special occasions or if you don't wear them that often.
We are a Clean Group, and we are professionals in everything related to residential and commercial cleaning. Visit our website to learn more things about cleaning, and contact us if you ever need us to clean your house or office building.
About the Author