The toilet brush is one of the frequently forgotten items in people's bathrooms. Since it's what you use to clean the toilet bowl, you might neglect it and think that you don't need to deal with its filth very often.
This guide offers you several different ways for your toilet brush cleaning, including some strategies you can try with products you already have at home.
Using Bleach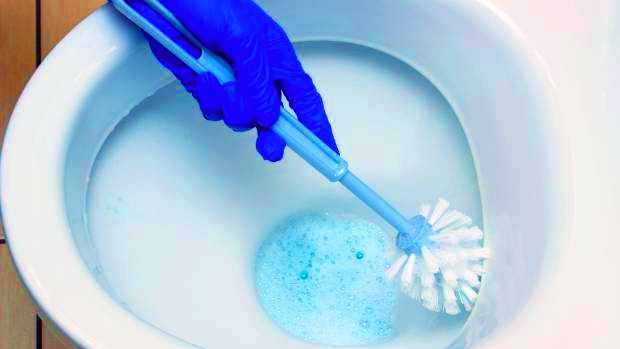 Your toilet brush needs to be as clean as the toilet itself. One of the best ways to achieve this is by using bleach.
Prepare the Mix
Cleaning your brush with bleach is immensely easy, but you still need to prepare the ingredients. First, boil some water, and once it's ready, pour it into a bucket and mix it with the bleach.
Soak and Dry
Put the brush inside the bucket and leave it there for a few minutes. Make sure it's completely soaked, so the bleach is able to get rid of all the bacteria.
Get the brush out, rinse it, leave it to dry, and that's it! You've cleaned your brush using bleach. Try to do this at least once a week.
Clean the Holder
Something you should remember when you're cleaning your brush is that the holder gets dirty as well. However, since handling bleach can be somewhat uncomfortable and dangerous, you can use alternative methods to clean this area of your brush instead of soaking the item completely.
You could, for example, apply some bleach in a cloth and rub that through your brush holder. At the same time, you can simply use disinfectant spray instead of bleach in this step, and it will have the same effect.
Remember to Be Careful
Using bleach is very straightforward and it's a fantastic way to clean your brush, but it's dangerous since it can severely harm your skin and cause eye irritation.
Consequently, you should always wear protective gear while you're using it. Otherwise, you might hurt yourself.
Don't Forget about the Bleach Water
Your brush is now dry, but what do you do with the water bucket you used to clean it up? Be careful! Bleach is harsh on your skin and eyes, and if someone comes in contact with it by accident, they might hurt themselves.
Grab the bucket and pour the water into the sink. If that's not possible, you can pour it into the toilet bowl itself.
Using Spray
Some people don't want to expose themselves to using a lot of bleach at least once a week, so they prefer different strategies to clean their toilet brush.
Using a disinfectant spray, for example, is a quick and easy way to get rid of bacteria, and it's much safer than bleach.
Once you get the spray, place your brush on the floor and apply the product. Make sure you don't leave any spots without it, and then, grab the brush and put it on top of the toilet bowl so the excess spray drops there.
Putting the brush over the toilet bowl guarantees that there's no excess spray all over the place, and it also helps you clean the bowl itself because of all the spray drops inside it.
After you do this, pour hot water into your brush for around 30 seconds. Leave it to dry, and then you're done!
Using Water and Vinegar
If you don't have bleach or disinfectant spray, you can still check your kitchen, find some vinegar, and make a homemade mixture to clean your toilet brush.
Vinegar is very convenient to clean your toilet brush, but you have to make sure that you leave it long enough for it to be effective. Unlike bleach or disinfectant spray, in this case, it takes a whole night.
Grab a bucket with water and pour a generous amount of vinegar into it. Mix for a while, then submerge your brush completely in the mixture, holder included. Then, leave it like that for at least one night.
Take your brush back from the mixture and leave it out in the air to dry, preferably under the sun. Throw the mixture down the drain or pour it inside the toilet bowl.
Using Baking Soda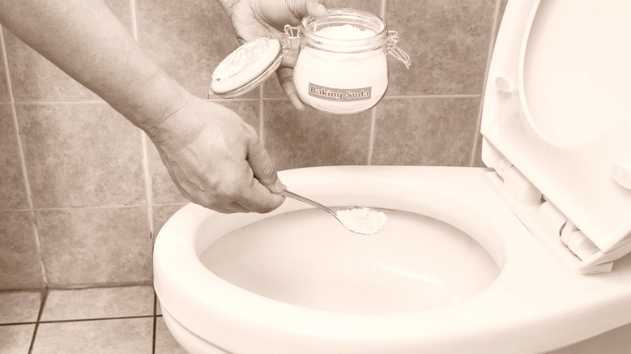 Another quick homemade way to clean your brush is to use baking soda. To do this, you only need a pinch of it and a smaller brush to help you get rid of the filth.
Apply the baking soda all over your toilet brush, and using the other one, rub it vigorously. Make sure you don't leave any spots unattended. Then, rinse the brush, leave it to dry, and you're all done!
Cleaning While You Clean the Toilet Bowl
Many people forget to clean their toilet brush solely because of the fact that they don't make it a habit. In this case, the best solution is to clean it while you're getting rid of the dirt in your toilet bowl.
Clearly, to make this work, you have to clean the toilet bowl first. Otherwise, the brush will get dirty all over again.
Thus, use your cleaning products to handle your toilet bowl, then choose one of the previously mentioned strategies to manage your brush. Remember to repeat this process at least once a week to avoid bacteria accumulation.
Some Precautions
Most cleaning agents are strong and harmful to your skin and eyes. Therefore, you should always wear protective gear while you're getting rid of the dirt in your brush.
First, you have to wear gloves at all times, especially if you're using bleach. At the same time, you should never combine bleach with vinegar because the mix produces very dangerous fumes.
Lastly, you must make sure that you're getting enough air circulation. If it's possible, open some windows, or at least the bathroom door.
Conclusion
Cleaning your toilet brush is vital since it's what allows you to keep your toilet bowl free of bacteria as well. Fortunately, the process is very easy, and you have different strategies to choose from, depending on the products you're able to use.
About the Author