With the pandemic, many businesses resulted in working from home or have placed a strict social distancing protocol in their office ready. Everyone has been worried about the health and safety of their employees and family members.
Coronavirus has drastically affected the way companies make their everyday trade. We are so far from wallowing and worrying about our businesses, and we want to be a step ahead of the game.
Trades are slowly opening, and many offices have declared office is ready for the work. We want to ensure that everyone is safe from the virus.
As a leading commercial Covid cleaning company in Sydney, we will share with you the ideas on how to clean your office ready for 2021. We want to let the whole world know about this long-term solution to combat Covid 19. Find out about " What is COVID-19 Cleaning? Clean Group "
4 Major Office Challenges in 2021
Many companies are now planning ahead for the coming year. They will need to make sure that their workplace is safe once their employees return to the office ready.
The Coronavirus pandemic changed so many norms when it comes to our daily operations. People are now slowly embracing the changes putting their health as their number one priority.
For the past eleven months, it is already known to us that the Coronavirus spreads through close contact with an infected person or surface. Having this in mind, the health and safety of many people should be our top goal.
Returning to work is possible as long as we have the right mindset and action plan to fight what is ahead of us.
#1 Long-Term Working from Home Arrangements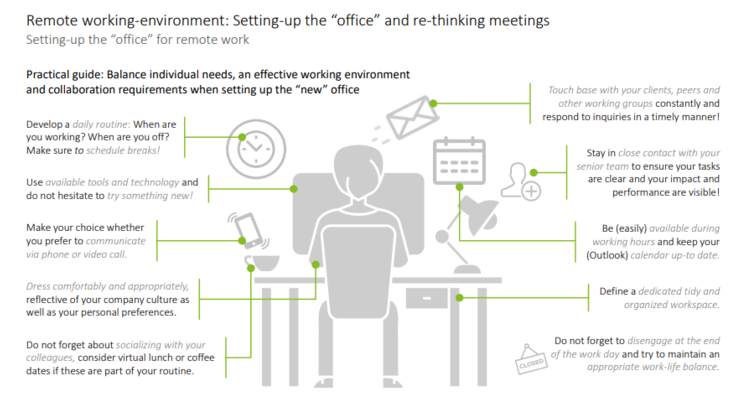 We need to limit the number of employees gathered in a particular office space. Social distancing is only possible if a controlled number of employees are present.
Strategize and have a meeting with your management and map out the functions and roles of each worker and carefully consider whether or not it would be essential for them to work in the pandemic situation is an office-ready.
Some positions can be done flawlessly in a remote work setup. Many companies have made this possible. Some of the roles in their organization are now functioning with their employees working from home.
The employee does not have to face the risks of contracting the virus on his way to work and from person to person encounters with his colleagues.
#2 Reimagining the Workplace in Pandemic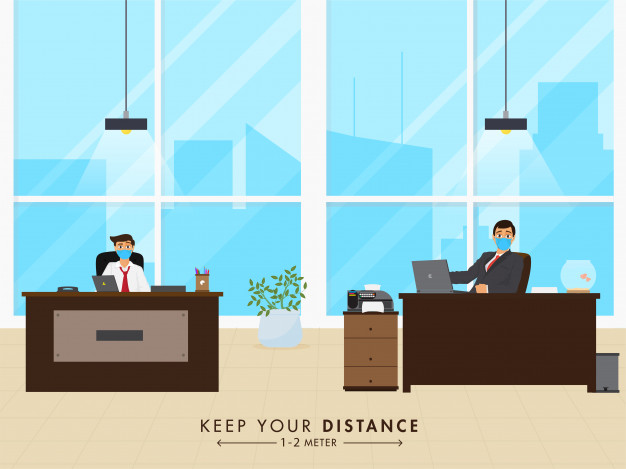 CDC had implemented strict guidelines on how to stop the spread of the Covid 19 effectively. One of them is the enforcement of social distancing.
With the new normal, offices had rearranged the overall facade of their office to make sure that there is enough space between the employees who are tasked to return to the office.
Some even installed barriers between shared desks. There should be a concrete plan for both returns to the office and remote working employees.
Apart from enforcing social distancing. Many companies had installed handwashing facilities and invested in signages to increase the level of awareness of their workers.
Companies also make sure that their employees must have access to supplies like hand soap, hand sanitiser, hand towels, and other consumables that are needed to promote health and safety.
Staff should be encouraged to wash hands and wear the mask after the office is ready to open. People will tend to remember easily if they can see signs and posters near the sink or any common areas like the kitchen and toilets.
In the school industry, kids are being taught how they can wash their hands. Much information about Coronavirus can be found on almost all the walls of the facilities to increase awareness.
#3 Reduction in Office Travel Expense
The world is far from returning to its normal course. A company can indeed cut down the travelling cost since travelling is not necessary.
We must use our company's budget diligently and invest in cleaning instead. Cleaning is the game-changer during this pandemic.
If you have your own trusted office cleaner in Sydney to do the cleaning and disinfecting in your workplace, employees will definitely be confident in returning to the office ready. Plus, if you have a clean, safe workplace, people will trust you more.
#4 Embrace the Digital Transformation
Same as investing in cleaning and disinfection of your workplace, please invest in the proper tools, equipment, and software that will make your life easier during this pandemic stage.
Choose the software that will monitor your workers' productivity even if they are into remote work. Digital transformation will make all things possible. This is part of the new normal.
Getting Your Workplace Ready for 2021
Employers should communicate with their staff and teach them simple steps that will safeguard their health and limit the spread of the Coronavirus.
Display posters are promoting good hand hygiene or remind your staff to cover their mouth and nose with a bent elbow or a disposable tissue.
Management should ensure that paper towels are available in the workplace, along with closed bins.
This will make it easier for your workers to identify the proper bins to use in disposing of the used and contaminated tissues once used.
Employers must promote regular and thorough handwashing by employees, contractors, customers, and visitors. Make sure that everyone on the site has access to places where they can wash their hands with soap and water.
Washing hands is one of the easiest ways to protect yourself and others from illnesses. Display hand hygiene signs and posters around your workplace to remind people to wash their hands correctly.
Make hand sanitisers available in prominent areas around your office. Ensure that the dispensers are refilled regularly and easily accessible. Ensure that your office is clean and hygienic and office ready to work.
Surfaces such as desks and objects such as keyboards and telephones need to be wiped with disinfectant regularly. Contamination on surfaces touched by staff, customers, and visitors is one of the main ways that Covid 19 spreads.
These low-cost measures will equip your business to prevent the spread of infections and reduce the risks of lost working days due to illness.
Cleaning and Disinfecting During the Pandemic
Cleaning and disinfecting facts is an essential component for stopping the spread of Coronavirus. Cleaning removes microorganisms using water and detergents, but it cannot kill the microorganisms present on the surfaces. Disinfection is needed if you aim to kill viruses and germs.
Different areas of a building or office are needed to be cleaned and disinfected differently. Some areas, such as bathrooms and kitchens, may need to be cleaned and disinfected daily in these pandemics environments.
Disinfection wipes are great for tables, countertops and other high-touch objects like door handles, mobile phones, and light switches.
Here Is How to Use Disinfection Wipes:
Personal protective equipment is not needed. We recommend the use of gloves if your skin is easily irritated or you can also wash your hands as soon as you are done with the wipes.
Always check the safety information on the label before use.
To disinfect hard, non-porous surfaces, thoroughly wet the surface with a disinfectant wipe. It must remain visibly wet for five minutes in order for disinfection to occur.
If a surface is dirty or has food stuck on it, you need to clean it before disinfection. Always clean before disinfecting. This could mean using one wipe to remove the dirt or any visible contaminants, then re-wipe to disinfect.
For surfaces that may come in contact with food, most manufacturers' recommendation is to rinse the surface with water after disinfecting. Make sure that the lids are always closed after using disinfection wipes. Otherwise, the product will dry up and won't disinfect the surface effectively.
A little effort can go a long way to help stop the spread of Covid 19. We have come a long way in fighting this pandemic, and I am also curious to see what the future is in store for us.
We are moving on in a time where people will be safer in remote work or coming into safe office spaces when office-ready.
Is your business ready for this coming year? Have you taken all the precautions to welcome your employees back to work? I want to hear your thoughts about how your office is ready to work in pandemic conditions.
How do you ensure that your employees will all be safe from coming and going to the workplace? Please write your comment below and let us see if you are in the same boat.
About the Author