Messy spills and tough stains can be problematic, especially if you own a fabric sofa. You may not know if it's okay to use certain commercial cleaning chemicals and equipment, so you put it off. However, that just makes it worse when you do decide to clean it.
This step-by-step guide can help you learn how to clean a fabric sofa with cleaning detergents, baking soda, and other products. Let's get started!
Simple Furniture Cleaning Hack for Cleaning a Couch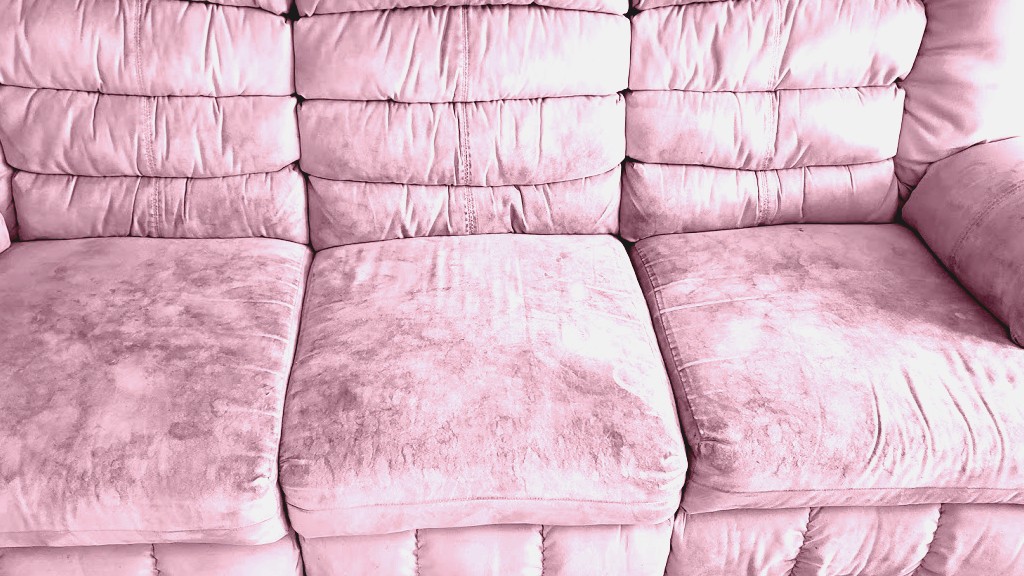 To remove dirt fast, you can use the vinegar method. Just add some vinegar to about ½ cup of water. Put the mixture in a spray bottle, and apply it to the dirty areas. Blot the area with a paper towel or microfibre cloth but don't rub it. That can lift the stain and freshen the upholstery.
Appropriate Cleaning Products for Upholstery
You can use one or more of the items below to get the best outcome:
Drying towel
Water
Vinegar
Steamer
Baking soda
Vacuum
Dry brush
Cleaning Upholstery on a Fabric Couch – The Basics
As with cleaning anything, it's best to know what materials you're working with. Check the furniture care codes to understand which cleaners and solvents you may use. Once you know what those are, don't rub them into the fabric; blot them with a dry paper towel or microfibre cloth.
Cleaning a Fabric Couch with Stains
Here are the steps to take to clean your fabric sofa and remove stains:
1. Get to It Quickly
As soon as you see a spill or stain, clean it immediately. If you wait too long, even minutes, the stain might set, so it's harder to remove.
2. Check Manufacturer Recommendations
Before using cleaning solutions and detergents, check the instructions for care from the manufacturer. They can often be found on the sofa tag. If you don't use the right products, you might permanently damage your upholstery.
3. Check Cleaning Codes
Do you ever wonder what those random letters mean on the sofa tag? They are codes to tell you how to clean the sofa!
They are:
W – This means to use water-based cleaner.
S/W – Water-based cleaners and solvents can be used.
S – Solvents should only be used. They include chemicals as the primary component.
4. Use a Dry Brush
Go over your entire sofa with a stiff brush to loosen up stains and bring dirt and dust to the surface.
5. Vacuum
Before you clean or scrub the fabric couch, use a vacuum with appropriate attachments (or a hand-held machine) to remove loose particles like crumbs. That makes it easier to see the troublesome stains later.
6. Use Baking Soda
Baking soda is an effective cleaning solution. Sprinkling some baking soda on the full couch can remove odours and loosen stains. You may even make a baking soda solution for stains.
Just mix equal parts of water and baking soda. Let the baking soda sit for about 10 to 20 minutes for either a dry or wet solution.
When the baking soda absorbs the stain, you can vacuum it with a brush attachment. Just spot treat or test an area before you completely clean it with baking soda.
7. Spot Treat with Appropriate Products
Start cleaning the couch with the right product. If you don't know what to use, you can test an inconspicuous area for discolouration before using it on the entire thing.
Whether you choose a solvent or water-based cleaner, you should follow all instructions on the package. If it says you may use a soft cloth to wipe any residue off.
8. Dry the Sofa
Pat down wet areas using a dry towel. That way, you soak up any moisture. Gently brush away the remaining solution.
9. Air Dry
Let your upholstery dry overnight without letting pets or people sit on it. That way, you have a fresh and clean couch in the morning!
Using a Couch Cleaner or Steamer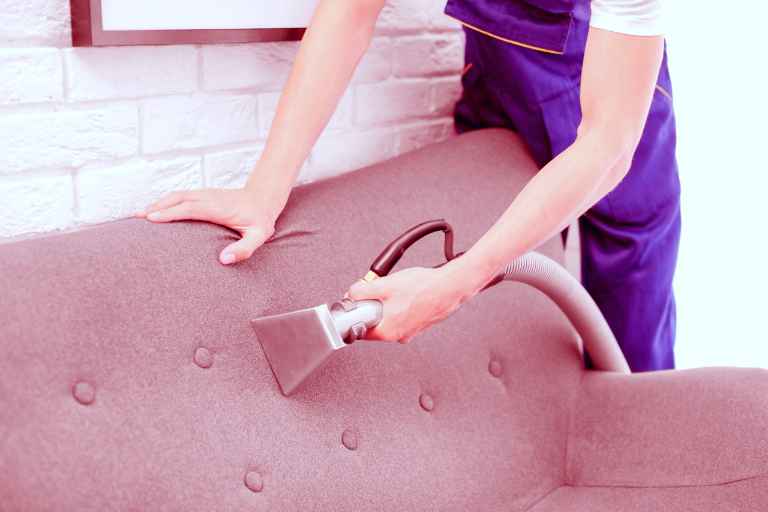 You can use an upholstery steam cleaner to clean the couch. Read the manufacturer's instructions and recommendations for the sofa to ensure that this is appropriate.
Just because the couch is water-safe doesn't mean it's heat-safe. Test spot a hidden area before steam-cleaning the entire thing.
Here are the steps to take:
Read Your Manual – Steam cleaners come with instructions for a reason, so make sure to read them thoroughly.
Vacuum – Vacuum the sofa first before cleaning it to make life easier. Dust, dirt, and loose particles don't get in the way, allowing the steam cleaner to do its job thoroughly.
Keep Circulating Air – Turn on the fans and open the windows to give you a good cross breeze. That way, air circulation is strong, so moisture build-up doesn't occur.
Spot Test – This step is crucial! Pick a small and hidden area to test your steam cleaner. The skirt or back of the sofa work well here.
Air Dry – Don't sit on your sofa while it's wet. Make sure the windows are open to help dry out the couch and reduce humidity in the room. If it's a particularly wet day outside, you might consider turning on fans and using a dehumidifier.
Vacuum Again – Once the upholstery is steamed, vacuum it again to remove all the dirt the cleaner got up. Just make sure it's fully dry first!
Disinfecting a Sofa
Once your couch is completely cleaned and free of stains, you might consider disinfecting it. You can use a DIY disinfectant by mixing some diluted essential oil with rubbing alcohol.
Lightly spray the sofa, let it sit for a bit, and then vacuum the surface. This works well between cleanings to freshen it.
Conclusion
While most people don't think about cleaning their couches, it is something you use multiple times a day. It's bound to get dusty and stained, so it's best to keep it clean as much as possible.
Consider cleaning it with the methods listed in this checklist once a week or whenever you normally clean your living room. That way, it stays fresh and clean, smells good, and has a longer lifespan. You don't even have to buy special cleaning solutions; baking soda does the trick!
About the Author