People these days are counting on professional cleaners due to the pandemic situation and due to the rise of delta variants. But one more fact that is supporting this move is that local cleaners lack experience. Local cleaners don't have proper practical experience of dealing with these situations. They can clean the premise but to keep everything safe and germ-free cleaners require specific chemical solutions and training and experience. And due to the lack of all these, choosing professional cleaners seems like a good move.
Professional cleaning has become essential these days. According to Cleaning Industry Statistics Australia, the market size as measured by commercial cleaning services industry revenue is $12.3bn in 2021. It shows how well this industry is growing. A lot of businesses and commercial places outsource cleaning services because they all are aware of the fact that professional cleaners know What Does Cleaning Mean at commercial facilities and they have better knowledge, experience, training and access to better products and equipment.
In this ultimate guide, we will be talking about the professional cleaning and different types of cleaning challenges a professional cleaner faces. We are providing ideas about what commercial cleaning really means, and what commercial cleaners actually do.
Types of Cleaning Services
There are many types of Cleaning Services a professional cleaner can provide, ranging from residential cleaning, commercial cleaning, industrial cleaning, and start cleaning. However, there are some specific premise based services too, such as office cleaning, janitorial cleaning, hospital industry cleaning, warehouse cleaning, church cleaning, parking cleaning, etc.
Other than that, there are few more in the lists like Covid-19 Cleaning cleaning, Occasion based cleaning, Christmas cleaning and if you are in a hurry, then you can also avail emergency cleaning too. Thus, cleaning services vary according to premise, occasion, size and cleaning requirement.
Commercial Cleaning
Commercial cleaning companies are contracted to carry out cleaning work on various premises. Basically, they deal with all non-household cleaning needs. Sometimes, commercial cleaners also provide services to industrial facilities. There are very thin lines of difference between industrial and commercial cleaning.
Commercial cleaning companies use a variety of cleaning methods, chemicals, tools, and equipment to facilitate and speed up the cleaning process. Tasks commercial cleaners perform includes all internal, general and routine cleaning – including floors, lighting, suspended ceilings, tiles, partition walls, interior walls, furniture cleaning, deep cleaning, carpet cleaning, window cleaning, washing of sanitary facilities, kitchen and dining area cleaning. Along with it, they will also clean consumables and feminine hygiene facilities as well as telephone, desks, computers, door handles, etc, as required.
Industrial Cleaning
Industrial cleaning is the act of cleaning hazardous areas in industrial facilities such as factories, warehouses, power plants and other types of industrial facilities. Normally, industrial cleaners have the responsibility of creating and maintaining a safe, clean and hygienic environment within the premises in which they operate. Cleaning may include brushing, mopping, wiping, brooming, dusting, polishing, and wiping. The exact role of an industrial cleaner depends on the type of buildings they are operating on. Industrial cleaners also use cleaning and polishing machines to reduce the time and effort required.
Strata Cleaning
Strata cleaning takes care of all the cleaning needs of subdivided business areas and buildings as well. Strata cleaning was an Australian concept, but the idea has been adopted by other countries too and has become a well-known cleaning service globally. The building committee hires strata cleaners for doing all the cleaning in common spaces such as elevators, swimming pools, hallways and gyms. Strata Cleaners take care of all the open spaces and common areas, which ensures better management of any public properties and assets. These cleaners use specific hand tools and equipment that give them access to each and every corner.
Residential Cleaning
Residential cleaning takes care of things around your home, such as cleaning floors, kitchen, parking, bedrooms, and bathrooms. Residential cleaners are hired to conduct cleaning tasks at home, farmhouses and other residential places.
Cleaners at residential places perform duties such as dusting, mopping floors, vacuuming, washing surfaces, polishing mirrors and fixtures, and if required, they can also offer interior window washing. In most cases residential cleaners supply all the cleaning products and equipment needed to perform these services.
Other services came into these major services.For example, medical facilities can be considered under commercial cleaning, whereas warehouse cleaning can be considered under industrial cleaning.
Why Hiring Professional Cleaners is the Safe Bet?
Normally, business owners hire local people to keep the premises clean to save some bucks. But actually this is just an elusive step because in the long run this step will harm the company and its day to day operations.
Normally, few companies don't want to keep a heavy budget for cleaning. But don't realize that it is essential nowadays. In a tight budget they can hire local people for cleaning but they can't provide the required tools, cleaning products and other cleaning equipment.
That's why hired local cleaners are unable to give you the cleaning standard you and your staff want. In this pandemic period, the highest level of cleaning along with a hygienic environment is essential and that is why hiring professional cleaners for all your cleaning needs is a safe bet to keep your staff safe, continue the operations and to save time, money, effort and resources. Some more reasons are engraved below.
Increased Employee Productivity
Cleanliness at the office is directly proportional to productivity of employees. If you want a team of bright, curious, productive employees, help them breathe clean air. A deep, professional cleaning done regularly will keep your office clean and fresh. Your employees will be happier when their working space will be fresh, clean and free of accumulated dust and dirt. Better cleaning means less leaves and more stable business operations. Additionally, when cleaning is the responsibility of professional cleaners, your staff can focus more on their work.
Reduced Spread of Disease
Germs and viruses carry a risk of infecting others and live on surfaces such as a desk, workstation or table for up to 48 hours. Thorough cleaning of the entire workplace is an important aspect to prevent the spread of disease. All shared areas, including bathrooms, break rooms and training rooms, should be disinfected to help avoid illness of employees.
For the Positive Appearance
How you represent yourself to customers is an important factor in the success of your operations. A dirty, dusty and shoddy appearance creates the impression that your business doesn't care about the work, and its staff. Whereas, a smart, clean, neat appearance, in which fresh and sweet smelling air creates a subtle impression on customers, customers and visitors to your enterprise – and instills high confidence in your business operations.
Long Term Cost Savings
Local or less capable office cleaners perform only the most basic cleaning procedures. Dust tends to accumulate in cabinets, shelves, blinds, and hard-to-reach areas. Dust and odor emanates from fabric-covered furniture. Maintaining a higher standard of cleaning is not an easy task and there are many more tasks that need to be performed on a regular basis. The savings can be significant over the long term, and at Clean Group, we offer a variety of financing options for more comprehensive repair, cleaning and treatment services if needed.
Morale Booster
When your employees will work in a clean environment their morale will go high automatically. They will feel that the activities they are performing are important, and will tend to dress more appropriately in a clean environment. Even a small operation that is kept clean will experience an increase in employee morale, and happy employees attract more business and take their jobs with greater pride in achievement.
Cleaning is not an easy job, cleaners deal with many challenges, some predicted and others completely new. We are highlighting some of the cleaning challenges here.
Different Types of Cleaning Challenges
Different types of facilities have different types of challenges for the cleaners. Manufacturing plants feature hard and metallic filth, whereas restaurants and cafes have sticky, stinky, and stubborn stains. It is clear that cleaning requirements of every building and business are different and normally cleaners have to adjust their process, products, and equipment according to it.
Clean Group is one of the leading professional cleaning companies in Australia. We have been providing professional cleaning services for years. In all these years, we have successfully faced many cleaning challenges. That's why we are here with a detailed article about how our cleaners make adjustments in their process, technique and choice of product while completing the job.
Here we are clustering different types of challenges faced by our cleaners on an almost daily basis. We are also differentiating all these challenges with each other and then we will talk about how we overcome these cleaning challenges.
Cleaning Challenges at Restaurant and Cafe
Maintaining cleanliness at restaurant, and cafes is not a straightforward task. Cleaners have to deal with a lot of different types of cleaning challenges at these locations. Tea, coffee and food stains are pretty normal along with gum, grease and Candle Wax at these places, but if it has hardwood flooring, then cleaners are also liable to remove bad smells from hardwood flooring. They can use various methods to do so.
One of the fun facts about cleaning is that cleaning products can be easily found and they are very cheap. In this case, the basic cleaning solution is a combination of vinegar, baking soda, and dish soap with water. There are also some chemical solutions that can be utilized for the same purpose.
Cleaning Challenges at Offices
Cleaning a commercial property especially shared spaces, is very different from cleaning a home. There are a lot of unique challenges with office cleaning as well. Cleaners have to remove tea and coffee stains at work on a regular basis. Additionally, proper maintenance of even small stuff is necessary there. If you consider top global cleaning facts and figures, you would know that offices and other commercial places are among the dirtiest places and a habitat of germs and viruses.
A responsible cleaning company will keep inside and outside windows spotless and clean. Limescale is also a common problem at these places. A cleaner will have to remove limescale and maintain a higher standard of cleaning to keep it away. COVID-19 has taught the importance of cleaning and disinfection and now cleaners are also adding it in their cleaning task.
Cleaning Challenges at Industrial Facilities
Industrial facilities like warehouse, manufacturing plants have different challenges. Huge machines make cleaning hard, and some facilities even do not get cleaned daily. Only dusting, mopping and scrubbing the floors are not enough. Here cleaners first get rid of metallic dust and wastage and then they start with cleaning machines.
Things get worse when customers from these places call us for emergency cleaning. Emergency cleaning is not only for industrial properties, but in these facilities cleaners have to deal with slippery laminate floors, oil stains, rust, metallic dust and lots more. These places are full of challenges, especially when cleaners have to clean the facility on the working days without disturbing the facility operations.
Other Cleaning challenges
Whether it is a residential property, strata or any public places like mall, park and roads, all possess different challenges for cleaners. Some places require occasional cleaning and cleaners must be well prepared for these occasional cleaning jobs. For example, church and religious places require regular cleaning daily, but for Christmas they hire cleaners for deep cleaning of every corner of the church inside and outside.
That's why reputed cleaners add Christmas Cleaning in their portfolio for better engagement. However, this type of services are popular among residential, strata and commercial clients as well. Choice of cleaning products and equipment also varies as per occasions, type of property, and cleaning challenges. Sometimes machines are enough, but sometimes cleaners also have to utilize essential oil combinations for cleaning.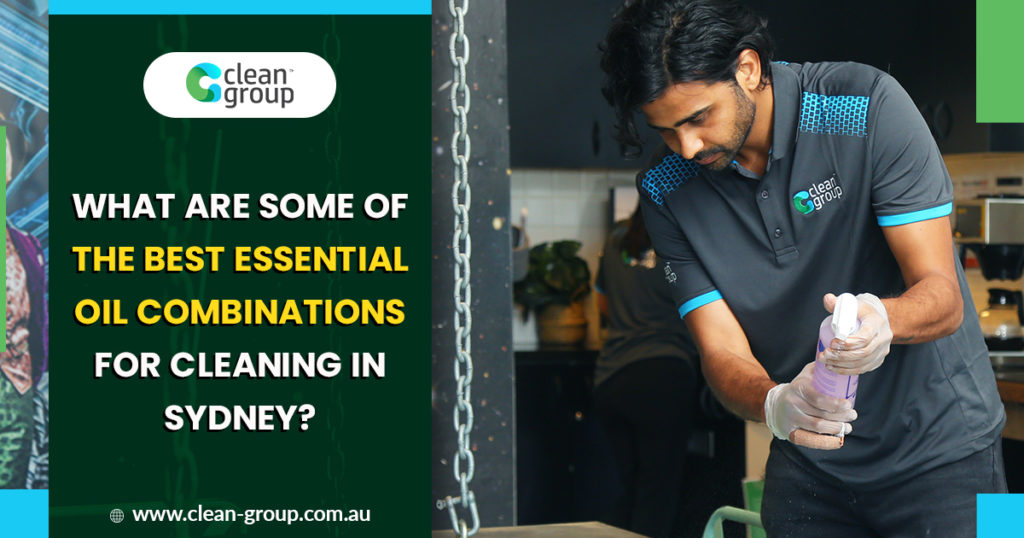 How much does it cost to hire professional cleaners?
Estimating house cleaning chores isn't as easy as quoting what your competitors are charging. Every business has unique costs that they must include in their prices. Setting this up in advance can give you the best understanding of what you will need to include in order to calculate an appropriate price range for your business.
Answering this question is hard because there are many factors that influence professional cleaning costs. Some key factors are: size of area, service required, staff required, schedule of cleaning, time required, products, equipment and machines.
However, cleaning costs also vary from state to state and company to company. Clean Group as a leading professional cleaning company, is trying to keep pricing in control while maintaining a higher standard of cleaning. We also offer customised services and services according to your schedule. You can hire Clean Group for daily, weekly and monthly cleaning services at a very economical cost. So, don't waste your time and call the Clean Group now.
Cleaning Procedure and Checklist
Just like cost, process and cleaning checklist also varies according to services and schedule. However, there are some common steps in every service.
Preparing the Area
We will collect all the necessary cleaning chemicals, tools and accessories for the job. Load our cart with supplies and chemicals and head to the cleaning area. After reaching the area we will put "closed for cleaning" signs wherever required. After it we will inspect the complete area and then arrange the stuff as per requirement. Here, we are taking an example of office cleaning. Steps will be changed as per service availed.
Cleaning Procedure
Here is the checklist of commercial cleaning.
Daily Cleaning Procedures
We will check the area for any debris or paper, and will pick up these items and dispose of them properly.
We will vacuum up any dirt or debris that cannot be removed by hand.If there are any spots or stains on carpets, floors, walls, furniture or baseboards, we will wipe them carefully.
Then we will perform mopping the complete area.
Weekly Cleaning Procedures
Dusting of all surfaces, desks, filing cabinets, cubicle walls and shelves.
Empty trash cans and replace garbage bags.
If necessary, clean the dustbin and the surrounding area.
Thoroughly wipe down desks, telephones, calculators and computer keyboards using a disinfectant spray sprayed on a microfiber cloth or disinfecting wipe.
Dust heating vents, ledges, door jams and window sills at any easily reachable level.
Dust off all tile or hard surface floors, then dump that debris into the dust pan following our dusting procedures.
Wet mopping of all hard floor surfaces by following our step-by-step floor mopping instructions.
Vacuum all carpeted floors, starting with the mat and runner, following our carpet vacuuming procedures.
Monthly Cleaning Procedures
Clean paper towel dispensers and hand dryers with disinfectant spray or wipes. Pay special attention to all fixtures and items in the restroom.
Wipe down all vertical surfaces in the office with an all-purpose cleaner.
Spray buff hard surface floors, then perform burnishing and scrubbing.
To give a professional shine. polish desks, tables, chairs and any other wooden object using furniture polisher.
Vacuum all vents, overhead circular fans, and hard to reach areas.
Clean all glass objects and remove all marks and fingerprints.
Final inspection and cleaning all equipments
Clean all tools immediately, and sanitize the mop bucket and other cleaning gear.
Wash all mops and hang them to dry.
Put all cleaning supplies and accessories back on the janitor cart, and return everything to its original storage location.
Place all debris in a garbage bag and dispose of it properly.
Remove all carpet dryers and floor signs when the area is completely dry.
Re-arrange all the moved items or furniture.
As we said above, steps will vary according to the chosen services, areas, and cleaning challenges. So, consult the cleaning team before hiring them.
Hire Clean Group for all your cleaning needs
Clean Group is a Sydney, Australia-based professional licensed cleaning company and known for providing the highest quality of cleaning for your place. We have been providing our services in and around Sydney for more than 15 years.
The company is an expert in providing the most effective cleaning services for various places like Commercial Cleaning, Office Cleaning Warehouse Cleaning, Medical Center Cleaning, School Cleaning, Child Care Center Cleaning, Church Cleaning, Gym Cleaning. We have a strong customer base in Sydney and people are happy to choose our services.
We, at Clean Group, have the experts who are being trained with the latest skills needed for cleaning any premise. We understand the cleaning needs and product and equipment which will be required at your place very accurately. Our staff participate in training programs from time to time and stay up-to-date as per the latest trends. Our experts are familiar with the products, their effects and working on cleaning equipments
We have cleaned a variety of areas. Items like flooring, faucets, door handles vary in most places, but with the latest equipment and effective products, we have always left the customer satisfied with our cleanliness. We use the latest technological tools and equipment made to make cleaning easy. We also have some latest machines and these are so advanced that it automatically adjusts itself as per the cleaning needs. The tools and equipment possess to give much efficient cleaning with less hardship of the body, which might be reversed in the older equipment.
Cleanliness is essential for healthy living and we Clean Group understand this fact. We are the number one professional cleaning company in Australia and have been providing quality cleaning services in and around Sydney. You can call us for any type of cleaning services and we will make sure that you get the highest possible cleaning standard at your place. So, don't wait and call the Clean Group now!