Although many people don't know it, commercial cleaning your bathtub is something you have to do often if you want to keep it from getting a lot of dirt, soap scum, and anything that comes out of your body. 
We know what you may be thinking, so no; bathtubs don't clean themselves when you fill them with water and soap and get in them.
When you do so, all the dirt you have in your body gets to the tub, and getting rid of it is not that easy if you wait a lot of time to do it.
Not cleaning your bathtub often can damage the tub's ceramic and make it look dirtier over time. Apart from that, soap scum tends to build up in your bathtub after you take a few showers.
Here, you can find the most effective way to clean your bathtub! You can check out our website to read more guides and cleaning-related blog posts.
#1 Get Some Cleaning Supplies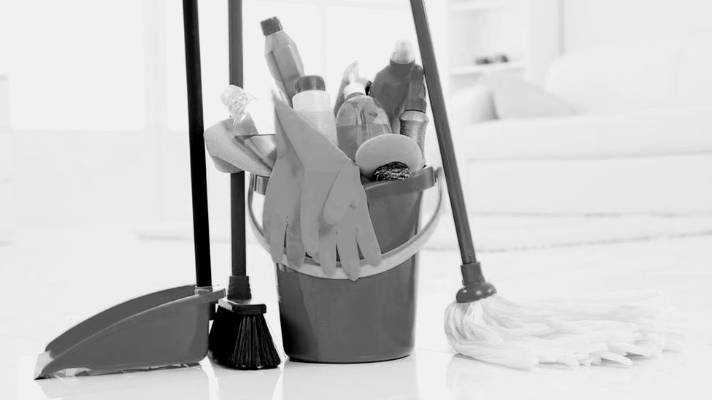 You can't get your bathtub clean if you only use water to do it. Gathering some cleaning supplies can help you get the facility cleaning job done and forget about cleaning your tub for a little while.
The first thing you need to get to make your tub cleaner than ever is a cleaning bucket that is big enough for you to mix water and other cleaning products in it. A medium-sized one should be enough for the job. Make sure to get a stiff cleaning brush and a scrub sponge along with it.
Getting to cleaning products, baking soda is essential since it works as a cleaner, stain remover, and deodorizer. Combining it with vinegar gets you a drain cleaner, so get some vinegar too.
Not everyone needs this, but get tub and tile cleaner if you need to remove mineral build-up from your tub.
Dish soap is often used as a general cleaner, so mixing it with water and vinegar makes the mix to be overall more powerful. Some people tend to use ammonia or bleach, but it's a toxic product, so only use it for extreme situations and deep cleaning.
#2 Pour a Bucket of Water into the Tub
Heat some water until it's completely hot and pour it into the bucket we mentioned in the previous step. After that, dump the water into the tub and wait until it drains. You can get rid of drain clogs while you wait.
Most people use baking soda while clearing drain clogs, but try to not use it all since the next steps need you to use it. The only thing you need to do is prepare a mix of baking soda and white vinegar.
#3 Spread Baking Soda All Over the Tub
Baking soda is one of the most effective cleaning products on the market regardless of what you want to clean. It even helps you with earrings and rings. Therefore, you don't need that much baking soda when cleaning your tub.
Spreading baking soda all over the bathtub cleans away all stains on your tub or at least makes it easier for you to clean them in the future. People cleaning bathtubs with an extreme level of dirt often use tub and tile cleaner to get the job done, but you don't need to do it if your problem is not that serious.
#4 Use your Scrub Sponge to Scrub the Tub
This is when you need to get your hands on the job, so start by filling another bucket with hot water and two tablespoons of dish soap. Let the mix sit for a few minutes, and get the sponge into the bucket.
Use the water dish soap and sponge to scrub the bathtub and get rid of the tiny details there. You can use stiff cleaning brushes to clean more difficult stains, but your sponge and the soap should be enough for average cleaning jobs.
Extreme cases of dirt and stains can be solved with a spray bottle with a mix of water and ammonia. However, we don't recommend you go for this method if you don't need to since ammonia and bleach contain a lot of chemicals that can be hazardous for your body.
#5 Rinse and Clean the Tub
If you already cleaned all the dirt on your tub, you have to make sure to completely get it out of it. Letting it harden would only take you to how you were before, so use water to keep filling out the tub and rinse it out while you clean it.
Some people use a shower head to rinse the tub, but that's up to you since both methods are almost equally effective. If you notice there's still some mould in your water that you can't clean, then you are most likely going to need to use bleach.
#6 Finish Up Some Details
Now that your tub is clean, you need to take care of other parts of it apart from ceramic. Give a shine to the handles and faucet of the tub every once in a while to prevent them from getting dirtier.
You can do that with a clean microfibre cloth and any of the cleaning products we mentioned before. Cleaning the different parts of a tub is not that difficult, so that shouldn't represent any trouble for you. Let everything dry itself naturally, and you are good to go.
Wrapping Up
As you could see, cleaning your tub is not as difficult as many people would think. We know it can seem like a nuisance, but it represents an investment in the appeal of your bathroom and how comfortable and clean you feel when getting in the tub.
You don't need to do this every day, but it mostly depends on how much you use your bathtub. If you use it regularly, then you are fine by cleaning it once every two weeks. People who use them more often should clean their bathtubs once a week.
We are the Clean Group, and we offer our services to people looking forward to getting commercial or residential cleaning, so contact us any time you need us! Our website has more blog posts related to cleaning and how to get rid of dirt and stains, so check it out any time you have a chance.
About the Author