Covid 19 has indeed changed the way we live our everyday lives. Actions like stocking the pantry, cooking, and washing a procedure open possibilities of transmitting the virus from this you shall get to understand the Difference Between Cleaning and Disinfecting.
This article will talk about office kitchen cleaning procedures to stop the spread of this deadly virus and how can you keep your cleaning agency sydney kitchen clean, disinfect and safe from Coronavirus. Cleaning will assist in keeping your employees safe.
We all know by now that Covid 19 is transmitted from person to person. Here are the simple steps on mitigating the spread of the virus in a workplace set up. More info can be found in "What is Coronavirus Cleaning?".
Wash Your Hands Regularly
Regular hand washing is our first step. Wash your hands before and after you touch your food. Running water with soap is your best go-to solution.
Make it a habit to bring alcohol or hand sanitiser with you as you travel. In this way, you can sanitise your hands anytime, anywhere.
Always wash your hands every time you change your tasks or switch to a different room or location.
Unpacking and Storing Grocery Items and Food Supplies
Do not place your grocery bags on the counter; use the floor instead. Store and put away your grocery as you should, starting with those that need to be kept inside the fridge.
Wash your hands after storing your grocery items and disinfect all the used areas during the process.
In our previous articles, we already talked about how long the virus stays on certain surfaces. Having that said, we need to be more cautious, sanitise and disinfect as often as possible. Allow the proper contact time for disinfection to get the best result.
Office Kitchen Cleaning Procedures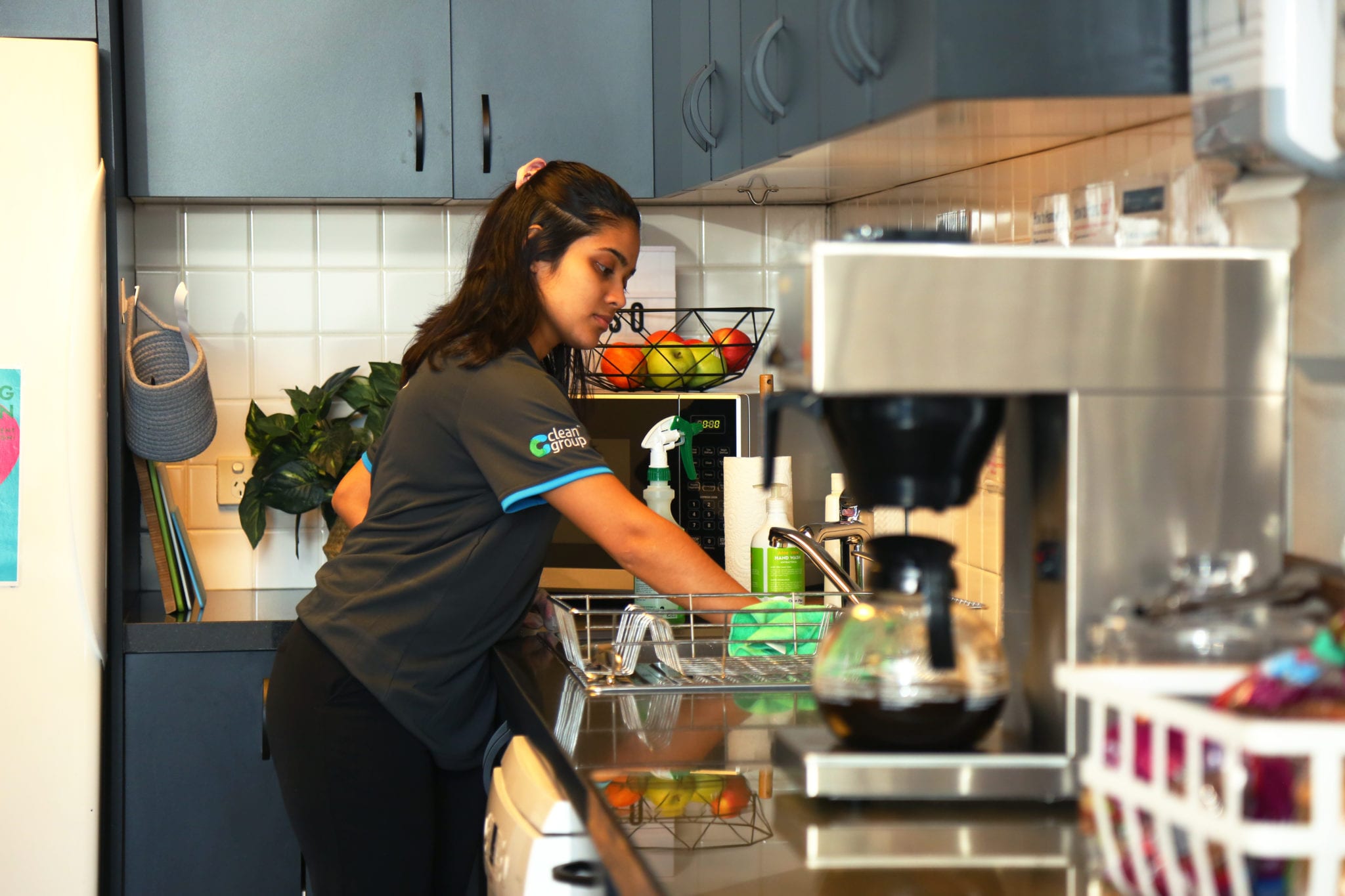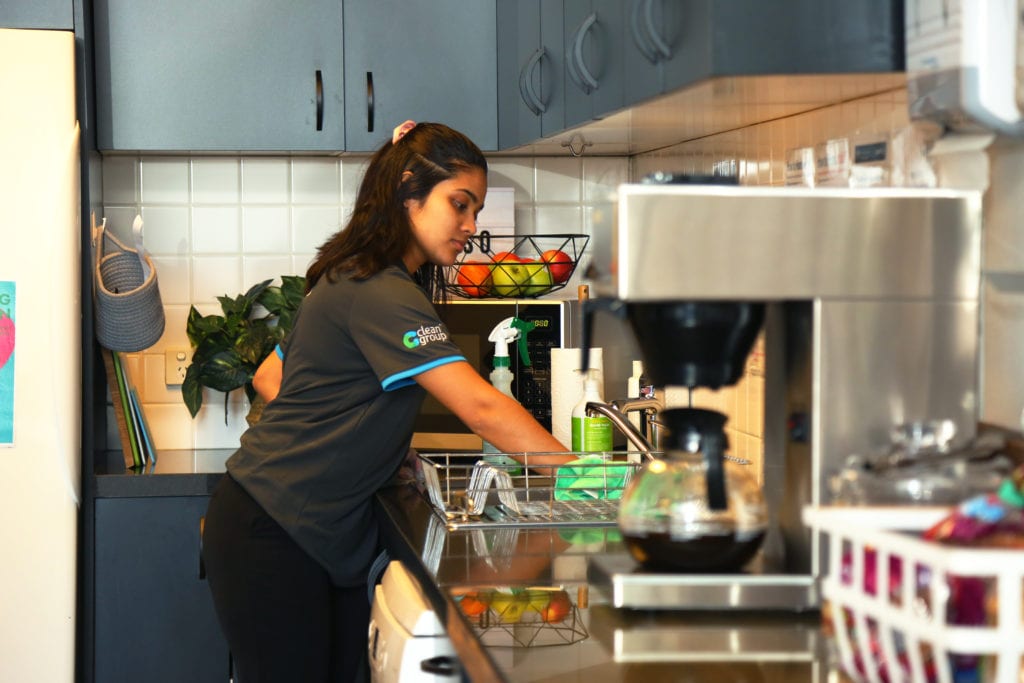 Always clean surfaces like kitchen counters, fridge, and sink before and after every meal preparation and after putting your groceries away. Always use a freshly washed cutting board, clean the dishes in the dishwasher, and always wipe the table before and after each meal.
Make it a habit to read manufacturer's labels and never mix cleaning agents. Some chemicals cannot be combined as they can produce gases that can be harmful to you when inhaled.
Wash Your Food and Other Grocery Items in Your Office Kitchen
Only wash fruits and vegetables when you are ready to consume them. Avoid washing them and put them back in the fridge because many studies have shown that water can increase pathogen growth.
Wash other grocery items as you usually would as water creates friction on the surface. Water is a great help in removing bacteria. Pat them dry with a paper towel afterwards.
Meal Preparation
Following proper meal preparation like sanitation and cooking temperatures in handling raw meat are essential. Food will never be a threat as long as you follow proper hand hygiene.
Awareness
Getting everyone on the same page is very crucial. Put signs and warnings to all places that will make your colleagues remember your goal. You can download visual aides off of the internet that will show proper handwashing techniques.
It will also help if you make supplies like hand soap and hand towels available for them to use all the time.
Covid 19 is not foodborne. The risk of exposure can be managed easily with constant hand washing and disinfection. Let us all focus on the basics like not touching our face, social distancing, and proper hand washing and sanitising. We do not have to stress over many small things that are not necessary.
Now that there is a new variant and the infected people are growing in numbers, we need to take more measures to promote cleanliness. The best way to do so is by hiring an office kitchen cleaner that is experts in Sydney Covid cleaning services.
We need someone who knows what they are doing. Not all cleaners can do Covid cleaning confidently. Make sure to hire someone that uses the proper PPE to protect themselves from the virus. Professional cleaners also have suitable cleaning agents and techniques to help them deliver a safe and healthy working environment for you.
Please let us know by dropping a comment in the section below on what other measures and steps you do in your kitchen to ensure that it will be Keep your Office Pantry and Kitchen From Covid-free.
Did you also resort to hiring professional cleaners to do the job for you? Allow others to learn from you by sharing your experiences. We cannot exactly tell how long will it take for this whole pandemic to be over. Until then, we want everyone to be safe and healthy.
About the Author