Office blinds are often overlooked when it comes to a regular commercial cleaning schedule. This could be because they are seen as an inconvenience or there is not enough time to get them properly cleaned. However, they should definitely be cleaned and not neglected because many dust and bacteria can hold onto the blinds' surfaces.
This post is going to break down how to clean all different types of office blinds, so after they're cleaned the first time, it's easier to clean them again.
Grab Your Materials
The first step is to ensure that you have all of your cleaning supplies. They should include:
A vacuum with a soft brush attachment
Microfiber cloths
A little bit of dishwashing liquid
Some warm water
One packet of baking soda
Close the Blinds
Make sure that your blinds are closed. However, faux wood and wood blinds can be completely closed, but it is encouraged that they are left slightly open, so the panels are not touching each other.
Dust Away
If the blinds are vertical, then hold the bottom of the blind so it does not move. Use the microfiber cloth and wipe the blinds. It's best to start from the top and work your way down because the dust can fall towards the floor. Also, wiping them in a downward motion makes it less likely for the blind to unhook itself.
Additionally, a vacuum with a soft brush attachment can be used instead. Just make sure that the suction level is low, so you do not ruin your blinds. If the blinds are horizontal, then do the same but wipe from side to side instead. It's essential to start from the top slat and work your way down so no dust falls on already cleaned slats.
Flip the Blinds
Flip the blinds so the other side is facing you and repeat the above process.
In the Case of Really Dirty Blinds, Use a Damp Cloth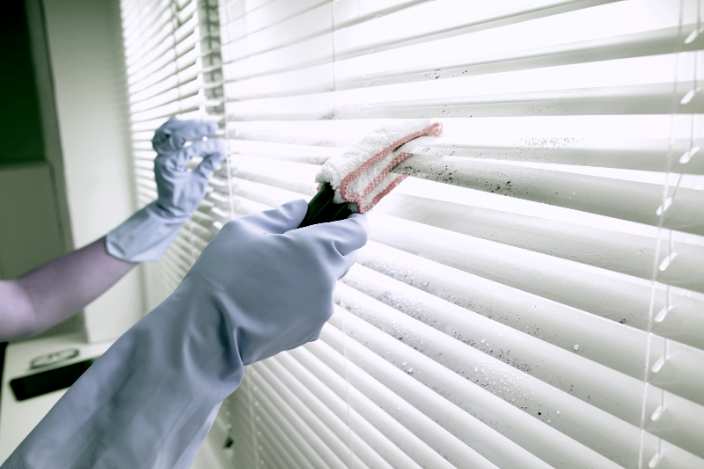 Sometimes, blinds have more than just dust on them. If this is the case for you, then dampen your cloth with warm water and wipe away. However, if your blinds are made of wood, make sure not to get them too wet. This can damage the blinds.
Deep-Clean If It's Necessary
Depending on where your blinds are, they could be more challenging to clean. Blinds found in kitchens tend to have more grease and residue on them. If this is the case for you, take these extra steps to deep clean your blinds.
The first step you are going to do is to take your blinds off the window. Make sure to have a bathtub or a large enough container filled with warm water, dish soap, and a cup of baking soda. Mix up the contents of the bathtub before placing your blinds into it. Allow the blinds to soak for an hour before rinsing them off with warm water. Afterward, wipe away any excess dust or dirt on the blinds.
Additionally, if you have completed these tasks and the blinds still look dirty and yellow, there is a possibility that they have been stained by the sun. However, do not worry, this can be fixed. Fill up a bathtub or container with cold water and three cups of liquid bleach. Place the blinds in the water and let them soak for only 10 minutes – do not go over this amount of time.
Afterward, rinse the blinds thoroughly and dry them off. The bleach should give the blinds a brand-new white look.
Vacuum Any Excess Dust
If you have only used a damp cloth to run over the blinds, then open them and allow them to air-dry. Use the vacuum to suck up any excess dust and dirt that may be on the windowsill or the floor from your cleaning.
Extra Tips for Office Blinds
If You Do Not Have a Microfiber Cloth, Then Do Not Worry.
Microfiber cloths are fantastic, but not everyone has access to one. If this is you, then just grab an old sock, because they do the job just as well. Place the sock over your hand, dip it into the warm water, and begin wiping your blinds.
Regular Blind Maintenance Goes a Long Way.
Make sure to clean your office blinds at least once a month so that dust doesn't become too problematic. When you look after your blinds, they can last for decades.
Clean Your Fabric and Shutter Shades as Well.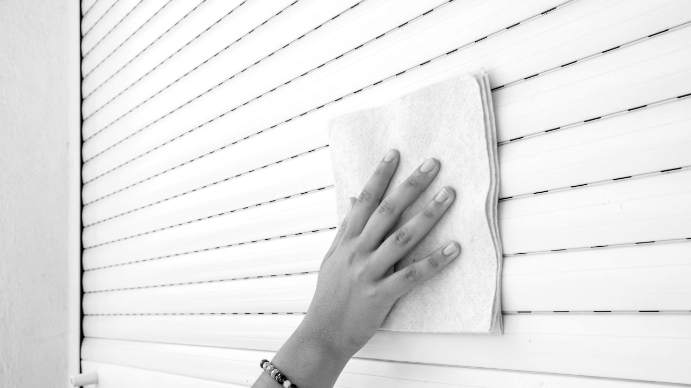 If you have shutter blinds, they can be cleaned with the same process as previously stated. However, if you have fabric blinds, then you can clean them as well, but the process is going to look a bit different. You are going to want to lower the shades and use the soft brush attachment on the vacuum while it is on the low suction setting.
Use the vacuum and go from top to bottom. Afterward, turn the blind over and do the other side as well. If there are stains on the blind, then doing a little bit of spot treatment is recommended. All you need is a mixture of clear dishwashing liquid and some warm water. Grab a microfiber cloth and dip it into the solution.
You are going to want to dab at the stain with the microfiber cloth. Complete this a few times, depending on the stain. If the stain is very stubborn, then add a teaspoon of baking soda into the mixture as well. Allow the blinds to air dry afterward, but if the stain is still there, then they may need to be taken to the cleaners.
Conclusion
It's essential to have clean blinds because they frame a room. When the blinds are clean, they can also leave a fresh smell in the office. No one wants a smelly office. Cleaning blinds is a simple task that can be done relatively quickly. Also, once they are deep cleaned once, then regular maintenance is all that is required in order to keep them looking and smelling fresh.
About the Author