This guide will show you exactly the 5 steps on starting a commercial cleaning business from scratch. It's time for the first step.
Are you planning to start your own commercial cleaning business in Australia? Are you clueless about where to really start from?
Well, let's start with its definition. A commercial cleaning business is a business that involves cleaning and maintenance of offices and other building facilities usually before or after hours and includes vacuuming, dusting, bathroom cleaning, mopping, sanitizing and many other tasks and commercial cleaning services as mentioned in your cleaning contract.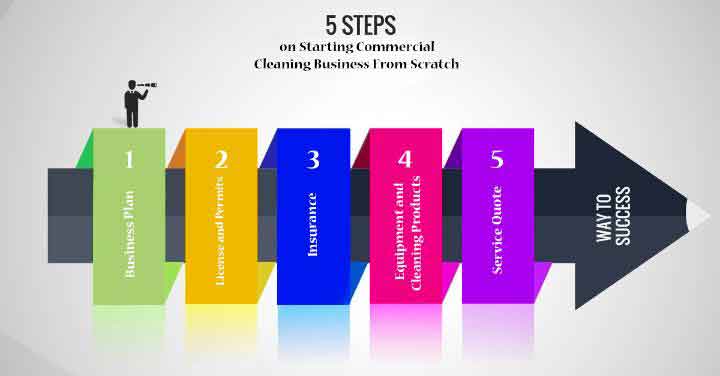 People willing to start their own office cleaning services in Sydney have to follow several necessary steps in order to get started with their cleaning business.
Check out the steps below:
1. Business Plan
The very first thing you have to decide upon is the type of cleaning business you would want to start. Don't start with a spectrum of cleaning services; instead, start with just one or two major services. This way you can gain expertise on the core services that you decide to provide and then can add other services later on.
Not only this, but it would also help you in saving on the initial start-up costs and get a good grip on business systems and processes. You can easily add additional services when you have expanded your business.
2. License and Permits
This would be your very next step – to get proper permits for your cleaning business. Before you start your business, you will need to determine whether you want to get registered as a company or a sole trader or as a partner and apply for an ABN (Australian Business number).
After you register yourself for your ABN, you have to register a business name and then set up a business bank account. Get a business tax registration certificate from your state business regulatory office and if you are planning to hire commercial cleaners then make sure that you get an Employer Identification Number from the Internal Revenue Service.
3. Insurance
Business insurance and surety bonding will provide you with coverage when it comes to any kind of property damage as well as for commercial cleaners in some particular states.
You can use this aspect for marketing your business as it will give confidence and assurance to your prospective clients that you are insured and bonded.
Even if your clients don't need it, you should not take the chance of not going insured or bonded because you will be held accountable for any kind of accident or theft that happens on the site grounds.
Take appropriate legal measures when you are hiring employees for your business as not doing so can lead to penalties.
Never take up any work assignment without employing your written contract. Your business contract will protect you in the case of any difference of opinion between you and your client.
4. Equipment and Cleaning Products
When buying new equipment and cleaning products, keep in mind that you have to consider your type of cleaning business and buy accordingly. The basic cleaning products and equipment include a vacuum, cleaning towels, squeegees, buckets, cleaning chemicals, trash bags, etc.
5. Service Quote
When you are deciding upon your service quote, remember that you should not keep it too high or too low that your clients find it difficult to trust you.
Once you have made some loyal clients and they believe that you offer quality service, they will even get ready to pay more for your cleaning services.
Thus, the above-mentioned steps are crucial and should be followed when you decide to start your own cleaning business as this would be the foundation of your business and would determine whether you would be successful or not.
About the Author