Have you ever taken a look underneath your stove's hood and checked out the exhaust fan filter? If you have never done this or it has been a while since not commercial cleaning it, you may be in for a big surprise.
A rangehood filter's primary purpose is to collect grease and grime from your stove's exhaust fumes. If working correctly, a rangehood filter can effectively keep your kitchen clean from grease build-up.
However, over time ickiness and grease may affect the filter significantly, essentially making it lose its effectiveness. That is why it is imperative to clean these filters periodically so that your kitchen remains clean and hygienic.
In today's article, you learn how to clean your range hood filter and discover how easy it is to wash. You will also clean the filter in your sink with good degreasing dish soap, baking soda, and boiling water.
Your rangehood filter can also be cleaned in the dishwasher, but we don't recommend jumping to that method first unless it was recently cleaned. If too much grease and grime end up in your dishwasher, you may have another problem at hand, meaning your dishwasher may now require a thorough clean.
Without further ado, let's get started on learning how to degrease rangehood filters so you can have a stove that runs effectively.
What You Need to Clean a Rangehood Filter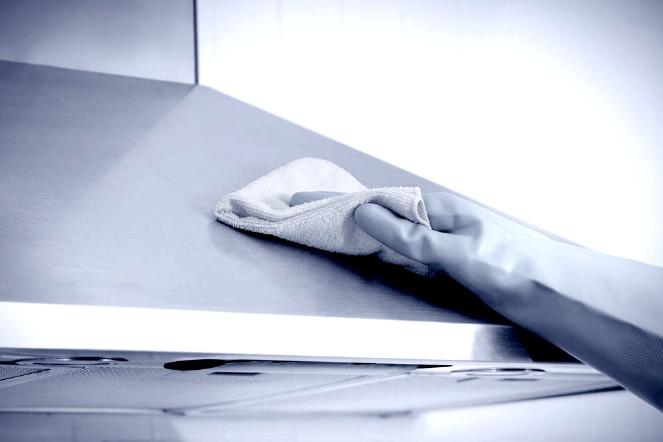 With the following items, you can have your rangehood filter clean and shiny in no time. Most households contain these items, so you can be sure there won't be any extra expenses coming up during a clean.
Dishcloth or paper towels
Non-abrasive scrubbing brush
Baking soda
Degreasing dish soap
Boiling or very hot water
Instructions on How to Clean Rangehood Filters
Below we show you the most common and most straightforward method for cleaning rangehood filters, plus some tips for washing them.
Remember it's important to keep this area of the kitchen clean as grease build-up can leave your kitchen smelling bad and could hinder the performance of the extraction fan.
Step One – Remove Filter from the Hood
First, you need to remove the filter from the hood. You can do this by popping or sliding it out from the underside. Some filters include a metal loop that can be grabbed to push the filter up and slide it out.
Step Two – Fill a Bucket or Sink with Boiling Water
It's now time to fill a bucket or the sink with boiling water. Please note that hotter water temperatures tend to be more effective when cleaning your rangehood filter. Hot water from the tap may be good enough, but we recommend boiling water in your kettle and then pouring it into the sink.
Step Three – Pour in Dish Soap and Baking Soda
Next, you should pour in dish soap and baking soda to begin the degreasing process. Be sure that the dishwashing liquid includes a degreasing agent; otherwise, you may have trouble removing the grime from the rangehood filter.
Add ¼ cup baking soda into the hot water and swirl it around with a brush (because the water will be too hot for your hands) until the mixture the lathery.
Step Four – Place Greasy Filters in Water
Ensure that all greasy items are submerged in the water. If you need to keep it under the water, make sure to put a heavy object on top of the filter. This gives the rangehood filter time to soak so that the liquid soap and baking soda can do their magic.
Step Five – Let the Filter Soak
Allow the filter to soak for a minimum of 10 minutes so that stubborn grease and grime can be removed effectively. If the rangehood filter is highly greased, we recommend adding more boiling water to the mixture or starting the process with new ingredients.
Step Six – Scrub the Filters
Once your rangehood filter has soaked enough, it's time to scrub it. Use a non-abrasive scrubbing brush and thoroughly clean the filter. If you require more dish soap during the cleaning, adding more to your scrubber while scrubbing is recommended.
Step Seven – Rinse and Dry
When your filters are spick and span, you need to rinse them thoroughly with hot water. Make sure not to leave any leftover soap or baking soda residue as they can start to turn to mould at a later stage. You want to avoid mildew and mould at all costs, as it can lead to yucky smells and unsanitary conditions in the kitchen.
Step Eight – Replace the Filter and Repeat as Required
Once everything is cleaned, it is time to put the filters back into the hood or repeat the process if required. It is a good idea to clean your rangehood filter once a month as part of your routine home maintenance.
By maintaining a clean filter, you get unrestricted use of your stove all year round and keep your kitchen free of grease plus grime.
Tips for Keeping Your Rangehood Filter Clean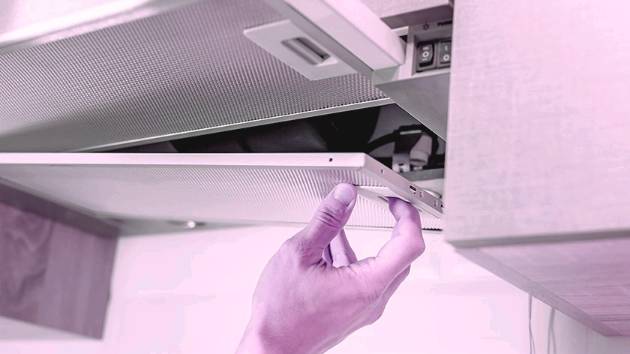 It's good to note that specific cooking methods can result in oilier residue appearing on the rangehood filter and the exhaust fan. One of the worst cooking methods for aerosolizing oily fumes is stir-frying because it not only sticks to your rangehood filter but around the stove too.
Try to cook a meal "low and slow" to reduce the amount of grease and oil splattering around the stove plus into the air. This often produces better food and leads to less oily clean-ups after using the kitchen.
Another tip is to use a pressure cooker when making a meal for the whole family. It can keep the oil in and only leaves you with one place to clean after making dinner.
Conclusion
Greasy rangehood filters can cause your kitchen to smell bad and hinder oil fume extraction. These filters can get clogged up with grease and grime and struggle to perform at an optimal level.
With regular monthly maintenance of your range hood filter, you keep your kitchen sanitary and let kitchen equipment perform how it's supposed to.
About the Author