This is a complete guide to Queen Victoria Market written by Clean Group Melbourne that is a commercial cleaning company in Melbourne who love to share information about the famous places in Melbourne. So if you are finding the best office cleaner near you, please contact us.
Queen Victoria Market is a 7-hectare open-air market located in Queen St in Melbourne, Australia. It is a major landmark in the city and is the largest of its kind in the Southern Hemisphere. The Market is also currently Melbourne's most intact surviving 19th-century market. Other markets in the city have either been demolished in the 1960s or don't contain any early buildings. Because of its historical, architectural and social significance, Queen Victoria Market has been added on the Victorian Heritage Register, as well as on the National Heritage List.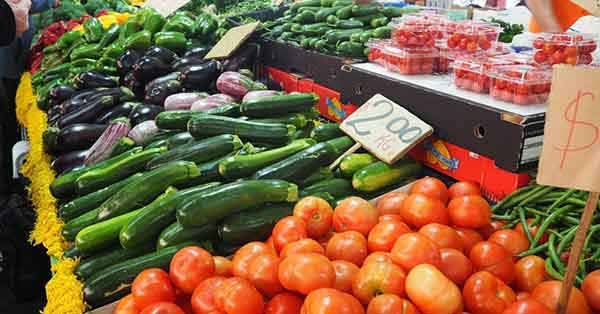 History
Queen Victoria Market was first established in the late 1860s for wholesale and retail selling. The construction started in 1868 and was officially opened on 20 March 1878. It had undergone several redevelopments from 1867 to 1936, but It was only in 1936 that the market was fully developed. Since it's opening, the market has been serving Melbourne locals, as well as the city's tourists for over 140 years.
In 1964, a proposal to redevelop the site to accommodate a 1200-space car park was made. In the 1970s, there was another proposal to separate the Wholesale Market from the Retail Market, which would lead to redeveloping the Market into a trade centre, office and hotel complex. However, this was prevented by public outcry making the Market and its building be included on the Historic Buildings Register. At present, the Market contains over 600 small shops where locals and tourists and locals can shop for a wide range of goods, form Australian fruit, vegetables, local and imported gourmet foods, to clothing and souvenirs. It is open on Tuesdays, and from Thursday to Sunday.
The Market Attractions
As a popular tourist destination, the Market has lots of things to explore and discover. It hosts events for locals and tourists to enjoy such as festivals, night market, beer and food experience, and a lot more. There are also food tours for foodies and educational tours for students and teachers. Read on to find out what's currently on the market for 2019.
Melbourne Book Market
The Melbourne Book Market is the most loved book market in the city. It presents over 5,000 new and pre-loved books that are for sale. The Book Market is founded by the 15 most experienced booksellers, authors, illustrators and book creators of Melbourne.
These 15 founding members will each have their own stalls on Sundays that feature a wide range of book topics from Peruse literature, history, gardening, travel, art and kids books, down to second-hand vinyl records and CDs. Aside from the book sale, there is also live acoustic music performances by local Melbourne artists, as well as picture book demonstrations by several illustrators.
The Pallete of Painters
The Pallete of Painters features a group of award-winning artists and Victorian Artist Society (VAS) members. These artists have painted together since the 1970s. In May 2019, they are set to paint 'en plein air', in the midst of the Market, sellers, shoppers and tourists.
May 2019's event will feature the following artists: Norma Sullivan, Joanne Sullivan, Colin Peel, Colin Shaw, Elly Abart, Gwendoline Krumins, David Pincus, Jane Peck, Ray Wilson, Stephen Doyle and Melanie Bardolia.
Winter Night Market
From June 5 to August 28, shoppers will be treated to roaring fires, delectable street foods, specialty shopping and quirky entertainers. What makes this shopping experience unique is that all these are only open at night from 5 pm to 10 pm in the winter evening. One highlight of this event is the Christmas sale in July featuring Christmas sweaters and the crowd-favourite, snow-making machine.
Truffle Melbourne Festival
This festival is the largest truffle festival outside Europe. It features a wide range of tasty and budget-friendly truffle dishes such as truffle soup, truffle pizza, truffle crepes and cheesy raclette. While shoppers are exploring the different ways to cook truffles, they can also witness the best truffle chefs in Melbourne share their secrets.
There's also a mini dog show featuring Spice and Arrow, truffle dogs with impressive hunting skills. Truffle bubbles, ale, cider and cocktails are also available at the Truffle Bar, where patrons can sit back and enjoy live music. The festival will be running on June 22 and June 23, from 9 am to 7 pm.
Queen Vic Market Ultimate Foodie Tour
This is a 2-hour gourmet walking tour for those who love food. It includes a guided tour around the iconic Queen Victoria Market, through the heritage-listed food halls, with food tasting activities. Tourists will also learn about unique ingredients, shopping and cooking tips and tricks, and meet Melbournes' most beloved Market traders. Tourists can book group tours, private tours or with other tourists. It runs on Tuesdays, Thursdays, and Saturdays at 9 am and 11 am.
Market Discovery – Primary School Tour
This is a 1-hour guided walking tour for primary school students. Students, carers and teachers will be exploring Melbourne's multicultural history and experience the hustle and bustle of the Market. They will also get to meet amusing traders and listen to their stories. The tour includes a talk about seasonality, provenance and the pleasure of fresh, healthy food.
Market Discovery – Secondary School Tour
This is a 90-minute, in-depth guided tour with seasonal tastings in the Dairy Produce Hall and fresh seasonal juice. Tour guides will give talks about the Market's history, the multicultural influences that have shaped the food culture of the city. Secondary students will also learn about seasonality, provenance, as well as waste management.
Self-Guided Heritage Trail
For students who don't want to tour in groups, they can still enjoy touring around the Market. Queen Vic Market offers a self-guided trail where students can learn about the colourful and controversial history of the place. They can explore historic landmarks, as well as the Market's architectural features at their own pace. The map to the trail can be downloaded from the official website, but it's also available at the Visitor Hub. Queen St, Melbourne VIC 3000, Australia