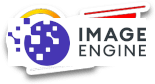 Covid Cleaning Services Melbourne
For a complete range of affordable & effective COVID cleaning services in Melbourne, call Clean Group. If you have any special cleaning needs other than the services mentioned below, feel free to reach us to discuss.
Commercial COVID Cleaning
Expert covid cleaning, disinfection and sanitising services for all kinds of commercial properties, big and small, anywhere in Melbourne and with 24x7 availability.
Office COVID Cleaning
Complete office covid cleaning and sanitising solutions guaranteed to make your offices virus-free and ensure the safety of your workers/visitors from up to 99% of germs.
Warehouse COVID Cleaning
No matter the size or type of your warehouse, we can routinely clean and sanitize it from top to bottom to remove all traces of the virus from your property.
Medical Centre COVID Cleaning
We specialize in the cleaning of medical centres & hospitals. Our cleaners use a TGA-approved chemical along with the electrostatic disinfection method for complete virus removal.
Strata COVID Cleaning
As one of the top COVID cleaning companies Melbourne, we can effectively handle routine cleaning as well as disinfect any large property, complex or office building.
Childcare Centre COVID Cleaning
Our cleaners are all certified, trained and police-checked professionals. They will carefully & routinely clean your centre along with all high traffic points to ensure your children's safety.
School COVID Cleaning
We also provide deep cleaning and COVID disinfection services to schools, colleges & universities in Melbourne along with a full satisfaction and safety guarantee.
Gym COVID Cleaning
Keep your gym sparkling clean and spotless with our routine deep cleaning services. Gym COVID cleaning includes complete disinfection of high traffic areas and equipment.
Vehicle COVID Cleaning
For the safety of your commercial and personal vehicles and to safeguard them against the virus, use professional vehicle disinfection services of Clean Group.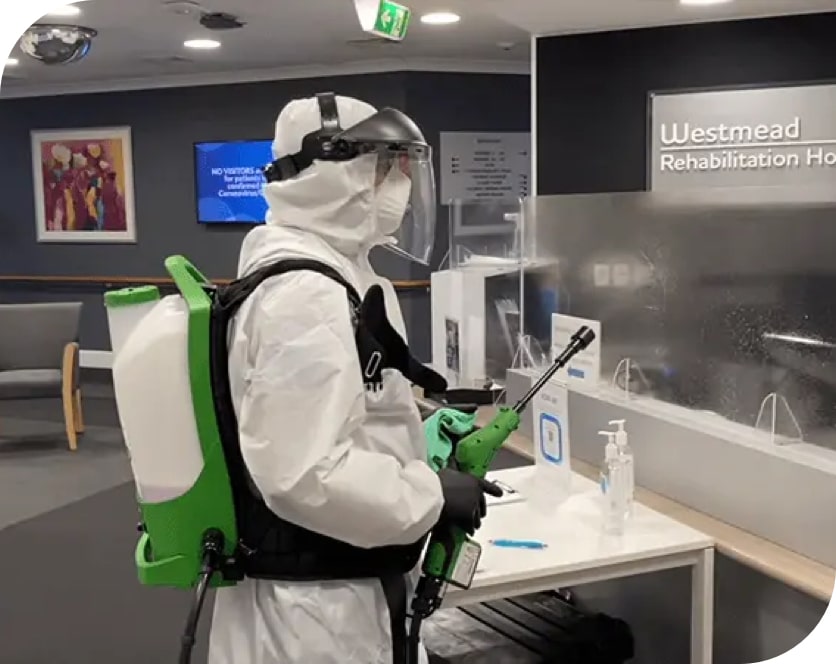 COVID Cleaning & Disinfection Services by Melbourne's #1 Cleaning Company
Looking for qualified back to work cleaning? Welcome to Clean Group.
As Melbourne gets back to work, Clean Group is all set to provide the most innovative COVID cleaning services to businesses in Melbourne. We are helping Melbourne businesses to keep their premises clean and germ-free for the safety of their workers.
Whether you're looking for back to work cleaning or just regular business cleaning services to fight COVID infection, our cleaning specialists have all your needs covered 24x7. With 20+ years of experience in workplace cleaning and a wonderful team of trained COVID cleaners, there is no better option when it comes to Melbourne Covid Cleaning.
Complete Business Cleaning Solutions With Sanitising & Disinfection
As Melbourne gets ready to re-open its businesses, workplace cleaning is now more important than ever. Standard, old cleaning practices will probably no longer work. They are particularly not effective against the new infection. What you need is expert help from Melbourne's No. 1 Cleaning Company. We can work with you to understand your specific cleaning needs and goals and devise a plan for effective and results-driven sanitising cleaning of your property to keep your workplace clean and well-maintained and your employees safe from the COVID infection.
Before you reopen your business doors for customers after the pandemic, make sure that your premises are safe and germ-free. If your existing cleaners are not up to the task, do not wait to hire the best COVID cleaning services in Melbourne from Clean Group. We offer top-quality disinfection cleaning in accordance with SWA guidelines and use TGA-approved disinfectant chemicals for up to 99% virus removal from office surfaces.
Ready to talk? Call us today to set up a FREE on-site meeting. We also offer commercial cleaning services in Melbourne and other areas.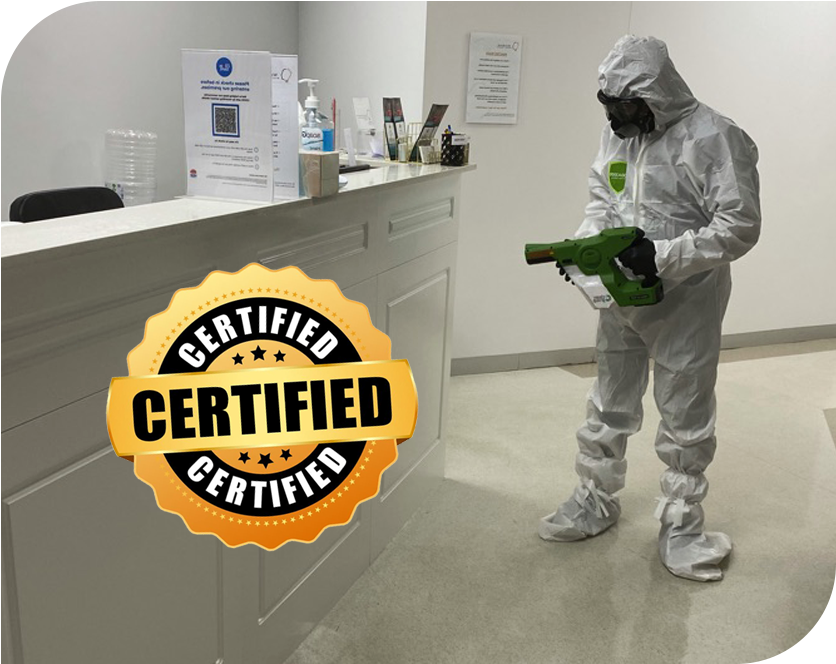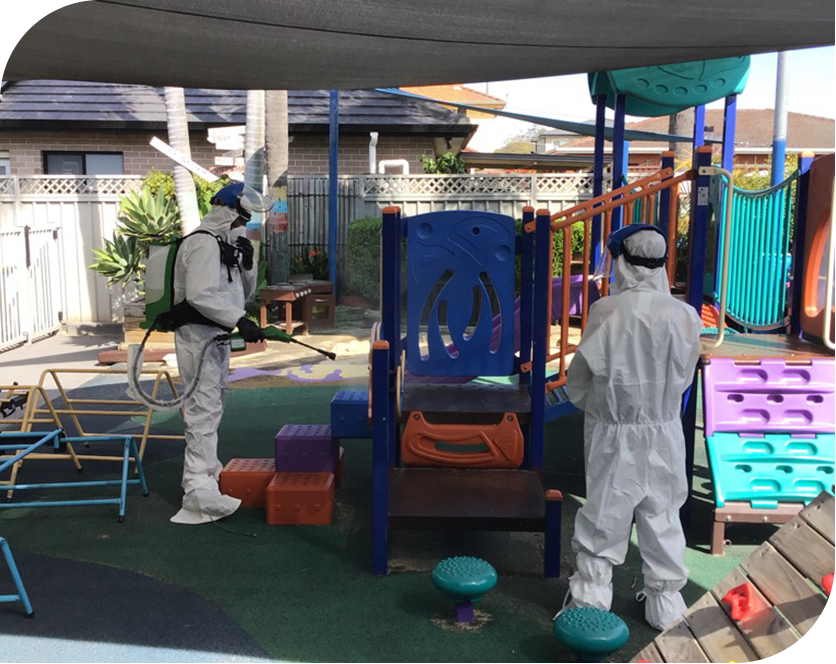 Why Choose Clean Group for Covid Cleaning Melbourne
We offer a comprehensive range of cleaning and disinfecting services to help Melbourne businesses keep their workplaces clean and germ-free.
We are a 24x7 cleaning company offering services day and night and also on weekends.
We can offer a tailor-made COVID cleaning service that will fit right into your business COVID safety plan.
Our trained cleaners have completed the Australian Department of Health Covid-19 Infection Control Training and know and use the best methods of infection prevention and cleaning in workplaces.
We use TGA-approved disinfectant along with Electrostatic Disinfection technique effective in up to 99% covid virus removal from commercial surfaces.
We use eco-friendly cleaning products and methods that are certified safe for your workers and customers.
We know it can be difficult to trust an outside cleaner with the safety of your workplace. We promise to be the best cleaning partner you can find in the market. Our cleaners are professionals, certified and police-checked. We are aware of and keep ourselves updated with the evolving methods of COVID cleaning and guarantee you the best results every time. We follow the cleaning & workplace safety recommendations of Federal and Local governments and work in accordance with the SWA guidelines. Contact us to know more.
Disinfecting + Sanitising for Complete Virus Removal
Sanitising and disinfecting are the two most common covid cleaning methods that we use to ensure up to 100% workplace safety for our clients in Melbourne.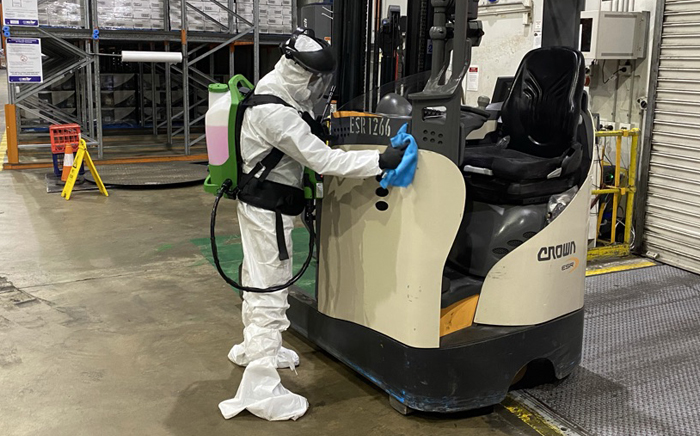 Sanitising or Proactive Cleaning
Sanitising or Proactive Cleaning is focused primarily on helping businesses maintain a safe workplace for their employees through routine and thorough cleaning plus sanitising of high traffic areas/ touchpoints including desks, computers, doors, buttons, light switches, taps, phone receivers, washrooms, toilets, kitchens, glass partitions, floors, etc. This is done using hospital-grade disinfectants by trained COVID cleaners. The COVID sanitising service can be scheduled for any day and night as well as weekends.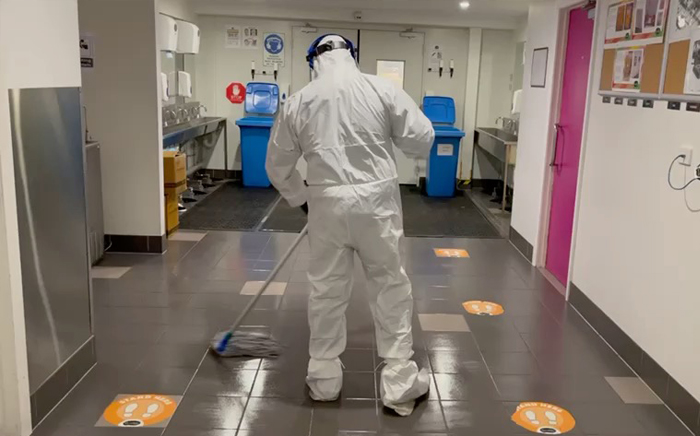 Disinfection or Reactive Cleaning
Disinfection or Reactive Cleaning is a covid service that we provide in response to a suspected or confirmed COVID-19 case in a commercial property. This involves deep cleaning of the facility, followed by complete disinfection from top to bottom by expert cleaners. Our team uses proper safety gear, including PPE, and cleaning tools to help clean the virus from your environment. A covid cleaning certification is provided to validate that your office is safe from coronavirus.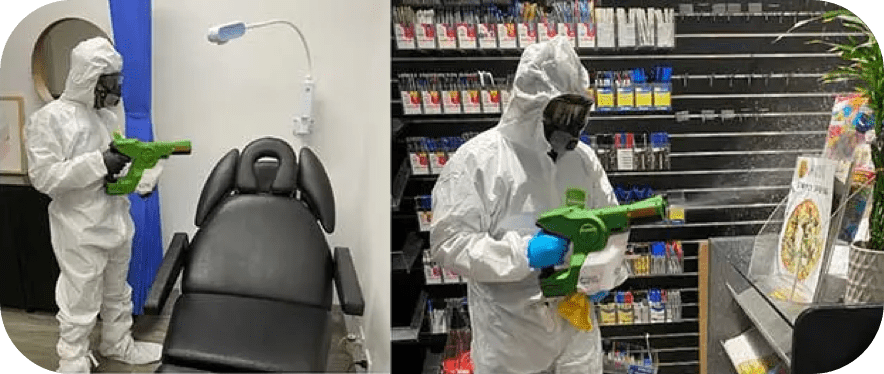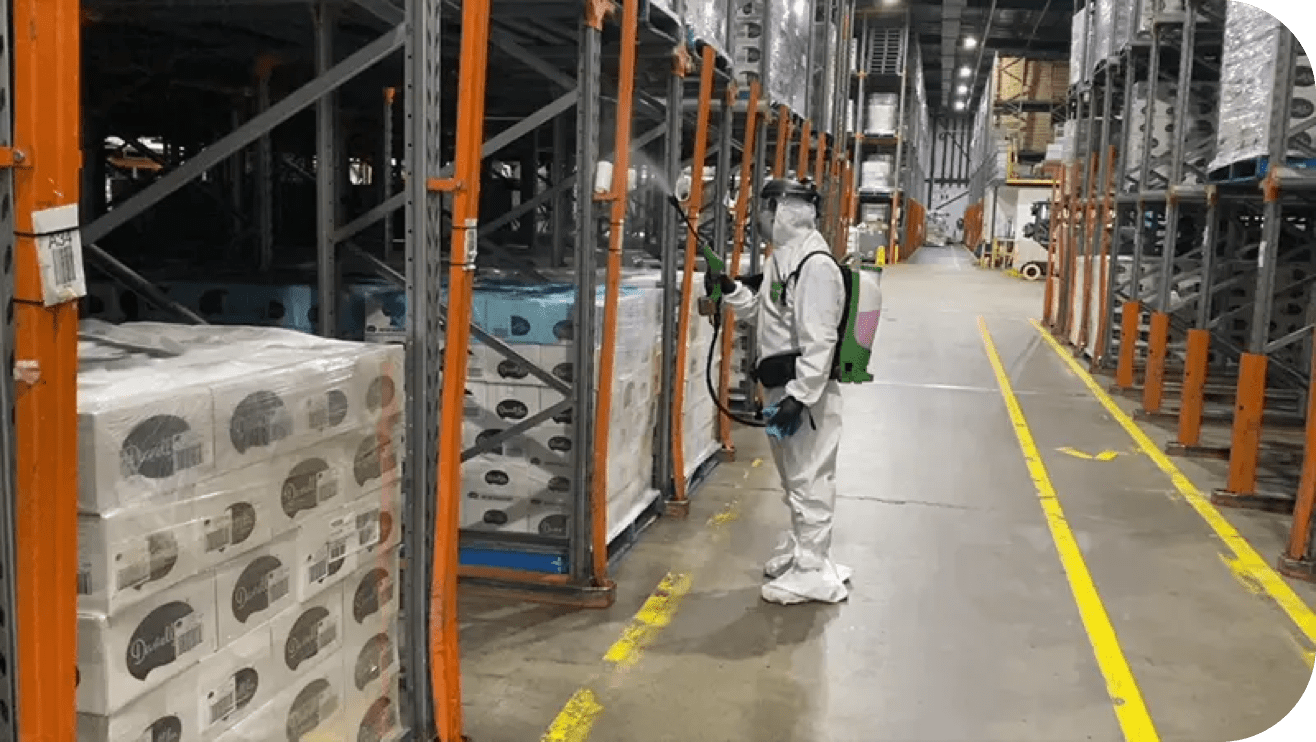 Contact us for the most efficient Melbourne Covid-19 Deep Cleaning Service with Certification!
At Clean Group, we use a combination of a TGA-approved hospital-grade disinfectant and the latest ELECTROSTATIC disinfection technology and follow the SWA-recommended cleaning checklist for all-round workplace safety from the coronavirus.
Our COVID cleaning services in Melbourne are accompanied by a CERTIFICATION to confirm that your place has been cleaned and disinfected and is safe to use. It will help you get fast approval from respective authorities to re-open the business after a COVID-19 case has been found on your property.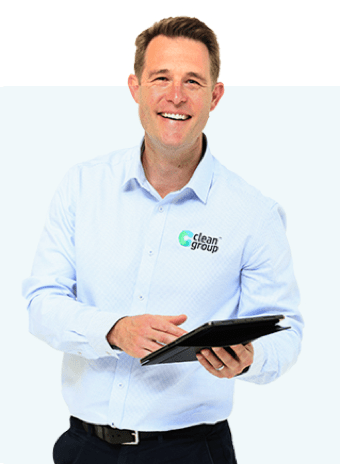 So, what are you still waiting for? CONTACT US TODAY FOR A FREE QUOTE! Our COVID cleaning Melbourne services are pocket-friendly & guaranteed.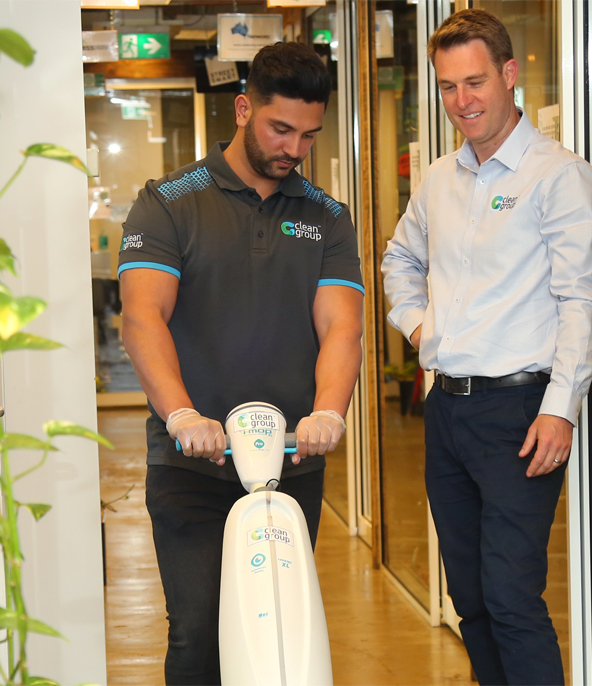 Frequently Asked Questions
---
Our covid deep cleaning service cost in Melbourne is based on a number of factors including the number of hours to clean, area, add-on services required, number of cleaners, type of flooring, and cleaning frequency. The most basic covid deep cleaning will cost around $1 per square foot. So, if your property size is 1,000 sq ft, a covid deep clean will cost around $1,000, or more depending on your specific cleaning needs, property type and add-on services. COVID cleaning is a lot different than general mopping and sweeping and involves trained cleaners performing deep clean and disinfection using cutting-edge equipment. Contact us for the best covid deep clean quote in Melbourne.
Yes. Clean Group Melbourne is a certified and fully authorised covid cleaning company. Our cleaners have completed the health department's covid cleaning training and are prepared to tackle all kinds of covid related issues. They can quickly clean and disinfect your premises at the best price in the market. Also, we provide certification with every covid cleaning job that confirms that your place has completed covid-19 cleaning. All our cleaners are trained and police-checked professionals. They are fully insured and carry the company-authorised IDs. You can contact us if you need to check our cleaning license.
Clean Group is a leading covid cleaning company with the highest experience in the market. Unlike other cleaning companies that have only now started providing covid cleaning services, we have been offering disinfection and sanitising services to businesses for almost 10 years now. As a full-service cleaning company, we can also offer many add-on services like deep clean, after builders clean, hospital clean, and others. Also, we are licensed and fully authorised to provide covid disinfection services and have a team of 50+ trained covid-19 cleaners. Our electrostatic covid disinfection method is found to be effective against the coronavirus and is the best way to quickly & efficiently disinfect commercial premises of all kinds.
Yes. Clean Group cleaners are authorised to work even during the lockdown. Because cleaning is a necessary service and helps curb the spread of the covid infection, cleaning companies and providers in Melbourne are allowed to work during the pandemic. You can contact us to request our authorisation certificate. We have the best team of well-trained commercial covid cleaners who will not only deep clean and disinfect your premises to remove covid but also provide a certificate post-completion. We are providing covid cleaning services in Melbourne to all types of businesses premises.
Yes. In light of the coronavirus pandemic, we are offering only on-call quotes now. You can call our friendly support team at (02) 8188 9018 to request a free quote. Be certain to share your project details and requirements with them along with the type and size of property that you want a covid cleaning service for. Based on our analysis and your property type, we will give you our best price estimate right away. We provide a complete range of commercial cleaning services from basic cleaning to covid deep cleaning for offices, schools, gyms, hospitals, warehouses, churches, and more. Contact us for a free quote today.