Shopping Centre Cleaning Services Sydney | Shopping Centre Cleaners Sydney
Business owners and office workers in Sydney are mostly the ones who hire affordable Sydney office cleaning, but they are not the only ones who need them. An example of that is shopping centres, which receive dozens of customers and new jobs each day. People running shopping centres, car parks, or other civic facilities can't afford to have a dirty work environment.
Apart from distracting and annoying people working new jobs in that shopping centre, customers going there notice how dirty the place looks, and that could keep them from going there in the future. Losing those customers not only affects the people working there, but also the ones running the whole thing.
Shopping centres in Sydney normally have a cleaning staff that makes sure there's not any debris or garbage on the floor, but you can't ask that cleaning staff to do what a professional cleaning company would do. Therefore, it's best for you to search for shopping centre cleaning services from time to time.
Professional cleaners make sure the shopping centre looks crystal clean when they are finished, so you can trust them to make the place shine like it never did before. However, this only applies to shopping centre cleaners of high quality and with decent cleaning equipment, and it's not that easy to find a business that does a decent job if you've never paid for shopping centre cleaning services.
The best strategy in these situations is to ask someone you know if they've hired professional cleaners before and their experience with the company they hired. Nonetheless, you only need to do that if you don't live in Sydney, NSW.
People there can always count on Clean Group for shopping centre cleaning services! We are professional commercial and office cleaners in Sydney and have a team of experts that can guide you through every step of the process. You can also hire us if you have any other cleaning-related needs.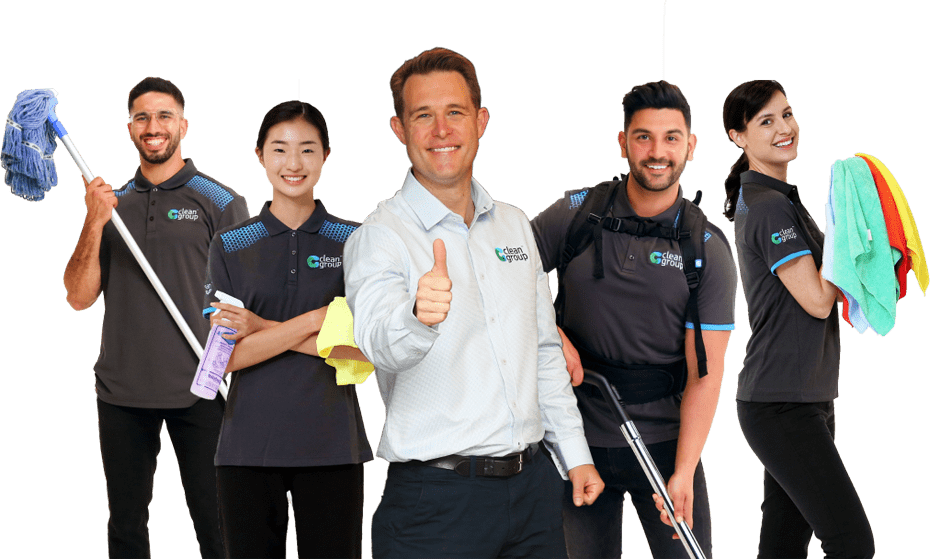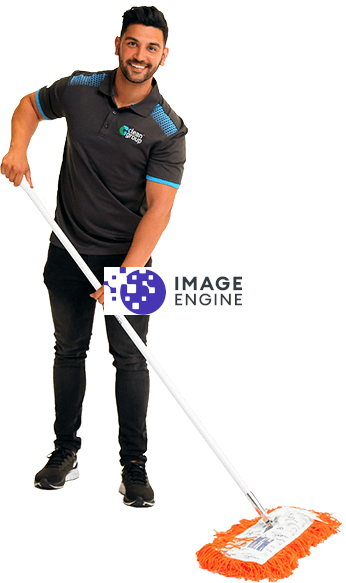 Why Should I Hire Shopping Centre Cleaning Services?
The first reason you should hire shopping centre cleaning services often in Sydney is people working at shopping centres or car parks need the place to look appealing. Regardless of how good the products you sell are, no one's going to your store if the retail centre where it is is dirty and uncomfortable to be at.
Dirty environments attract critters of all kinds, and that only worsens the problem. If that happens, you are not only going to have a workplace full of grease, dirt, and dust but also of pet hair. Getting rid of all those things is more difficult if you let the issue progress over time.
Average cleaners in a retail centre can indeed make sure there aren't any stains on the floor or debris daily, but you can't use a mop to clean more severe issues, so don't try to save money by hiring more affordable cleaning staff.
Instead, you can hire a shopping centre cleaning company like Clean Group and prevent any major problem from happening in the future. Remember that dirt and grease can also produce bad odours, with reduces the productivity and work quality of everyone working in the retail centre.
Believe it or not, paying for shopping centre cleaning services in Sydney saves you more money in the long run since you don't have to pay to address a sanitary crisis in the future. Professional cleaners don't have to go to your retail centre every day, but they can do it every week.
Additionally, if you get the same cleaning team going to your shopping centre often, you can get to know them and ask them for tips to keep the place clean at all times. Workers at Clean Group are always available for you, and they can get to know every corner in your shopping centre and how to clean it if they go more often.
What Do I Get When I Hire Clean Group's Shopping Centre Cleaning Services?
Many people think retail centre cleaning in Sydney only consists of mopping the floor with expensive machines, but it goes way further than that. Our workers want every part of your retail centre to look the best it can, so they are thorough when they work.
We also offer commercial window cleaning, commercial floor cleaning, commercial carpet cleaning, janitorial cleaning, commercial building cleaning, corporate cleaning, blind cleaning, upholstery cleaning, commercial pressure cleaning, aged care cleaning, hotel cleaning, shopping centre cleaning, University Cleaning, bank cleaning, stadium cleaning, auditorium cleaning, showroom cleaning, retail cleaning, window cleaning, factory cleaning, touchpoint cleaning, hospital cleaning, and pub cleaning services to our clients.
Here are some of the things you can expect us to do: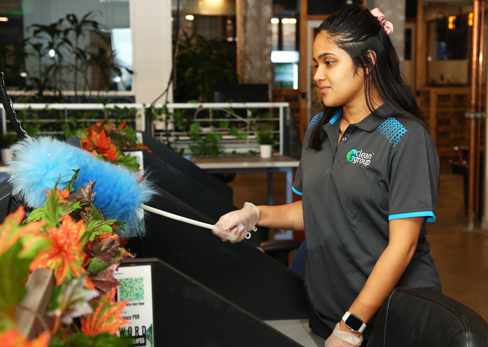 Bathroom Cleaning
Although it's not always that way, bathrooms should be the cleanest part of any place you go, and that includes retail centres. People feel uncomfortable when they go to a bathroom that is dirty or has a bad odour.
While you can't control how dirty customers leave the bathroom when they go, Clean Group cleaners offer deep cleaning of toilets, washrooms, and your bathroom's floor and walls. Therefore, you don't have to worry about stains on the floor or in toilets.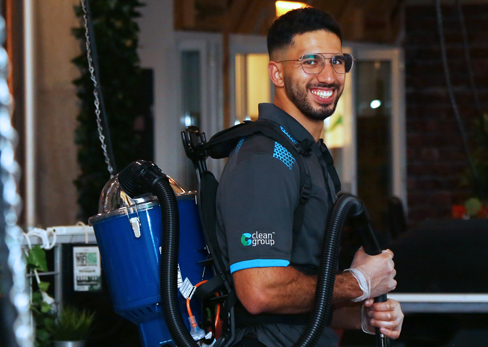 Window Cleaning
Many people take for granted windows and skylights when they clean shopping centres or individual workstations, and that makes those windows look way worse over time. Rather than being transparent, your skylight and window glasses turn grey and black due to the dust that falls on them.
Some people think they just need to get rid of dust while the whole problem is about a stain in the window's glass. Clean Group's workers are experts when it comes to window cleaning and skylights at shopping centres, so they can get the work done in no time and with the best quality you can ask for.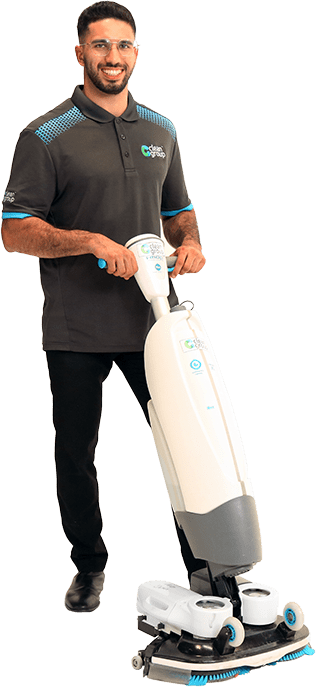 Floor Cleaning
Floor cleaning includes the floor of bathrooms, food courts, individual stores and workstations. Something you need to know about floors and centre cleaning services is that you can't clean all types of floor in the same way.

High-traffic floors need auto scrubbing and a more in-depth cleaning service. However, many retail centres in Sydney have vinyl floors, so you need to strip and seal them often if you want to keep them from losing their brightness after a few months of opening your retail centre.
Sanitising and Disinfecting
Although some retail centre owners in Sydney didn't care that much about this before the pandemic, sanitising and disinfecting all stores and rooms in retail centres is now something crucial if you want to keep your workers and customers from getting sick. We are not only talking about COVID-19 but also any virus that could stay on your centre's surfaces due to dirtiness or critters.
Not all shopping centre cleaning services include sanitising, so make sure to always ask for it from the cleaners you hire. Sanitising and disinfecting includes light switches, office phones, doorknobs, handles, keywords, floors, computer monitors, and anything people often touch when going to a retail centre in Sydney.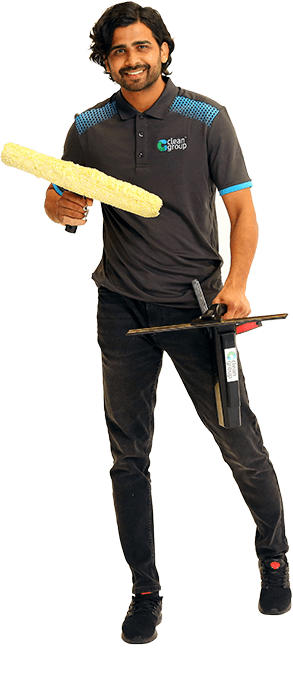 When Should I Pay for Shopping Centre Cleaning?
Don't make the mistake of hiring shopping centre cleaning services when there's a crisis or if you notice your retail centre is too dirty to welcome customers. Hire cleaners as a prevention measure rather than a solution to a problem. Doing that prevents the issue from happening at all. We understand if startups can't always afford how expensive cleaners are, but Clean Group has prices that allow you to keep your office clean without going over your budget. You can always call us to get a quote for the services you want. Take into account that shopping centre cleaning is something that benefits everyone working in the shopping centre, and that includes stores that are not within the staff of the retail centre itself. Therefore, you can ask all business owners in that retail environment to help you pay for the cleaning service you want periodically. As for how often you should hire retail centre cleaning services, the short answer is that it depends on your needs. We don't recommend you wait a lot to call your cleaners again since it would make you lose the investment you did before. Startups or retail centres in Sydney that are not that big can go for a monthly approach to avoid going over their budgets for the job. However, if your retail centre is big and has a strong flow of customers daily, then it's best for you to hire this service weekly.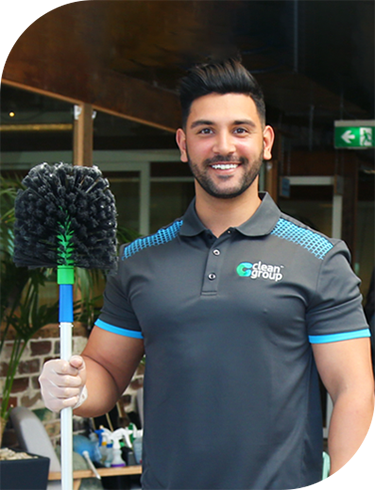 Which Safety Measures to Expect from Clean Group When Hiring Shopping Centre Cleaning Services
National cleaning contracts require cleaning sites to make a successful service delivery that is safe for the client and the people close to them. We don't only mean safety measures against COVID-19, but also to protect you and your customers from hazardous external agents and any other thing that could happen while cleaning.
An example of that is the cleaning solutions they use to clean. If our workers know they are using cleaning products that are toxic or machines that could disturb people in the place, they are going to let you know.
Apart from the standard biosecurity measures they need to follow while cleaning in Sydney, our workers keep all the cleaning materials they use out of a range that would be dangerous for people. That includes keeping cables out of places that could make you slip while walking onto them or something similar.
Naturally, cleaners wear protective equipment while doing the job, so they are never going to be at risk of having an accident while cleaning the shopping centre or addressing your needs.
Conclusion -Call Us to Get a Quote for a Professional Commercial Cleaning Services in Sydney!
The service Clean Group offers you is one of the bests you can find in Sydney, and we are ready to help you any time you call us. Cleaning a shopping centre is not as easy as many people think, and you can't do it if you don't have the proper equipment for it.
Our friendly team does and has all the equipment they need to provide you with an effective cleansing service at affordable rates. Call our staff if you are in Sydney and need someone to clean your workstation!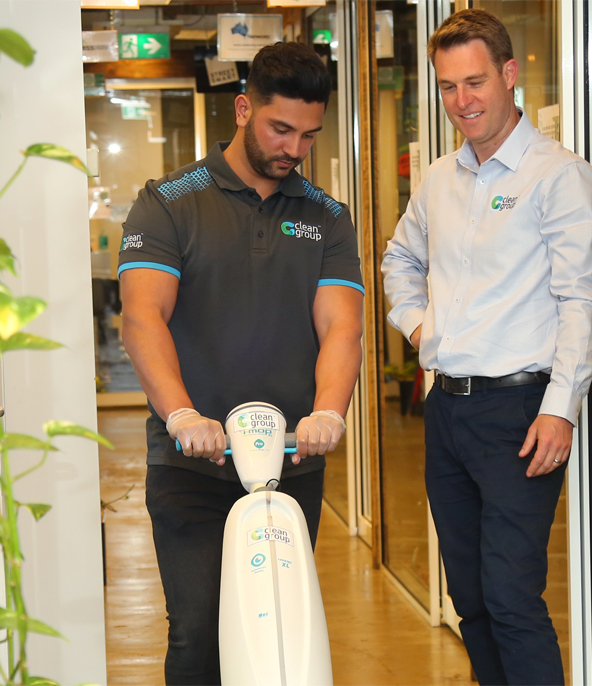 Frequently Asked Questions
---
Clean Group offers a wide selection of cleaning services you can choose from. Starting with routine cleaning, carpet cleaning, internal-external window cleaning, office cleaning, gym cleaning, childcare cleaning, medical centre cleaning, school cleaning, and the list goes on. Just check our website to know more.
The cost will depend on how much time, how much material, and what type of equipment needed for a cleaner to perform the cleaning that is required for your business. Our friendly sales managers can do a free onsite visit to determine the best price and cleaning program for your premises. Call us now on 02 91607469
Clean Group cleaners are all professional, reliable, and well-trained. We only employ full-time cleaners. This ensures that the cleaners are committed to high cleaning standards.
Absolutely! We are fully insured. Certificate of our insurances will be mailed to you with our quotation so you can have peace of mind.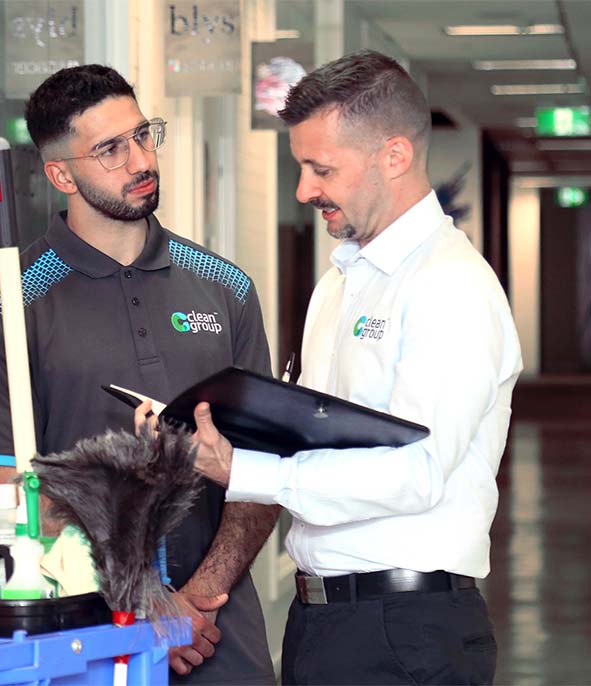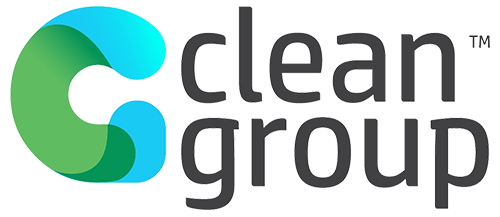 | | |
| --- | --- |
| Team Size: | 70+ |
| Services: | Shopping Centre Cleaning, Shopping Centre Cleaners |
| Contact: | 02 91607469 |
| Email: | [email protected] |