Commercial Window Cleaning Services Sydney | Commercial Window Cleaners Sydney
Having clean windows can sometimes be a difficult task, but it enhances the look of any space. Windows makes your rooms look wider and allows natural light to flow in nicely. Therefore, having dirty windows can alter the feng shui of your room and lose all that harmony you wanted to create.
That's why it comes extremely handy to hire professional commercial cleaners Sydney who can make sure all crystals look as fantastic as possible.
If you hire a commercial window cleaning service, you can skip all the hassle of cleaning, and you can still end up with the best possible result and clean windows.
Does this sound appealing to you? Keep reading and find out how Clean Group Commercial Cleaning can help you clean and disinfect your windows in the most professional way, and why you should make us your first choice for cleaning your windows.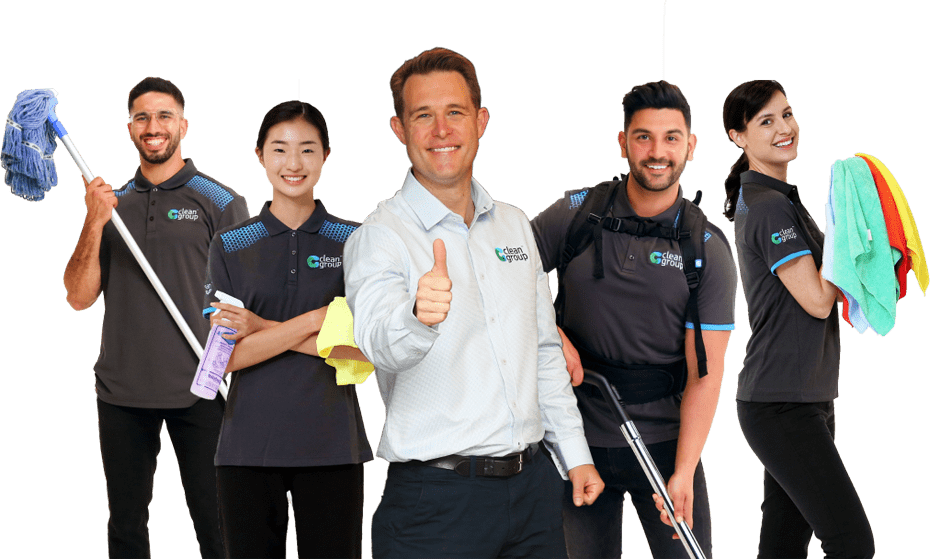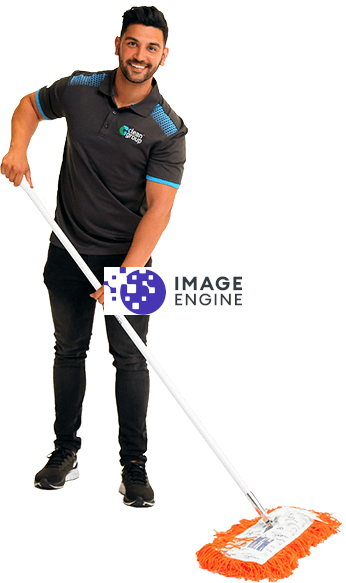 Why Do You Need a Commercial Window Cleaning Service?
Cleaning your windows can turn into a hassle very quickly. Therefore, commercial window cleaning groups are a fantastic option if you don't have the time or the expertise to do it yourself. In addition, these cleaning groups have plenty of benefits that you shouldn't miss out on.
Firstly, they promote good health among all the people that live in the building. It is no secret that windows accumulate all kinds of dirt, grime, and dust that can be terrible for people who suffer from allergies. If you have clean windows, the air that enters the building is also going to be clean, and you can ensure that no one's health is compromised.
Additionally, if you hire a professional window cleaner team, you can save time and money, as you are sure to obtain a spotless result in no time, which avoids you having to spend money on possible injuries that can happen if you try to do it yourself.
On the other hand, nothing gives a better impression than having a properly clean environment. Windows are one of the principal focus points on buildings. Therefore, if you want to make your look as professional as possible or enjoy having a fantastic curb appeal, you would probably want to keep your windows clean.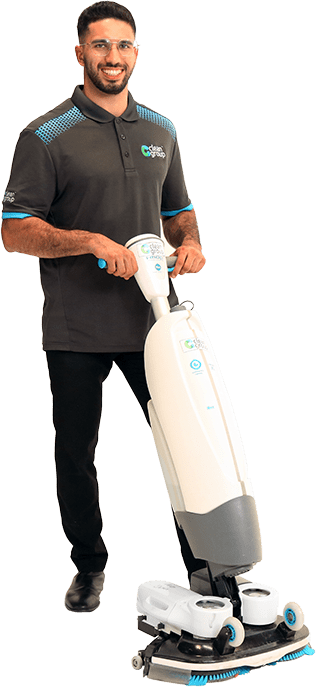 What Does a Professional Window Cleaner Do?
In order to achieve the best and sparkling results, professional window cleaners must follow a series of procedures that are sure to deliver a streak-free finish. They scrub downward to ensure that all the dirt falls to the bottom and are not afraid to soak and scrape the most stubborn stains. Nonetheless, all of this window washing must be done with extra care to not break or damage the crystal.
Professional commercial window cleaners are trained to scrub, rinse, and dry your windows with the most attention to detail possible and ensure that all the hard-to-reach places are spotless.
In addition, they use professional materials that don't cause damage to your windows and are sure to make them look as sparkling as possible.
How Much Does It Cost to Have Business Windows Cleaned?
All of our cleaning services are specifically made to satisfy your business needs. Therefore, there is no one-size-fits-all answer to this question. We encourage you to contact our professional team of cleaners and let them know about your requirements so you can get a realistic estimate of how much it would cost you to hire us.
Maintaining a balance between affordable prices and high-quality window cleaning is essential. Keep this in mind when hiring a cleaning service and make sure that you are going to receive the best results and sparkling windows.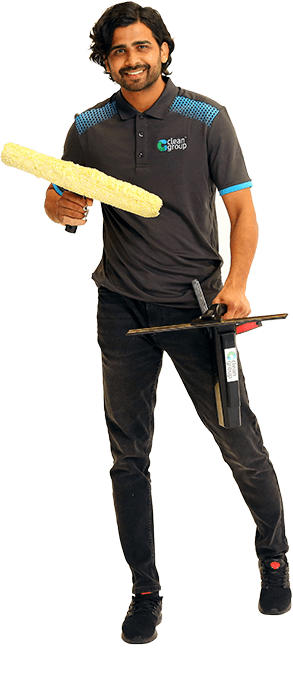 What Do Professional Window Cleaners Use for Window Cleaning?
All disinfectants and cleaning solutions that professional commercial window cleaners use must be TGA approved, as this is the only way to ensure that all germs and viruses disappear from the surface of the glass. This sanitizer is combined with the super effective electrostatic virus shield application for an extra layer of protection against diseases.
Other handy materials are anti-scratching equipment and lint-free cloths that are going to protect your windows from receiving any damage during the cleaning.
What Type of Services Do We Offer?
Apart from window cleaning services, we can help you clean and disinfect several areas of your business. Nonetheless, you can opt for two window washing options depending on what accommodates better to your needs.
We also offer commercial window cleaning, commercial floor cleaning, commercial carpet cleaning, janitorial cleaning, commercial building cleaning, corporate cleaning, blind cleaning, upholstery cleaning, and commercial pressure cleaning services to our clients.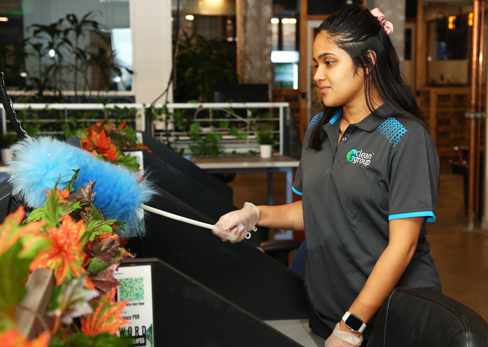 Recurring
You can choose to hire our services on a regular basis. This way, we can plan out scheduled appointments with your desired frequency and ensure that your windows are constantly being cleaned.
By doing this, your business is sure to make the best possible impression to anyone that visits it, and you can stop worrying about having to constantly clean up your windows.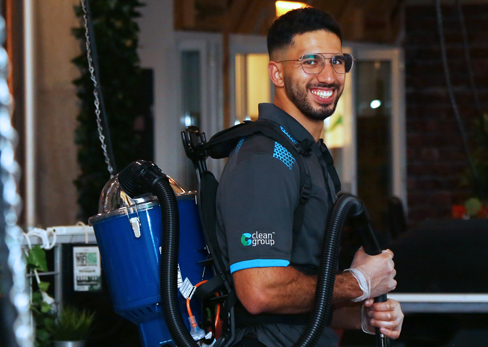 One Time
Another option is to schedule one unique appointment for window cleaning. This is fantastic if you're going to use that location temporarily or you're planning on selling it soon. You can ensure your window cleaning needs are met and test our service in case you plan to clean your windows in the future.
Disinfection Cleaning
Our commercial window cleaning service is also sure to eliminate all viruses, including the coronavirus. The World Health Organization approves the window cleaning solution we use, and it's perfect for places prone to infection that haven't reported any COVID cases.
This service can help you follow all the biosafety rules and be completely safe from all COVID variants to date.
How to Hire Our Services?
If all of this convinced you to hire our services, you could do it by following these three simple steps.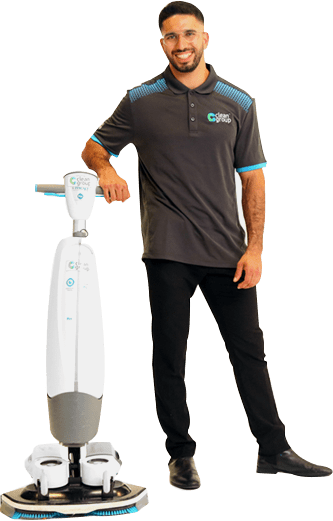 Contact Us
The first thing you need to do is call (02)8188-9018 and contact a member of our team who can guide you through all the technical parts of window cleaning.
Adjust Our Service to Your Needs
In this step, you need to explain all your requirements to our team, and they are going to help you pick a window cleaning option that suits you the best.
Make All the Changes You Want
This step is when you adapt our services to your specific needs and change any part of the window cleaning procedure if you desire.
Why Should You Choose Us?
Our dedicated team has the best window cleaners in Australia, but it also has many benefits that turn us into your go-to commercial window cleaning service in Sydney. Keep reading to find out why you should pick us.

Customizable Service
All of our services are entirely customizable to your particular window cleaning needs, which can adapt to your property and are sure to give you the best results, no matter if you have a small office or a complex building.

Expert Team
Our team of window cleaners is fully trained to perform this time-consuming task as fast and efficiently as possible. All window cleaners are 100% reliable and have the best attention to detail to ensure no spot is missed.

High-Tech Supplies
We have the best window cleaning equipment, which is internationally certified to wipe up to 99% of germs and bacteria while also being eco-friendly. Therefore, you don't have to worry if you have plants or any other type of life form in your surroundings.

Incredible Customer Service
In addition, you don't have to stress over feeling lost throughout the service, as we have a specialized team that can guide you through every step and solves any doubts you may have.

Proper Insurance
All of our services are fully insured to guarantee complete safety and tranquility. Therefore, you don't have to worry about any accidents during the cleaning.

Customer Satisfaction
Our clients are always entirely pleased with our commercial window cleaning services. This has allowed us to stay on the market for over 20 years and give us the reputation of being the best cleaning services in Sydney.
How Often Should I Clean My Windows?
There is no correct answer to this question, as it is going to depend on the nature of your building. The ideal frequency usually ranges from weekly to annually. Nonetheless, if you want to find out which one is right for you, give us a call, and our team can happily help you solve this problem.
Some good indicators to consider are the placement of your building, the climate, and how fast it accumulates dirt.

Types of Buildings That Should Be Cleaned
If you're wondering if your building is suitable for our services, the answer is probably yes. Nonetheless, there are some buildings that owners tend to clean more often than others. Take a look at them.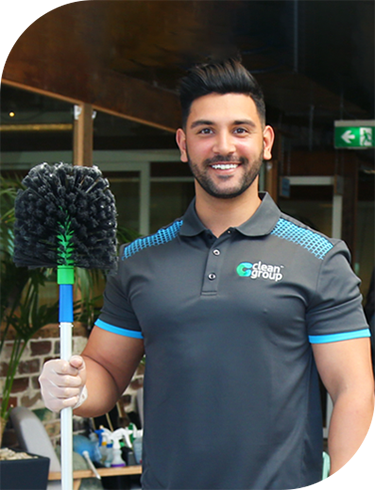 Retail Stores
Nothing closes more sales than a good impression. Therefore, it is essential to show your clients and all the people walking past your store that you care about your business by cleaning its windows and making it shine more than any other.
Office Buildings
Dirty windows lower the productivity of your workers because no one likes to work in an unclean place. Avoid this and give your workers a remarkable sight and a peaceful work environment by cleaning your windows every so often. This is sure to give you happier employees and a clean working environment.
Common Area Glass
Complex building designs are usually tricky to clean and have loads of hard-to-reach spots. Therefore, dirt tends to accumulate in their corners and makes them look terrible over time. Luckily, our team has all the proper equipment needed for cleaning even the trickiest of properties.
Other Buildings
If your building wasn't on this list, but you still want to clean its windows, you can always contact our team, and we can guide you through the process of finding out the best window cleaner process for you.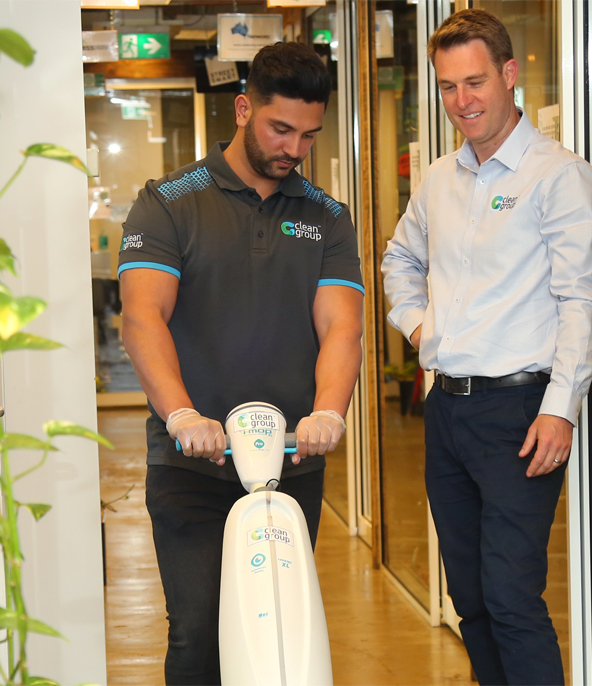 Frequently Asked Questions
---
Clean Group offers a wide selection of cleaning services you can choose from. Starting with routine cleaning, carpet cleaning, internal-external window cleaning, office cleaning, gym cleaning, childcare cleaning, medical centre cleaning, school cleaning, and the list goes on. Just check our website to know more.
The cost will depend on how much time, how much material, and what type of equipment needed for a cleaner to perform the cleaning that is required for your business. Our friendly sales managers can do a free onsite visit to determine the best price and cleaning program for your premises. Call us now on 02 91607469
Clean Group cleaners are all professional, reliable, and well-trained. We only employ full-time cleaners. This ensures that the cleaners are committed to high cleaning standards.
Absolutely! We are fully insured. Certificate of our insurances will be mailed to you with our quotation so you can have peace of mind.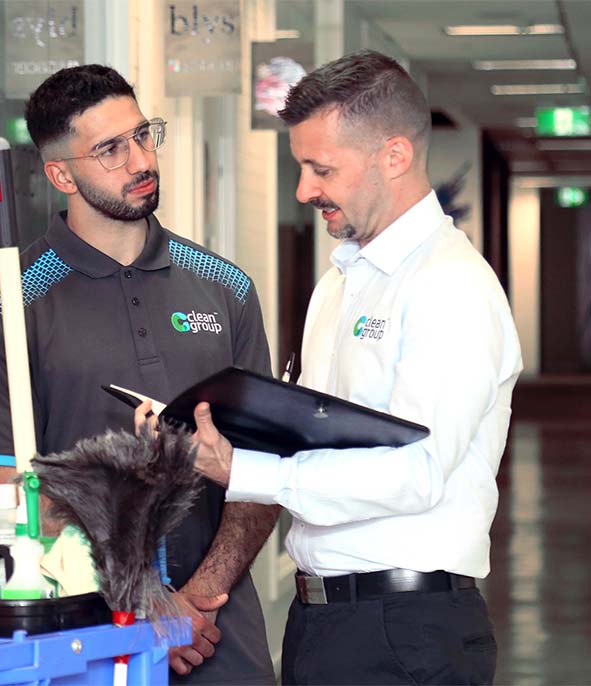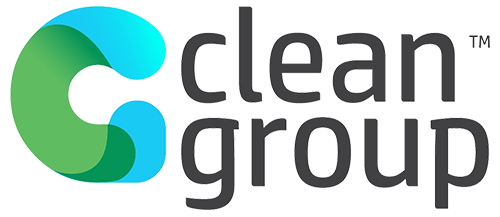 | | |
| --- | --- |
| Team Size: | 70+ |
| Services: | Commercial Window Cleaning, Commercial Window Cleaners |
| Contact: | 02 91607469 |
| Email: | [email protected] |