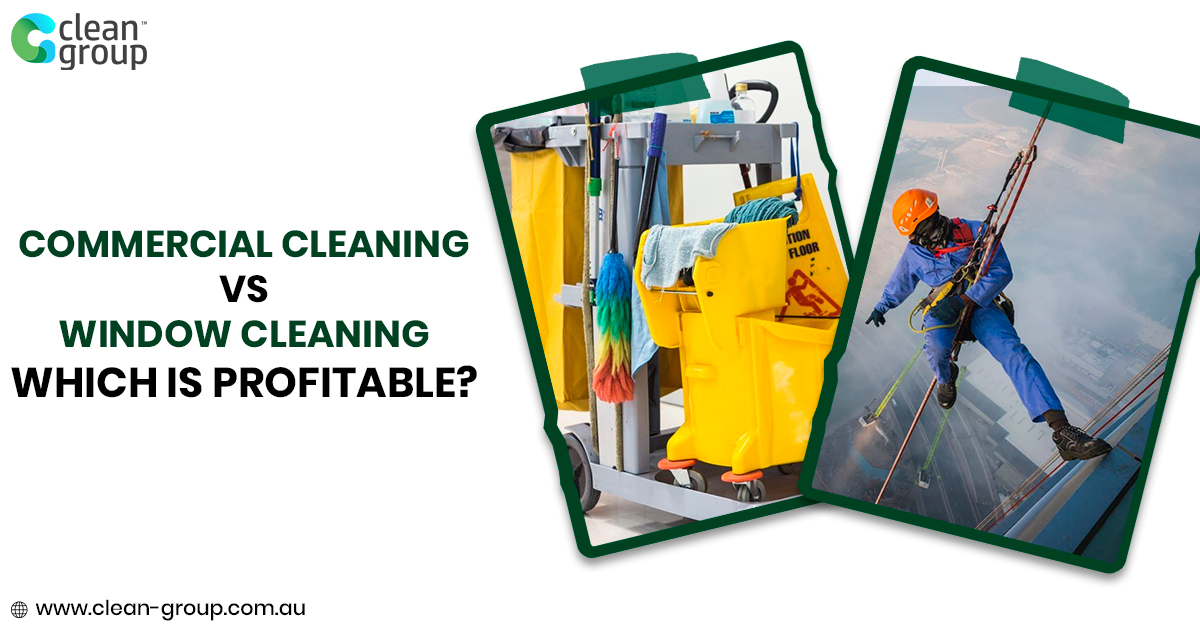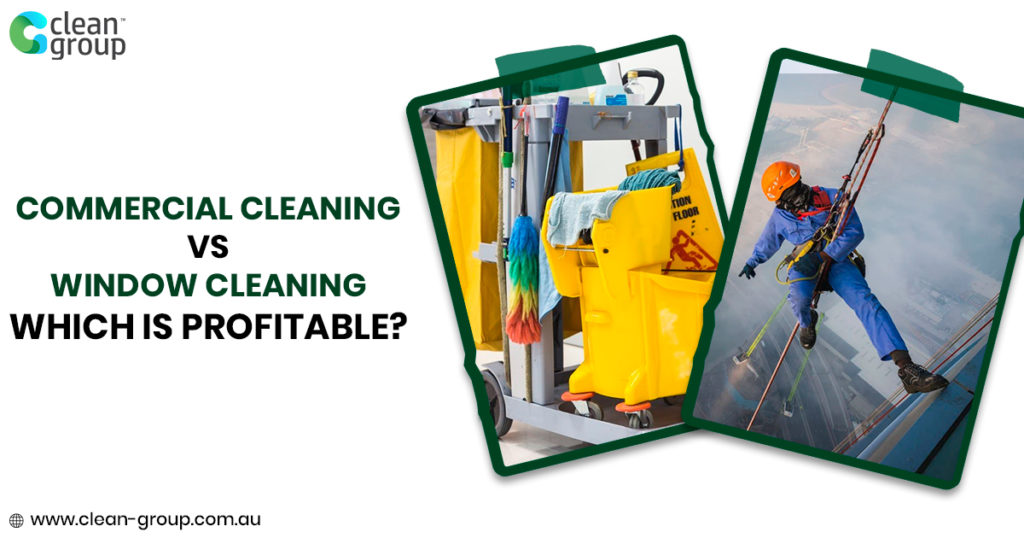 Making money with cleaning services can be a great idea if you know what to do and how to market your services. Still, many professionals worldwide tend to compare the profitability rate between different window cleaning services (or cleaning services in general). While the primary purpose of window cleaning and commercial cleaning is the same for every service, it may vary slightly depending on the type the client is requesting.
Comparing Profitability
Both commercial cleaning and residential window cleaning services are considered the most profitable ones for professionals. However, you may be wondering which service is better in the long run. In this article, we're going to cover what window cleaning services and commercial cleaning services entail, what their types are, and which one is more profitable in the long run.
What Is Residential Window Cleaning?
We're going to start with window cleaning since it covers several different items and factors. Keep in mind that window cleaning can be separated into two different services: Residential window cleaning and commercial window cleaning.
Generally speaking, window cleaning involves the procedure of glass cleaning or frame washing to remove dirt, dust, or other harmful particles. Professional window cleaners mostly use pressure washing equipment and other high-end items to achieve a thorough cleaning service that users may not achieve by themselves.
Definition
As the name implies, residential cleaning services are for homeowners who want to clean their window frames or glass with the help of a professional. While most homeowners may be able to clean their windows themselves, they may not do it as carefully as a professional would.
Some common properties where professionals may clean windows in this category involve the following:
Houses
Units
Flats
Villas
Bungalows
Townhouses
Common Items that Professionals Carry
It mostly depends on the client's window cleaning needs and how big the property is. Generally speaking, cleaning windows in a residential property involves some of the following tools:
Microfiber cloth
Scrapers
Cleaning buckets
Steel wool
Applicators
Ladders
Depending on the case, you may need specialised equipment for some hard-to-reach areas. Still, this is a highly common cleaning service that many homeowners request to get their property as clean as possible.
Why Would Someone Need Residential Window Cleaning Services?
One of the first things you must keep in mind before choosing a profitable cleaning service is to ask yourself: "Why would someone need this service?"
As mentioned before, some homeowners may be able to clean their windows themselves from any dirt. However, remember that your clients may not be able to clean their fly screens, window sills, or glasses in the same way that you would, and that's where the services come in handy.
There are many reasons why requesting window cleaning services is a much better idea than having clients do it themselves, and we're going to post some of them below:
Safety
Depending on the property, cleaning some windows may not be as easy as it seems. Some taller properties may need a high-rise window cleaning service, which is considerably more dangerous. Keep in mind that climbing up on a ladder to clean windows is always going to be risky.
However, professional window cleaners are trained to take care of these problems. Additionally, hiring fully-qualified professionals takes the risk of the client's hands. Selling cleaning services from this perspective is always a great option to start.
Health
Some cleaning supplies may involve dangerous chemicals that could hurt the client's health in the long run; the situation could even worsen if the homeowner accidentally ingests some of these products. In these cases, having window cleaners take care of everything can be a much safer choice to take.
Buying Supplies
Supplies are likely one of the most important parts of window cleaning. The cleaner the homeowner wants their windows, the higher-end supplies they may get. Expert window cleaners already have the right equipment to take care of any cleaning matter regarding glass, window frames, and other items. In most cases, the only thing the homeowner must do is to contact the window cleaners, pay a quote, and stop worrying about the rest.
Time
Even if the homeowners already have the right equipment to take care of regular or high-rise window cleaning, they may still have to spend a considerable amount of time cleaning windows if they don't know how to do it. Hiring a professional is the best way to ensure the job gets done right.
Window Life
In essence, cleaning windows correctly ensures they last much longer. Using the latest technology to clean glass removes corrosive debris, which is known for wearing down the glass in the long run.
What Is Commercial Window Cleaning?
Commercial window cleaning takes the process one step further since now we're talking about commercial premises, which tend to be more complicated to clean.
Definition
This cleaning type involves in-depth cleaning of windows in commercial properties. Overall, the main difference with residential cleaning is that professionals typically use more equipment and people to get the job done. Commercial window cleaning features more services, such as high-rise window cleaning.
Common Items that Professionals Carry
Most professionals cleaning commercial windows work with the same equipment as the one needed for residential cleaning. However, in cases of high-rise window cleaning (which is riskier), professionals may need some extra items to get the job done.
Some of these extra items include the following:
Water-fed poles
Scissor lift
Water-fed poles are great since most of them can reach up to 80 feet above ground level, which allows the professional to cover all windows without any risks. However, these items need fully-trained personnel to get the job done in any building or office. On the other hand, scissor lifts are used in high-rise window cleaning to reach higher building areas.
Why Would Someone Need Commercial Window Cleaning Services?
Aside from the reasons stated in residential cleaning, here are some of the reasons why a business may prefer to get a fully-qualified expert to clean windows rather than having any person do the job:
Tools
As mentioned before, cleaning a business' windows may be a bit harder than cleaning a regular building. Overall, it's better to hire a professional to clean windows since they likely have everything the business needs to get the job done.
Insurance
Professional window cleaners are fully insured, meaning the business is going to be covered by the cleaning company in case something bad happens during the job.
Reliability
Experts work on public holidays, making them more reliable than any other person. Leaving office cleaning to the company's staff can be risky since they may not be likely to do it efficiently.
Mood
Having clean offices can help boost employees' moods.
Image
Finally, having cleaner offices gives off a much more professional image to clients and competitors.
What Is Commercial Cleaning?
Definition
Commercial cleaning is a service where the cleaner covers as much ground as possible in an office or business building. Overall, commercial cleaning may include the following areas:
Office buildings
Warehouses
Medical facilities
Restaurants
Hotels
Clubs
Malls
Coverage
Considering how dense commercial cleaning is, it's important to note that the process covers many more factors than regular window cleaning. Overall, some of the things that commercial cleaning covers for offices include the following:
Window cleaning
Carpet cleaning
Office cleaning
Furniture dusting
Trash emptying
Hard floor sweeping
Gutter cleaning
Common Items that Professionals Carry
Logically, commercial cleaning requires more items to work with than regular window or general glass cleaning. Generally speaking, these are some of the items that professionals use:
Floor polishers
Huge vacuum cleaners
Ladders
Microfiber rags
Spray bottles
Glass polishing cloth
Dry steam cleaners
Why Would Someone Need Commercial Cleaning Services?
There are dozens of reasons why people would prefer commercial cleaning over regular window cleaning. However, the following is a list of the most common reasons:
It makes a great impression on clients
It saves the company time
It saves on extra expenses
It boosts employee mood and energy
Window Cleaning – Commercial Cleaning: Which One Is Profitable?
One of the most frequently asked questions is which one of these two cleaning services is more profitable. Overall, it depends on the case.
Window Cleaning
Window cleaning is one of the most commonly requested services among businesses and homeowners. Not everyone wants to clean up their windows or glass frequently, so it's better to hire a professional to get rid of the glass dirt for them.
Overall, cleaners may get many more requests for window cleaning, meaning the profitability rate may be higher. However, this may also imply much more work since there may be more clients over the week. If the professional has a good team to cover all of the possible customers, cleaning windows may be a highly profitable job.
Commercial Cleaning
On the other hand, commercial cleaning isn't requested as often as window cleaning since it involves a deeper cleaning service that not all businesses may need that frequently. In essence, it's more likely for a client to get an expert for window cleaning rather than gutter cleaning.
Still, a single commercial cleaning job can provide a lot of profit in comparison to regular window cleaning. If the professional can manage to get several gutter cleaning or commercial cleaning jobs in general, they may be able to make a significant amount of profit from these services.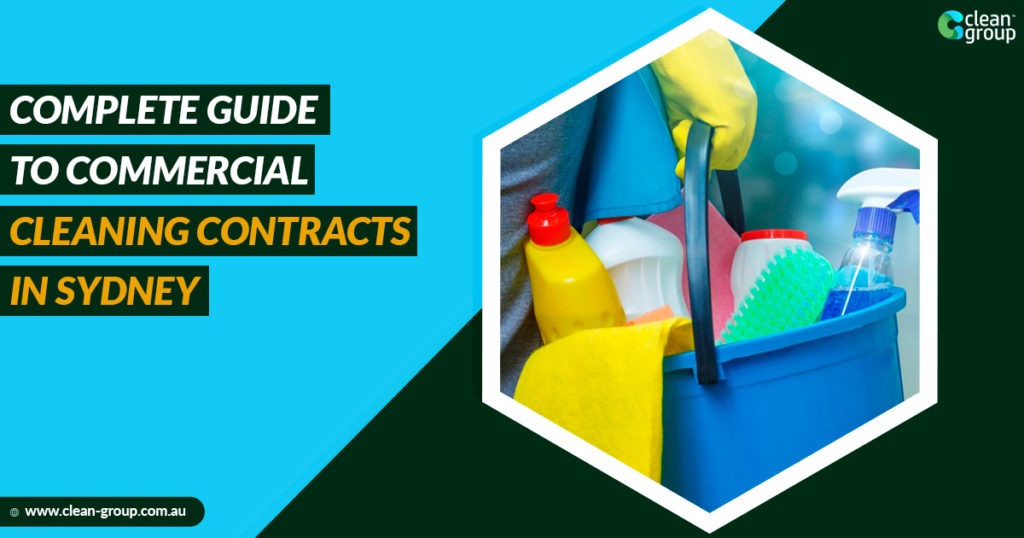 Bottom Line
Whether the client needs someone to clean their windows or their entire building, hiring a fully-insured company is required to achieve a great job overall. The professionals at Clean Group offer a free quote for anyone who wants to request a deep cleaning service for their windows or business.
In case you want to request a free quote from the Clean Group, the company has its contact details on its website, so don't hesitate to clean your windows, gutters, or businesses with a professional company!