Affordable Office Cleaning In Brisbane Professional Office Cleaning Services
Looking for the best office cleaners in Brisbane? Call us today to hire the best professionals for all your office cleaning services needs anywhere in Brisbane, QLD. Trained, insured and verified cleaners are available 24x7.
Office Cleaning
Complete and affordable office cleaning services solutions in your budget. Best quality guarantee. Trained & experienced cleaners. All-inclusive office cleaning and disinfection.
Commercial Cleaning
Top cutting-edge cleaning services for your commercial, industrial property in and around Brisbane. Best price guarantee. We use eco-friendly products for efficient workplace cleaning.
Medical Cleaning
For deep cleaning and disinfection of your medical facility, hospital, clinic or care centre in Brisbane, call Clean Group for quick and efficient services. Trained and police-verified cleaners.
Gym Cleaning
#1 Gym cleaning company in Brisbane for all types of gym cleaning, healthcare club cleaning, yoga centre cleaning services at competitive prices and by experienced gym office cleaners.
Childcare Cleaning
Give your childcare centre a truly professional cleaning services experience. Our cleaners are police-verified and background-checked to ensure safe and high quality-driven services for you.
COVID-19 Disinfection
Professional cleaners with experience in covid-19 deep cleaning and disinfection. Certified covid cleaning and disinfection services using cutting-edge electrostatic disinfection tech.
Office Cleaning Services Brisbane - A Reliable Partner for Workplace Cleaning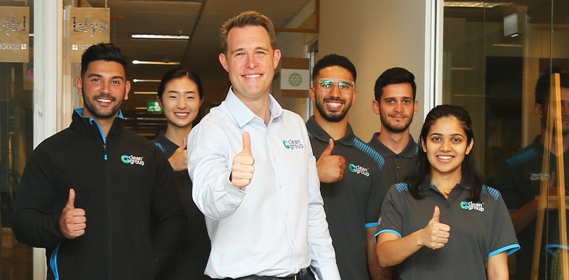 Frustrated with your existing office cleaners in Brisbane? Cleaners coming late or not doing a good job? Don't worry. Professional cleaning services are just one call away. Give us a call to book an office cleaning service today.
Maybe you're keen to replace your office cleaning services Brisbane. Or perhaps you have a one-off office cleaning project in mind. Either way, the team at Clean Group Brisbane has a track record you can count on. We are providing reliable cleaning service to our clients. Our experts have huge Brisbane office cleaning experience and deliver the best cleaning services.
Why Clean Group for Office Cleaning Brisbane
Clean Group Brisbane has been in office cleaning for over 20 years, as compared to other commercial cleaning companies and Brisbane businesses. We have become well known for quality and reliability in professional cleaning services and professional cleaners.

TRUSTWORTHY
Thorough police and background checks ensure high calibre commercial cleaning services you can trust. We are providing the best commercial cleaning solutions with guaranteed satisfaction.

RISK MINIMISATION
Fully licensed, bonded and insured cleaning professionals so you can rest easy knowing any potential damage is covered. Delivering office cleaning services at affordable prices is our job.

COMPREHENSIVE TRAINING
Our team members are fully trained and kept up-to-date with the latest office cleaning and sanitation methods. Contact us to discuss your cleaning requirements at a reasonable price.

ENVIRO FRIENDLY PRODUCTS
We only use eco-friendly detergents and supplies to minimise negative impact, provide a clean office environment and reduce health risks for workers. We promise the safety of your staff.

LIKE FAMILY
Regular office cleaning Brisbane so you get to build long-lasting relationships and your office cleaning needs are met even more comprehensively and consistently at a reasonable price.

AFFORDABLE
Before we start working together, we'll create an office cleaning plan offering different options based on your needs and budget. So you can be assured of getting the best cleaning service on a budget.
3 Easy Steps to Book the Best Office Cleaning in Brisbane
To hire the best Office cleaning Brisbane services, just follow these simple steps. You can call us directly or use the contact form on our website to request a free onsite quote.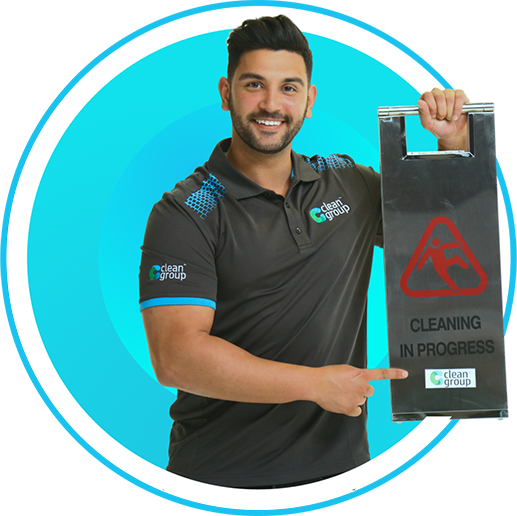 Step 1: Contact Us for a FREE Office Cleaning Assessment
Call us, drop an email or use the enquiry form on our website to request a quote. We will call you back shortly to discuss your project and set up an onsite assessment at your preferred schedule.
Step 2: Online Assessment & Quote
Our expert team will visit your place to thoroughly assess your office cleaning requirements and offer a personalised cleaning quote based on your needs and budget. Call now for the best free quote for affordable cleaning services Brisbane.
Step 3: Get Started
Select the best office cleaning plan from available options. Once you confirm your preferred schedule and make payment, we'll get started immediately after.
Hire a qualified office cleaner Brisbane in just one click!
Booking an Office cleaning Brisbane service was never this easy. Don't worry about spending hours sorting through hundreds of cleaner options. We have ready-to-hire, verified and trained office cleaners at your service. Just call us or send an enquiry through our website to book an expert office cleaning service in less than 60 seconds.
Get a Free Quote
#1 Most Reputable & Highly Trusted Office Cleaning Company Brisbane
With more than two decades of professional cleaning experience and an unmatched passion for cleaning offices, we have achieved tremendous success in the office cleaning industry over the last few years. Our clients include both multinational companies and small Brisbane businesses that need professional help with their routine cleaning needs. They trust us because of our proven track record, unmatched cleaning skills, trained staff, and great customer service. You can too.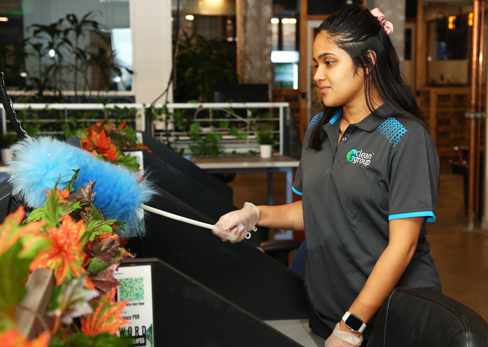 Eco-friendly Office Cleaning
The use of toxic cleaning chemicals is harmful both to the environment and people, which is why we follow a green cleaning process using eco-friendly cleaning products and practices.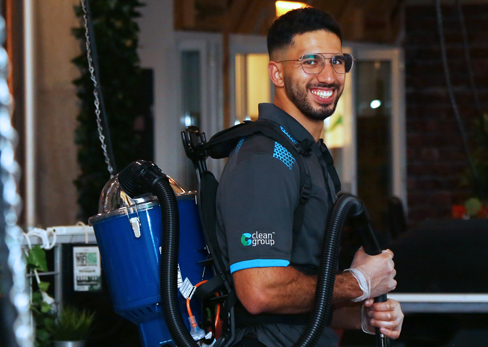 Professional & Experienced
We make sure all our commercial clients have access to a professional team of skilled & trained office cleaners, who are reliable and extremely efficient. They will get the job done on time.
What's Included In Our Office Cleaning Services in Brisbane?
We'll not only look after your standard cleaning needs (eg. vacuuming, rubbish removal, desks, toilets, and bathrooms) but can also help you with specialised deep cleaning services such as carpet cleaning, high pressure cleaning, window cleaning, and covid disinfection cleaning Brisbane. Our standard office cleaning services include: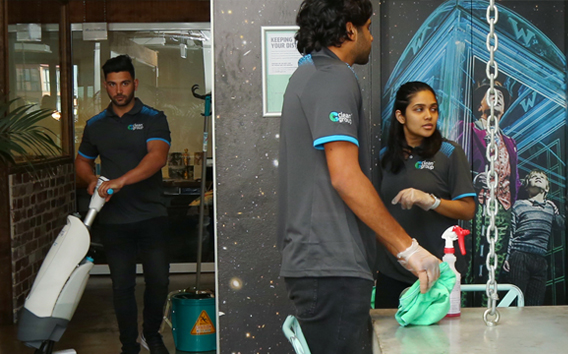 Office Entrance Cleaning
Your office entrance, including reception, floors, walls, furniture, picture frames, carpet cleaning, blinds, etc. will be professionally cleaned to help make a great impression on the visitors.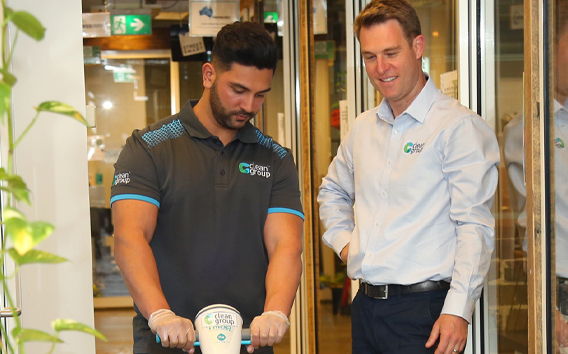 Floors Cleaning
We will deep clean, vacuum, scrub (using the i-mop floor scrubber) and mop your office floors as needed to keep them clean, sparkling and germ-free always as a part of a standard service.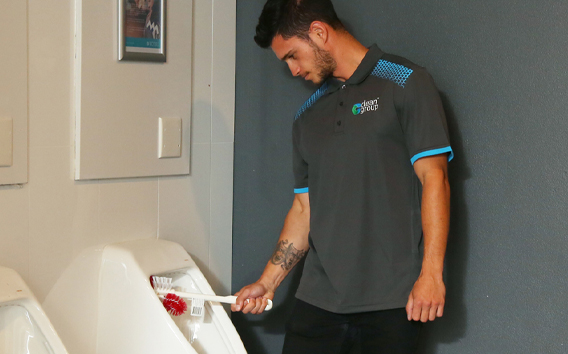 Toilets Cleaning
We'll also clean and disinfect your office toilets and restroom areas. Toilets in a workplace are extremely prone to germs, which is why we'll clean and disinfect your toilets multiple times a day.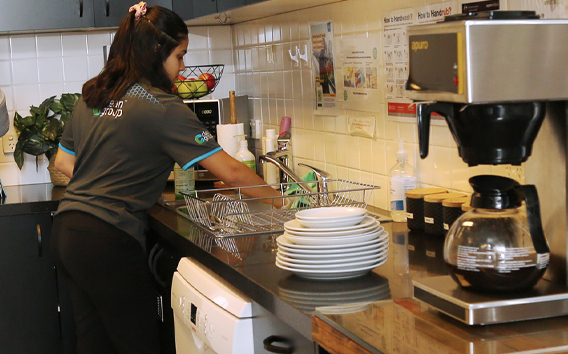 Kitchen and Pantry
If your workplace has a kitchen, pantry or canteen area, we can clean it as well as sanitise surfaces, food preparation areas, etc. to keep them free of germs and protect your workers' health.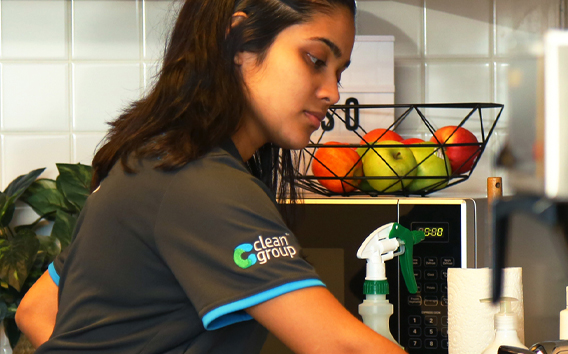 Dusting & Wiping
We will dust and wipe all surfaces, including tabletops, desks, counters, chairs, sofa, window sills, doors, switchboards, phones, drawers (inside out), computers, keyboards, etc. daily.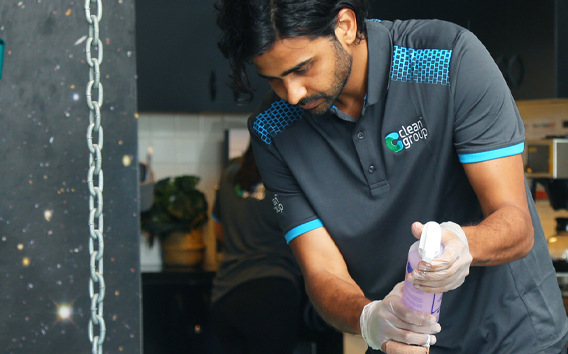 Disinfecting
All frequently touched objects, surfaces and points will be routinely disinfected using our cutting-edge electrostatic disinfection tech to achieve up to 99.99% virus removal, including covid-19.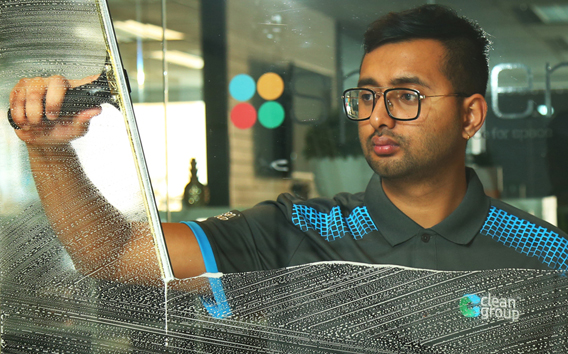 Window Cleaning
With more than 20 years of cleaning experience, we can clean both your internal and external windows diligently and efficiently to help you maintain a spotless workplace and keep looking good.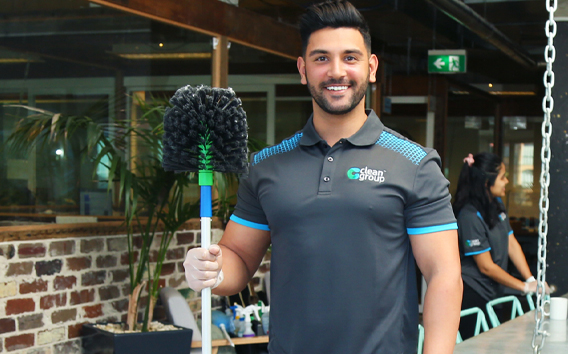 Garbage Removal
Our cleaners will also take care of your office garbage, remove waste, wash rubbish bins and replace liners. They will ensure garbage cans are in easy reach and placed around your property.
What Makes Clean Group Stand Out from the Competition
Clean Group is an undisputed leader in Brisbane's commercial cleaning market. Some of the things that make us different include our positive attitude, a wonderful team of trained cleaners, eco-friendly products, a true passion for cleaning, fully vaccinated & verified staff, specialist cleaners training, a natural eye for detail, affordable plans, and proactive leadership.
Get a Free Quote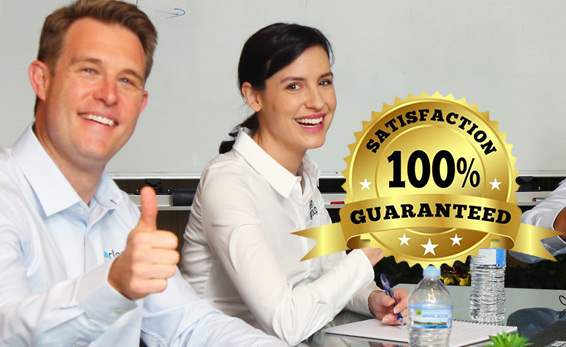 You Are Protected by Our 100% Satisfaction Guarantee.
At Clean Group Brisbane office cleaning we understand how important it is that your premises are meticulously cleaned on time, every time. That's why we have strict cleaning protocols to ensure we exceed your expectations and give you a professional cleaning service in Brisbane, QLD and other areas.
We also offer you a 'satisfaction guarantee'. So - if at any time you're not 100% delighted with the standard of our work, just let us know within 24 hours and we'll come out and reclean the area free.
Areas & Suburbs We Cover Under Office Cleaning Services in Brisbane
We provide all types of cleaning Brisbane services, ranging from basic office cleaning to high-level disinfection cleaning in all suburbs and cities in and around Brisbane Queensland. Brisbane has 190 suburbs, we cover most of them.

Best-in-class COVID Cleaning Brisbane. Affordable COVID-19 Disinfection Services
Clean Group is now the #1 covid cleaning company in Brisbane for its reliable service quality, top skilled covid team and excellent customer service. Hire our cleaners for quick & affordable covid cleaning of your business place anywhere in Brisbane.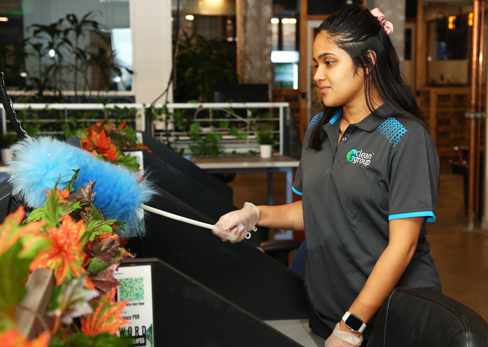 Book an expert COVID cleaner
Hire certified and trained covid-19 cleaners in less than 15 minutes from your home or office. On-call Booking is now available. Just call us to tell us your cleaning requirements and book a cleaning Brisbane service for the same day or next.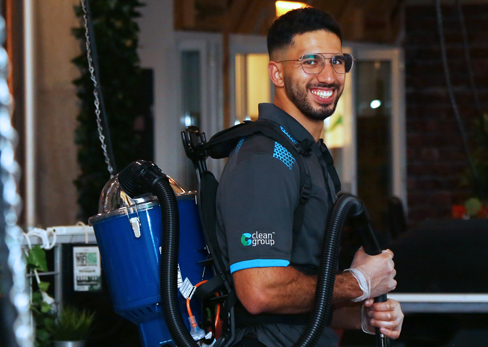 Virus Decontamination Clean
A covid case has been found in your place? Don't worry. We can clean and disinfect your office in just a few hours to make it safe again for use. We use trained covid cleaners and provide deep covid cleaning with up to 99.99% protection.
Areas & Suburbs We Cover Under Office Cleaning Services in Brisbane
We provide all types of cleaning Brisbane services, ranging from basic office cleaning to high-level disinfection cleaning in all suburbs and cities in and around Brisbane Queensland. Brisbane has 190 suburbs, we cover most of them.

Brisbane City
The main city centre, a hub of commercial and industrial activities, and the best place for exquisite fashion, food and shopping. This is where most people in Brisbane live and/or work.
South Bank
Located south of the Brisbane River, the area covers 17 hectares of lush parklands and is home to many award-winning eateries as well as hosts many exciting events around the year.
Roma St Parkland & Spring Hill
Take a 10-min walk from the Brisbane City centre to visit trendy cafes and restaurants along with the historical Old Windmill of the Roma St Parkland and Spring Hill.
Paddington & Rosalie
Situated in hilly areas, the suburbs of Paddington, Rosalie and Red Hill are distinguished by their quaint cottages that are now used for shopfronts, restaurants and cafes.
Caxton Street
Caxton Street and the Barracks is where you can visit to experience the nicest food coupled with great nightlife. Head to Suncorp Stadium for a live sports match.
Ascot & Hamilton
One of the prime residential regions in Brisbane, Ascot & Hamilton can be easily recognized by its flowering Poinciana trees lining the streets, beautiful classic homes and a mix of sophistication and fun.
New Farm & Teneriffe
New Farm, Newstead & Teneriffe are closely located. While New Farm is known for its natural beauty and buildings such as Brisbane Powerhouse, Tenerife is home to urban apartments, restaurants and cafes.
Brisbane's Bayside
The region is home to beautiful seaside towns in the north and south of the Brisbane River. Popular suburbs include Sandgate, Brighton, Shorncliffe, Wynnum and Manly.
Bulimba & Hawthorne
The riverside suburbs are famous for combining village charm with a modern outlook and are home to many classic old homes, buildings, cinemas, art galleries, eateries, book shops and more.
Kangaroo Point & Woolloongabba
A non-conventional suburb known for its scenic views and natural beauty. Experience the Brisbane city view at its best surrounded by lusk mountains from the ancient cliffs.
Milton & Park Road
The suburbs are famous for their iconic and lively cafes and are a popular place to hang out among youngsters and football lovers. Be sure to check out the famous Eiffel Tower replica here.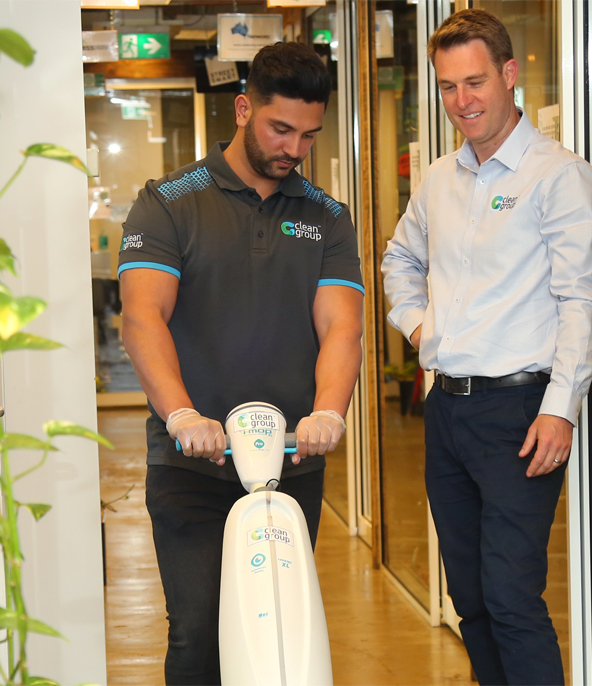 Frequently Asked Questions
---
A standard office cleaning service includes cleaning floors, dusting furniture, desk, window sills, etc., wiping surfaces, computer monitor, light fixtures and more, vacuuming carpets, cleaning and disinfecting toilets, cleaning the trash and disinfecting other high-traffic points. Custom office cleaning plans and services are also available. Contact us to know more!
Different office cleaners follow different steps to clean an office. We at Clean Group follow a meticulous office cleaning process that helps us finish the job in the shortest possible time while ensuring great results. Our cleaning process includes dusting/wiping all surfaces, doors, windows, fixtures, walls, computer monitors, etc., which is followed by cleaning the floors and carpets. Once done, we'll clean the toilets, kitchens and other remaining areas. We use high-quality, eco-friendly products for office cleaning.
The duties of an office cleaner include dusting, wiping, mopping, vacuuming, sweeping and/or washing. These should cover all the areas in an office. For other areas such as toilets, we use special disinfectant products to thoroughly clean and disinfect to remove germs. We will also clean your office kitchen and pantry areas as well as empty and clean garbage bins all around the property. If your office has a separate car park area, we will clean that as well.
On average, an office building must be cleaned at least once every week. Regular cleaning of floors and dusting should be preferably done every day, if possible. For offices with light traffic and where only employees enter the premises, regular daily cleaning followed by monthly deep office cleaning is recommended. For heavy traffic premises such as stores or malls, weekly deep cleaning and disinfection is a must.
The average hourly rate for a professional office cleaner in Sydney, NSW is $30-$40 per hour depending on the cleaner's experience. In general, hiring an office cleaner on an hourly basis is cost-effective for the cleaning of small premises. For large premises, job-based cleaning quotes are the most affordable. Contact Clean Group for a free office cleaning quote.
The cost of office cleaning will depend on the cleaner's cost, which will depend on the individual experience and type of the cleaner. In NSW, the average hourly cost of an office cleaner is $30-$40 per hour. In addition, the cost of office cleaning will depend on the size and type of your property, type of cleaning (standard or deep), your particular requirements, etc. For a standard 1,000 sq. ft. office property, the cleaning cost would be around $100 for a 2-3 hour job.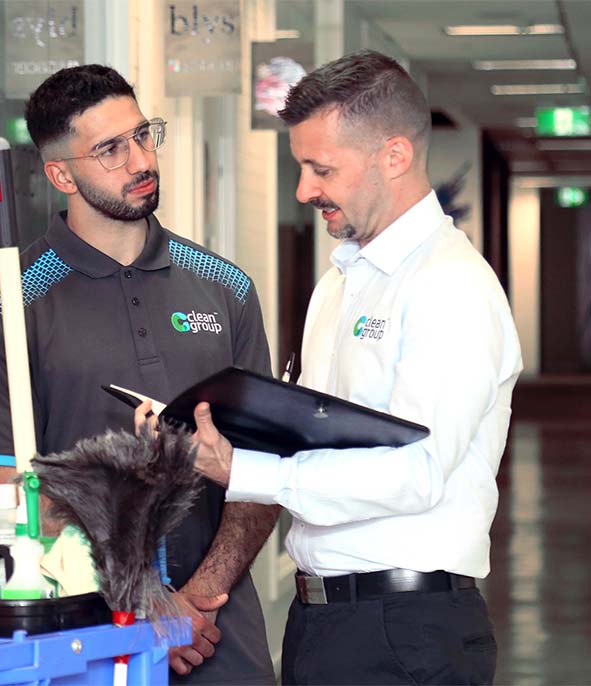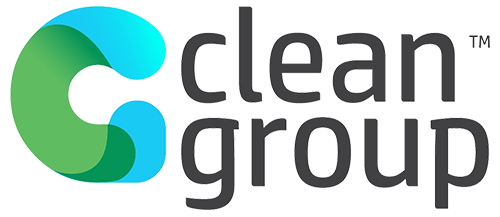 | | |
| --- | --- |
| Team Size: | 70+ |
| Services: | Regular Office Cleaning, Deep Office Cleaning |
| Contact: | 07 3085 4358 |
| Email: | [email protected] |