COMMERCIAL
CLEANING SERVICES

OFFICE
CLEANING SERVICES

STRATA
CLEANING SERVICES

CARPET
CLEANING SERVICES

MEDICAL
CLEANING SERVICES

GYM
CLEANING SERVICES

SCHOOL
CLEANING SERVICES

CHILDCARE
CLEANING SERVICES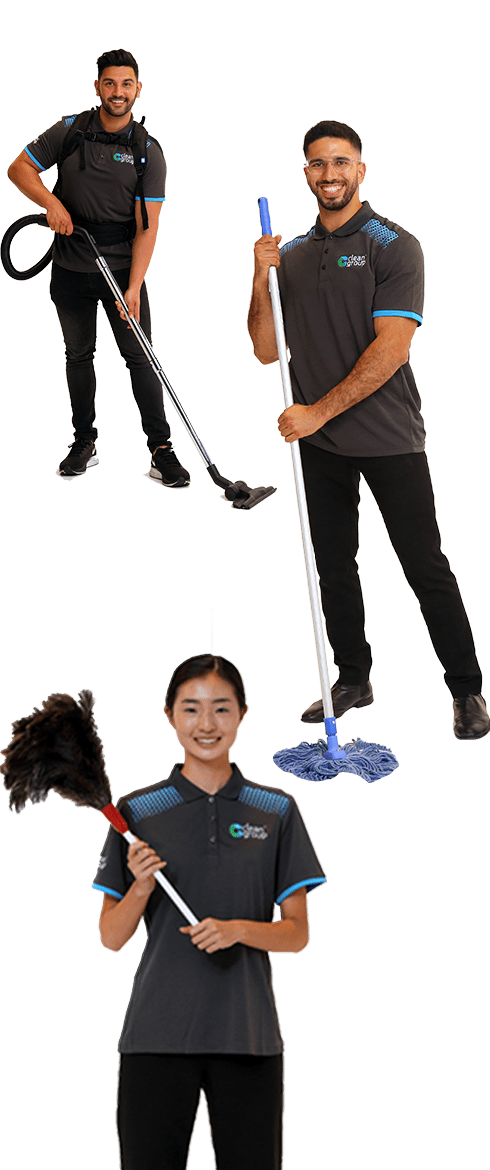 GYM CLEANING BRISBANE - Ensuring Complete Health & Safety of Your Gym Members
Are you struggling to maintain a clean & hygienic gym space for your members? Are you current office cleaners not doing a proper job of cleaning & maintenance of the property? Are you looking for a better, more affordable and trusted cleaning partner? Clean Group Brisbane is a full-service gym cleaning company Brisbane that offers professional cleaning services to all kinds of businesses in the health & fitness industry, including gym cleaning, fitness centres, yoga clubs, and many more.
A gym is a place where people go to when they are looking to get fitter and healthier. Being infected by a disease is probably the last thing on their minds when visiting a gym or fitness centre. But, that's exactly what happens when you, as an owner, fail to maintain the cleanliness and hygiene of your fitness centre. The regular and proper cleaning of your gym premises is important not just to ensure the health safety of your members but also to make a good impression on first-time visitors.
This will help you convert more visitors into members. Moreover, gyms are also one of the places with the highest number of people engaged in running, jumping, weight lifting and sweating. So, you can expect a lot of sweat and germs to gather on your gym machines, carpets, showers and other places, which will keep accumulating unless you arrange proper cleaning & sanitisation of the place on a regular basis.
Luckily, Our office cleaners Brisbane are here to help you. Having a lot of experience cleaning sensitive places like gyms and healthcare centres, we know the types of unhygienic things to expect at such places and are familiar with all the modern cleaning methods to ensure a clean, safe and refreshing environment for your members.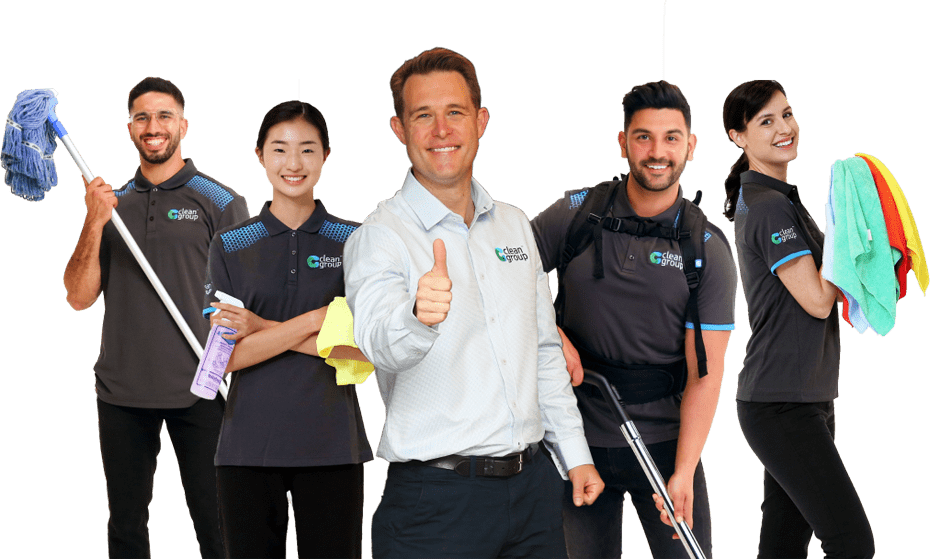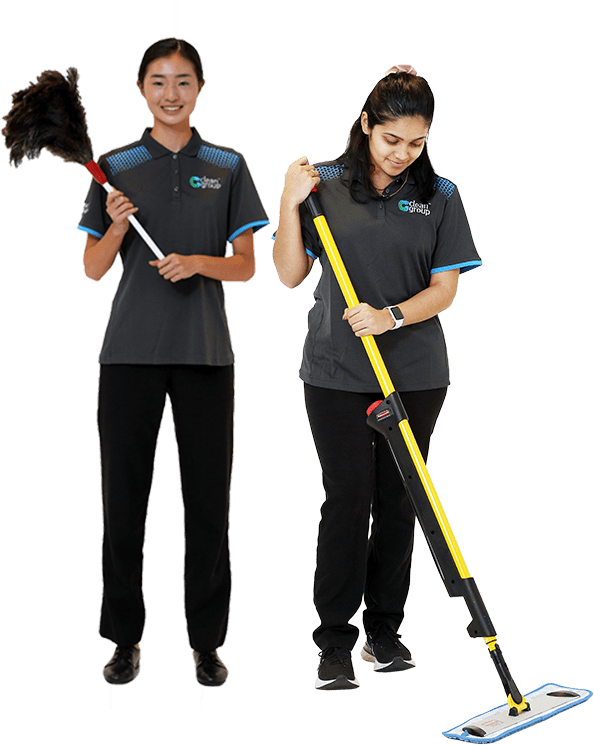 A Helping Hand for Gym Cleaning in Brisbane
At Clean group Gym Cleaning Company Brisbane, we are bound by our core values, which include trust, quality and satisfaction. You'll see these values in everything our cleaners do. We have trained cleaning professionals who have years of experience in this type of jobs.
They know that your gym members are in regular contact with the machines, leaving unhygienic sweat and marks everywhere, fingerprints on the glass, boards, etc., and other unhealthy stuff around your place, all of which need to be cleaned. What sets our cleaners apart is their ability to pay attention to detail and come up with the best strategy to clean a place based on its specific needs.
We use modern cleaning machines and eco-friendly solutions to remove the sweat from your gym equipment, clean the skin flakes left by your gym members and remove the soap scum from bathrooms/toilets. We use only non-toxic cleaning agents that will leave a fresh, soothing smell in your gym environment, which your members will absolutely love.
In addition, we also have a monthly auditing process, where our team will quality check to ensure that our cleaning standards are meeting your expectations. This is to make sure that our standards keep rising to improve the satisfaction levels of our customers.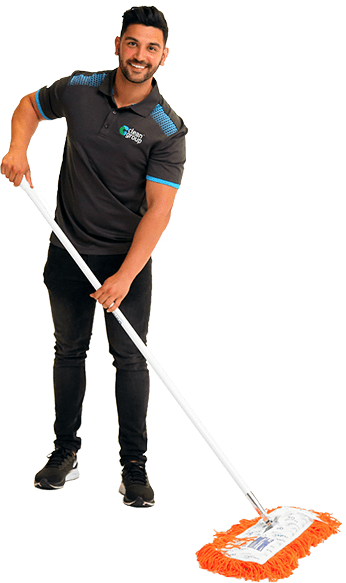 Gym Cleaning Brisbane Services for Businesses
We are more than just another gym cleaning company in Brisbane. Besides standard sweeping and washing of your floors, we will perform a range of other related services, such as carpet cleaning, window cleaning, grounds cleaning & maintenance, hardwood floor stripping, tile & grout cleaning, car park cleaning, toilet cleaning, graffiti removal, garbage removal, and more. We offer gym cleaning services to businesses of all scales & sizes, from small yoga centres to large fitness centre chains.
Gym Cleaning

This service covers the cleaning of a range of professional gyms and fitness centres in and around Brisbane. We are Australia's #1 gym cleaning company in terms of client satisfaction.

Aerobic/Yoga Centre Cleaning

For the cleaning of your yoga centre, we have a dedicated team of cleaners who have experience in in-depth cleaning of floors, mats and other things with great attention to detail.

Health Club Cleaning

Looking for expert cleaners for your health club? With Clean Group Gym Cleaning Company Brisbane, you can hire professional health club cleaners for regular (daily, weekly or fortnightly) cleaning of your health centre.

Sports Club Cleaning

We have years of experience in the cleaning of sports and athletic clubs, including the cleaning & sanitisation of exercise equipment, sports equipment and other things for complete health and safety.

Dance Centre Cleaning

Hand over the job of cleaning and maintenance of your dance club to our expert cleaners who will do the job precisely & perfectly, giving you no chance to complain.

Golf Club Cleaning

For golf club cleaning Brisbane, our cleaners are specifically trained on things like how to clean golf clubs, balls and other tools and can also help with the maintenance of the golf course.

Country Club Cleaning

We have a team of trustworthy and professional cleaners who you can outsource for the regular or one-off cleaning of your country club to ensure a fresh & healthy environment for your members.

Same-day Cleaning

We can also arrange the same day cleaning of your gym or fitness station if given a 24-hour notice. The service is, however, subject to the availability of the staff.
Why Clean Group Brisbane for Gym Cleaning
We have been cleaning gyms and health/fitness centres in and around Brisbane for over 20 years now. Our cleaners are highly experienced and qualified professionals who are trained to clean a wide range of commercial premises, including gyms, yoga clubs and fitness centres with special attention to the safety & health of the members. Besides basic cleaning of your gym floors and equipment, we are also trained in the cleaning of concealed areas like vents & windows and sanitise sensitive places like toilets to help you maintain a safe, fresh and healthy environment for your gym members.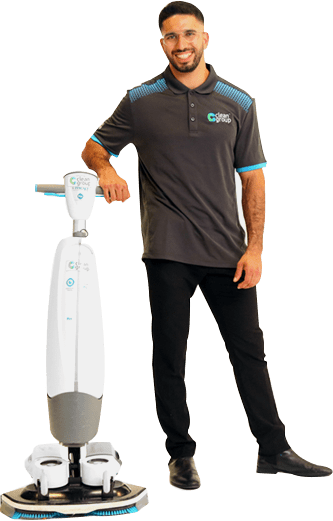 Extensive Experience
We are Australia's leading gym cleaning company for a reason. For over 20 years, we have been serving the cleaning needs of big brands & small businesses alike, with utmost care.
Safe, Eco-friendly Cleaning
The use of safe, non-toxic cleaning solutions and methods is one of the reasons why we are an obvious cleaning choice of our clients. Our cleaning products are safe for the environment as well as for people.
Competitive Pricing
To keep our services affordable and accessible for everyone, we keep our prices low and our quality high. You'll find that our rates are the best in the industry and lower than the competitors.
Trained Gym Cleaners Brisbane
Our gym cleaners are some of the best you will ever get to work with. They are verified, licensed and fully trained to clean even the most concealed areas and fully-respectful to the clients.
Convenient Booking
With multiple options like online booking, booking on call or via email, you can now easily make a cleaning appointment with Clean Group Gym Cleaning Company Brisbane. We offer free on-site inspection & quote.
Free Cancellation/Rescheduling
Not ready to use our services just yet? Feel free to cancel a pre-scheduled booking or reschedule an appointment as per your preferred timing.
Satisfaction Guaranteed
We use the best-in-class cleaners and modern cleaning tools & technologies to ensure the highest standard cleaning services for all our clients with a 100% satisfaction guarantee.
24/7 Customer Support
Have an issue or need help? You can reach our customer support team 24 hours 7 days a week via phone (1300-073-089) or email ([email protected]) for an instant resolution to your queries.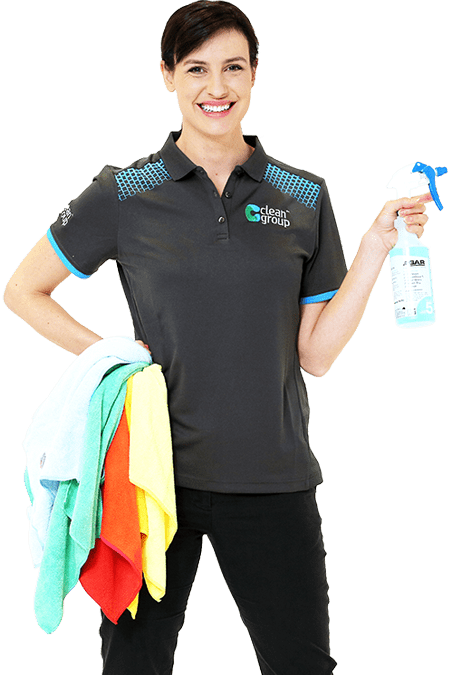 How to Hire Gym Cleaners Brisbane
Get yourself a talented & experienced team of gym cleaners in 3 easy steps with Clean Group Brisbane:
Call us (Contact Us)

Share your cleaning requirements or details with our sales team and book a free inspection of the site.

Discuss your needs

During the on-site inspection, you can tell our experts your specific cleaning needs & expectations.

Finalise the deal

If you're happy with the price quote, you can proceed to confirm the appointment as per your preferred schedule.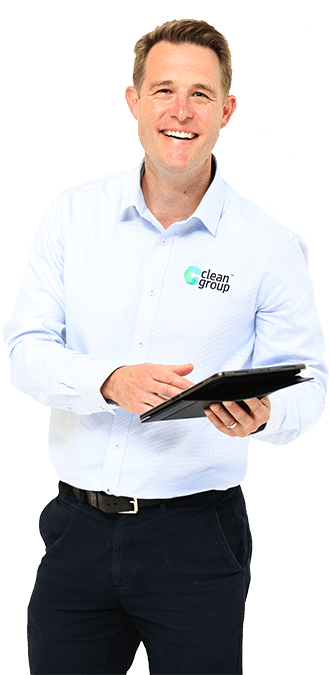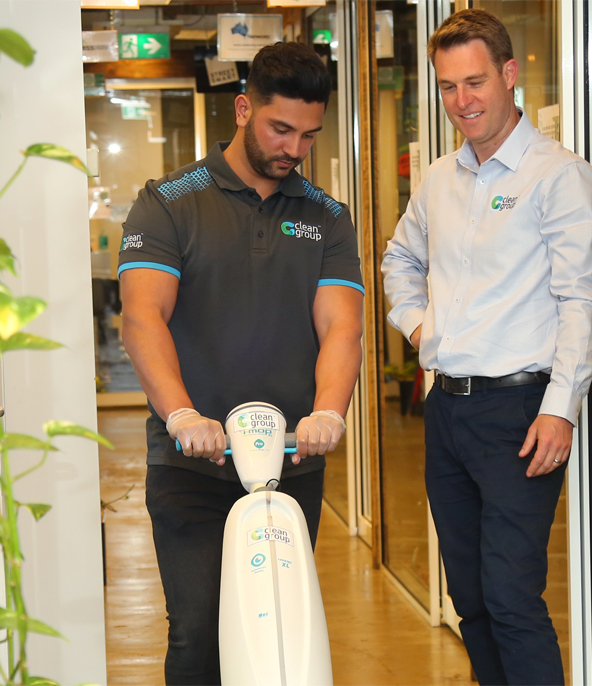 Frequently Asked Questions
---
Clean Group offers a wide selection of cleaning services you can choose from. Starting with routine cleaning, carpet cleaning, internal-external window cleaning, office cleaning, gym cleaning, childcare cleaning, medical centre cleaning, school cleaning and the list goes on. Just check our website to know more.
The cost will depend on how much time, how much material and what type of equipment needed for a cleaner to perform the cleaning that is required for your business. Our friendly sales managers can do a free onsite visit to determine the best price and cleaning program for your premises. Call us now on
Clean Group cleaners are all professional, reliable and well trained. We only employ full-time cleaners. This ensures that the cleaners are committed to high cleaning standards.
Absolutely! We are fully insured. Certificate of our insurances will be mailed to you with our quotation so you can have peace of mind.