COMMERCIAL
CLEANING SERVICES

OFFICE
CLEANING SERVICES

STRATA
CLEANING SERVICES

CARPET
CLEANING SERVICES

MEDICAL
CLEANING SERVICES

GYM
CLEANING SERVICES

SCHOOL
CLEANING SERVICES

CHILDCARE
CLEANING SERVICES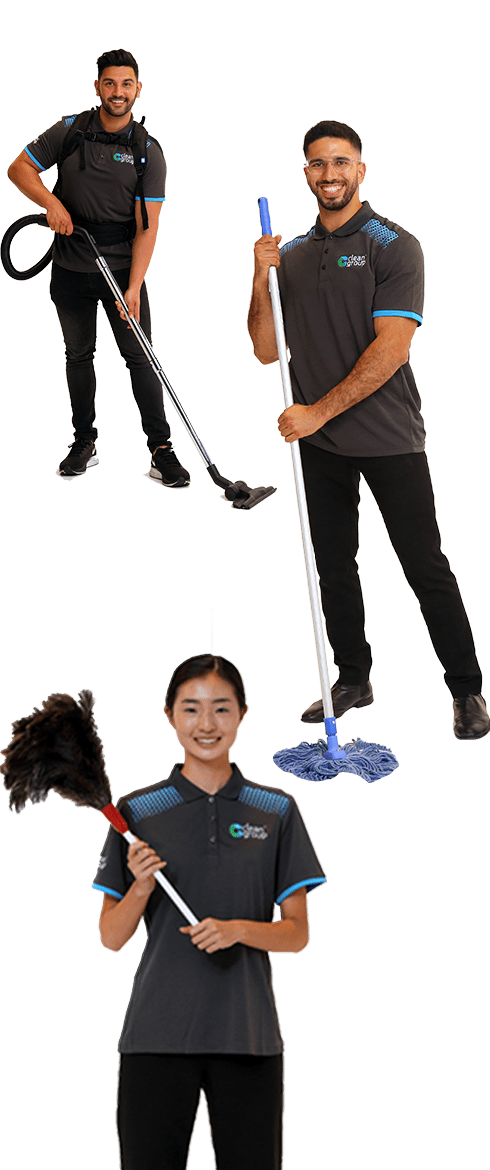 Medical Cleaning Brisbane - We Keep Your Medical Premises Clean, And Patients Safe
We are Clean Group, Australia's local & leading a commercial cleaning company that provides regular cleaning services for hospitals, healthcare centres and other medical facilities in and around Brisbane. With over 20 years of industry experience and brilliant expertise.
Our commercial cleaners know cleaning & disinfection of sensitive places like hospitals and medical facilities, we are the perfect choice for all your medical cleaning needs across all suburbs of Brisbane. There's a reason why so many doctors & medical businesses in Brisbane recommend us for complete healthcare cleaning (check out our testimonials).
Our commercial cleaners Brisbane understands cleaning a hospital or other medical facility is not an easy task. First, you need to understand the various types of bacteria and germs that could be present at your premises. Second, you must have the best quality cleaning supplies to take care of such bacteria and clean the premises thoroughly.
At the same time, you also must be aware to use only good quality cleaning products that are safe and harmless for your patients or health club members. Not an easy task, right? You can also not rely on inexperienced cleaners who don't understand one thing about precautions to follow while cleaning a medical/hospital space. This is where we come in.
As a professional Medical Centre Cleaner Brisbane, we understand the intricacies of cleaning sensitive places like hospitals and the importance of maintaining proper hygiene throughout the premises. We use chemical-free and safe cleaning solutions that do not harm your patients in any way. Besides basic cleaning and scrubbing of your place, we will also perform complete sanitisation and disinfection to kill germs from places like toilet seats, door handles, telephones, etc.
We are committed to quickly and efficiently cleaning your medical premises while ensuring total well-being of your patients and staff. Our medical cleaners Brisbane are always ready to go that extra mile to ensure your place is safe and clean.
Impressed yet? Give us a call to book a cleaning appointment.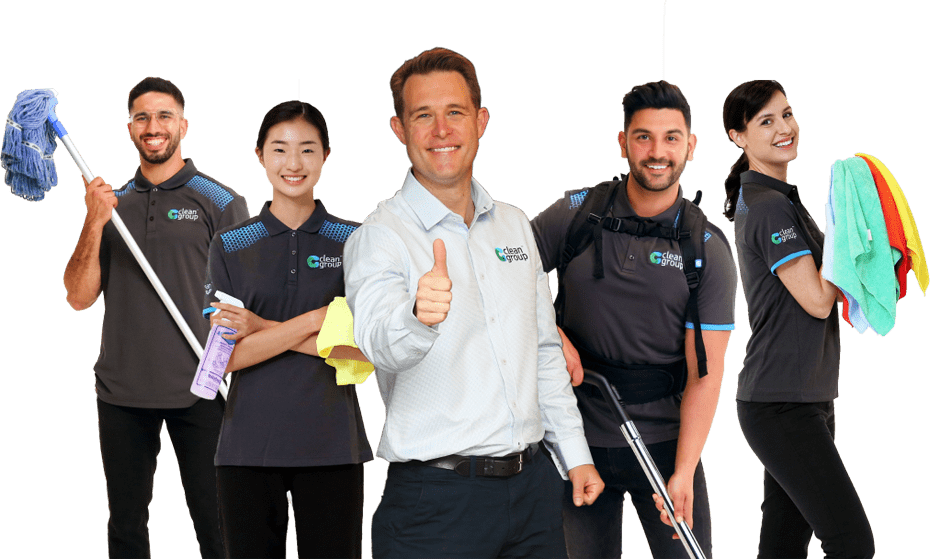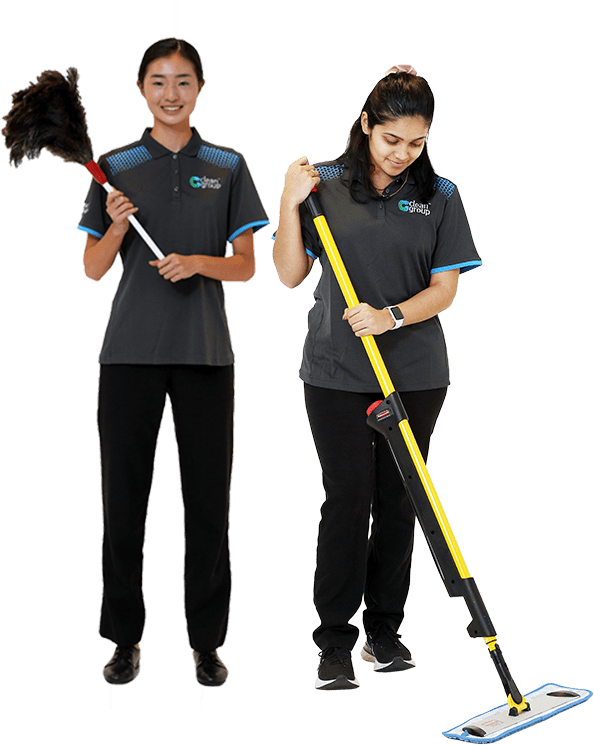 A Hospital Cleaning Service Brisbane You Can Rely On
We take pride in being the #1 choice of medical centres and doctors in Brisbane. Your trust in our professionalism is what motivates us to keep providing highly satisfactory & safe medical facility cleaning services to businesses in the area.
According to research, people in Australia are affected by nearly 20 thousand different types of infections, one of the main reasons for which is the inadequate cleaning of our hospitals & medical centres by unprofessional cleaners.
Employing an inexperienced cleaning staff will only increase the risk of infection in your centre. At Clean Group, we follow the most sanitary and safe cleaning approaches to ensure a safe, fresh & infection-free environment for your patients and workers.
Our medical cleaners are trained professionals who are all insured via proper means and background checked by police, so you can fully trust them for maintaining privacy and protecting the safety while working at your place.
They know what types of germs & bacteria linger around a healthcare facility and will take proper means and use resources to meet the cleaning needs of your place.
To talk to our cleaners, give us a call at 1300-073-089.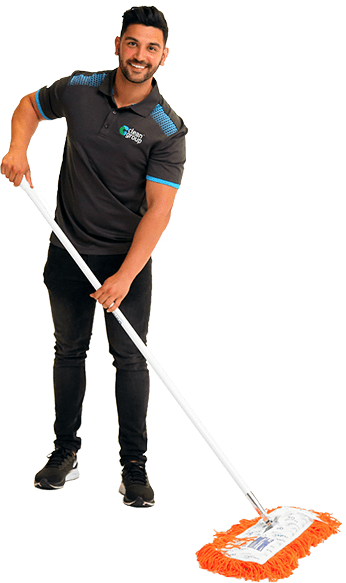 Medical Cleaning Services by Clean Group Brisbane
If you're not sure that your current cleaner is doing an adequate job of safely and hygienically cleaning your healthcare premises or knows about precautions to take when cleaning a medical facility, then call us right away to talk to our Healthcare cleaning experts. We offer top quality and safe medical cleaning services in line with the cleaning process & infection control practices recommended by BSCAA.
At Clean Group Brisbane, you can hire dedicated, full-time or part-time, cleaners for your medical facility, hospital, clinic, health club, childcare centre, and more.
Hospital Cleaning Brisbane We can offer complete and regular cleaning of your hospital of any size and scale, along with proper sensitisation & disinfection, as and when required.
Healthcare Cleaning Brisbane If you are looking for a reliable and trusted medical facility cleaning service for your healthcare centre, look no further. At Clean Group Brisbane, we promise 100% satisfactory cleaning, and nothing less.
Clinic CleaningOur clinic cleaning services include, but are not limited to, cleaning & maintenance of physiotherapy clinics, dental clinics, radiology and pathology centres and all types of medical clinics & facilities.
Health/Yoga Club Cleaning Worried about the safety of your yoga club members due to poor cleaning experience? Hire professional health club cleaners with Clean Group Brisbane for safe & sound cleaning of your premises.
Pharmacy Cleaning Got a pharmacy that is in dire need of cleaning? Hire our expert pharmacy cleaners Brisbane for careful and thorough cleaning of your facilities.
Blood Bank Cleaning Get the regular cleaning of your blood bank done by our skilled cleaners who know how to clean & sterilise medical equipment, machines and supplies with complete care.
Medical & Doctors' Offices Besides the cleaning of hospitals and cleaning, you can also avail our services for the cleaning and maintenance of your medical offices, patient rooms, doctors' offices, etc.
Rehabilitation Centre Cleaning We also offer medical cleaning services to rehabilitation centres, physiotherapy clinic, addiction care centres, and all other types of related healthcare facilities.
Nursing Home Cleaning The cleaning of your nursing home is equally important to the cleaning of hospitals to ensure the health & safety of your members. Hire expert nursing home cleaners with us.
Child & Elder Care Centres Our medical facility cleaning services include outsourcing cleaners to childcare centres, elderly care centres, care homes and related facilities where health safety is of utmost importance.
What is included?
We will recommend you a customised cleaning schedule in accordance with the cleaning needs of your medical facilities. At Clean Group Brisbane, our primary goal is to maintain a safe and healthy environment for the patients, staff and visitors at your centre.
To do that, we employ the best-in-class cleaning equipment, personnel and solutions that produce the desired results. Also, we have a strict quality-check process to ensure that our cleaners are meeting the highest standards in cleaning.
When it comes to medical cleaning Brisbane, we cover it all, from doctors' surgeries, cleaning of floors, carpets, tiles & grout, bins, toilets, kitchen, halls & staircases, glass windows, among other things.

Sweeping & mopping of hard floors

Carpet cleaning Brisbane

Cleaning of surfaces, walls & ceilings

Windows & vents cleaning

Cleaning of glass windows/doors

Toilet cleaning & sanitisation

Disinfection of phones, doorknobs, light switches, remotes, etc.

Sterilisation of medical equipment & machines

Cleaning of bins

Garbage removal

Wiping & dusting of furniture

Common area cleaning

Kitchen cleaning

Car park cleaning

Why Clean Group for Medical Cleaning Brisbane
As a long-established and highly experienced hospital cleaning company, we know how to keep your healthcare centres clean and safe through our proven medical cleaning & infection control practices. We can offer flexible services as per your needs and on your schedule.
Our medical cleaning practices are designed to meet the healthcare cleaning standards recommended by authorities. We are always available to help you with your concerns & queries related to our cleaning services.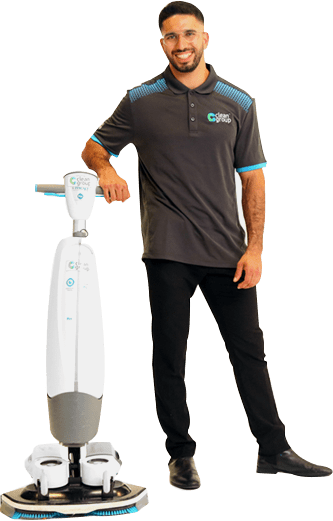 20+ Years of Experience
Having years of experience in the cleaning of hospitals & medical centres in Brisbane, we are thorough and down to the tiniest detail and follow a strict quality control scheme.
Trained, Insured & Reliable Cleaners
Having years of experience in the cleaning of hospitals & medical centres in Brisbane, we are thorough and down to the tiniest detail and follow a strict quality control scheme.
Services Tailored To Your Needs
Having an in-house team of 50+ cleaners, we are able to cater to the specific and special cleaning needs of all types of businesses, providing tailored services as suit you.
Safe & Eco-friendly Solutions
We understand the importance of keeping your medical facility infection-free and use only high-quality & safe cleaning products that are approved by TGA for medical cleaning.
On Time, Every Time
Our cleaners are professionals who love their jobs and very much value their time, so as not to waste it. They will always be punctual and do their work efficiently.
Flexible Hiring Options
Now, you can hire our cleaners for regular (daily/weekly/fortnightly) or one-time cleaning of your medical facility as per your flexible schedule.
Best-in-industry Pricing
We offer the best-in-class medical cleaning Brisbane at the most competitive rates. After a free pre-inspection of your cleaning needs, we will offer a quote that fits both your budget and expectations.
100% Satisfaction Guaranteed
We have a smooth communication system from customer to management to ensure you can easily report your issues and get instant resolution for 100% satisfaction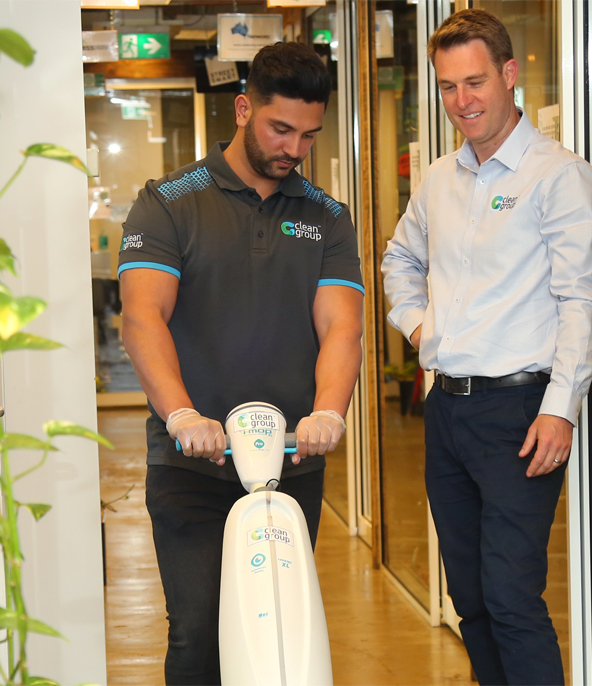 Frequently Asked Questions
---
Clean Group offers a wide selection of cleaning services you can choose from. Starting with routine cleaning, carpet cleaning, internal-external window cleaning, office cleaning, gym cleaning, childcare cleaning, medical centre cleaning, school cleaning and the list goes on. Just check our website to know more.
The cost will depend on how much time, how much material and what type of equipment needed for a cleaner to perform the cleaning that is required for your business. Our friendly sales managers can do a free onsite visit to determine the best price and cleaning program for your premises. Call us now on
Clean Group cleaners are all professional, reliable and well trained. We only employ full-time cleaners. This ensures that the cleaners are committed to high cleaning standards.
Absolutely! We are fully insured. Certificate of our insurances will be mailed to you with our quotation so you can have peace of mind.