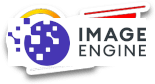 Clean Group Brisbane Covid Cleaning Services
We are a quality-driven cleaning company that uses its years of experience and cleaning expertise to consistently offer outstanding quality services to our customers. Our COVID cleaning services include:
Office COVID Cleaning
Complete deep cleaning plus covid disinfection of commercial offices, big and small. Suitable for all types of offices and business places.
Medical Centre COVID Cleaning
We use hospital-grade disinfectant along with electrostatic disinfection method to provide covid deep cleaning to medical centres & hospitals.
Commercial COVID Cleaning
Book an instant covid disinfection service for any type of business property, from small stores to large government buildings and offices.
Childcare Centre COVID Cleaning
100% safe and guaranteed covid cleaning services for childcare centres by trained and police-checked covid cleaners in Brisbane.
Gym COVID Cleaning
We also provide covid cleaning, routine disinfection services to gyms and all other types of fitness care centres in and around Brisbane QLD.
Strata COVID Cleaning
For the cleaning of large properties, including residential complexes and office buildings, we have a team of specialist strata covid cleaners Brisbane.
School COVID Cleaning
Get your school/college covid safe by utilizing our expert school covid cleaning services offered by trained and professional cleaners.
Warehouse COVID Cleaning
Complete warehouse cleaning solutions to help you keep your storage unit well-sanitised and maintained and safe from the virus.
Vehicle COVID Cleaning
Keep your shared company vehicles and personal care safe and sound with our expert vehicle covid sanitising services in Brisbane.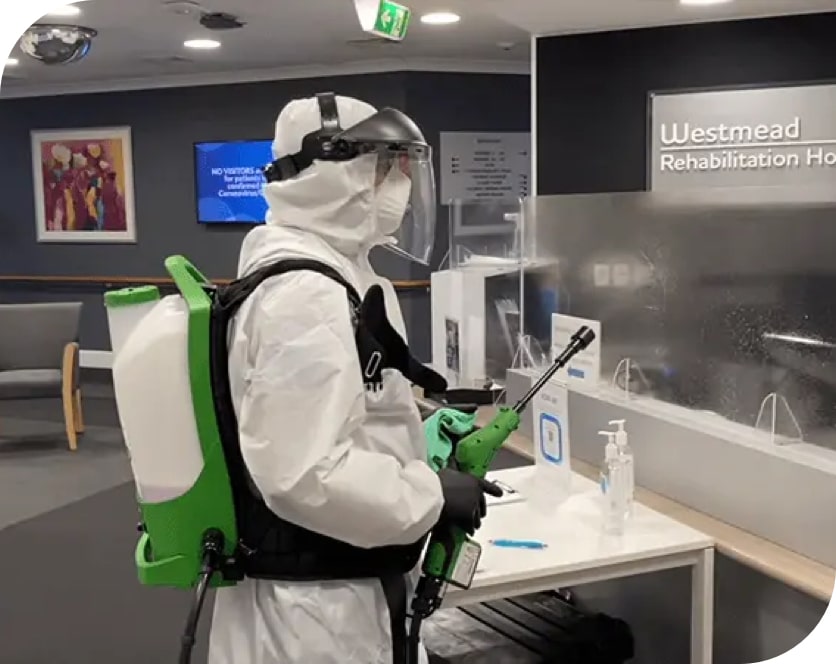 Why COVID cleaning is important for your Brisbane business
COVID-19 is everywhere. More than a thousand businesses and even more people have been affected by the virus. To make certain that your business is not next, book a professional Brisbane covid cleaning service today.
Once COVID reaches your premises, it will not just make your people sick but also can force you to shut your business doors for at least a few weeks, which can damage both your financials and market. Moreover, covid can significantly damage your workers' ability to give their 100% to the job, which is why RIGHT NOW is the best time to place a disinfection wall between covid-19 and your business.
How it works
It's simple really. Once you book a service with us, we'll visit your place as per a predefined schedule at a fixed time and deep clean your entire facility as well as disinfect all high traffic places and touchpoints such as doorknobs, lift buttons, handrails, light switches, tabletops, counters, desks, toilets, taps, phones, keyboards, and more. This will ensure the virus doesn't enter your premises, and if it does, can't do much damage. This will also help contain the spread of infection in your business facility.
Ideally, we recommend daily cleaning of business facilities with high foot traffic along with disinfection multiple times during the day.
Contact us today to book a covid cleaning service anywhere in Brisbane
The Clean Group Difference - Certified COVID-19 Disinfection Cleaners Brisbane
Our covid cleaning and disinfection services Brisbane will offer a number of benefits to your business and people, including:
Guaranteed safety from the virus for up to 30 days (from one treatment)
Suitable for both proactive and reactive cleaning purposes
TGA-approved chemical certified to kill up to 99.99% of germs on surfaces
Post-cleaning inspection to ensure the desired results are achieved
Disinfection completion certificate for every covid cleaning job
Affordable but highly effectively cleans
Emergency covid cleaning available 24x7
Fast disinfecting process - office ready to use within 30 mins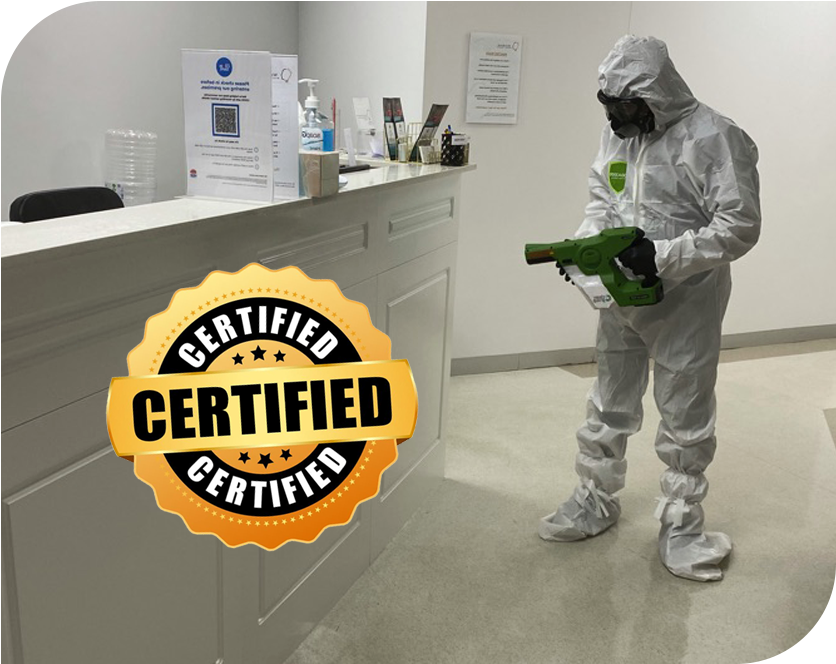 Why Clean Group is the best choice for COVID Cleaning Brisbane
Clean Group is one of the first cleaning companies in Australia to use a hospital-grade TGA approved disinfectant proven to kill the Covid-19 virus and offering up to 30 days of protection for surfaces in commercial facilities.
TGA-approved Chemical
Our team will use the most effective disinfectant chemical that is approved by TGA and is proven effective to kill the virus responsible for the covid-19 disease.
Safe & Effective
We follow proper safety guidelines including using PPE kits and gloves to ensure the safety of our cleaners and your staff and not spread the infection.
Trained COVID Cleaners
All our cleaners are certified and trained professionals who have completed the health department's covid cleaning training and are licensed to kill (the virus).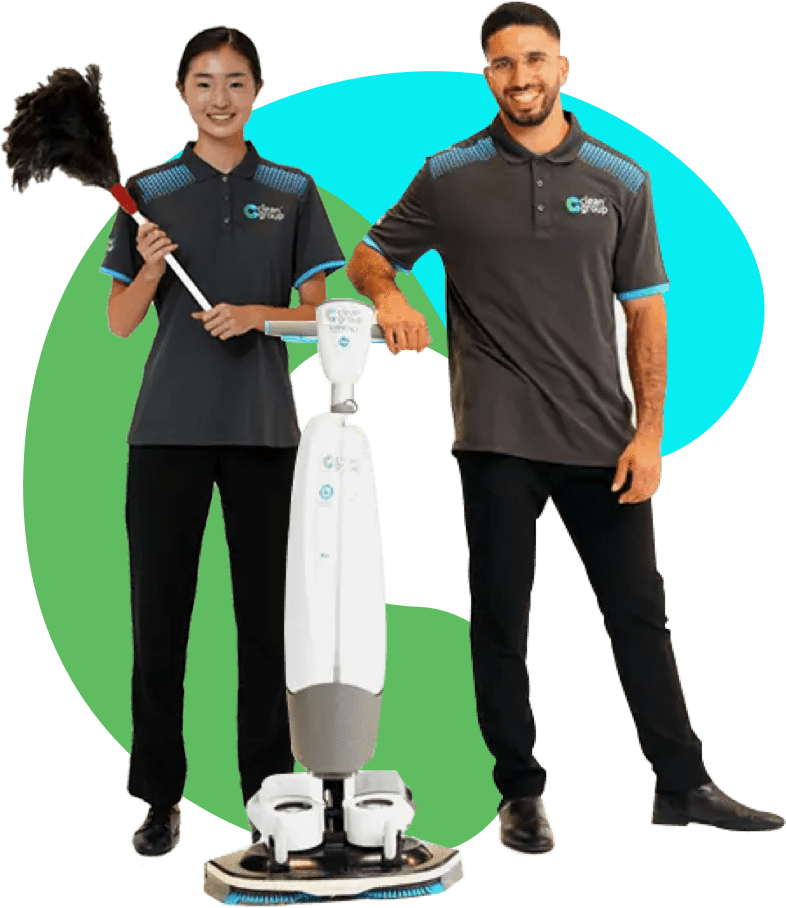 Customised Solutions
To make the best quality covid cleaning accessible to every business, small and big, we offer tailored solutions based on your specific needs and budget.
24/7 Services
In the light of covid pandemic and increasing demand for covid cleaners, we are providing covid cleaning and disinfecting services 24 hours, 7 days for now.
Covid Decontamination Specialists
Whether you are looking for proactive covid cleaning or want full decontamination of your facility, we can offer guaranteed best service at the lowest price.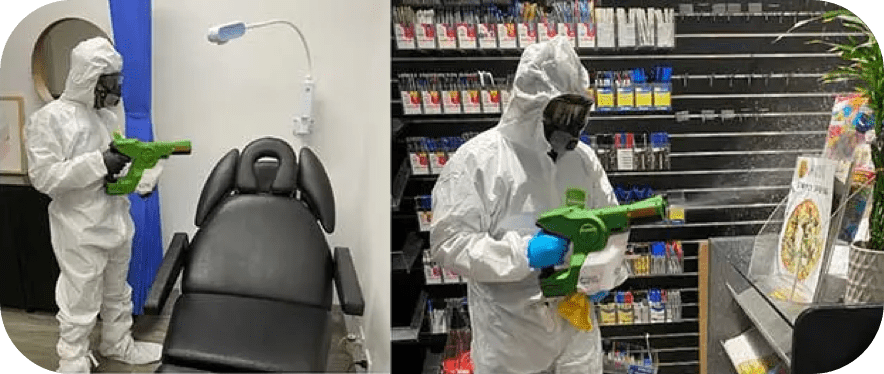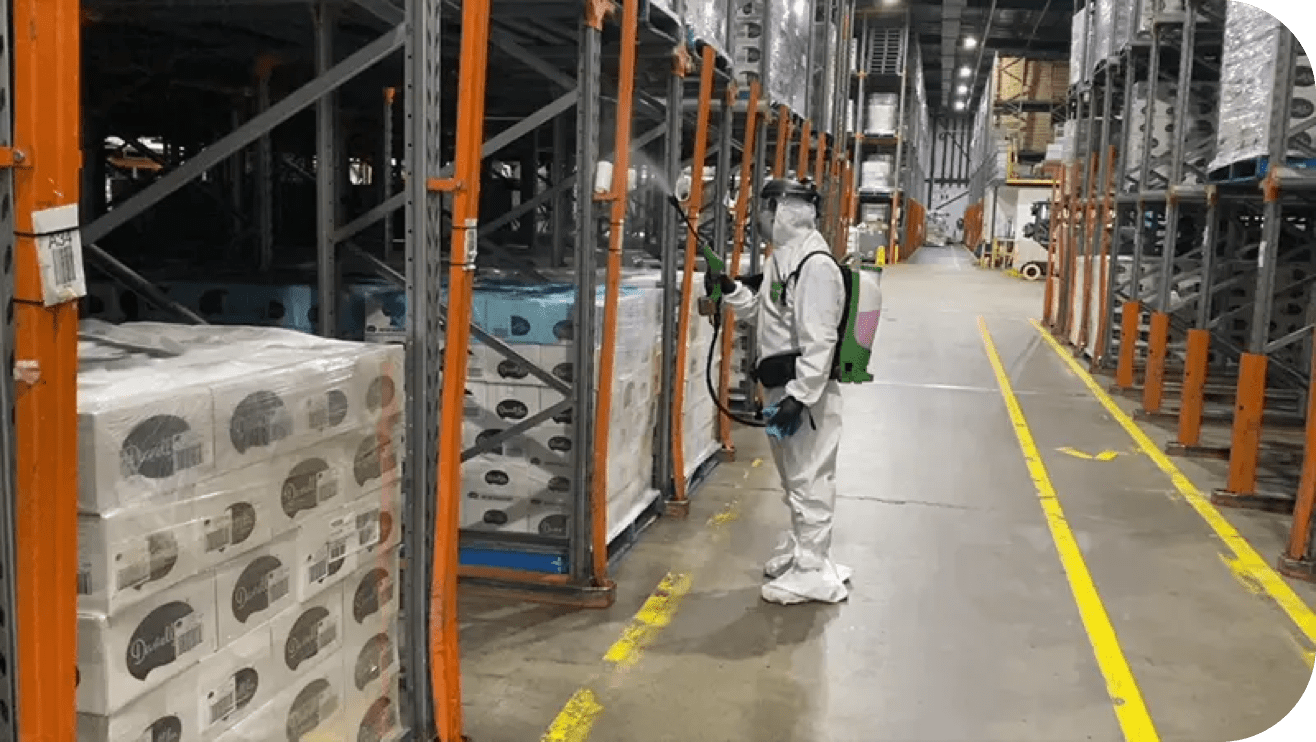 Electrostatic Disinfection Tech (Up to 99.99% Effectiveness)
The most innovative and advanced way of killing the coronavirus is here. Our Electrostatic Disinfection method is proven to kill up to 99.99% of germs from surfaces, including the coronavirus.
Fogging is not an SWA-recommended method of commercial disinfection. Clean Group's electrostatic disinfection tech is in accordance with Safe Work Australia guidelines and involves the use of a TGA-approved disinfectant chemical for the most powerful virus protection. The electrostatic machine allows our cleaners to quickly cover and disinfect large areas, including inaccessible areas and surfaces like corners, behind and under furniture, etc. The electronically charged sanitiser particles will effectively cover the entire surface, catching and killing germs on the way. It takes not more than a few minutes for the chemical to finish its work and automatically dry so that you can resume your work.
Our COVID cleaning disinfectant is effective on all types of surfaces and certified friendly to people and the environment.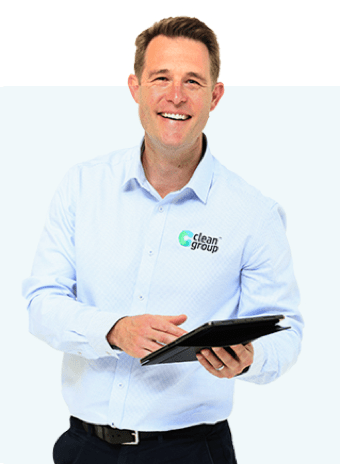 CONTACT US TODAY TO BOOK A COVID CLEANING SERVICE BRISBANE at the most competitive rates. Reliable & guaranteed!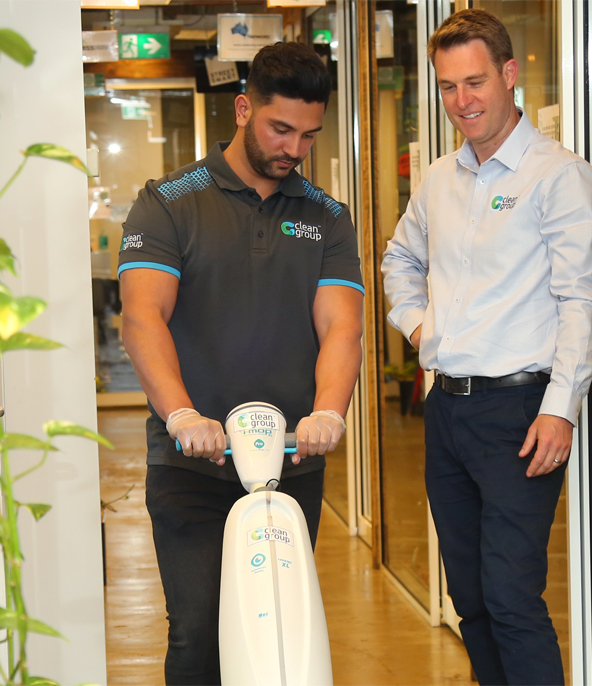 Frequently Asked Questions
---
The cost of a covid deep cleaning service in Brisbane will differ from one company to another. It usually depends on the cleaner's expertise, experience, the type and size of the property, among other things. Also, the covid cleaning cost might go up depending on whether or not a confirmed case has been found on the property. At Clean Group, we charge a basic hourly rate of $500/hr for covid deep cleaning in Brisbane. Given that a typical deep cleaning job would take around 2-3 hours, the cost of covid cleaning should be around $1000-$1500 for a standard job. However, for properties with special cleaning needs, complex structure or that has been exposed to covid-19 can go up significantly. Contact us today for a free covid deep cleaning quote on call.
Yes. As one of the top cleaning companies in Brisbane, Clean Group is authorised to provide covid deep clean and disinfection services to businesses in the region. We use trained and certified cleaners who know how to properly deep clean a property for covid, ensuring the full safety of your workers and office visitors. They use cutting-edge tools and TGA-approved chemicals along with the most advanced electrostatic disinfection tech to achieve a high virus removal rate. Our cleaners are all police-checked and fully insured professionals. They are certified to offer covid-19 deep cleans to offices, gyms, schools, childcare centres, hospitals and many other business facilities.
Clean Group Brisbane is a team of expert and trained covid-19 cleaners. We have completed the health department's covid cleaning and disinfection training and are equipped with the best in class resources, tools and TGA-approved supplies to provide covid deep cleaning services with guaranteed results. Our electrostatic disinfection method has a 99.99% virus removal rate and is certified effective against the virus that causes covid-19 disease. We only use eco-friendly products and TGA-approved chemicals that are highly effective in germs removal and will ensure the safety of your loved ones. Also, Clean Group offers free estimates along with guaranteed lowest price covid deep cleaning services in Brisbane.
Yes. Cleaners being an essential part of every physical establishment are allowed to work even during the pandemic. This is because deep cleaning is found to be an effective way to help curb the virus spread and ensure the safety of people in commercial facilities. Our covid cleaners are helping local businesses in Brisbane with their deep covid cleaning needs at affordable rates so that they can continue operating in a safe and germ-free environment. COVID deep cleaning is performed by trained cleaners who will thoroughly clean and disinfect a commercial facility to make it free of germs and the covid-19 virus. Cleaners, however, must be authorised and recognised by respective authorities to provide covid cleaning services in Brisbane.
Yes. You can call Clean Group at 07 3085 4358 or visit our website to request a free on-call estimate. Whether you are looking for standard commercial cleaning services or want us to deep clean your premises for covid, we are available 24/7 to help you with all kinds of cleaning requirements. Just contact us and schedule a cleaning service as per your suitable timings. We bring our own tools and supplies so you can sit back and relax while we take care of your business cleaning needs. Clean Group provides a complete range of commercial cleaning services in Brisbane, including covid disinfection and deep clean.