Sydney's Leading Strata COVID Disinfection Services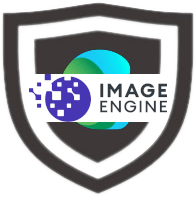 Complete Strata COVID Cleaning Services
with Certification
Leave Your Worries to Experts!!
With multiple residents and visitors constantly coming and going, strata managers and body corporates are especially vulnerable to Covid outbreaks.
An owners corporation is always hyper-vigilant about the ramifications of exposure to coronavirus, no matter where they are located in the Greater Sydney region. This is why so many strata managers are looking for reliable strata Covid cleaning Sydney to help them win the battle against this insidious virus.
With so many variables at play in a strata scheme scenario, many lot owners are asking their strata committee to proactively prepare for a Covid breach in their building. Clean Group's professional Covid cleaners are now performing more precautionary Covid cleaning services than they are emergency Covid cleaning jobs.
Keeping your strata buildings safe from Covid is currently a challenge that our team of infection control experts is ready for 24/7 as this pandemic continues to wreak havoc across Greater Sydney and New South Wales.
Get a Free Onsite Quote
Stay Ahead of Covid - Go With the Strata Cleaning Experts
No other cleaning company has Clean Group's proven track record of providing quality strata Covid cleaning services for owners corporations right across the Greater Sydney region.
Ask us about arranging a free on-site assessment of your building and a free quote.
Our strata Covid cleaning teams are trained in decontamination and infection control.
The TGA-approved hospital-grade disinfectants we use are proven to kill coronavirus.
Our Covid cleaning and disinfection process complies with NSW Health guidelines.
Our Electrostatic Virus Shield disinfection technique ensures total decontamination.
Our strata Covid cleaning service is backed by a 100% satisfaction guarantee.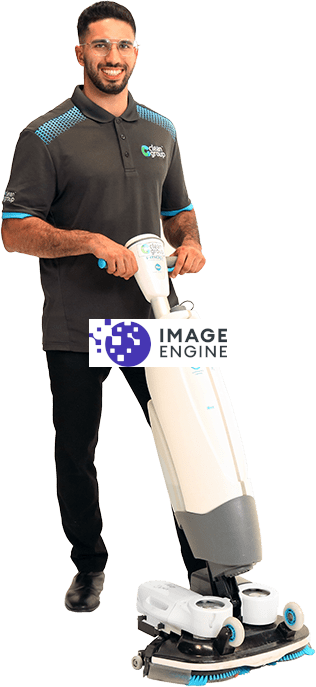 How Effective is Clean Group's Strata Covid Cleaning Service?
Clean Group's strata cleaning experts perform our strata Covid cleaning and disinfection service in two separate stages to ensure complete sanitisation of your building:
Stage 1: Standard Professional Clean - The first stage involves a comprehensive clean of the building to remove dust, dirt, and other debris from all common areas, including entrances, lobbies, elevators, pool areas, change rooms, games rooms, gyms, stairwells, storage areas, and garbage rooms.
Stage 2: Complete Decontamination and Sanitisation - For the second stage, our teams perform a deep clean and sanitisation, focusing on high touchpoint and high traffic areas and fixtures, including security keypads, door handles, lift buttons, mailbox areas, and communal furniture.
Clean Group's strata Covid cleaning service eliminates up to 99.99% of viruses from your building and also provides ongoing protection against the spread of infection.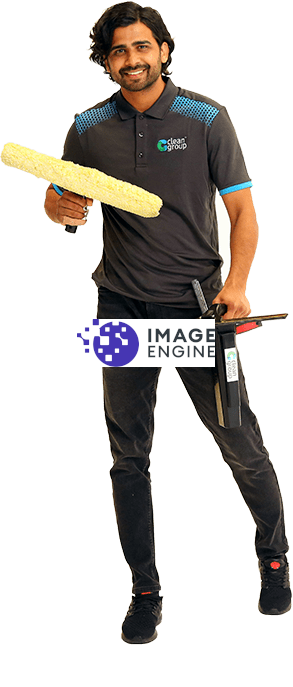 Advanced Cleaning Solution - Electrostatic Virus Shield Technique
Clean Group's advanced Electrostatic Virus Shield Disinfection technique uses the latest electrostatic sprayer technology along with TGA-approved hospital-grade sanitising agents to completely eradicate all traces of coronavirus from your building.
A highly specialised sprayer emits electrically charged sanitiser particles which are able to achieve much more effective coverage of the surfaces targeted by our cleaners. Our technique ensures hard-to-reach places and gaps are sanitised quickly and efficiently, including behind door handles, inside carpet fibres, under tap handles and inside air vents.
Be Proactive With Precautionary Covid Cleaning
Considering the high volume of foot traffic from residents and visitors, strata buildings can be especially vulnerable to a Covid outbreak, even during lockdowns. A scheduled precautionary Covid cleaning service is an effective way to minimise the chances of an infection spreading through a building.
Our expert cleaners focus on high-traffic areas and high touchpoint surfaces.
We perform a standard professional cleaning followed by our sanitising process.
We train all our Covid cleaners in the most effective infection control methods.
The hospital-grade cleaning products we use are all safe for the environment.
Our advanced electrostatic sprayer equipment ensures fast, efficient decontamination.
Offers strata managers an affordable option of protecting their buildings against Covid.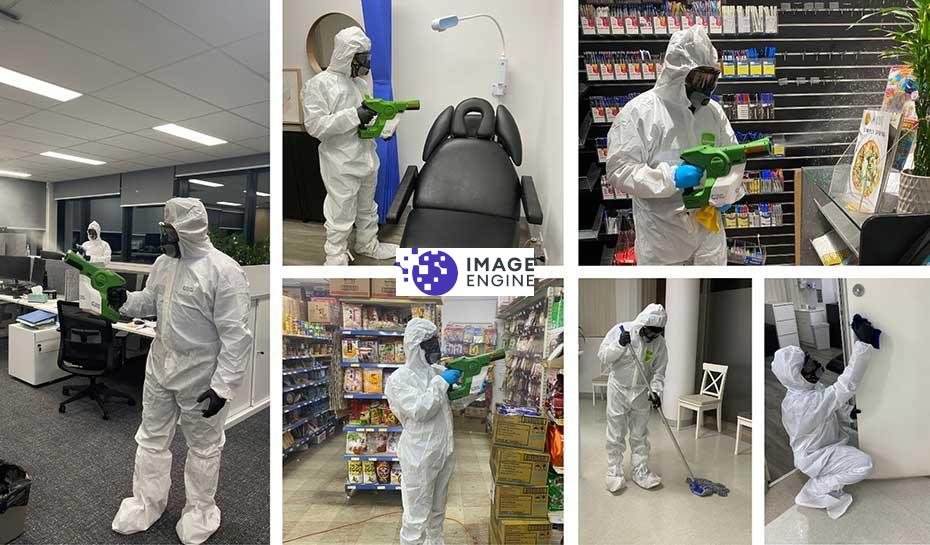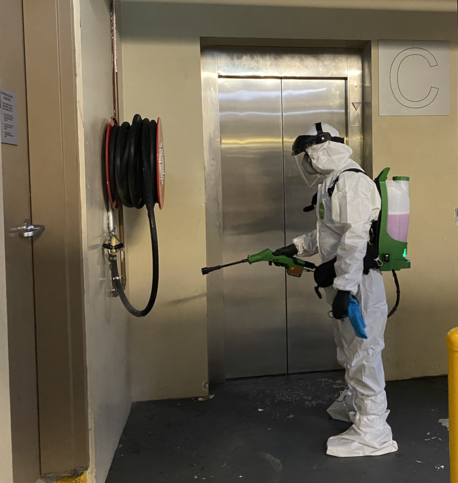 Call Now to Schedule a Free Onsite Assessment!
Protecting your residents and guests from Covid doesn't have to be a drain on your time or budget.
Every day, body corporates all over Sydney trust Clean Group's strata Covid cleaning service to help stop the spread of this highly infectious virus in their buildings.
Get in touch with our friendly and knowledgeable customer team to arrange a free onsite assessment and a free quote.
Get a Free Quote