Certified Office COVID Disinfection Services in Sydney
Complete Office COVID Cleaning Services with Certification
Leave Your Worries to Experts!!
As we enter the third phase of the COVID-19 pandemic, the demand for expert & affordable office COVID cleaning is continuously increasing. Clean Group is helping businesses stay clean and COVID-free by providing emergency and complete COVID office cleaning services at affordable rates in the Greater Sydney region.
Clean Group's expert COVID cleaners will ensure your workplace is safe, protected and germ-free through routine cleaning and disinfection. We use the best COVID disinfection methods along with TGA-approved, hospital-grade disinfectants to achieve all-around protection for your office staff and visitors.
Call us or use the button below to book a team of expert COVID cleaners. Our staff is trained in infection control and will make your office premises safe again.
Get a Free Onsite Quote
Sydney's Most Trusted & Experienced Office COVID Cleaners At Your Service
COVID-19 Deep Office Cleaning with Certification
We at Clean Group have been helping Sydney businesses stay clean and germ-free for the past many years. We provide COVID cleaning services in accordance with the Safe Work Australia (SWA) guidelines, and our disinfectant product is TGA-approved to be effective against the coronavirus.
After we clean and disinfect your place, our cleaners will provide a COVID cleaning checklist and certification to confirm that your property is safe from the COVID-19 virus. Get quick approval from your respective health department to reopen your Sydney business in a COVID-safe environment.
As a full-service COVID cleaning company, we provide COVID cleaning solutions and services to businesses in a range of industries, including offices, gyms, hospitals, retails stores, malls, cinemas, schools, childcare centres, hotels, restaurants, vehicles, and warehouses.
We are a team of expert COVID cleaners who are highly trained in infection control. Even before COVID, our team had been offering infection control and disinfection services to Sydney businesses in industries like hospitality and medical. Our decontamination services are fully compliant with NSW health department guidelines, and we use TGA-approved, hospital-grade disinfectants that are found to be effective against COVID. Clean Group's
Electrostatic Virus Shield Disinfection method ensures up to 99.99% of virus removal and provides a full surface coverage, including corners.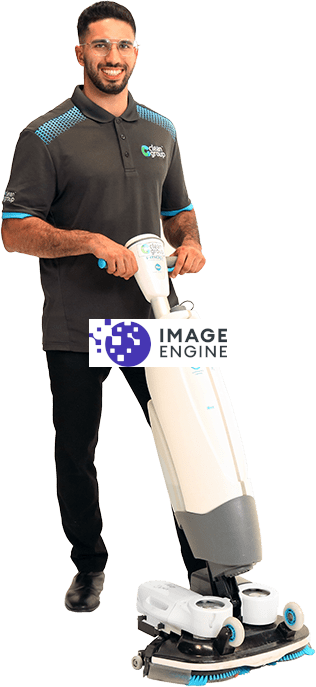 Our Office COVID Cleaning Process
Our unique, meticulously designed COVID cleaning process will help you achieve a COVID-free workplace in no time. We are committed to helping you protect the health interest of your employees and visitors through an expert cleaning service that matters.
We won't just wipe surfaces or spray some alcohol here and there and be done with it (this is why most other cleaning companies do). We are different and thorough. Our cleaning process includes deep cleaning followed by complete disinfection.
Thorough Cleaning First, we will clean the entire place, including surfaces, hard floors, kitchens, toilets, bathrooms, cabins, offices, etc. to remove all traces of dirt and debris from everywhere. This is a necessary step to ensure complete virus removal in the next stage.
COVID Disinfection At this stage, we systematically disinfect all surfaces, with a focus on high-traffic areas, touchpoints and other frequently used places, such as bathrooms, toilets, etc. to remove all traces of the virus using a TGA-approved disinfectant.
Our disinfection method will kill all known and unknown viral pathogens on your premises, making your place safe again and prevent any chances of reinfection.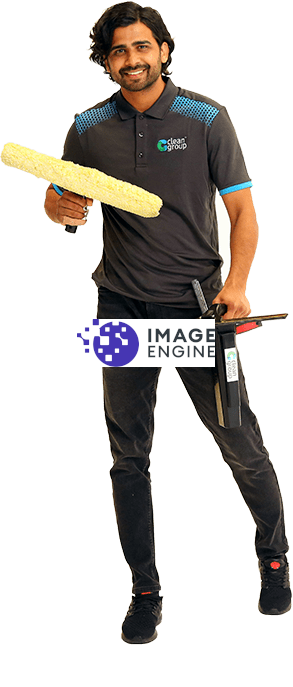 Will your office be completely virus-free after COVID-19 cleaning in Sydney by Clean Group?
Yes. We provide a full satisfaction guarantee with our cleaning work. We use the most advanced Electrostatic Disinfection technique that is found to provide 100% surface coverage and can remove up to 99% of germs, including coronavirus. Once we are done, your office premises, including surfaces and high-traffic areas, will be completely free of germs. In fact, we provide a Certification to confirm that your premises are fully sanitised.
Getting your workplace clean and germ-free is our primary goal, and we'll do our best to achieve that. Trust Clean Group to provide efficient and high-quality COVID removal services for your office premises in Sydney.
Do show the certification when seeking approval from concerning authorities to reopen your offices in Sydney. It will speed up the process.
Get a Free Onsite Quote
We Use Electrostatic Disinfection Method for Complete Virus Removal
Many of our medical and healthcare sector clients keep their centres and premises safe from Covid by scheduling a regular two-stage precautionary Covid cleaning service.
Clean Group's proprietary Virus Shield disinfection method involves a unique combination of an advanced Electrostatic Sprayer and a powerful commercial, TGA-approved sanitiser, which together are found to be effective against the SARS COV 2 virus.

The electrostatic sprayer machine is used to transmit electrically charged sanitiser particles, which have an amazing 100% surface coverage and will cover the entire surface, including the backside and corners, effectively removing all traces of pathogens, germs and viruses.

Our Electrostatic Virus Shield disinfection method is found to be even more effective than disinfection fogging, which is not an SWA-recommended method for commercial fogging. Not only is our method more effective and advanced but also it costs less for sanitising large commercial premises and buildings.

If you care about the health and safety of your office workers and want to keep them safe from the coronavirus, take the right decision. Call us right away to hire the best office COVID cleaners in Sydney for outstanding results.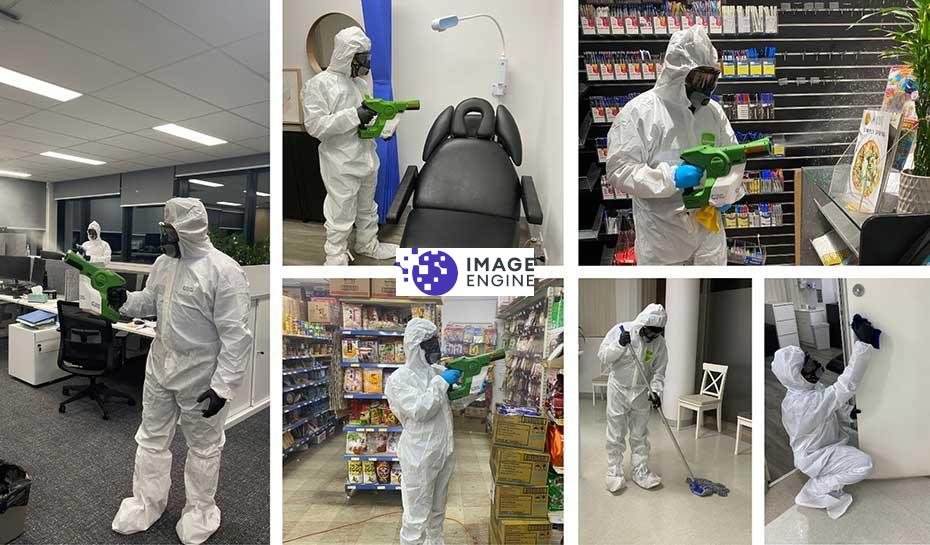 Office COVID Cleaning Services Sydney
As they say, prevention is always better than cure. Even if a COVID case has not yet been reported on your property, it's recommended to routinely conduct precautionary COVID cleaning and disinfection of your Sydney offices to keep your premises free from the virus and stop the spread of the infection.
Precautionary COVID Cleaning involves routine cleaning and touchpoint disinfection on your premises with the purpose to prevent the spread of coronavirus. This includes a standard cleaning of all office areas, followed by complete sanitisation of high-touch surfaces, including lifts, doors, staircase & handrails, reception areas, meeting rooms, computer keyboards, toilets, bathrooms, etc.
Full Office COVID Decontamination is only recommended for places where a confirmed or suspected COVID case is reported. It involves full facility decontamination from top to bottom. This helps remove the virus infection and make the place safe again to use. This type of COVID cleaning is mandatory for commercial premises with a confirmed or suspected COVID case in some regions of Australia.
Why Clean Group is the best company for Office COVID Cleaning Services in Sydney
At Clean Group, we care about keeping your offices clean without disturbing your work. Our team of trained cleaners is just one call away to provide the best quality COVID cleaning service for your office in Sydney.
Trained Cleaners
We have in-house cleaners with training in infection control and experience in delivering quality COVID-19 cleaning services with guaranteed and safe results.
Advanced Equipment
We use the most cutting-edge set of cleaning supplies, tools and equipment along with protective gear like PPE, masks and gloves for our cleaners to ensure safe COVID cleaning.
TGA-approved Disinfectant
Our electrostatic disinfection method is used along with TGA-approved, hospital-grade disinfectant that is not only effective in killing the virus but also is totally safe for humans.
Complete Office Sanitization
We follow the most advanced COVID cleaning method and use trained cleaners whose keen eye will not miss even a single place in your office and remove all traces of the virus.
Fits Your Budget
Our all-inclusive office COVID cleaning Sydney services are designed to be affordable so that every business, small to big, can afford the best quality cleaning in their budget.
How to Stop the Spread of Coronavirus in Your Office
To stop the COVID-19 infection from spreading in your office, both precaution and disinfection are mandatory.
To prevent the spread of the virus, offices in Sydney must ask their employees, visitors and staff to follow a few basic guidelines. These include wearing a mask, maintaining social distancing, and routinely cleaning hands using sanitiser or soap-water solution. In addition, organisations should try and ensure that all their staff and customers are fully vaccinated, which will help contain the virus infection.
Besides prevention, treatment (disinfection) is the only way to keep safe from the coronavirus. Disinfection refers to the process of removing the virus from a variety of surfaces, including frequent touchpoints and high-traffic areas, using disinfectant products.
For offices, it is recommended to get their premises thoroughly cleaned and disinfected on a routine basis, ideally on a daily basis. This involves disinfecting touchpoints such as door handles, lift buttons, handrails, desks, computer keyboards, phones, faucets, toilet seats, washbasins, and others to remove any and all traces of the virus as possible.
Make sure to hire an expert Office COVID-19 Cleaning service for routine cleaning and disinfection of your business premises in Sydney. Contact Clean Group for a free quote.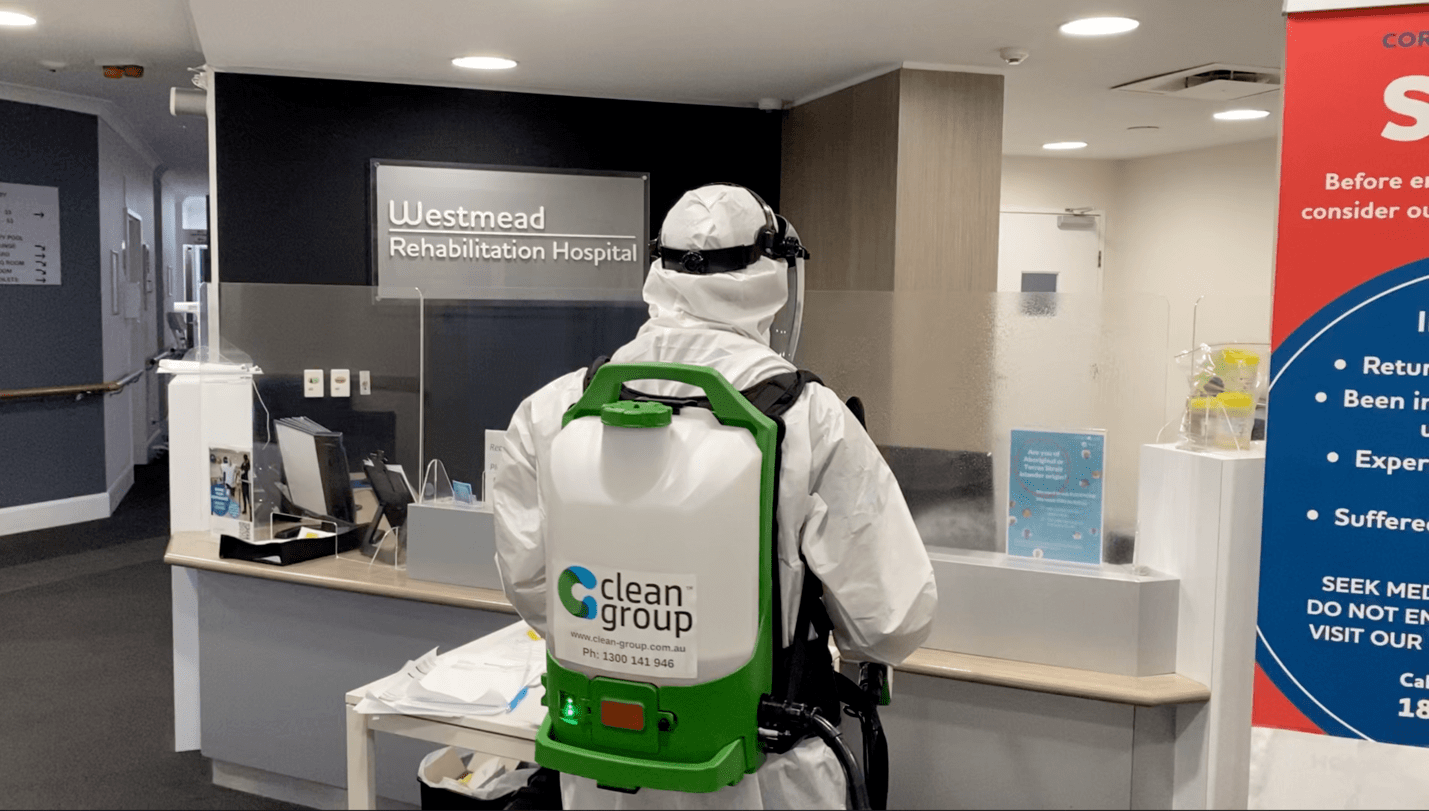 Call Us to Book Professional Office COVID Cleaners!
Have a question? Talk to our expert customer service team by using the contact option below. Request a free quote or book an onsite meeting to get all your doubts cleared and questions answered by our experts
Clean Group's medical centre Covid cleaning services are available 24/7 to fit in with your hours of operation.
Get a Free Quote