Everything you need to know about NDIS cleaning in Sydney, NSW
What is NDIS?
The National Disability Insurance (NDIS) program was established to help people with disabilities access the opportunities that would help them lead normal and productive lives. The primary objective of the National Disability Services is to help those with disabilities live their lives according to their abilities. The program helps in the provision of secure living accommodation for people with disabilities that enable them to gain independence, improve their quality of life and attain greater self-worth. The primary goal of the NDIS is to improve the quality of life of all people with disabilities by ensuring that they have access to the benefits and services that are needed for them.
NDIS Cleaning Services
Support for eligible participants living in supported independent living arrangements and who require cleaning services to help prevent the viruses and maintain home cleaning. This support item can be used for professional cleaning of a residence of an NDIS approved client. The item is only claimable once per participant.
For many people, the phrase "cleanliness is next to godliness" is a motto they live their life by. But for some people with a disability, cleaning, gardening or completing household tasks can be extremely difficult – and in some cases, impossible.
NDIS participants can use their funds to hire a gardener, cleaner or handyman. What you can or can't fund depends on your particular situation and what's in your NDIS plan, so there's no single answer to this question.
That said, there are some basic things to keep in mind, and some handy hints that can make the decision as easy as possible for you. Here's our guide in hiring NDIS Cleaning in Sydney.
The NDIS can provide funding for support with gardening, cleaning services and home maintenance. If you're unable to perform a task, like completing home repairs or mowing the lawn, because your disability makes it impossible, then we at Clean Group- NDIS Cleaning Service is ready and we'll make this possible for you.
The NDIS includes support with gardening maintenance, cleaning and home maintenance under the support category Assistance with Daily Living in your NDIS plan.

If you have a budget allocated to this category in your NDIS plan, you can use it for support, provided you meet the criteria outlined in the above section. It's also worth noting that, as Assistance with Daily Living is a 'core support', you can use this budget in other core support categories (Transport, Consumables and Assistance with Social & Community Participation) as well.
Many factors the NDIS puts into consideration before deciding to fund your plan. The support must be reasonable and necessary and help you in achieving your goals, purpose, and aspirations.
If Assistance with Daily Living funding is included in your plan, you will be able to hire support to assist you with cleaning, gardening, laundering, and home maintenance.
If laundry cleaning is not included in your NDIS plan, these simple washing machine cleaning tips can come in handy.
Our Locations: Clean Group, Clean Group Sydney.
Clean Group as an NDIS Cleaning Provider
Because a lot of cleaners, gardeners and handymen are competing businesses, the majority are likely not to be registered with the NDIS. They may not be aware of the NDIS or haven't gone through the process of registering with the NDIS, so it is vital to consider carefully and choose the one who's an NDIS registered provider like us because registered ones know the way of cleaning that is best for you. There are many cleaning providers out there but not all of them are experienced enough to clean NDIS participant's premises. This is why it is more advisable to hire experienced NDIS registered cleaners who have the experience to help you with your cleaning needs and it's important to understand the many NDIS rules and regulations.
Clean Group- NDIS cleaning services include:
cleaning the bathroom and kitchen
changing the sheets on your bed
dusting and wiping down surfaces.
Kitchen cleaning, including sinks, taps, benches, microwaves
bathroom s including toilets, showers, and baths
Spring cleans
Furniture dusting and wiping
defrosting fridge
changing the bed sheet/s
Disinfection
The first thing you should look for when hiring an NDIS cleaning provider is what type of services he provides for NDIS participants. Many hired cleaners to do just spot cleaning, which means that they clean a specific area and may not do any damage. You should make sure that you hire a cleaning provider that provides comprehensive NDIS Cleaning services. Spot cleaning might be all you need for a specific area, but if you need some special assistance you could call our NDIS professional cleaners.
NDIS cleaning services include everything from dusting to polishing. For office and residential owned by NDIS participants, you might need an NDIS professional to do the job. If you are trying to increase the value of your property and its appeal, you also need to hire a professional crew who can complete the work properly and without doing any damage to your property. Typically removing crumbs and keeping the floors clean is easy to maintain but hiring an NDIS cleaning provider is often a good idea because it helps you avoid the danger of injuries.
It's a good idea to research several cleaning companies in your area before you hire one to help you with your daily activities. One way to do this is by asking your co-participants what they like or don't like about their cleaners. By talking to people who already have a cleaning company you can get an idea of how things go and whether or not the company provides a good service. This is important because it will help you make sure that you hire someone who does a good job because if you don't, you could find yourself paying for something that you didn't expect.
It might be tempting to hire one person in your company to do the job, but that will probably not be a good idea. There are just too many risks of getting the wrong person or having a quality product produced. If you don't take the time to research your options then you could end up with a poorly trained, over-priced, or even worse, sub-par product. It might be better to hire an NDIS registered cleaning company instead of trying to find the right one on your own. This ensures that your office will be kept clean and professionally maintained at all times.
Advantages of Hiring NDIS cleaning Experts
Our NDIS registered cleaners for special and disabled ones are always there to do their job so that our NDIS clients' homes are spotless and comfortable enough. These people care deeply about your hygiene and keep themselves updated on various techniques that can help to maintain cleanliness in your residential properties. They can do a better job than any hired individual can do. Our people work under the guidance and training of licensed professional cleaners who have years of experience in doing various jobs related to the NDIS cleaning field. Always good to hire a specialist to get all the work done at a quicker pace without any extra work.
The service of cleaning is very important as it keeps our house free from all the dirt, germs, bacteria, mildew, moulds and pests. The most important advantage is that a specialist does not waste time and effort while cleaning because they know what has to be done and where. They know exactly where to start the work from and what has to be done first. Such a specialized approach saves time, energy and money. Most unregistered cleaning providers who come to the participant's house do not know where to start their work and leave everything to the specialist.
In case if a typical cleaner does not finish the job within the given time frame, then he will have to start again from the beginning. This means extra money, effort and time. If the home is not thoroughly cleaned, the risk of diseases such as cockroaches, ants and fleas increases. Other harmful insects also breed in uncleaned houses. The risk of allergic reactions increases also.
If you hire such cleaners, it becomes easy for them to clean all around the house from top to bottom. They will do all the hard work, leaving you free to do your other jobs. Before hiring a cleaning provider, check whether the company has been registered as a specialist or not. This ensures that the cleaning company is trustworthy and has undergone all the necessary training to become an expert NDIS cleaner. Our cleaning company has all the necessary equipment to make the work of cleaners easy. For instance, our workers use quality cleaning types of equipment with special attachments to clean windows and glass doors.
You may search our NDIS website that provides information about our cleaners. Our NDIS website also contains customer reviews written by our previous NDIS customers.
It is important to check whether the professional cleaners have the required skill to carry out the work or not. Sometimes, they may be able to clean the surroundings but cannot handle the task of maintaining accessibility. You may also have to pay extra for their assistance as they may be hired on a regular basis.
We at Clean Group make sure that our experts carry all the necessary equipment for the job. They are able to identify all the areas of the house that are affected by disfigurement. In addition, they are able as well to make quick decisions regarding what things should be removed or cleaned. Remember that time is very important and you cannot afford to waste it.
Most disabled people do not like to be disturbed while performing a simple job. In such cases, our cleaners will be the best person to step in. Hiring our professionals can prove to be affordable.
NDIS Cleaning provider in the midst of the pandemic
There are many benefits of hiring a cleaning service in the midst of a pandemic. The first advantage is that you will be able to enjoy all the benefits of our NDIS cleaning service at your premises, even during the times when there is an outbreak of the common cold or flu. In fact, you can also enjoy cleaning services all through the year as well. Another benefit of hiring our cleaning service in the midst of a pandemic is that you can get a hold of experienced cleaners who are well trained and well equipped with the required skills for handling the cleaning services at your premises. Hiring us in the midst of a pandemic is that you will also be in a position to concentrate on other important aspects of your daily activities during the times when your residential home is not totally cleared.
In fact, there are several advantages of contracting our NDIS cleaning service in the midst of the pandemic when compared with normal times. For instance, during such periods of poor hygiene, there is a high possibility of virus contamination and hence there is a possibility of the spread of the disease from one person to another. On the other hand, during normal times, most people tend to overlook the fact that there is a high possibility of bacterial contamination and hence there is a risk of infection. Hence, experienced cleaners for disabled ones can help to protect you and the people you live with against such risks.
On top of the advantages of providing our cleaning services at your place and this cleaning service is cost-effective. Therefore, if you wish to experience the benefits of this NDIS Cleaning Service, you must start contacting us. Clean Group is an experienced and reliable cleaning company that offers this service. With the help of our cleaning service, you will be able to make your home or your premises free from any sort of risk and contamination and hence it will help to boost your reputation as well as save your hard-earned money.
Tips for cleaning with a disability
Regular house cleaning can take a toll on your body, especially if you are not using electric tools to help you out. For people living with a disability, it can prove to be twice as hard. These house cleaning hacks can prove to be useful. Fortunately, Clean Group has solutions available to make the task more manageable:
Invest in smaller cleaning tools
Home cleaning tools like vacuum cleaners can be heavy and difficult to lug around. I recommend buying smaller cleaners that can do just as good a job without putting a strain on your body. If you can afford it, buy multiple cleaning tools that you can store in different areas around your house so that you don't have to carry anything from one section to another.
Use a dishwasher where possible
Dishwashers are mainly used to clean regular dishes but they can also be used to clean things like mouth guards, shower seats and other small tools that you have. Just take care not to overload it and always check if the materials you are cleaning are dishwasher-safe.
Plan your cleaning schedule
To minimise the time spent standing up, you can space out your cleaning over a period of days. Focus on different sections each day and stop when you feel like your body cannot handle the pressure anymore.
Invest in quality cleaning products
High-quality cleaning products can actually cut your cleaning time down significantly. After spraying an oven cleaner, for example, wait for some time and let the chemicals break down the grease before you wipe. The only con with this is that some chemicals can be dangerous to your health so take note of that when you are shopping around for cleaning products.
Enlist the help of a professional
If you find that regular house cleaning is enough work for you, We highly recommend our NDIS professional cleaning service for the bigger jobs.
Conclusion
Cleaning with a disability is not easy but it can be done if you downsize your equipment and plan your cleaning schedule properly. There's always the option to call a professional if you need extra hands.
Clean Group- NDIS Service Agreement, Ndis Price Guideline and Invoice
Invoice at an hourly rate, Clean Group uses an hourly-rate system, our invoice clearly states how many hours our expert cleaners worked and at what hourly rate. We don't add on additional costs If a job involves any incidental costs. We invoice correctly, the NDIS has very specific requirements for invoices. Make sure that there's no missing information or that has been filled out incorrectly. We ensure that everything is clear and computerized so it isn't misinterpreted. Clean Group is registered in the NDIS portal for providers so we could send invoices easily to our NDIS participants Agency managed.

Clean Group- NDIS provider portal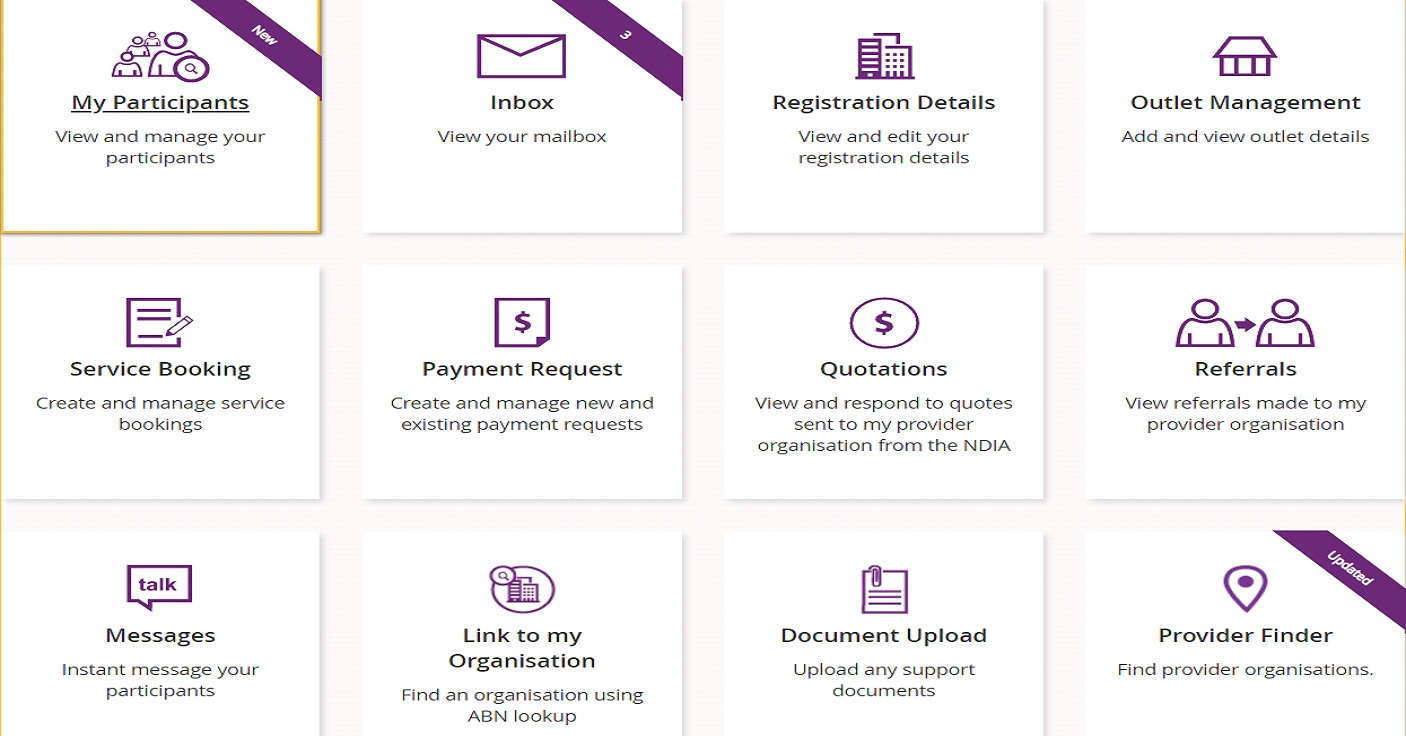 NDIS Cleaning Service Agreement – a service agreement is just a simple written contract that states what services will be delivered, why and at what price. It's always a good idea to set up a service agreement with any NDIS participants that we engage with so that they will feel secure. Clean Group follows the NDIS price guide, we attached the link of the NDIS price guide on the Service Agreement so that the NDIS Clients could easily direct to the NDIS price guide page. The NDIS regulates the maximum hourly rate that we charge. The NDIS Price Guide helps you find the maximum rates that we can charge you and provides you with a 'support line item' that a participant will use to claim the payment from their funding pool.
Eligible for our NDIS Cleaning Service
To avail of our NDIS cleaning services, the participant(s), as well as the Plan Manager, must be registered with the National Disability Insurance Agency (NDIA). After we verify their credentials, we will discuss the types of cleaning services required, special add-on services (if any), a suitable cleaning schedule, and many more details to ensure that you are completely satisfied with what we can offer you. During this time, or otherwise, you are welcome to ask questions and gain as much clarity as you need to be confident on how we can help you meet your cleaning needs.
When planning the perfect cleaning service for you, everything from your budget to the disability of the individual will be considered in order to customize a service that works for everyone involved. To add to the convenience of hiring Clean Group- NDIS Cleaning Service, we offer flexible schedules for monthly, weekly, and fortnightly cleaning. All of this, of course, will depend on the type of NDIS support plan of the participant including the funds available and approved services by the agency. Therefore, it is important that all NDIS participants or their Plan Managers avail a personalized plan that enables them (the participants) to get the most out of in-house services.