The recent surge in the number of cases is also a growing concern for the local governments and people. Amidst all this, cleaning continues to remain one of the best ways to limit the COVID spread.
But, many experts are still not sure whether cleaning is at all effective against the virus? Well, according to health authorities, it is.
According to the Department of Health and Human Services (DHHS) website, cleaning and disinfection are effective ways to reduce COVID-19 transmission. In fact, the department has released a detailed guide/advice on "cleaning and disinfecting to reduce the risk of COVID-19 transmission in all non-healthcare settings." The principles and cleaning methods explained in the guide are equally useful for all kinds of workplaces and commercial facilities irrespective of their locations. So, there should be no doubt that cleaning is actually useful and beneficial in the removal of the COVID-19 virus.
Another thing to note here is that cleaning remains a useful tool against the new COVID-19 variant as well. It has been found that routine cleaning and disinfecting can reduce the traces of the virus in commercial settings, according to Suji Siv, owner and CEO of Clean Group, a leading COVID-19 cleaning services provider in Sydney.
This further strengthens the need and importance of qualified COVID cleaning services in Sydney in the fight against coronavirus.
How Sydney COVID cleaning services can help fight COVID infection
Well, cleaning doesn't really help treat the COVID infection, but it can surely help limit the spread by removing traces of the virus from high-touch surfaces and objects. Here's how it works.
COVID-19 primarily spreads in two ways, through close contact with an infected person and through contact with an infected surface. Contrary to popular belief, it is totally possible for a person to acquire the disease through direct contact with a surface or item that has the virus on it. And this is where cleaning comes in.
COVID cleaning services are mainly focused around making surfaces and objects, which may have acquired the virus through touch or by other means, clean and germ-free through cleaning and disinfecting. This involves deep cleaning all high-traffic places like floors and other surfaces in a commercial place as well as disinfecting these areas along with all high-touch points to limit the virus spread.
The COVID-19 virus can move from one object or person to another through direct contact as well as through respiratory droplets. For instance, when an infected person sneezes or coughs, the virus along with droplets may be dropped on nearby objects and surfaces. And when a normal person touches any of these objects, they may acquire the virus on their hands, which eventually reaches inside the body when the person touches his/her mouth or eye with the same hand. This is why it's highly recommended to regularly wash your hands with soap and water to avoid catching the infection.
Studies suggest the virus responsible for the COVID-19 disease can survive on different surfaces for many hours and, sometimes, days. From there, it can easily spread to a large number of people who touch these surfaces. Routine cleaning and disinfection of surfaces can help cut down the chain of the virus spread.
The threat of the virus spreading is much higher in high-traffic places like commercial premises, stores, offices and hospitals where hundreds of people touch the door handle, knobs, light switches, lift buttons and handrails throughout the day. So, it's imperative to keep workplaces clean and disinfect them routinely.
Clean Group provides complete COVID-19 cleaning and disinfection services with guaranteed virus removal for commercial premises in Sydney.
Why is cleaning & disinfection important in Sydney?
In general, cleaning is one of the easiest and most effective ways to keep your place looking beautiful as well as remove germs and bacteria from surfaces and other places in your home or office, creating a healthier and safer environment for your loved ones.
However, cleaning alone cannot remove all traces of the virus, which is why COVID cleaning services include cleaning plus disinfection for complete virus removal.
While cleaning helps reduce the number of germs on surfaces, thereby limiting the risk of infection spread, disinfection involves the use of chemicals to kill germs, including pathogens and viruses, thus further reducing the infection risk by up to 100%. Disinfecting alone, however, may not be as effective without cleaning.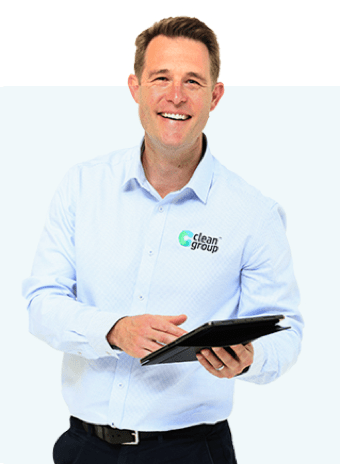 The most reliable commercial cleaning provider is here to support you.
How to effectively use COVID cleaning and disinfecting to fight COVID-19 in Sydney NSW?
Cleaning is a very effective way to prevent the spread of COVID-19 in workplaces.
Offices, retail stores, schools, hospitals, restaurants, gyms, care centres, warehouses, and all other types of commercial buildings in Sydney are highly vulnerable and may even contribute to spreading the virus. Only regular cleaning and disinfection can help prevent the spread.
Property owners and managers must make it their duty to ensure their facilities are being cleaned and disinfected regularly and by certified COVID-19 cleaners. COVID cleaning is different from regular cleaning. While in basic routine office cleaning, we only clean the office floors, surfaces, toilets and other areas using standard cleaning supplies and solutions, COVID cleaning demands a higher level of cleaning and disinfecting. This is also why businesses are strongly advised to only use professional & experienced COVID-19 cleaning services for their properties.
Here at Clean Group, we provide COVID cleaning services to both sites that have been exposed to COVID and the ones looking for precautionary disinfection to fight the virus.
For COVID exposed commercial sites, full decontamination is usually the best way to go. We send a team of five people equipped with the best cleaning resources, equipment and safety gear, including PPE kits, masks, TGA-approved disinfectants and more. They will first deep clean the entire place, from floors to walls, all rooms, toilets, kitchens and pantry areas, outdoor areas, lifts, stairs, all surfaces, and more. Once done, they will disinfect all floors, surfaces and high-touch objects using a TGA-approved disinfectant to try and remove all traces of the virus from all over the facility. Our COVID decontamination service has a 99% COVID virus removal rate and is effective for a month or more.
For workplaces with mild symptoms or where no COVID case has been reported so far, basic COVID cleaning is recommended. This involves deep cleaning of the entire facility, followed by disinfecting high-touch surfaces. Our cleaners will systematically clean and disinfect all high-touch surfaces and objects in your facility, including lift buttons, handrails, doorknobs and handles, tabletops, desks, kitchen counters, light switches, taps, TV remotes, phone receivers, keyboards, floors, toilet seats, sink, garbage bins, and others. This method has been found to be effective in the removal of up to 99.99% of germs, viruses and bacteria from commercial surfaces.
In addition, businesses are advised to clean or instruct their staff to clean surfaces immediately after they are soiled or any spillage. A TGA-approved disinfectant must be used for routine (at least daily) disinfection of frequently touched surfaces in workplaces and other commercial premises.
Note: COVID-19 cleaning involves a significant risk of contamination and must only be performed by professionals. Avoid doing it yourself unless you are a trained COVID cleaning expert.
Hire Expert COVID Cleaning Services Sydney for Commercial Properties.
The best way to ensure complete protection of your property and people from COVID is to hire an expert COVID-19 cleaning company for routine cleaning and disinfection of your premises. We at Clean Group provide complete COVID cleaning solutions and services and can also prepare a custom cleaning plan based on your specific requirements. Our standard COVID-19 cleaning service package includes routine cleaning and disinfection (daily or weekly as per your preference) of your place. Our team will arrive at your facility at the scheduled time and will systematically deep clean and disinfect the entire place in order to prevent the virus from spreading. A standard COVID cleaning job takes about two to four hours, depending on the size and type of the property.
If your office has been exposed to the COVID-19 virus or a case has already been found, please make sure to convey the same when booking a cleaning service with us.
The COVID-19 decontamination service involves a more thorough cleaning and full decontamination of the infected property. We send in a specialised team of trained COVID cleaners who will fully disinfect the entire place from top to bottom.
To book a COVID cleaning service with Clean Group, just visit our website (https://www.clean-group.com.au/) and fill up the form that says "Request A Free Onsite Quote." Make sure to provide full details of your cleaning project, property and any specific cleaning needs you may have. We'll get back to you within a couple of hours at best. Alternatively or for emergency cleaning needs, you can call our 24x7 sales helpline at 1300 141 946 to request a quote on call.
The new COVID variant, Omicron, is here. DO NOT Take Risks with the safety of your people and premises. Hire professional COVID-19 cleaning services in Sydney from Clean Group at unbeatable prices. Call us today for a free quote.