Commercial COVID Deep Disinfection Services In Sydney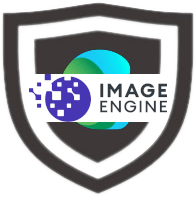 CERTIFIED Commercial COVID Cleaning Services for Your Premises.
Need not Worry about COVID Deep Cleaning ANYMORE!
Demand for affordable commercial Covid cleaning services is booming as businesses all over the country scramble to keep their premises Covid-free.
Clean Group's team of professional commercial cleaners is working 24/7 to keep up, providing emergency and precautionary Covid deep cleaning services across the Greater Sydney region.
Our expert cleaners are trained in infection control and come armed with the latest advanced cleaning equipment and hospital-grade disinfectant to effectively eliminate any traces of coronavirus lurking inside your office or business premises.
Get a Free Onsite Quote
Trust Sydney's Leading Commercial COVID Cleaners
Trusted by thousands of commercial clients for 20 years, Clean Group is Sydney's premier Covid cleaning service, with extensive experience cleaning buildings and worksites of all shapes and sizes.
Our elite team of Covid cleaners is highly trained experts in infection control.
Our decontamination service complies with NSW Health department guidelines.
We use TGA-approved hospital-grade disinfectants proven to be effective against Covid.
Our Electrostatic Virus Shield disinfection technique ensures 100% surface coverage.
Clean Group's Covid cleaning service is backed by a 100% satisfaction guarantee.
You get a certification document guaranteeing complete sanitisation of your premises.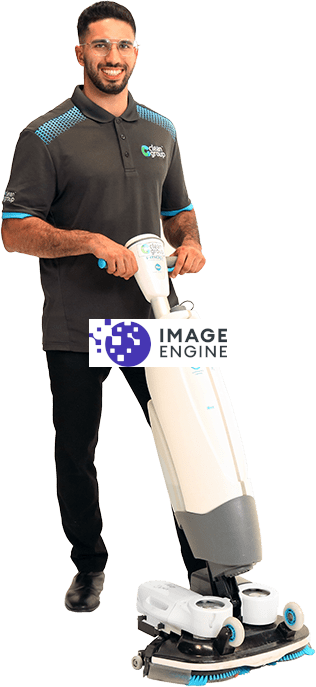 What is Included in Commercial COVID Cleaning Services?
Clean Group's professional commercial Covid cleaning and disinfection services are undertaken over two stages:
Stage 1: Standard Cleaning - Stage One involves a standard commercial cleaning service to remove dust, dirt and other debris from every surface, including walls, windows, counters, floors and carpets in offices, receptions, storerooms, kitchens, bathrooms and communal areas.
Stage 2: Professional Decontamination - Stage Two involves a dedicated deep cleaning to disinfect all surfaces and high touchpoint office items such as furniture, computer terminals, phones, door handles, and rubbish bins to ensure effective elimination of all germs and viruses.
Clean Group's professional Covid disinfection process also does more than kill up to 99.99% of viral pathogens from your business premises, it provides ongoing protection against Covid infection.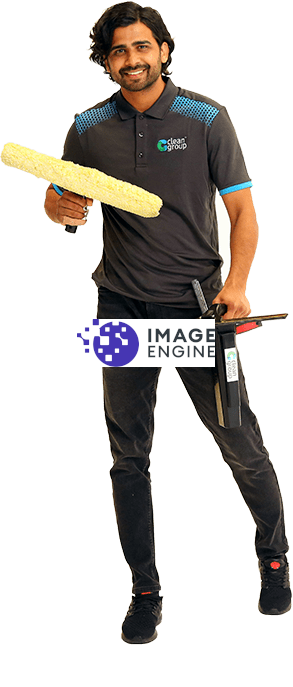 Electrostatic Virus Shield Disinfection - How Does It Work?
The combination of advanced electrostatic sprayer technology and a powerful commercial sanitiser gives our proprietary Electrostatic Virus Shield Disinfection technique the upper hand over Covid.
Our infection control experts use specialised commercial sprayers that transmit electrically charged sanitiser particles. These electrically charged Covid-killing particles defy gravity to wrap themselves around every potentially contaminated surface.
The sanitising agent penetrates all those hard-to-reach areas such as inside carpet fibres, behind door handles, under armrests, and inside air vents.
Our technique is recommended by Safe Work Australia as more effective than disinfectant fogging, so don't gamble with the health and safety of your employees and customers by using an inferior commercial cleaning service.
When is Precautionary Covid Cleaning Recommended?
A proactive approach to keeping your office or business premises free from Covid can be a more cost-effective strategy than having to cease operations while an emergency Covid decontamination is performed.
A precautionary Covid cleaning service greatly reduces the spread of Covid infection.
Our precautionary service includes a standard clean followed by complete sanitisation.
Our cleaners target high-touch surfaces such as reception areas, handles and lifts.
Clean Group's infection control experts wear PPE and use hospital-grade disinfectant.
All our cleaning products are approved by the NSW Health Department and the TGA.
Our services are used by commercial, strata and government clients across Sydney.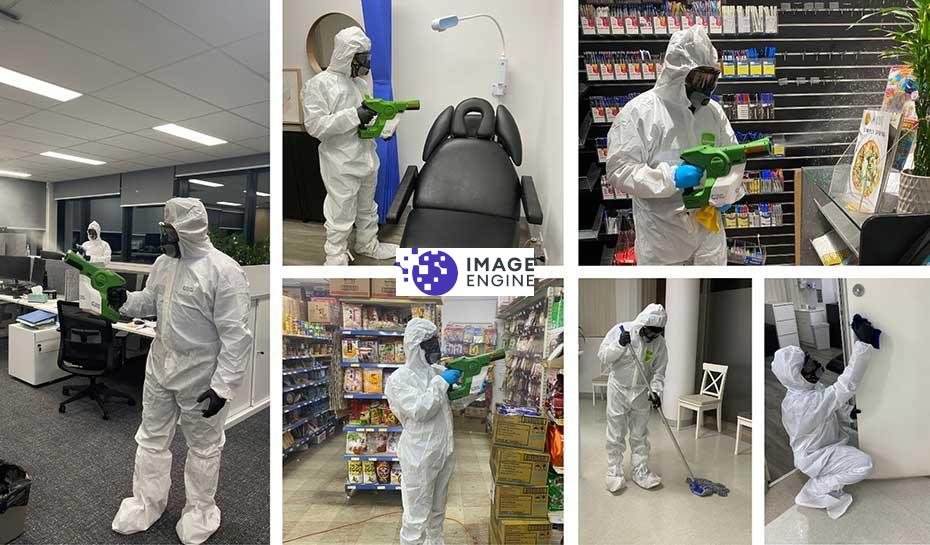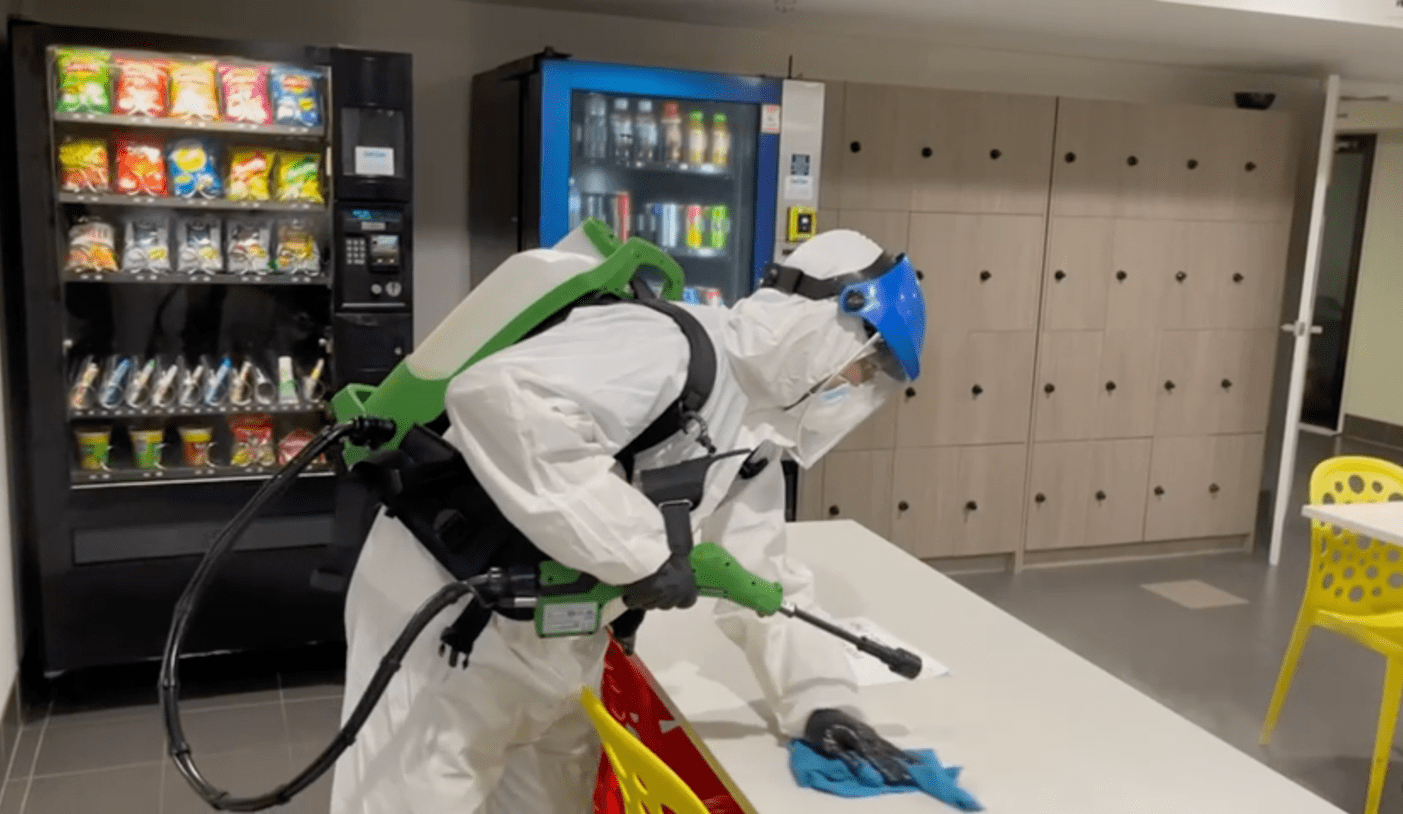 Book a Free Onsite Assessment Today!
Talk to our friendly customer service team today about arranging a free onsite assessment of your commercial premises.
Clean Group's commercial Covid cleaning services are available 24/7 to fit in with your business operations.
Get a Free Quote