If your goal is to help others with cleaning carpets in Western Australia, Sunshine Coast, or Gold Coast, you need the best portable carpet cleaning equipment. Starting a professional carpet cleaning business is quite easy, and this industry has a low entry barrier. Therefore, almost anyone can succeed in the niche.
The secret here is to offer appropriate services and give each client the best customer service. This can only happen if you're using the best carpet cleaning accessories and tools.
Modern and efficient cleaning equipment lets you and the staff work faster to get the best results possible. When you use commercial cleaning equipment that works well, everyone on the team stays productive and happy, which impacts your bottom line and ensures customer satisfaction.
Providing top-quality service is crucial for your long-term growth strategy. Customers appreciate a good job and want excellent customer service.
Therefore, you must focus on all of these things to improve customer retention rates. Plus, satisfied clients are happier to refer you to their colleagues, which builds your reputation as being the best so that you can expand your reach.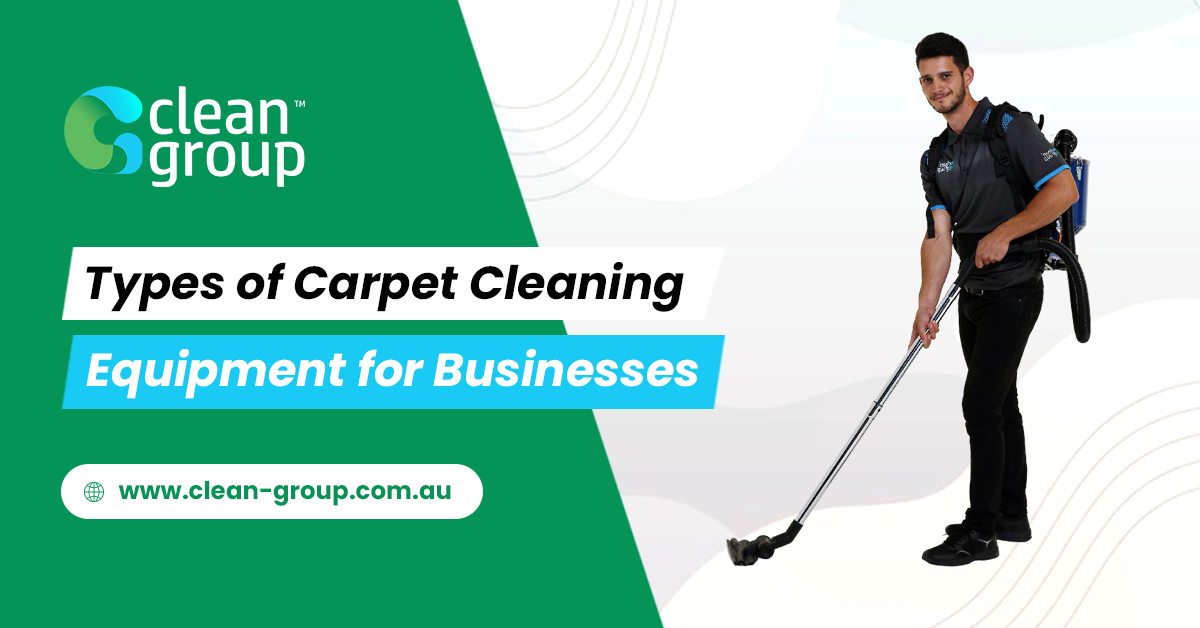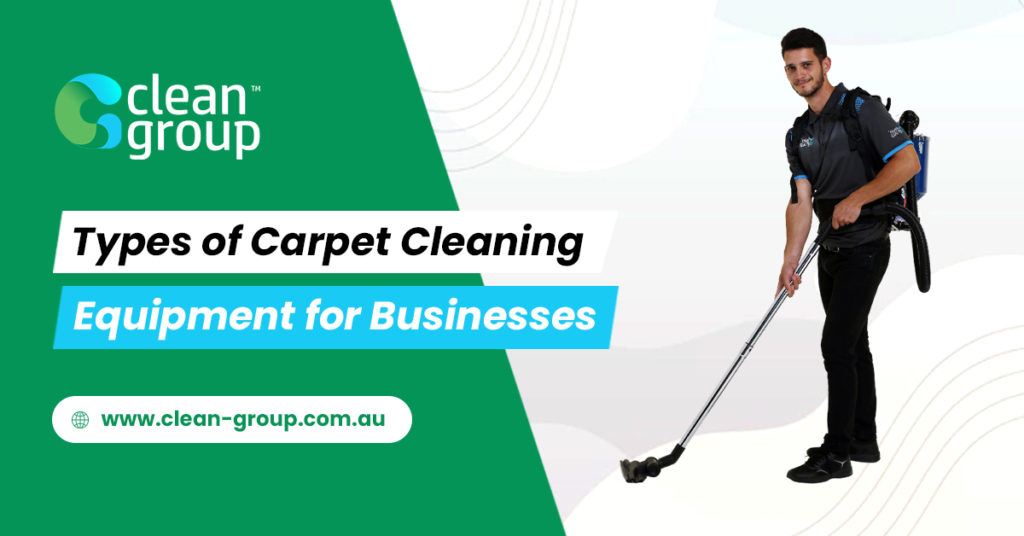 Green Tools for Your Carpet Cleaning Business
Before you think about the carpet cleaning products you need, it's crucial to understand the industry trends. What are other professional cleaners doing to reduce the risk of exposure to chemicals and all the rest? You should understand this before making purchase decisions on cleaning equipment for your commercial business.
Green Cleaning Services
Many companies are focused more on the environment and how their daily choices impact it. Therefore, a commercial cleaning service might have to adjust the business model to use products without chemicals. When you choose environmentally-friendly alternatives to traditional cleaning products with chemicals, you make the customers happy.
Though carpet cleaning tools often require chemicals to remove stains and freshen the space, there are other ways to help, such as lowering water consumption and electricity. You may also want to use machines that are compatible with green cleaning products that have no chemicals.
With that, you may choose more hard-surface cleaning equipment for the business that can handle the job in a single pass.
Smart Cleaning Services
Better technology leads to more productivity in your carpet cleaning business. Smart tools allow workers to finish their jobs faster and with little effort. That way, the employees can tackle more cleaning jobs with better results and in less time.
Smart services means that you're using better tools and automating all of those time-consuming processes to offer seamless interactions with the clients.
It's crucial to use carpet cleaning business software to let your clients schedule appointments and maintain communication with the business. Plus, smart software ensures that you can manage on-site teams, customise invoices, send them, and accept payments quickly.
Overall, you're creating a better user experience from the beginning so that the cleaning equipment you choose can help the team do more!
User-friendly Equipment
Modernised carpet cleaning equipment can make it easier for the professionals to do their job. The latest equipment often weighs less, is easy to manoeuvre, and can be cleaned fast between jobs to save effort and time.
If you have outdated commercial equipment for your carpet cleaning business, it could be hard to move and take hours to clean. This slows down the team and leads to frustration. However, a lighter machine eases the workload and is less likely to cause accidents or injuries on the site.
Now that you know what to consider when choosing commercial cleaning equipment, it's crucial to learn about the tools you need for your carpet cleaning business. They must be cost-effective and at the best prices.
The Professional Carpet Cleaning Toolkit
Though you may already have some hard-surface cleaning equipment, they aren't the same as carpet cleaners. It's crucial to have the right commercial carpet cleaning equipment for the job. This includes carpet extractors and other commercial carpet cleaning machines. Here are the top tools you need to deliver the best service to your clients:
Vacuum Cleaner
Vacuum cleaners are sometimes called carpet extractors because they suck dirt and dust out from the fibres. This is one of the most essential cleaning machines necessary, so purchasing a portable carpet cleaner like this is at the top of the list.
The staff needs these carpet cleaning machines to handle almost every job. Invest in a good vacuum cleaner that has an adjustable beater bar. That way, it can be used on many carpet types.
Other features to consider when buying a vacuum include:
Weight – You don't want to lug around heavy equipment to multiple locations each day.
HEPA – Consider buying a machine that removes fine dust particles from the air to improve air quality. HEPA filter systems are great and can get rid of pet dander, pollen, and dust.
Motorised brush – The vacuum cleaner you buy should have a motorised brush that can be activated as needed for deep carpet cleaning. Then, you can switch it off when you're working on bare floors.
Commercial Carpet Cleaners
Carpet cleaning equipment like carpet extractors removes dirt, stains, and bacteria that are embedded into the carpet. You can choose between dry and steam cleaners, but you should ensure that it's a portable carpet cleaner.
Ideally, you should have both types of carpet cleaners to meet all of your clients' expectations. Regardless, a carpet cleaner can cost a lot of money, so be prepared to shell out a bit more for this type of carpet cleaning machine.
Also, you should be aware that these machines use special detergents, so you must read the product information and ensure that you use the right ones. When choosing a carpet cleaner, make sure you think about the price, chemicals needed, and your client's needs.
Defoamer for the Carpet Cleaning Machine
Sometimes, the carpet cleaning machine you choose requires a defoamer. Ultimately, carpet detergents can create a lot of foam and reduce the effectiveness of the machine while increasing drying time.
Defoamers tend to contain diluted mixtures of silicon and oil. They are both effective at removing foam to boost drying times.
The secret here is to pick a product that isn't likely to damage the equipment. To do that, you must read the user manual and follow the recommendations for your machine. Most manufacturers sell their own branded products that are designed to prolong the equipment's shelf life.
Stain Remover
Stain removal is a big part of what you do as a professional carpet cleaner. Stain removers are sometimes called spot-cleaning solutions. These detergents remove carpet stains. You should have different options in your kit so that you can use them on different carpet types and spots.
Some products are designed specifically for your carpet cleaning equipment; it's best to go with that one when possible. That way, stain removal is easier, and you don't damage the carpets of your clients.
Air Scrubber
Air scrubbing devices are also called portable filtration systems. They enable the carpet cleaning equipment to remove airborne particles and bad odours at the end.
Generally, you want this equipment in your carpet cleaning arsenal because the small particles from dirt, skin, and pet hair stay in the air after a deep cleaning job. Air scrubbers get rid of them to promote better air quality.
Your clients are sure to appreciate that you went above and beyond to take care of the stains and the things they can't see!
Carpet Rake
A carpet rake is a crucial piece of cleaning equipment. You can really get down deep into the fibres and eliminate dust, pet hair, and dirt. With that, this carpet cleaning tool primes the carpet so that it absorbs the cleaning solutions more effectively and quickly.
Carpet rakes look like brooms, but they have stiff bristles that go deeper into the carpet to loosen up the dirt. They are often made of silicone or rubber and have adjustable handles so that each team member can use them efficiently.
Smartphone
You may not realise it, but a smartphone could be the most important piece of carpet cleaning equipment you have. You and the staff can work faster and better with the right apps. Overall, the smartphone is the heart of your carpet cleaning business. With just a few clicks, you can send notifications, confirm new appointments, create invoices, and much more.
Having the right software and mobile app ensures that you can handle your business wherever you are. Plus, you can track the team in real-time and make plans much easier.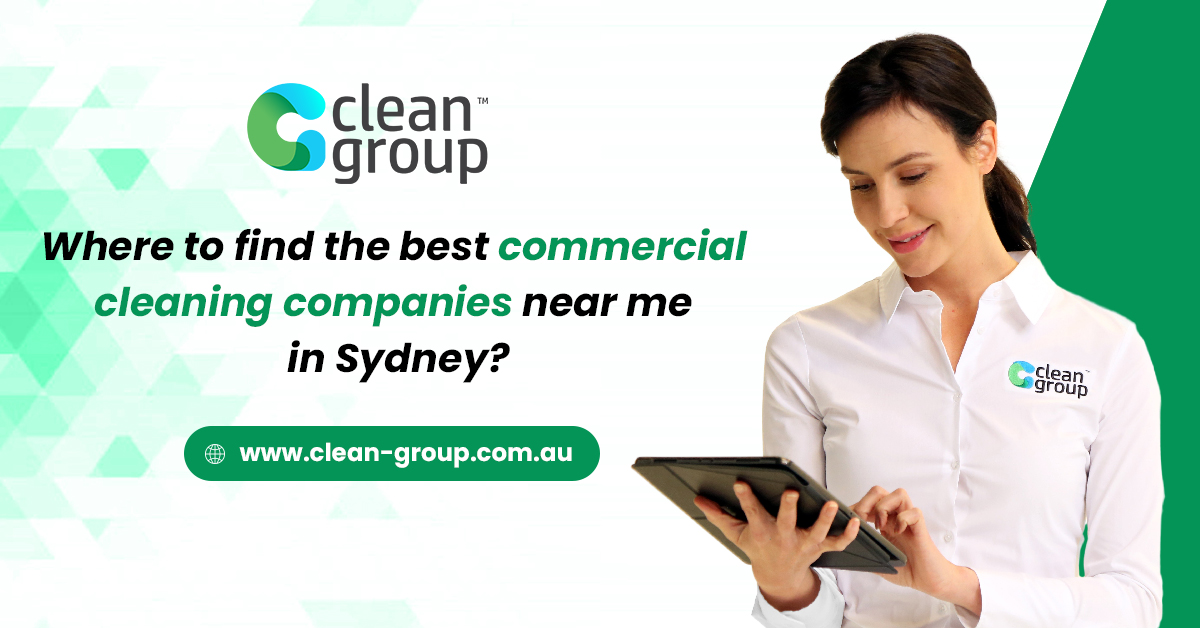 Conclusion
Commercial carpet cleaners must put together the right business plan so that they can determine their budget and get more professional carpet cleaning equipment. If you have a team, ask them for feedback. What challenges do they have when trying to clean carpet? Do they have suggested solutions about better commercial equipment that might make their lives easier?
When you involve the employees in the buying decision, they are more productive and want to work. With that, they feel that you care about them and want to help them do their job without getting hurt in the process.