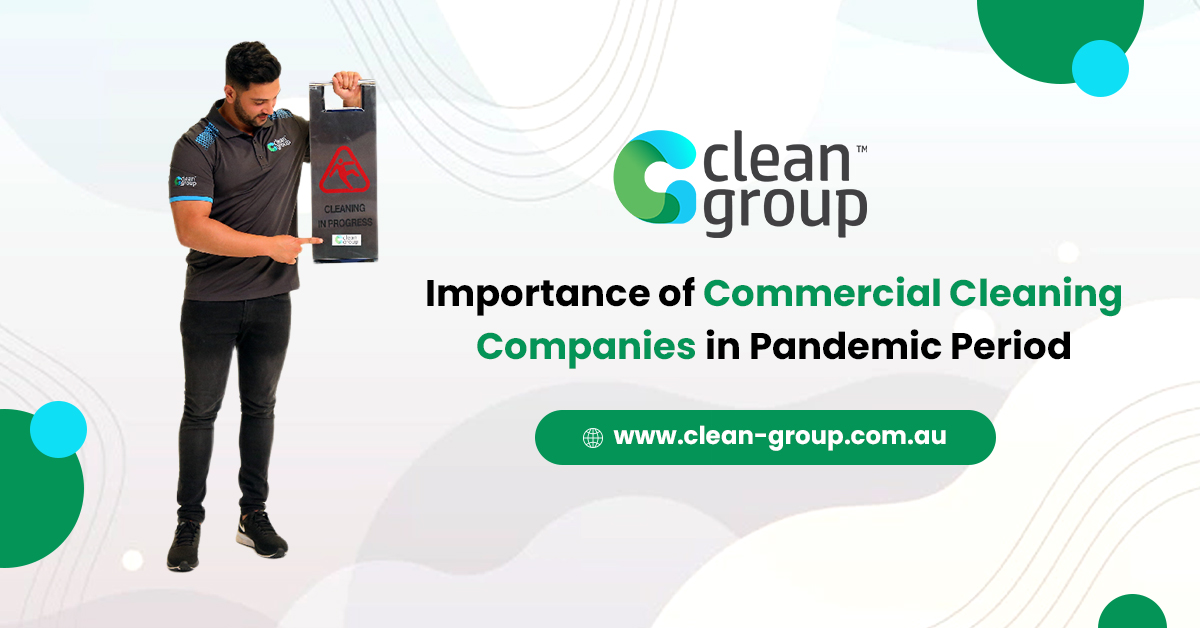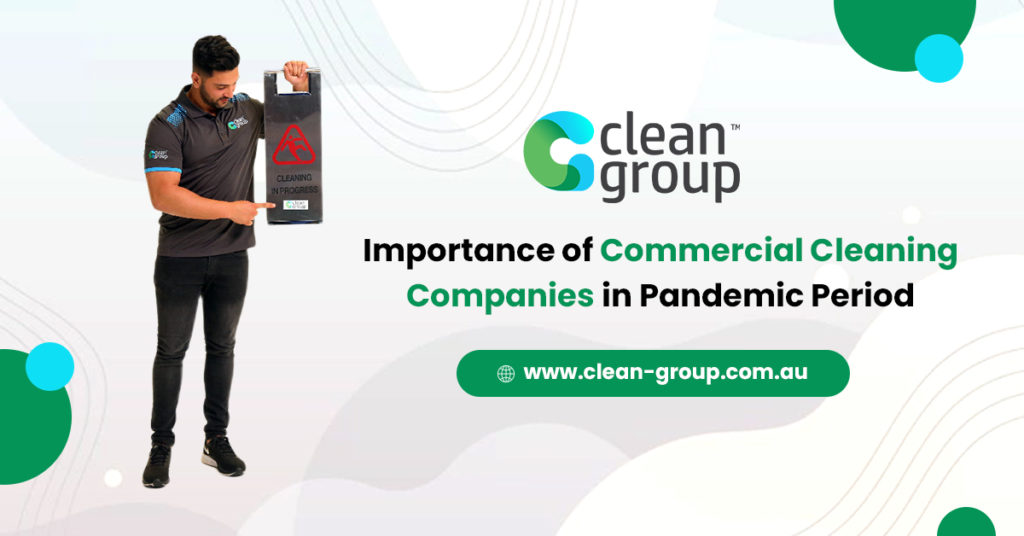 Importance of Commercial Cleaning Companies in Pandemic Period
Since the beginning of 2020, the entire world has changed, and a new respect for the importance of commercial cleaning has arisen.
Although bacteria removal and disinfection were always addressed, they had never taken on such a level of influence over the global population.
As the light at the end of the tunnel shines brighter and Australia moves into a new phase of its pandemic journey, it is more essential than ever that business owners and other public or commercial properties ensure quality cleaning by hiring a professional cleaning service.
At the Clean Group, we have a cleaning solution for any property and are passionate about the vital importance of the professional cleaning industry during these turbulent times.
The Importance of Commercial Cleaning Companies During COVID-19
COVID-19 changed a lot of lives and put the world on hold for the best part of two years. Now, as the world of business ramps up, commercial spaces and offices welcome back their staff, and the kiddies head back to school full-time, things are beginning to feel a little more normal again.
However, to maintain such progress and avoid backsliding into forced remote working and homeschooling once again, every business must take responsibility for keeping its facilities clean, hygienic, and safe.
High-quality cleaning takes more than a quick wipe down and a skoosh of disinfectant- it requires dedication and expertise tailored to the exact needs of a property.
Why a Commercial Cleaning Company?
A commercial cleaning company offers a professional service using a highly trained team and the best cleaning products. Commercial sites have an added responsibility to look after the people who spend time on their premises.
Be it an office, school, or building site, the people coming and going deserve to know that every possible attempt has been made to provide them with a safe and hygienic workspace. Commercial cleaning services can help to make that possible.
Office Cleaning and COVID-19
One of the most vital areas where commercial cleaning services and required is in the office. Office cleaning takes on a whole new challenge due to the flow of people, exchanging of documentation, sharing of desks, and communal areas.
Maintaining a clean office could be the difference between a successful relaunch into a post-pandemic world and seeing your business close down once more because of an internal virus outbreak.
Why Is Commercial Office Cleaning Essential After the Pandemic?
Office spaces have a lot of specialized requirements that only a highly professional service can meet. The cleaning solutions used by professionals take deep cleaning to a new level, taking any office back to the very best condition it was ever in and then some!
From carpet cleaning to window cleaning, professional cleaners leave no stone unturned to ensure the following:
Removing Lingering Bacteria
Commercial cleaning does not stop when surfaces look clean, or the floor is sparkling- it goes deeper than that to eliminate harmful bacteria that may still be clinging to the surface.
Normal products used at home may not be strong enough to tackle everything, which is why a commercial cleaner uses specialized industrial cleaning products that take no prisoners.
Reducing the Risk of Contamination
The most vital reason for hiring professional cleaning services is to ensure the infection risk is minimal in the workplace. Cross-contamination happens very easily in offices due to the flow of people in and out every day.
All it takes to launch a COVID outbreak in an office is for someone to contaminate a desk area then a colleague picks it up later when using the same desk. The disinfectants used by a top-grade cleaning team such as the Clean Group protect against bacteria settling, killing it instantly.
Providing Peace of Mind
Another reason why commercial cleaning is essential in an office that has reopened after COVID-19 lockdowns is peace of mind and comfort for the staff who are going there every day before returning to their homes and families.
Many people a wary about returning to the office, preferring to work remotely. While for some businesses this works, for others it does not. If you have an office full of staff who are on edge and concerned, business is not going to be good.
Productivity drops, and a company suffers- which is why you need a customized cleaning solution company to reassure them that the quality of clean is exceptional.
School Cleaning During the Pandemic
Like an office, cleaning school property requires serious attention to detail- more so than ever because of the pandemic. COVID already took away the freedom for children to attend school for many months- a time they cannot get back.
An outbreak in a school now would be truly devastating, and not something any faculty wants to risk.
Quality commercial cleaning services can offer a comprehensive range of solutions and cleaning systems to keep up with the demands of post-pandemic school cleaning.
How Have School Cleaning Services Changed Because of COVID?
There is a whole new set of requirements and regulations regarding cleaning standards in a school. The New South Wales government and educational board strongly recommend seeking out cleaning services with a reputation for excellence.
Some of the ways the bar has been raised so far as a school property clean is concerned are:
More Focus on Shared Spaces
Communal areas anywhere are where people are the most at risk of catching the virus. The more people there are sharing a space, the greater that risk becomes.
Of course, it is hard to expect children to stay away from their friends not cause cross-contamination by enjoying their break time.
As a result, the importance to keep the communal areas as contaminant-free as possible becomes a priority- one that commercial cleaners can handle with ease.
Higher Cleaning Standards Expected by the Parents
The cleaning requirements are not all that must be met: the expectations of the parents are equally valuable and essential.
Professional commercial cleaning services have a responsibility to keep schools as clean and safe as possible so that the parents feel ok to send them back.
A New Approach to Disinfection
Just like in business premises, disinfection is the key to controlling the spread of viruses in general. Schools, by nature, and full of bacteria- and so are kids! One of the greatest cleaning needs of schools in post-pandemic Australia is to ensure the hired cleaning services thoroughly disinfect as they clean.
Why Choose the Clean Group as Your Commercial Cleaning Crew?
The Clean Group offers a customised cleaning solution for cleaning projects of any kind. We offer steam cleaning, carpet cleaning, strata cleaning, and so much more. There is no job that our cleaners are not ready to tackle, and we do everything with the utmost attention to detail.
Our affordable cleaning services target every type of business, individual, or government facility and do not differentiate based on the size or the task. Whatever your cleaning needs may be, our commercial cleaners have got you.
Where Is the Clean Group Team Based?
We are based in Sydney, and our cleaning company service locations cover all of NSW. Our team of cleaners is highly trained in post-COVID cleaning solutions to ensure maximum disinfection and minimal risk of contamination.
Our Approach to Commercial Cleaning
We have so many happy clients from our time as a commercial cleaning service because of our no-nonsense approach to the job.
Every cleaning session is as important as the one before, be it a three-floor corporate office or after builders cleaning in a home.
No Cleaning Job is Too Big or Too Small for Our Team
It doesn't matter to us where we are- all that counts is the great service we know we provide, which is why customers trust us every time. Other cleaning companies may provide a great service too, but they often follow a one size fits all type pattern.
At the Clean Group, we know every job is different, which is why our expert cleaners are consulted before each job to discuss how to proceed.
Before we begin, we offer a free quote after you fill out an online form detailing the job specifics.
The Promise We Make to Our Clients
Our fantastic team takes pride in every cleaning project we undertake, and all our clients trust us to provide competitive pricing and top-grade industrial cleaning.
The promise we make now is that if we are hired to act as your commercial cleaners, you can rest assured that your property is going to shine- both in cleanliness and regulation-meeting hygiene.
We provide ongoing training to our entire team to ensure our clients get the best cleaners and an excellent cleaning service.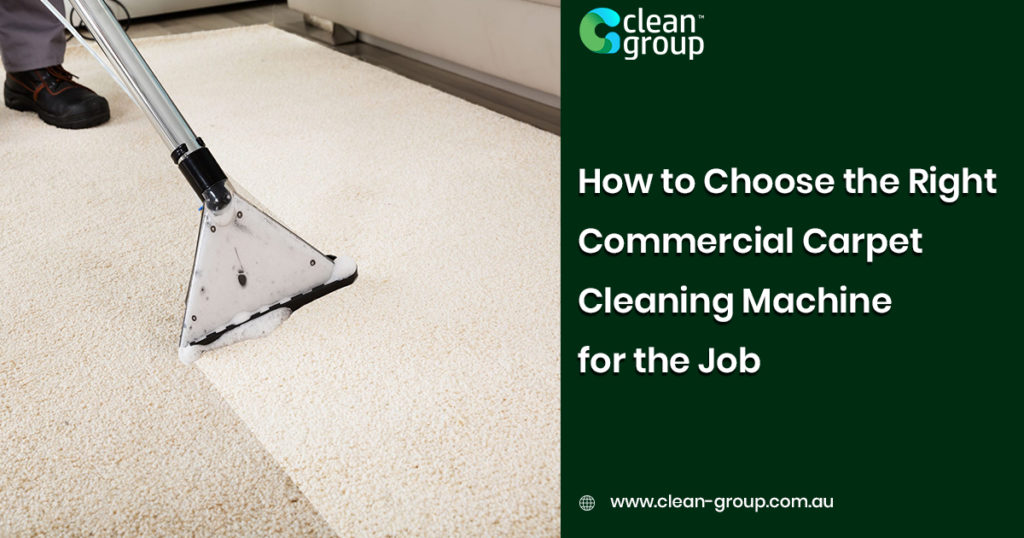 The Bottom Line
Whether it is the office or the building site, steam cleaning, or a clean carpet- the Clean Group cleaning company is here for you.
If you want to hire the services of our expert cleaning team, give us a call or head online for a free quote.
Join the many clients who feel safe and secure going back to work or schools thanks to our exceptional cleaning services and team.