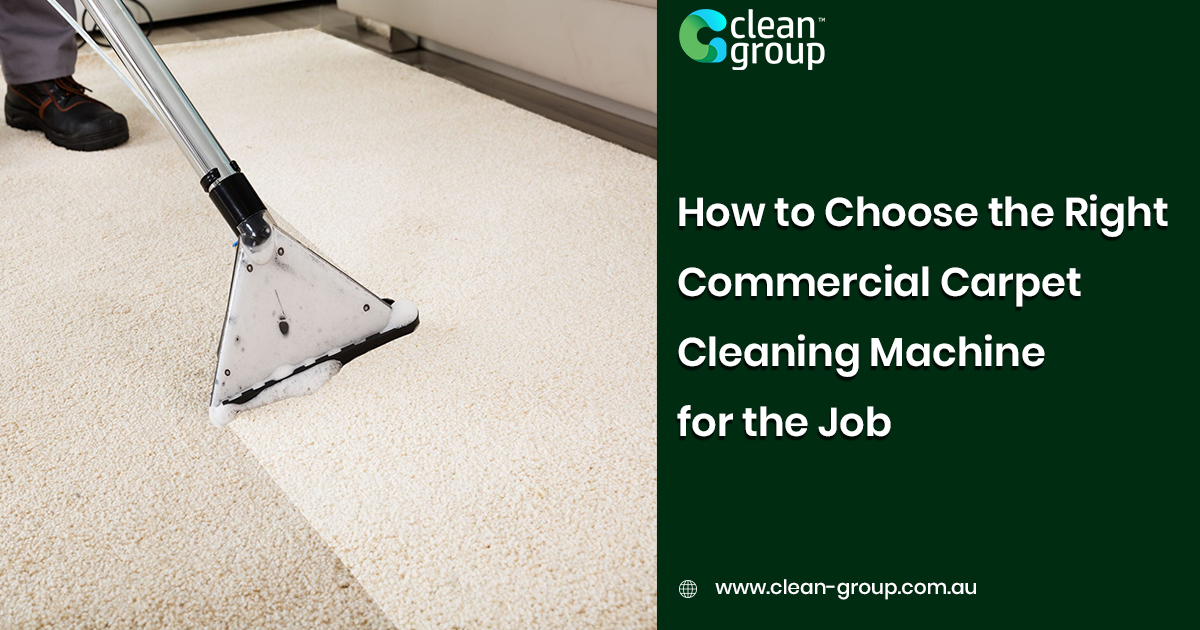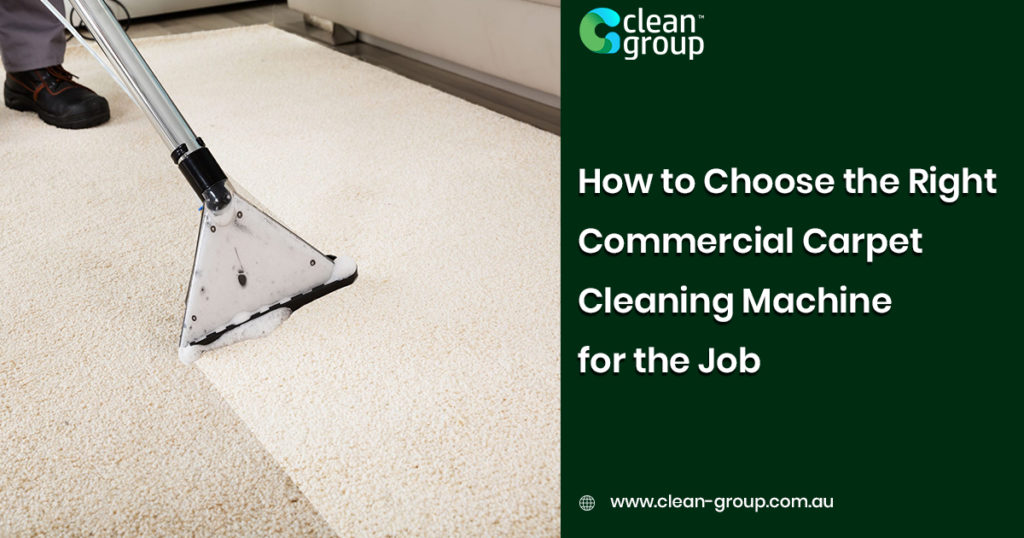 Cleaning your carpets should always be standard procedure for all homeowners and business owners in Perth, Melbourne, Sydney, Brisbane, Sunshine Coast, and other areas in Australia. While there are many carpet cleaners and carpet extractors on the market, it may be hard for you to choose the right one, especially if you've never bought one.
Additionally, if you must deal with deep cleaning of large or small spaces, you must get professional commercial cleaning equipment to take care of the process much faster. Thankfully, there are also many professional carpet cleaning machines you can currently purchase to make your life easier.
The Importance of Having the Right Carpet Cleaning Equipment
Keep in mind that if you want to start a carpet cleaning business, you must also have the right carpet cleaning equipment for each of your teammates. We know how complicated the process may be, so we compiled a short guide on how to choose the right commercial carpet cleaning machines in Western Australia, Gold Coast, and other areas in Australia!
What Are the Different Types of Carpet Cleaning Machines?
Residential Carpet Cleaners
In essence, there are three main types of carpet cleaning machines. First, we have the home (or residential) carpet cleaning machines, which are more cost-effective, smaller, and maybe more suitable for people who want to clean simple upholstery without many problems.
These machines can access a small room without issues, and considering their small size and compact design, they may be a great option for those who don't want to take up much space.
Industrial Carpet Cleaners
On the other hand, we have industrial carpet cleaning machines, which are heavy-duty products that can deal with most dirt problems on the floor and upholstery. Overall, industrial cleaners can endure much longer cleaning sessions, which is ideal for businesses that deal with a lot of dirt on their textile surfaces during the day.
Commercial Carpet Cleaners
Finally, commercial carpet cleaners are better for busy areas, including schools, hospitals, businesses, restaurants, and more. It's important to note that all of these places tend to have carpets where a lot of people pass by during the day, leading to a lot of dirt and debris.
While commercial carpet cleaning machines are not as cost-effective as other carpet cleaners, they still do a great job at ensuring proper vacuuming, stain removal, and carpet cleaning in general.
Which One is Better for You?
It mostly depends on your needs at the time of cleaning carpets. As long as you have an efficient carpet cleaner and the right chemicals/detergent to fix your carpet, you're not going to have any issues. Still, you must consider how frequently you're planning on cleaning and the space you're using the machine in.
If you want maximum flexibility with your machine, it would be best to get a commercial carpet cleaner since it's going to provide the most value in the future. As mentioned before, it can be a bit challenging to choose the right carpet cleaning equipment, so read on to find some important factors to keep in mind when choosing the product.
Choosing the Right Carpet Cleaning Machine: What Do You Need?
You may find a vast product range when going to your local store. You may find brands like SV Equipment, Tennant, SteamVac, and others. Remember that if you want to make the most out of your carpet cleaning business in Perth, Australia, or other areas, you must get the best commercial carpet cleaner you can find.
Important Features
Some of the best features you may get for your cleaning machines are the following:
Robust design that allows you to clean both small and large carpets within short periods
A long hose that allows you to clean large surfaces without having to move the machine around (if you get a carpet cleaner with a robust design, having a larger hose comes in handy)
A large water tank so that you don't have to fill out the machine again after a few minutes
Eco-friendly design so that it doesn't use any harmful chemicals
Miscellaneous Features
Other important features you must be on the lookout for include the following:
Pressure pump
Heater system
Tank capacity
Storage
Price
Warranty
The Importance of Choosing a Reputable Brand
Still, one of the most important things to keep in mind before choosing a carpet cleaner in Western Australia, Perth, and other areas is the brand. You must always go for reputable and high-quality brands.
Carpet cleaners and carpet extractors are highly expensive products, so you must ensure you're choosing something reliable from the vast product range that can last you for years.
As mentioned before, some popular brands in Australia include SV Equipment, Tennant, Numatic, Karcher, and more. SV Equipment is currently the leading option for most Australian residents since it provides economical and portable options that most users can use without any problems.
Are Carpet Cleaners the Same as Carpet Extractors?
While most people tend to compare these two machines, they're not the same. Keep in mind that both the carpet cleaner and the carpet extractor are valuable tools when it comes to stain removal and commercial cleaning in general.
However, these two machines serve different purposes, so if you're looking to improve your carpet cleaning business, it's essential for you to understand the difference.
Carpet Cleaner
A carpet cleaner may either heat chemicals or vacuum the carpet to serve its purpose. The carpet cleaner removes dirt ingrained into the carpet when it heats chemicals, whereas the vacuuming process is to prepare the floor for dry cleaning.
Depending on the type of machine you purchase, you may be able to cover deep stains and dirt in carpets and upholstery in general, whereas others may not clean further than the carpet's surface.
Carpet Extractor
A carpet extractor is designed to clean upholstery with a lot of dirt and debris. If you have a carpet in your business where a lot of people walk by, the carpet may be embedded inside the carpet, which is a problem.
In these cases, a carpet extractor may be the best machine to get since it uses a special chemical to clean the upholstery, although it may take some time to get everything off your floor.
On the other hand, a carpet extractor may feature different types of designs, such as forward push designs, pull back designs, and riders. You may choose the one that fits your needs the best.
Which One Should You Use?
As with the carpet machine types, you must use the option that serves your needs the best. If you have a carpet that not many people pass by, carpet cleaning machines may be great.
On the other hand, if you have a carpet where a lot of people or pets pass by, a carpet extractor may be a good option to deal with your floor without filling everything up with detergent.
In case you don't know what product works best for you, you may seek advice from a professional.
Should You Use a Portable Carpet Cleaner?
Professional carpet cleaning machines may be the best option to consider when it comes to cleaning busy areas and taking all the dirt from the floor into the pile. Still, some professional carpet cleaning machines may not be as economical as others, so customers may need to consider some other affordable options.
Portable Carpet Cleaners Are Good for Small Spots
A portable carpet cleaner can be a great piece of cleaning equipment if you know how to use it. However, customers must be aware that these portable units may not be as efficient for cleaning as commercial cleaning machines.
If you have a large business with a floor that tends to get too dirty, a good piece of advice would be to get professional cleaning equipment for carpet cleaning instead.
Remember that there are several affordable carpet cleaners on the market; it's a matter of knowing where to look for your cleaning equipment.
Remember that Cleaning Takes Time
Regardless of the commercial carpet cleaning machines, you purchase, the process to clean up your carpet and floor may take some time.
Commercial cleaning equipment may allow you to get rid of some dirt particles in a single pass. However, if you have a carpet with dirt embedded, you may have to spend some time taking the dirt into the pile and filling the water tank several times.
Can You Make the Process Faster with More Cleaning Equipment?
Logically, if you have the money to purchase more commercial cleaning equipment, you may go for it. However, keep in mind that the investment is significantly higher than if you purchased a single piece of commercial cleaning equipment.
If you use the right commercial cleaner, you may not have any issues getting rid of most dust and debris particles with a single pass of the item.
Enhance Your Carpet Cleaning Business with the Right Equipment!
As mentioned before, there's a wide range of cleaning products you can purchase today. In the case of carpet cleaners, your best option would be to go for a commercial cleaner if you have the money for it. While most of these products come at a high price tag, you're still likely to find something that fits your budget.
We recommend you go for reputable brands, such as Tennant, Cleanstar, or Numatic. If you need further assistance with your purchase, you may speak to our team at the Clean Group!