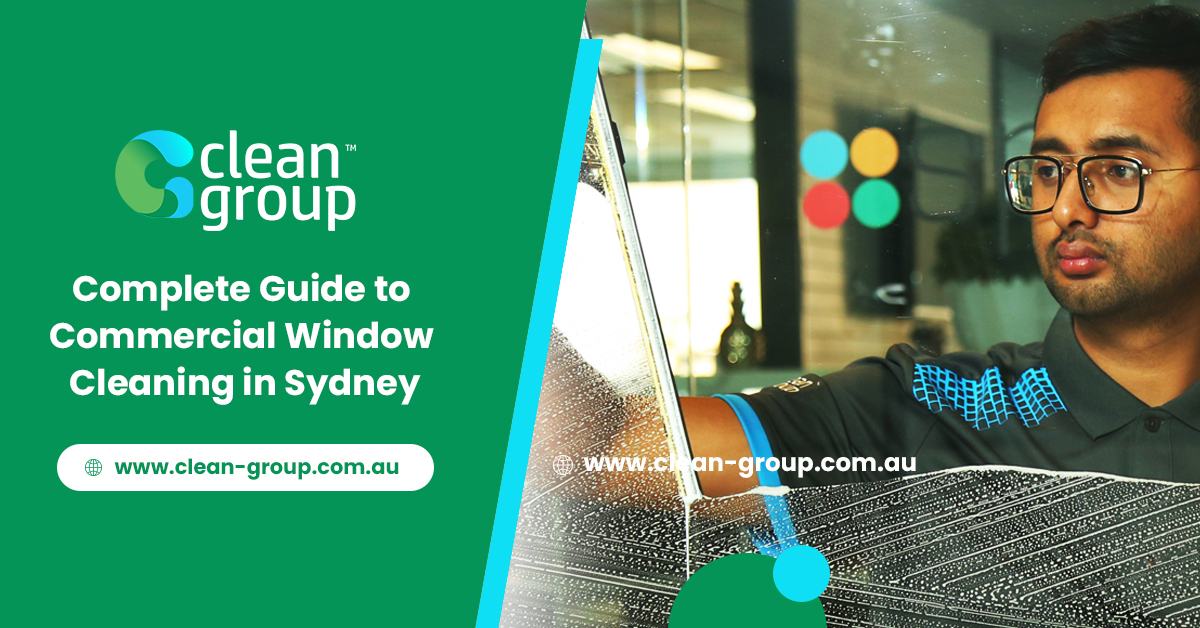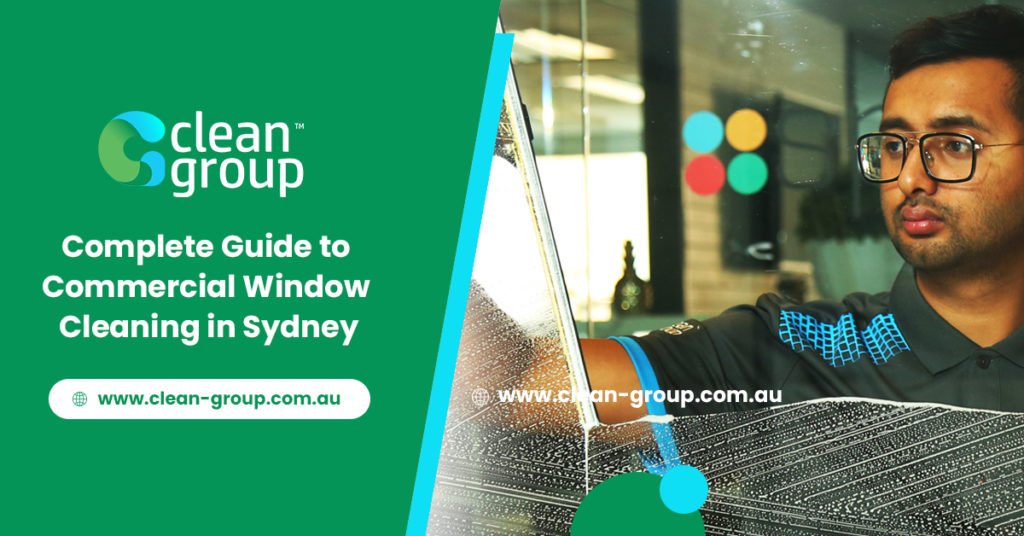 It's not just about appearances when it comes to clean windows. Glass can get dull over time owing to dust, oxidation, and hard chemicals, giving your office a dreary appearance. Furthermore, allergens may be present in the dirt, grit, and grime that can accumulate on glass. Cleaning your windows on a regular basis helps to remove this accumulation and keeps you healthy. Clean Group's commercial cleaning services in Sydney may also clean screens, tracks, and window frames, removing any built-up filth and ensuring that the moving parts of your windows operate properly.
Commercial window cleaning not only improves the appearance of the exterior of your commercial property, but it may also increase the efficiency of your workplace. Clean windows allow more natural light to enter the room, making it appear larger and more inviting.
Clean glass also allows you to appreciate your perspective of Australia, whether it is of the crystal blue beach, the countryside, or just the birds perched in the green trees.
Commercial window cleaning can provide many benefits to business owners. If you own a commercial property, clean windows allow passers-by to see what you have to offer, encouraging them to come in. Big, clean windows in buildings can actually benefit workers' health and sleep, according to various studies, which found that more exposure to sunlight throughout the day, even through windows, promotes better nighttime sleep.
Professional Windows Cleaners in Australia
Irrespective of the size of your commercial property, the Clean Group team is properly trained and prepared to securely clean it. We deploy the best staff for your commercial properties. To reach hard-to-reach windows, you may need ladders and poles or our unique commercial window cleaning equipment.
If we need to operate at a height to access your windows, we may need to use specialised equipment and our professional window cleaners.
In Australia, we provide high-quality, dependable, and reasonably cost commercial window cleaning. Do you have an office job? Clean windows may improve the appearance of your workplaces while also contributing to a healthier, happier work environment.
We serve as many locations as feasible and strive to give consistently high-quality service. Clean Group recognizes the value of your company's appearance, so we make sure the task is done correctly every time. Any company, at any time, in any location.
Our commercial window cleaning services are available for a wide range of companies, including:
Retail shops
Office blocks
Factories
Body corporate
Restaurants
Schools
Real estate
Bowls clubs
Subway
Kindergartens
Display homes
We also do cobweb removal, pathway and driveway pressure washing, gutter cleaning, and roof spouting.
Why Is it Essential to Hire a Professional Commercial Window Cleaning Service?
Cleaning windows can be a time-consuming task. Many businesses have numerous windows, some of which are difficult to reach. You might find it difficult to clean the tops of floor-to-ceiling windows, or you might be uncomfortable ascending a ladder to clean windows on the third floor. This is one of the reasons why window cleaning is frequently left at the bottom of people's weekend to-do list. When you hire professional window cleaners, you can rest assured that the project is going to be completed properly.
Moreover, when you need potential customers to be pulled to a window display, it's very crucial not to leave stains on the glass. The professionals at Clean Group are trained to clean in difficult-to-reach areas, ensuring your satisfaction after the task is complete.
Finally, because experienced commercial window cleaners bring their own specialised equipment, you don't have to go to the shops for squeegees or lint-free towels that you only need for window cleaning. Cleaning solutions and squeegees are the tools of the trade for Jim'sClean Group's window cleaners, so you can trust that we're using the best of the best. We also have the necessary equipment to make sure that all of the window cleaning is done safely.
Why Should You Choose our Commercial Window Cleaning Services?
If you're looking for a commercial window cleaning service in your area, start your search with Clean Group. Our professional window cleaners are all fully trained professionals that work directly for you to provide the best possible results. We provide all cleaning equipment and supplies. Furthermore, we offer a 100% customer satisfaction guarantee.
You can rest assured knowing that each of our window cleaners are fully insured before they begin cleaning. The cost of window cleaning varies widely based on the size and complexity of the work, but Clean Group's window cleaners can walk you through the process and give you a no-obligation, free quote.
A Few of the Many Benefits You Notice When Choosing Clean Group for Your Commercial Window Cleaning
You notice the following advantages when you choose Clean Group for your commercial and residential window cleaning needs:
How our highly trained personnel ensures that your dirty windows are cleaned to perfection each and every time
Why our utilization of cutting-edge technology and specialised equipment results in a superior clean
How our low prices ensure that you save money without sacrificing quality
That you get a hassle-free service because of our skilled on-site supervisor
Why our 20 years of commercial window cleaning experience ensures that the task is done correctly the first time
Why our affiliation with prestigious cleaning organizations provides you with total peace of mind
How our adaptability guarantees you get a commercial window cleaning service that's suited to your specific window cleaning needs
A Sterile, Cleaner Glass Surface
The use of regular tap water, as well as window cleaning detergents and chemicals, can be an issue with most providers. These chemicals do clean your windows; however, they also do the following:
They have an adverse effect on the ecosystem
Due to the mineral content in tap water and detergent residue, they leave behind ugly milky streaks
With our usage of pure water, Clean Group solves this issue
Our experienced team uses pure water for commercial window cleaning for a number of reasons:
Because it contains no minerals, your glass surface dries without leaving any milky streaks
Due to its nature, it absorbs debris instantly
As a result, the windows are sterile and appear to be cleaner
Efficient Commercial Window Cleaning in Australia
Cleaning large or hard-to-reach places presents its own set of challenges:
It poses a risk to whoever is in charge of cleaning the internal and external windows, even with proper safety procedures in place.
Cleaning larger, more difficult-to-reach windows takes much longer.
The usage of ladders and scaffolding has the potential to cause minor property damage.
We address these issues with our specialised equipment because:
Our machines can effectively clean windows at extreme heights. As a result, it is less dangerous and does not necessitate the use of ladders or platforms.
It cleans windows 30 to 80 percent faster than traditional methods.
Other Window Cleaning Services We Offer
Clean Group does not only offer commercial window cleaning in Australia; we also offer the following services when it comes to cleaning windows:
Residential window cleaning
High-rise window cleaning
Residential Window Cleaning
Thousands of Australian residents use Clean Group to clean their windows and window frames on a regular basis. We clean both internal and external windows, or you can choose which ones you want cleaned. Fly screens, glass balconies or balustrades, mirrors, gutters, glass pool fences, and solar panels are also available for cleaning.
Attics, lead lights, atrium ceilings, stairwells, sloping glass, and skylights are among the 'tricky' and difficult-to-reach windows that our trained team of professional window cleaners can handle. If your windows haven't been expertly cleaned in a while, they may be stained, necessitating our pressure washing services.
High-rise Window Cleaning
We specialize in all forms of high-rise window cleaning, including large-scale projects and multi-story operations. Clean Group cleans several high-rise buildings in Australia on a regular basis. We can provide references for work that is being done all throughout the country.
Our high-rise team, which manages various high-rise buildings, is exceptionally professional in all aspects of their work. We can help you figure out how to tackle even the most complex structures in the most cost-effective way possible. Clean Group's team has extensive experience cleaning high-rise windows.
Crucial Factors to Remember When Cleaning Windows
Things You Need
Professional Window Cleaning Supplies
These products are fantastic for cleaning windows with a squeegee; however, it may also be diluted in spray bottles and used for cleaning mirrors and general touch-ups with a microfibre cloth.
Squeegee
Used to wipe away the window cleaning solution from the glass, leaving it gleaming and streak-free.
Microfiber Cloth
What makes these cloths special is their ability to absorb a lot of water while cleaning glass without leaving stains. As a result, it is a necessary component of window cleaning equipment.
A few other things you may need include a sponge, a window cleaning scraper, and a utility bucket.
Ammonia
When using ammonia, caution is advised. Window tint can be removed with ammonia-based products. Before employing an ammonia-based window cleaning solution, it's usually a good idea to check if the glass window has tint.
Wood can be stained by ammonia-based chemicals. If there is a lot of treated wood surrounding the windows, it's best to either cover them or find a window cleaning product that doesn't include ammonia.
Touch Ups
Smudges and streaks on windows can be caused by an overly damp cloth. When doing touch ups on mirrors or windows, simply use a dry microfibre cloth.
Avoid Direct Sunlight
When cleaning windows in direct sunlight, streaky glass is common. To prevent streaks, clean your windows when they are not in direct sunlight or put a generous amount of window cleaning solution on the glass.
Squeegee Blades
Blades on squeegees can become dull or worn over time. When you use a dull blade, you risk leaving streaks on the glass. It is critical to examine the blade regularly and replace it if necessary.
Using a Razor on Glass Windows
While using a razor to remove debris from windows can be highly effective, if done wrong, it might scratch the glass, resulting in expensive damage. Here are some pointers on how to use a razor when cleaning windows.
Only use the razor if the glass is wet. When using a razor to clean windows, this is a crucial step. When you utilize a razor on dry glass, it scratches it.
Never use razors on tinted glass. When you do this, you get rid of the dirt, but you also get rid of some of the window tint. As a result, before you start cleaning windows, you must check to see if they are tinted.
Tint is frequently put to the interior of a window or between two panes of glass. Even though it does not appear to have tint, it is still necessary to determine if it does. Low-e tint is difficult to see with the human eye.
Shave in a single direction. Even though scraping in a back and forth motion may be enticing or even simpler, it is always safer to use the razor in a single motion to avoid scratching the glass.
Replace the blade on a regular basis. Glass gets scratched if debris is scraped off with a rusted or chipped blade. Make it a practice to examine the blade on a regular basis and replace it as needed. Cleaning and sterilizing the blade after each usage helps extend its lifespan.
Frequently Asked Questions (FAQs)
Let's take a look at a few frequently asked questions regarding commercial window cleaning in Australia.
Do We Provide Commercial Window Cleaning Services in Australia?
Window cleaning is vital for businesses since a well-presented structure attracts clients. Clean Group can clean any type of commercial property, from small shops to high-rise corporate buildings. We can also clean windows for contractors who are getting ready to hand over keys to new management.
Do We Provide Residential Window Cleaning Services in Australia?
Residential windows are cleaned by Clean Group. In single and double-story homes, we can clean the interior and outside of your windows. This service is ideal for a routine spring clean as you prepare your home for summer. Consider having your blinds cleaned if you want an extra special touch.
How Do You Get Streak-free Windows?
A squeegee is the greatest tool for removing streaks from windows. Ensure that the rubber blade is in good working order. To achieve a streak-free appearance, professional window cleaners change the blades on a regular basis. Working in either a vertical or horizontal stroke, start at the top and work your way down. Any remaining streaks can be wiped with a lint-free towel or cloth after squeegeeing; however, clean paper towels or newspapers can suffice in a hurry. If your windows are particularly filthy, you may need to clean them twice. Work on a cold, cloudy day for optimal results, so the soapy water does not dry before being wiped off.
Are Our Window Cleaners Licensed?
Cleaning windows does not require a special license in Australia; nonetheless, all our window cleaners are thoroughly trained and operate licensed businesses. More significantly, each one is fully insured and has undergone a background check, so you can feel safe inviting them into your company. Best of all, Clean Group offers a satisfaction guarantee, which means that if you're not satisfied with your window cleaning service, we come back and clean them for free.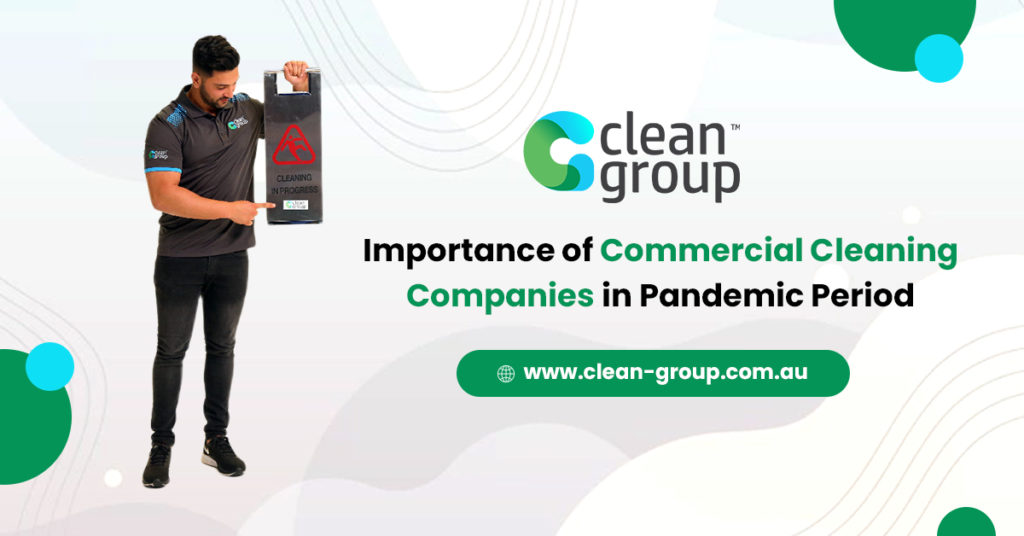 Contact Clean Group Today for Commercial Window Cleaning
Clean Group provides skilled commercial window cleaning services in Australia for a variety of commercial properties, including business offices, clubs, office fit-outs, restaurants, hair salons, retail shops, and display houses.
Our skilled team of professional window cleaners in Australia gives excellent service at a cheap price, whether your firm is a multi-story office building needing a one-time clean or your shop-front window that requires more regular servicing.
To protect the safety of our employees and the general public, our team follows Work Safe requirements. When operating at a height, the relevant safety precautions must be done. You may rest easy knowing that all of our employees have received extensive training to provide a safe working environment.
Clean Group can provide advice and organize all essential commercial window cleaning equipment to accomplish the task safely.
To give our customers peace of mind, our commercial window cleaning services are completely insured for damages and public liability. You are fully protected in the event of an accident or damage.
If you're looking for a commercial window cleaning service that's hassle-free, safe, and quick, look no further.
Find out why more organizations are choosing Clean Group to make the windows on their commercial properties visibly cleaner by contacting us below.
Our commercial window cleaning services are customised to match your individual needs, and include one-time and pre-occupational cleans as well as regular maintenance contracts for all types of glass and windows – both internally and externally.