Museum of Fire
The Penrith Museum of Fire is a firefighting museum located in Museum Drive, Penrith, Sydney, Australia. It is a popular family attraction that features an impressive collection of heritage-listed fire-fighting vehicles used from 1841 to 1998. The museum houses a wide range of firefighting engines and protective equipment such as uniforms, phones and radio and alarm systems and other firefighting tools.
Having one of the world's largest fire collections, the Museum of Fire aims to educate very young visitors and adults alike about fire-prevention and protection methods by allowing them to experience the danger and drama of fire and firefighting. Aside from the displays, which are rotated from time to time due to space limitations, the museum also has play and activity areas where children can play with ride-on fire-engine and interactive computer games. There is also an outdoor playground and picnic area for family and kids to enjoy.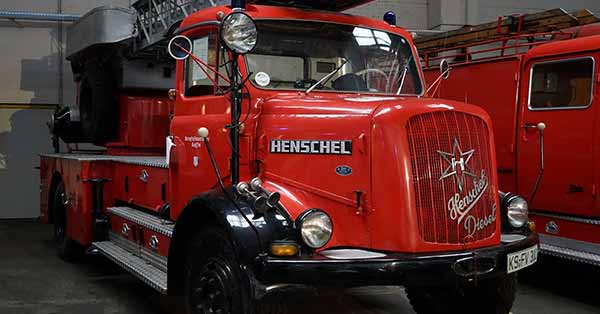 History
The Museum of Fire was first constructed and complete in 1979 following the Historic Fire Engine Association of Australia's (HFEA) petition in 1971 to preserve a fire engine for its historic value. After five years, the Board of Fire Commissioners reserved a section of new training college at Alexandria to be used as a museum. The eleven members of HFEA were then asked to establish and administer the said project. In 1980, the museum received four significant fire engines that were under the care of the Museum of Applied Art and Science. However, the Board had issues regarding the expansion of the training college facility, specifically the space occupied by the museum. So in May 1980, the Board and the Museum came up with a solution.
The Board agreed to fund the costs of leasing with the Maritime Services Board and establishing the museum in wharves four and five at Walsh Bay. Two more buildings were given as a sub-lease and were used as a vehicle workshop area. After this, the new museum opened for business in January 1981. During this time, the museum staff were volunteers from the Board and private owners. In 1984, the museum was forced to move to No. 7 Wharf, Circular Quay, due to the government's decision of changing the uses of the wharves. With a new annually-renewable lease, the Board shouldered the rental cost for a smaller location. In 1985, while being financially broke, the museum was again ordered to relocate. In September of the same year, the museum moved and re-established itself in the former Power House at Penrith. Then, it officially opened on 16 November 1986.
Collection Highlights
Andrew Torning's Speaking Trumpet
This speaking trumpet is old-school, non-electric type of megaphone that belonged to Andrew Torning, the Superintendent of the Australian Volunteer Fire Company No. 1. It was presented to him on 18 May 1959 before he left Australia for California as a token of recognition for his service to the Australian Volunteer Company. Made of solid sterling silver, it is 39 cm high and decorated with Australian flora and fauna motifs. After staying with the Torning family until the 1960s, no one knew about its whereabouts until 2015. At that year, the Museum of Fire found it in a South Australian auction house.
1891 Shand Mason Steamer
Also known as "Big Ben" is an exquisite 19th-century artifact. It is an innovative horse-drawn, steam-powered piece of technology. This steamer may have the same features are the other steamers, but it possess incredible power and capacity that others don't have. Big Ben has been the property of Fire and Rescue NSW since its importation from London. It is regarded as one of Fire Engine enthusiasts' significant treasures as it has a continuing association with important national events. This steamer participated in the Federation Parade of 1901 and Centenary of Federation Parade in 2011.
Headquarters' Switchboard (Edward Smith Headquarters Switchboard)
This New South Wales State Heritage Register-listed item was designed and created by a firefighter turned electrician and carpenter, Edward Smith in 1909. Made from rosewood, cedar and Tasmanian Blackwood, it was used as the central piece of Headquarters Fire Station's Watchroom. The switchboard was used to make public announcements, ring alarm bells in many parts of the Station and to activate light panels. These light panels were used to indicate the status of other Fire Stations, as well as the type of vehicle need for a fire call in Sydney. The Edward Smith Headquarters Switchboard underwent modification and electrical upgrades over the years but remained in use until 1971. It was added to NSW State Heritage Register on 23 February 2013.
1929 Ahrens Fox PS2
This is a fire engine also known as "Ahrens Fox PS2 Fire Engine", "The Fox" and "No. 8 ME". It was purchased in 1929 as a replacement for the Shand Mason Steamer. Some of its features include a secondary cooling system, a pump which could be operated as two separate units, four-wheel brakes, and pneumatic tyres. Only being the only unit imported to Australia, it was highly esteemed by firefighting enthusiasts. In fact, The Fox was so special during its time that it could only be used when requested by a Senior Officer. Even until today, this vehicle has been regarded as NSW Fire Brigades' glamour vehicle.
Things to Do in Museum of Fire
The Museum of Fire is more than just a museum with displays and exhibits. It is an exciting environment that gives its visitors interactive learning experience.
Junior Firefighters Zone
This is a kid-friendly zone in the museum where little children can dress up as little firemen, explore fire safety activities, and play computer games and puzzles. This is also where family members can work together and take command of a fire engine in the museum's simulator.
Treasure Hunting Activities
The scavenger hunt is interactive within the museum where kids can go around to find hidden items. There are two different activities for different age ranges. One of them is the Fire Spotting Trail for children between 3-7 years old. The other is A Scavenger Hunt Activity for those between 8-14 years old. Free activity cards and pencils are given at the Museum Shop upon entry.
Self-Guided Audio Tour
The Museum of Fire has a free mobile app you can download before heading to the museum itself. The current audio tour they have is called the Junior Firefighters Challenge. It is a multi-media guide for kids between 8-16 years old and provides information regarding what it takes to be a firefighter. Other audio tours are currently under development.