Bondi Beach, Sydney
Bondi Beach is a popular Australian tourist attraction located in Bondi, Sydney, New South Wales. It was opened as a public beach on 9 June 1882 and added to the Australian National Heritage List in 2008. Today, Bondi Beach also serves home to one of the oldest swimming clubs in the country, as well as to one of the world's oldest lifesaving surf clubs in the world.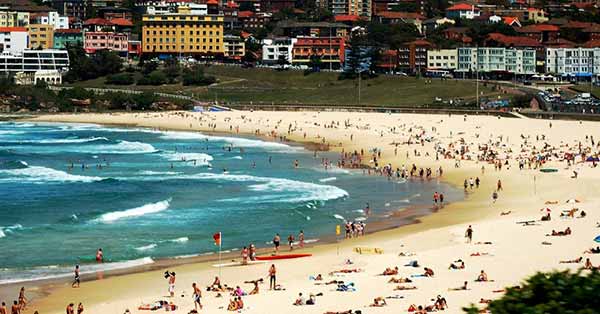 History
Bondi Beach used to be known as "The Bondi Estate" and was owned by Francis O'Brien and his father-in-law, Edward Smith Hall. Somewhere between 1855 and 1877, O'Brien purchased his father-in-law's share of the land and renamed it as "O'Brien Estate". He, then, made the beach and it's surrounding areas a public picnic ground and amusement resort. But O'Brien threatened to stop allowing public access to the beach as it got more popular and crowded. This threat was intervened by the Municipal Council making Bondi Beach a public reserve. The government's intervention officially made the beach available to the public on 9 June 1882.
Bondi Beach became increasingly popular that by 1929, about 60,000 people were visiting on summer weekends. But its popularity was followed by a tragedy. On 6 February 1938, five people drowned in the beach and more than 250 people were rescued being dragged back into the sea by large waves. Since then, the day has been known as "Black Sunday".
Things to Do in Bondi Beach
Go Swimming and Surfing
Bondi has a moderate climate that makes it perfect for swimming all year round. It also has amazing waves that beachgoers and surfers can ride on at dawn. If you haven't tried surfing before, now is a good time to learn at Bondi's surfing school like "Let's Go Surfing".
Bondi to Coogee Coastal Walk
The Bondi to Coogee Coastal Walk is a 6-kilometre walking trail providing scenic views of whales that can be seen from sandstone clifftops. The trail also passes by the Waverley Cemetery, where Henry Lawson is buried.
Bondi Aboriginal Walking Tours
Another walking activity you can take is the Bondi Aboriginal Walking Tour. It is a guided tour led by Aboriginal artist, teacher and performer Walangari Karntawarra (B.A., B.Ed.). The tour features Aboriginal Rock Carvings, traditional Aboriginal bush foods and medicines, and Aboriginal cultural performances.
Explore Sculpture by the Sea
Sculpture by the Sea is the largest free-to-the-public outdoor sculpture exhibition. It is held annually and begins in summer lasting for three weeks. In this event, visitors and local will witness as the exhibits transform the coastline into a two-kilometre sculpture park featuring about 100 sculptures made by Australian and foreign artists alike.
Shop at Bondi Farmers Market
The Bondi Farmers Market is a weekly event held at Bondi Beach Public School. On Saturdays, the market features farm fresh local produce. These include seasonal fruit and vegetables; meat and poultry that have been grown organically; freshly picked flowers; seafood, homemade jams, farmstead cheeses, artisan bread, herbs and spice, olive oils; and a lot more.
Eat Out with Friends and Family
Bondi Beach is filled with lots of great places to eat out, relax and have fun. Around Bondi alone, there eight restaurants that are popular to tourists.
Lindt Chocolate Store
The Lindt Chocolate Store offers the most exquisite chocolates you'll ever find. All their chocolate creations are handcrafted by the Lindt Master Chocolatiers themselves. They also offer a wide range of choices for cakes, desserts, hot and cold chocolate drinks, and creamy ice creams.
Parida Bondi
Parida Bondi is a family run business that offers mouth-watering breakfast and lunch meals made from fresh ingredients. These meals are served in a beautiful outdoor dining space. You can stop by and enjoy a meal even right after a swim or a walk by the seashore.
The Nine Sydney
The Nine Sydney is a cafe located at the heart of Bondi Beach. Their table menu boasts of fresh-from-the-farm meals incorporating nine core Mediterranean cuisines. They also serve natural biodynamic wines, progressive organic cocktails, fresh probiotic juices and luxury teas.
The Bogey Hole Cafe
The Bogey Hole Cafe is a family-run cafe that proudly serves homemade cakes, muffins, jams, sauces since 1993. Their menu also includes Salvador Sydney coffee and homemade teas. It has been a popular stop-over for tourists who take the Bondi to Coogee Coastal Walk.
Bondi Icebergs
Bondi Icebergs is a clubhouse located at the southern end of Bondi Beach. It has a swimming pool that's popular and open to visitors, members and guests throughout the year. It's drinking and dining area offers magnificent views of the pool and Bondi beach.
Three Blue Ducks
Three Blue Ducks is a cafe located at Bronte Beach. It mainly features black sausage with scrambled eggs and house-made Vegemite on toast for breakfast. While dinner meals are served with roasted octopus, maple glazed brisket and crispy barramundi.