Gyms and fitness centres receive a high amount of foot traffic. Sometimes, the smell of sweat may linger in the air, but it is unacceptable. Your gym has to hire a competitive gym cleaner that can look after the facility's overall cleanliness and sanitation.
This article will talk about you steps of Fitness Center Cleaning and things you need to consider when caring for a gym.
Fitness Centre Cleaning Checklist: How to Work Out In Gym Without Worry
Everyone can use the workout space in a gym. The same set-up goes the same for A-class gyms, commercial gyms, and small studios. Big or small gym – your business needs to hire a professional commercial cleaner that knows the unique needs for this kind of setting and some important cleaning hacks for your fitness centre.
There are equipment and surfaces that are often touched by many individuals. Without proper care and disinfection, this can spread germs and viruses that can be very harmful to the people that go to your gym so you need to know about cleaning checklist.
5 Steps in Effective Gym Disinfection Cleaning
Fitness centre cleaning professionals reveal these five simple steps in making your gym safe for everyone. You need to include these as part of your cleaning essentials to get the best result, especially during the Covid season.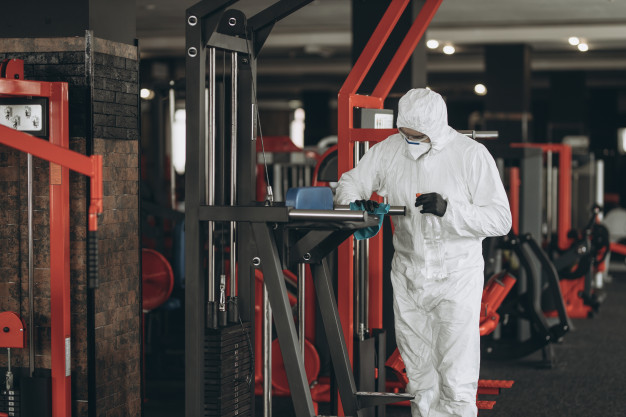 Practice good hand hygiene as often as you can. Before you start disinfecting surfaces and equipment, make sure to wash your hands with running soap and water for no less than 20 seconds. You can use an alcohol-based hand sanitiser in the absence of soap and water.
Wear your appropriate PPE.
Using a clean cloth and your preferred disinfectant, make sure to wipe a surface following one direction. It is essential for you not to go back and forth to recontaminate the surface you already disinfected.
Disinfectants have their own specific contact time to become effective. Always check the label and make sure to follow the recommended contact time.
Equipment like a stability ball and foam roller is commonly used by many. Things and surfaces like these need to be disinfected several times in a day. Some disinfectant requires washing up because of the strong chemical composition that can irritate the person's skin.
It is always best to read the manufacturer's label to determine if your process should include a quick wash up after the disinfection is completed.
Fitness Center Cleaning Guidelines: How to Clean Gym Equipment to Prevent Germs and Viruses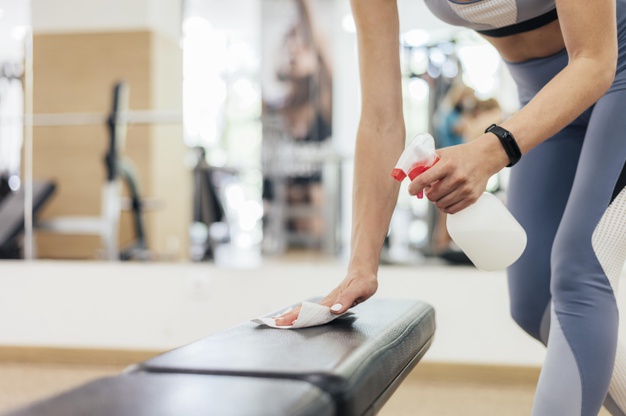 There is no rule book when it comes to Corona Virus protocol. In a nutshell, the cleaning staff is working full time to create a safe environment for your members.
Commercial fitness gym cleaning cleaners can help by properly sanitising the gym equipment after each use. We will show you in this Cleaning Guidelines on how to do it right.
Bleach and disinfecting wipes can damage gym equipment over time. Many gyms will have hospital-grade disinfectants available. It is recommended that you ask for the data safety sheet that is being used in the facility
For gym equipment, you can use two cups of warm water with three drops of dish soap. You can also use distilled white vinegar with an equal part of the water that can be used as a fitness cleaning alternative.
Gym buffs have their hands all overweights and dumbbells, making it critical to have them all cleaned right. At the end of each day, commercial cleaning cleaners dip a cloth in a bucket of cleaning solution to dampen it.
Do not soak the cloth. Wipe the surface of the weights entirely and dry it using a fresh microfibre cloth.
You can also ensure your cardio equipment and weight machines are properly sanitised with the same cleaning method. Sweat is a perfect conduit for all sorts of microorganisms, including the CoronaVirus. You can use a disinfectant spray or the solution that your commercial fitness centre cleaner mixed for your gym.
Squirt on the seats and handles. Allow the chemical to sit on the surface for a minute to kill the germs. Dampen a fresh microfibre cloth with a cleaning solution and wipe the machine thoroughly. Do not allow droplets to cause damage to touchscreen surfaces. Pat these areas clean.
Finish with wiping down the machine with a fresh, dry microfibre cloth. Do not spray the solutions directly on screens and electronic components as it is dangerous and can cause damage.
For treadmill belts, turn the treadmill on a slow setting. Prepare a wet rag and wipe it vertically until you can see the entire belt wet. Next, scrub the belt horizontally for about a minute, and allow it to fan dry while running.
Yoga Mats can be covered in germs. Remember that there are different products that have specific instructions when it comes to cleaning. Some are expensive, and you do not want to damage it. Follow the Fitness Center Cleaning recommendations interactions all the time.
Most gyms use rubber or other materials that can be cleaned using microfiber cloth and cleaning solution. Simply dampen the cloth thoroughly and wipe both sides of the mat. You can also rinse the meat with hot water. You can also use vinegar to avoid soap build-up.
You can hang the mat dry after your chosen method. Do not dry the mat under the sun as it can cause damage to the rubber.
If you follow these fitness centre cleaning guidelines, you can feel the difference in your gym. It can continue to remain clean, fresh, and safe. Thorough cleaning in a gym set up is a good setting and can give your patrons many benefits.
Hiring the right commercial gym fitness cleaning cleaners is like ensuring proper sanitation of your equipment that is shared. Please let us know if you have questions about how you can successfully close a gym contract.
We want to hear your feedback and suggestions on keeping up with disinfection for your existing gym clients. Let us use this platform to help new fitness center cleaning contractors to take part in the gym cleaning industry.
About the Author