We all know how difficult it can be to clean your home or office after a recent party or similar event. Things can get even more complicated when you are time-bound to clean and tidy the place and make it ready for an upcoming emergency.
This is exactly what our emergency/urgent cleaning services can help you with. In this article, Clean Group explains the best way to quickly & properly clean a place for an emergency through their own success story.
We at Clean Group provide a complete range of commercial cleaning services, including same-day cleaning. Meeting customer's cleaning goals and consistently delivering satisfactory results are our main objectives. This is one of many reasons why we are a trusted cleaning company for hundreds of businesses across Sydney.
Why Hiring a Professional Service for Emergency Cleaning Sydney Is the Best Idea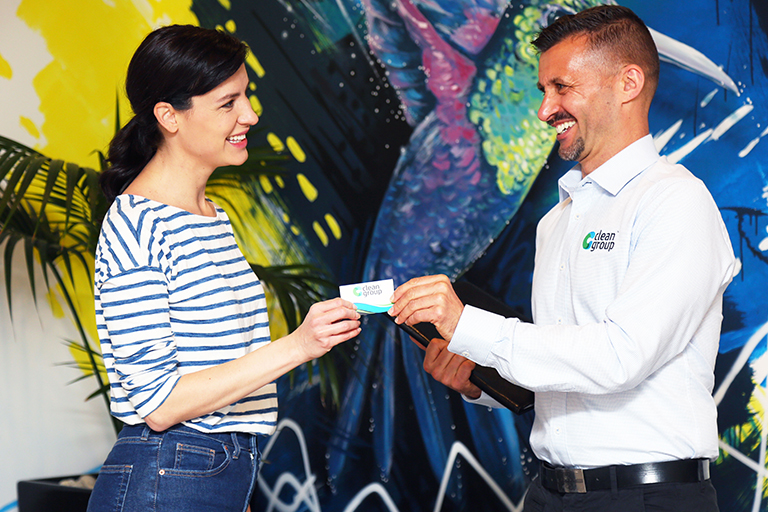 Normally, you might be able to clean your place by yourself, given that you have the time and patience for the job. But, here we are talking about emergency cleaning.
Here, you are limited by time. That coupled with the stress of finishing the cleaning on time and with effective results can take a serious toll on anyone.
Thankfully, we are professionals who have ample experience of working in such stressed and time-constraint situations and can guarantee results no matter the conditions.
If you are still wondering why you shouldn't do emergency cleaning by yourself or why it's a good decision to hire professional help for urgent cleaning, here are a few points to help you understand.
Emergency cleaning can be hectic and time-consuming.
The place can be a serious mess after a recent party or event.
You may not have the right resources, equipment, etc. for effective cleaning, which a professional will have.
You can end up creating more mess, especially if you have zero experience in cleaning.
Hiring Professional emergency cleaners from Clean Group is affordable.
How to Emergency Clean Your Place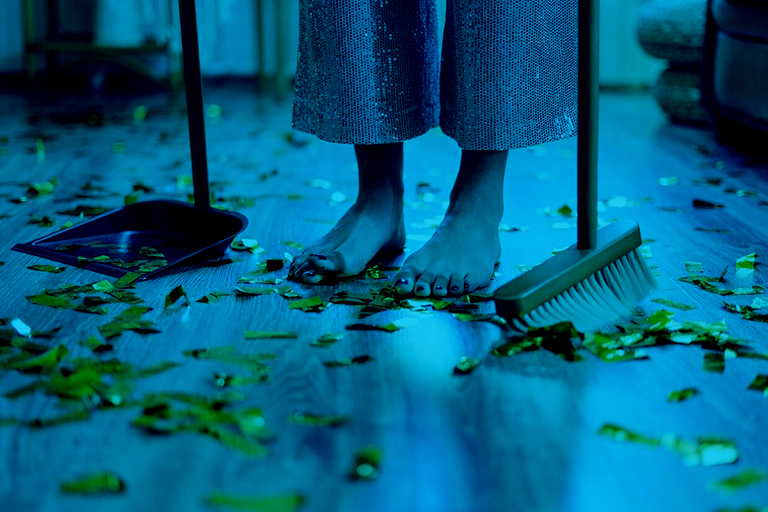 Emergency cleaning can be of many types. You may be looking to get your place cleaned after a recent birthday party or may want to get it ready for an upcoming get-together with your family or friends.
Whatever your reason is, knowing the best way to quickly clean your place for an emergency can be a helpful skill to learn.
The thing to note here is that any cleaning project that comes with a time constraint of less than a day can be constituted as emergency cleaning. In simple words, the place must be cleaned and ready to use within 24 hours or sooner.
Now, we will take you through the step-by-step process that we, at Clean Group, follow to achieve great results across our emergency cleaning or same-day cleaning Sydney projects.
Step 1: Analysis & Planning
The first step, of course, is a detailed analysis of the place to clean. Here, we recommend our customers to allow on-site inspection of their place so that our area manager can prepare the best cleaning strategy & quote for the particular cleaning needs.
The step involves a detailed inspection of the place for its cleaning needs. If you are looking to get your place cleaned after a recent party or event, there could be a lot of mess including garbage, food particles, stains, etc. around. Based on that, our manager will prepare the best cleaning strategy accordingly. Our cleaning quote will also depend on the size of your place.
Rest assured, we'll offer the best quality service at the lowest price possible.
Step 2: The Team Arrives
Once you are done revealing and finalising the quote provided by our manager, we'll immediately start assembling the best team for your project.
Our cleaners will arrive at your place at the scheduled time carrying all the necessary resources, equipment, and solutions with them. Our cleaners are always very punctual and bring all resources with them, so you don't have to worry about a thing.
All our cleaners carry necessary identity documents, including the company IDs, which you can check for your peace of mind before they start working on your place.
Step 3: Step-By-Step Cleaning
Now the real work begins.
Depending on the type of party you've had at your place, the mess we would find could range from garbage such as food scraps, cups, glasses, plates, napkins, dirt, dust, reusable bags, etc.
lying around, to oil and wine stains on carpets and floors, messed up toilets, and more. Step-by-step cleaning is usually the best and time-sensitive approach for such conditions.
First, we will clean up the mess, i.e. our cleaners will remove any garbage and unnecessary items from the place manually and/or using a vacuum cleaner.
All the garbage will be stocked up into garbage bags and removed from the property. This will take care of about 90% of the cleaning in the first 2-3 hours.
The next stage is deep cleaning, where we will sweep, scrub and mop the floors, clean your carpets (remove stains if any), clean the window sills, remove cobwebs, and wipe the mirrors, vases, bowls, etc. Also, we will clean the toilets and bathrooms as well as disinfect sensitive areas.
The next and final stage is tidying up the place after it has been cleaned properly. Here, our team will rearrange the furniture, readjust the picture frames, restock toilet supplies and make the place ready to use again.
The entire process of emergency cleaning by our expert cleaners takes no more than 3-5 hours (depending on the area and the mess), and you get a clean and spotless place ready for the next event.
Why hire Emergency Cleaning Services from Clean Group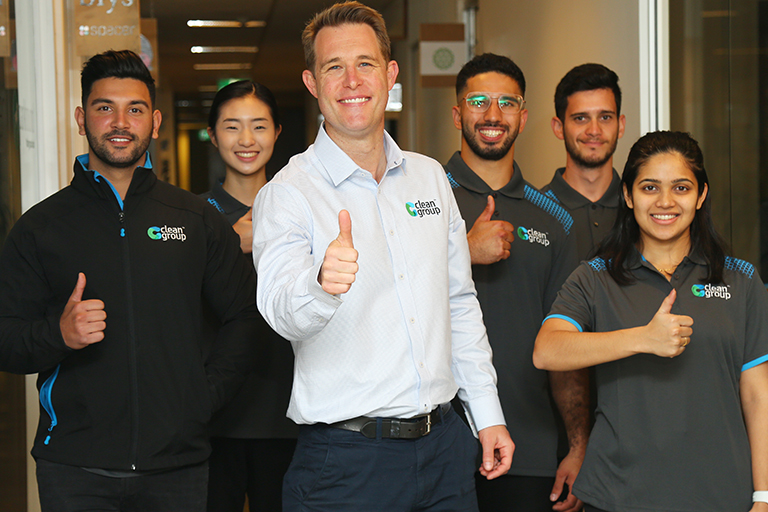 We are a cleaning company based in Sydney, Australia, and providing services to businesses in over a hundred suburbs, including Greenwich, Neutral Bay, Cremorne, Waverton, Wollstonecraft, Cammeray, North Sydney, Naremburn, Mosman, St Leonard, and Crows Nest.
You can contact us for emergency cleaning, office, schools, gym, and strata cleanings, routine cleaning, end of lease cleaning after builders cleaning, carpet cleaning, windows cleaning, and all other commercial cleaning requirements.
At Clean Group, we have a track record of creating happy & satisfied customers with our extensive range of quality-driven cleaning services.
We always meet customer expectations for the highest standards in cleaning. Our cleaners are trained & experienced professionals who are police-checked, fully insured, and are always punctual.
Here are some other reasons why hundreds of companies across Australia trust us for their cleaning needs:
Strictly on-time cleaning with project completion within the deadline.
We always meet customers' expectations, and many times go beyond.
Professional & experienced cleaners who are certified safe to work with.
Guaranteed results – 100% satisfaction or we do it again for free.
Inexpensive emergency cleaning Sydney with the guaranteed best value for your money.
Flexible timing (Cleaners available as soon as 24 hours) with emergency cleaning at no extra charge.
Friendly & helpful staff along with a dedicated 24×7 support team to resolve your concerns.
Eco-friendly and hygiene cleaning with the use of separate color-coded materials for different areas.
Besides cleaning, we will also disinfect all the touchpoints and other frequently-used areas.
If your existing cleaning company or cleaner is not doing a good job, Contact Us right away to hire the best professional cleaners at a fraction of the cost and with guaranteed satisfaction. We also provide same-day cleaning and emergency/urgent cleaning services, including after hours and on weekends.
For any of your cleaning needs, queries, and questions or to request a free estimate, you can call us on 1300 141 946 or send an email at [email protected]
About the Author