Sydney's Leading School COVID Disinfection Services
Complete School COVID Cleaning Services
with Certification
Leave Your Worries to Experts!!
Australian Health Protection Principal Committee (AHPPC) has issued guidelines that must be met by all schools in Australia before students can return back to face-to-face learning. Keeping your school or college clean is important not just because of the AHPPC guidelines but also to maintain parents' confidence that the schools are clean and safe for their children.
If you are looking for the best way to keep your school or education centre clean and protected against coronavirus, you are at the right place. We have been providing premium quality cleaning and disinfecting services to Sydney schools, helping keep their students and staff safe and healthy.
We as a cleaning company have more than 20 years of experience and a full-time team of trained, professional cleaners who can take care of all your cleaning and disinfection needs, from emergency Covid-19 cleaning COVID cleaning to precautionary disinfection, and full school COVID decontamination. We are a team of cleaners trained in infection control and offer all kinds of disinfection, sanitising and decontamination services with a full satisfaction guarantee.
Get a Free Onsite Quote
Helping Sydney Schools Stay Clean and Safe
Clean Group has the best resources and trained cleaners you'll find in the market. Our team uses best-in-class equipment along with eco-friendly cleaning supplies and TGA-approved, hospital-grade disinfectants to provide school COVID cleaning services in compliance with AHPPC guidelines.
Our cleaners use cleaning supplies and disinfectants that are approved by TGA and are safe for children.
We use COVID cleaners who have been trained in infection control procedures for school premises.
We are familiar with the best ways to help schools prevent the transmission of COVID-19 and control the damage when a confirmed case of COVID has been found.
Our hospital-grade disinfectant is certified to be effective against the SARS COV 2 virus.
We can perform COVID cleaning before, during and after school hours as well as provide emergency disinfection service for schools.
All our work and services are backed by Clean Group's 100% full satisfaction guarantee.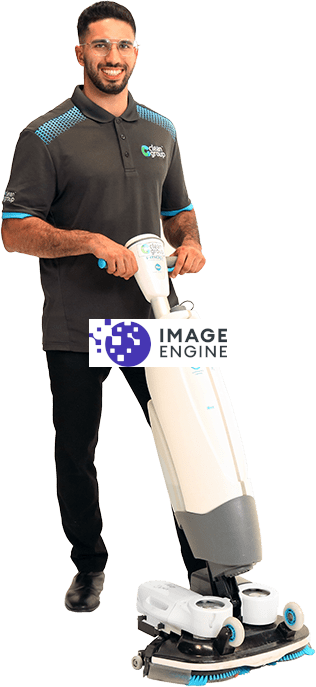 How does School COVID Cleaning Sydney work?
Our school cleaning and disinfection service will cover complete basic cleaning of your premises, followed by disinfection/sanitisation of high-traffic areas, touchpoints and other sensitive places like toilets & bathrooms. When we're done, your place will be free of all traces of the coronavirus.
Step 1: In-depth School Cleaning: First of all, our team will deeply clean your school premises. From floors to hard surfaces, walls and windows, doors, bathrooms, toilets, kitchen/pantry area, cafeteria, play area, storage area, cabinets, computers, and desks, everything will be dusted, wiped and/or mopped (as needed) to remove all traces of dust, dirt and debris.
Step 2: Full Disinfection: To contaminate the entire place and remove any traces of the virus, we use the widely acclaimed Electrostatic Disinfection technique along with TGA-approved chemicals to systematically disinfect high-traffic areas and touchpoints. Everything from door handles to tabletops, computer keyboards, phones, chairs, desks, toilet seats, washbasins, faucets, kitchen counters, sofas, tables, drawers, and light switches will be deeply disinfected.
Our two-stage COVID school cleaning process will not just remove up to 99% of germs from your premises but also provide long-lasting protection to eliminate any chances of reinfection. No matter the size of your education centre, we have the team and resources to tackle COVID cleaning projects of any size and type.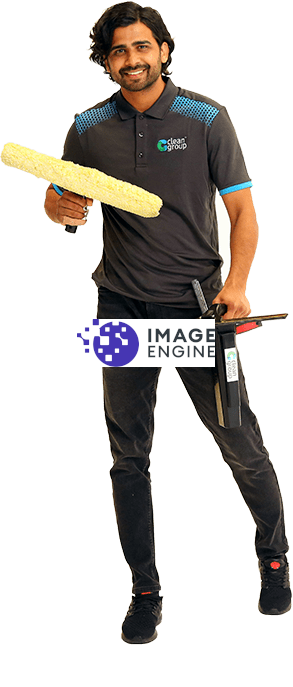 What is the Electrostatic Disinfection method?
At Clean Group, our COVID cleaners use the most advanced Electrostatic Disinfection technique combined with TGA-approved disinfectant to form our proprietary Virus Shield method that is found effective against the COVID-19 virus.
In a school, the virus can spread through various means, from touching infected surfaces to personal interaction with an infected purpose. To minimize the probability of infection and prevent the spread, complete disinfection of your premises is the best way to go.
Our disinfection method involves the use of a portable machine (Electrsoattic Sprayer) that contains a hospital-grade sanitiser. The same will be used to disinfect each and every corner of your property, including otherwise unreachable areas such as behind the furniture, the
backside of the chair armrests and headrests, the underside of the desk & table, and corners. All touchpoints and sensitive areas will be disinfected using a TGA-approved sanitiser that is effective against the coronavirus and certified safe for humans.
Get a Free Onsite Quote
Precautionary COVID School Cleaning Vs Full Decontamination
We at Clean Group provide both precaution COVID cleaning and full COVID decontamination services for schools, colleges & universities Sydney-wide.
Precautionary COVID cleaning is perfect for schools looking to keep their premises safe from the coronavirus and protect the health safety of their visitors, including students, parents and the school staff. This involves two-stage precautionary COVID cleaning and disinfection (as described above).
Our cleaners will fully disinfect your premises, especially high-touch surfaces and points, including door handles & knobs, faucets, light switches, lift buttons, storage doors, desks, phones, tables, computer monitors, keyboards & mouse, toilets, and bathrooms using our proprietary Virus Shield disinfection method.
Full COVID Decontamination is best recommended for school premises with a confirmed or suspected COVID case. Before you can invite students back to your school after a confirmed COVID case, it is recommended to get the entire facility decontaminated to remove all traces of the virus from every corner.
Our expert COVID cleaners have good experience in thoroughly cleaning and disinfecting premises to prevent the spread of the COVID infection. They will use Electrostatic Sprayer along with TGA-approved chemicals to fully decontaminate your premises, from ground to roof, covering each and every corner of your property and removing up to 99.99% of germs, including coronavirus.
Don't Wait! Make the call today at 1300141946 to hire the best school COVID cleaners in Sydney.
Why choose Clean Group for School COVID Cleaning
Clean Group is a leading commercial cleaning agency with 20+ years of experience in the industry and a team of 50+ in-house, full-time & trained cleaners providing services to hundreds of businesses in over a thousand suburbs across Sydney, Melbourne, Brisbane, and Canberra. We are an expert in safe school cleaning with guaranteed disinfection against the coronavirus.
All-inclusive COVID Cleaning
Our COVID cleaning services for schools or any other kind of property are all-inclusive. From basic cleaning to complete disinfection and re-inspection, we do it all and ensure up to 99% virus removal.
Safe & Effective Products
Our cleaners use only environmentally-friendly cleaning products that are approved by NSW health. Our TGA-approved, hospital-grade disinfectant is certified effective against the COVID virus and provides up to 30 days of protection.
Trained Cleaners
We only use in-house cleaners and never outsource. All our cleaners are trained in the methods of infection control and provide high-quality cleaning services in accordance with SWA guidelines.
Touchpoint Cleaning
When cleaning a facility for COVID, we primarily focus on high-traffic areas and points that are frequently touched by a lot of people. All these surfaces are thoroughly cleaned and disinfected to remove germs.
Affordable
Our school COVID cleaning services are designed to fit every budget and need. We will visit your premises to analyze your cleaning requirements and offer the best cleaning plan that fits your budget.
Caring & Friendly
We are not just a bunch of regular cleaning guys, but we are the most friendly and professional team of cleaners you'll ever meet. And we truly care about our customers and love to listen to your feedback.
Make Your School COVID-Safe! Book a Complete COVID Cleaning & Disinfection Service Today
Ready to take the next step? Ensure the safety of your institute students, staff and their families by getting professional help with school COVID cleaning.
Call us today to book a free on-site inspection to hire the best COVID cleaning & disinfection service for your school, university or college anywhere in Sydney. Booking a cleaning service with Clean Group is as easy as it gets. You can call our helpline number 1300 141 946 or use the contact form on our website to send your requirements.
Don't take chances with the health of your students. Reclaim your status as a safe school in Sydney by availing the best COVID school cleaning services from Clean Group.