South Bank is a cultural, social, educational and recreational destination located on the Brisbane River's southern banks. It boasts of 17-hectare parkland, eateries and river-viewing locations that serve as hosts to events visitors can enjoy all throughout the year. This precinct is one of Australia's seven parks to receive the Green Flag Award for being an excellent green space.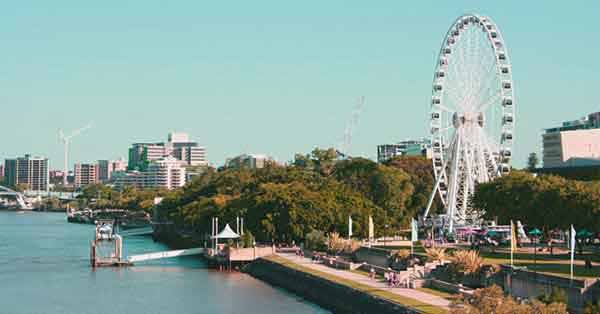 History
South Bank was first developed to be Brisbane's central business district in the 1840s. However, due to severe flooding in 1883, the CBD had to be moved to its current location, which is in the north banks of the Brisbane River.
South Bank had been able to re-establish itself as an industrial zone in 1930. It was used as a river port buzzing with markets, wharves and theatres. The development of the area slowed down, however, making it spiral into a hopeless state. South Bank got another chance of revival in 1984 when it was chosen to be the site for World Expo 88.
World Expo 88 attracted 18 million people to South Bank during its six-month run. This was also the time when people realised the area's potential as public space. After World Expo 88, the Brisbane citizens campaigned for South Bank to be a public parkland. The campaign was approved by the government of Queensland in 1989, and it officially opened in 1992.
Things to Do in South Bank
From the Queensland Art Gallery and Gallery of Modern Art in the north to the Queensland Maritime Museum in the south, South Bank offers a wide range of things to do for visitors and locals who want to relax and enjoy a little free time. It has parklands, over 90 restaurants, bars and cafes, museums and art galleries, a cinema and five-star hotels.
Go for a Swim
South Bank houses three swimming pools that are free to use. One of them is Street Beach, which is a manmade beach with a sparkling lagoon, white sand and sub-tropical plants. The pool is also patrolled by qualified lifeguards to keep everyone safe while having fun. Boat pool is another free pool for all ages. It is also patrolled by lifeguards, whose patrolling schedule changes throughout the entire year. Lastly, there's the Aquativity, a free, outdoor, interactive water-play park for kids and families. It features play elements that aim to educate learners about the Brisbane River, native fish and mammal species, as well as the water cycle.
Have a picnic and barbeque
South Bank also has free picnic areas and barbeque facilities. There are all open all year round for family and friends to use and spend time together. Some of the most popular picnic spots here are River Quay Green, Riverside Green and Picnic Island Playground. River Quay Green and Riverside Green offer breathtaking views of the Brisbane River and city skyline. Riverside Green and Picnic Island Playground, on the other hand, have free, state-of-the-art playgrounds for kids.
There's also the Rainforest Green, the Liana Lounge and Little Stanley Street Lawns that offer more exclusivity, greener open space and are covered by tall, leafy trees or fig trees. Moreover, barbeque facilities are located at Picnic Island Green, Riverside Green and Aquativity. While the playgrounds are located at Riverside Green Playground, Picnic Island Green Playground and Aquativity.
Walk and Cycle Around
South Banks has several tracks ideal for walking and cycling. One of them is The Arbour, which is a one-kilometre walkway in the Parklands. It has 443 curling, galvanised steel posts covered with magenta bougainvillea flowers. Because of its magnificent design and architecture, The Arbour has received numerous awards from architectural award-giving bodies. Another famous walking trail in South Bank is the Rainforest Walk. It is a rainforest-themed walking trail, located at the heart of the Parklands, which is home to vibrant lizards, birds and fish.
Clem Jones Promenade is a walking, running and cycling area that offers an unobscured view of the Brisbane River and CBD. It also has seating areas for those who just want to sit back, relax and enjoy the view. Other walking and cycling trails in the area are the Goodwill Bridge, the Victoria Bridge and CityCycle.
Take a Tour
If you're looking to fill your eyes with wonder, South Bank offers a lot of great spots to visit. One of its most beloved attraction is the Nepalese Pagoda. It is a three-story high piece of architecture with 80 tonnes of hand-carved timber from the Kingdom of Nepal given during World Expo 88.
Another must-see site in South Bank is the Epicurious Garden. It is home to exotic plants, fragrant herbs and lush. The produce in the garden can be harvested but only with the help of the park's volunteers and horticulturists. The Wheel of Brisbane is a Ferris wheel installation located at the Russel Street. It is 60 metres tall and offers a 360-degree view of the entire South Bank and beyond.
Indulge in Cultural and Artistic Activities
South Banks is considered a cultural epicentre of Brisbane. This is due to the numerous theatres, museums and cultural areas it houses. One of them is the Queensland Art Gallery and Gallery of Modern Art (QAGOMA), with a collection of about 17, 000 historical, modern and contemporary artworks.
Another is the Queensland Performing Arts Centre (QPAC), which has been host to numerous local, national and international performances for over 30 years. There's also the Queensland Museum and Sciencentre. The Queensland Museum is Brisbane's centre for natural history, cultural heritage, science and human achievement. While the Sciencentre is a public attraction that features educational exhibits and displays that visitors can enjoy and learn from.
South Brisbane QLD 4101, Australia